Introduction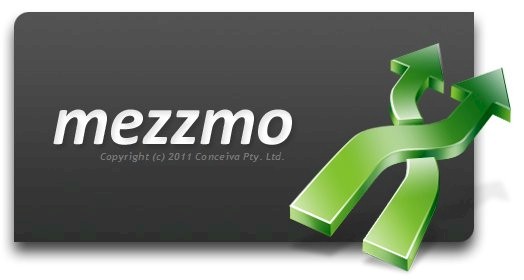 At a Glance
Product
Conceiva Mezzmo DLNA Media Server [Website]
Summary
Windows-based DLNA 1.5 and UPnP AV compliant media server supporting both batch and on-the-fly transcoding for a wide range of formats and devices
Pros
• Extensive device support
• Long list of features at a very affordable price ($30)
• Outstanding technical support
Cons
• HD transcoding requires a quad-core CPU; dual-core for SD
• Requires a Windows account to run
• Has some problems with DVD metadata
When my retired parents picked up a new Sony KDL-32EX720 TV with DLNA integration, I was excited about their new media possibilities. I had recently hooked them up with a Zyxel NSA210 NAS for their remote backups and I knew it included a DLNA media server. The CPU on the Zyxel was rather weak even though it supported Gigabit Ethernet and I knew it was pretty slow overall. Even with that caveat, I figured the NAS was fast enough to serve files to the Sony TV.
I was basing my dreams of their new DLNA possibilities on my own very successful use of our VortexBox and PlayOn with our Samsung TV via DLNA. What I would soon find out was that all DLNA devices aren't equal in their playback capabilities and it's not always as easy as my experience with our Samsung TV.
The last time I was out to visit my parents, I loaded the NSA210 with a batch of media files from our Vortexbox backup. When they mentioned their new TV, I told them to look in their manual, find how to access DLNA devices and enjoy what they found. I got the family tech support call a few hours later mentioning they could only find a few videos.
Making the assumption it must be their media server, I used LogMeIn to remote into their PC and update the firmware on the Zyxel. Of course the videos still didn't show up and I defaulted to emailing vendor support, searching Knowledgebase articles and reading forums.
I soon found a link to Sony's supported file formats for DLNA, I saw that their list of unsupported formats was longer than the supported formats, with the popular MKV format among the unsupported. Long story short, they were disappointed, I was disappointed, and I needed a solution.
As luck would have it Google Adsense presented a popup about Mezzmo, advertising it was the ultimate DLNA media server. I decided to give Mezzmo a try and see what it could do.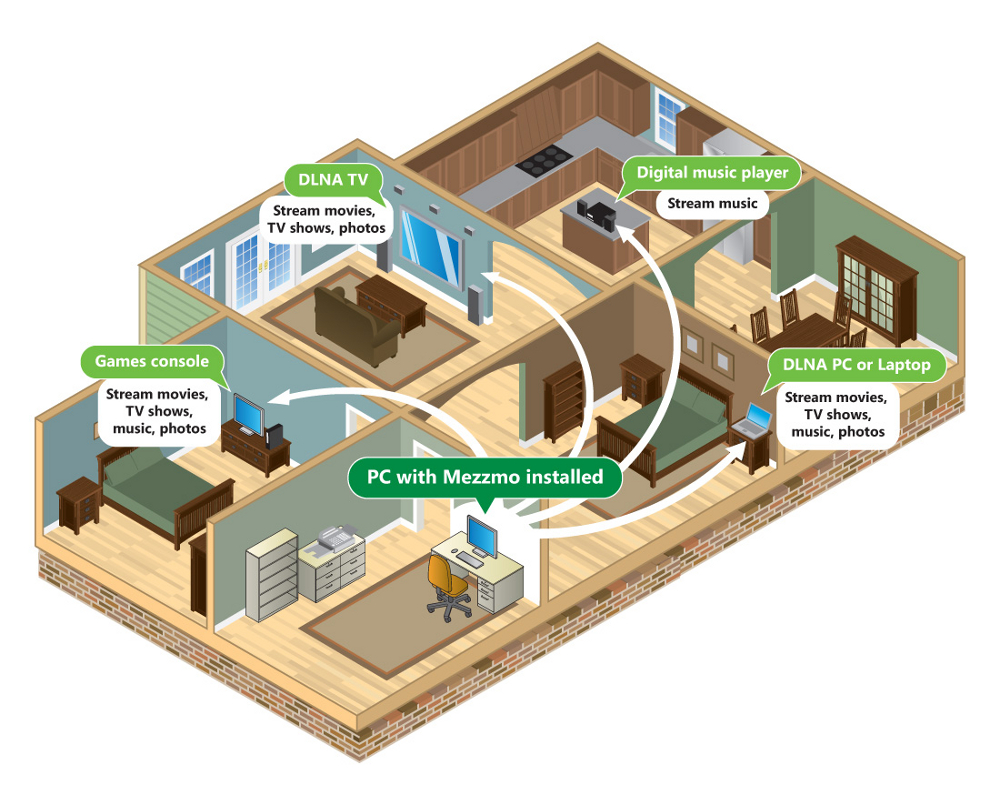 Figure 1: Example diagram of Mezzmo usage
Setup
Mezzmo is a Windows-based DLNA 1.5 compliant media server with a wide variety of features. Given the small list of supported media formats for the Sony TV, what I found most valuable about Mezzmo was its vast device and format support. I needed the ability to transcode on-the-fly to a format that my parents' Sony TV could understand without a lot of configuration and user intervention.
As you can imagine, on-the-fly transcoding requires a beefy CPU, specifically one with a minimum of 2.4 GHz and 1 GB RAM. For 720p or higher resolution video transcoding, Conceiva says a "Quad Core CPU" with 2 GB RAM or higher is recommended. Files can also be batch transcoded.
The PC I ran Mezzmo on was a dual-core HP Pavillon 6120f desktop (2.8 GHz Intel E6300 dual core, 8 GB, Win 7 Home), which handled standard format content just fine. Conceiva support mentioned that it may be slightly inadequate for on-demand transcoding of HD content, however.
Upon talking with support and browsing a few configuration log files, I learned that Mezzmo device-specific support is continually being updated and tweaked by Conceiva as new DLNA devices come in to the market or device functionality changes. This helps Mezzmo to run as smoothly as possible with your DLNA devices. Media format support was also a win, with no additional codec download necessary to make Mezzmo work, which was nice since Mezzmo would be running from my parents' PC.
One thing that I felt was rather troublesome with the initial installation was the requirement for a Windows user name and password. This is needed because Mezzmo runs as a per-user service. This allows each user on a machine to have his/her own Mezzmo library. The problem here is that many Windows XP Home machines are set up to simply log in upon boot and many home users don't know their passwords. But after a little head-scratching, we finally figured out the password and were able to move on.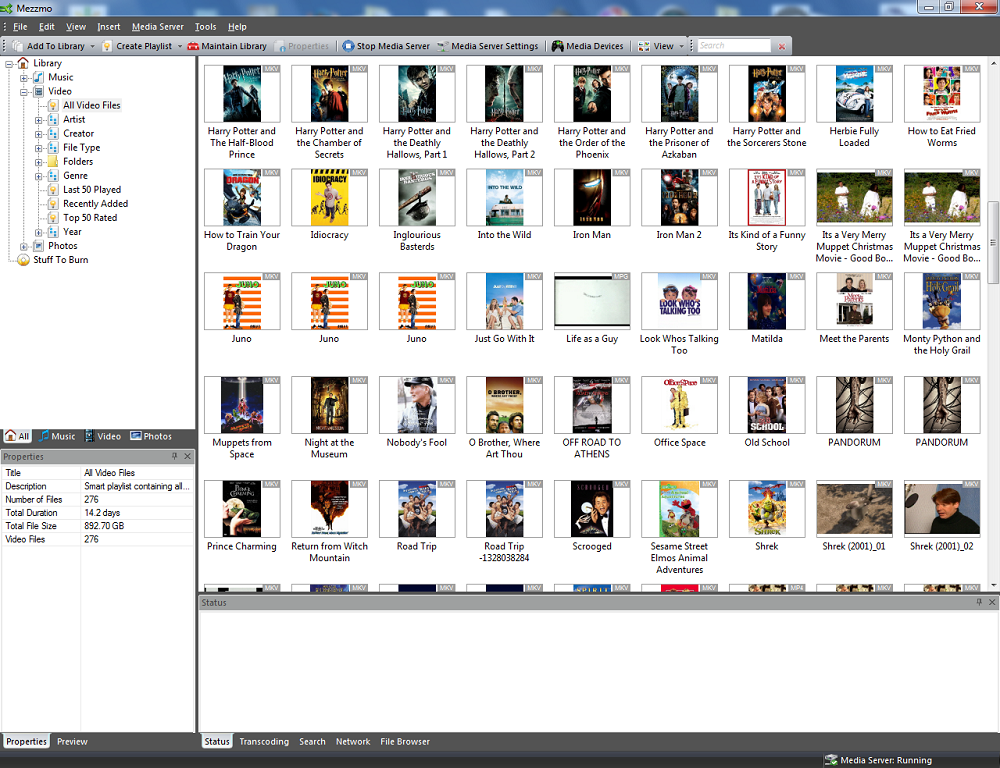 Figure 2: Mezzmo media library
Initial setup mainly consisted simply of telling Mezzmo where our media was stored if it didn't reside in the default user My Documents profile locations. In our case, files were stored on the Zyxel NAS, so we added that to the media library.
Mezzmo includes what Conceiva calls Network Media Single Source (NMSS) technology. NMSS contains a repository of all DLNA devices that you've told Mezzmo about. This allows you to reach content scattered across multiple locations from one central point.
I guess it's convenient to have one central file list, even though all DLNA servers should be visible to all DLNA players. But NMSS simply passes DLNA requests through to the server where the file actually resides, so isn't able to transcode those files. Because we needed the files transcoded, I added the SMB path to the Zyxel NAS to Mezzmo's library vs. linking the Zyxel's DLNA media server using NMSS. NMSS also seemed to hang Mezzmo each time it was accessed, but perhaps I didn't wait long enough for the connection.
In Use
One of the nice options within the Mezzmo interface is Media Devices. All DLNA devices on the network are discovered and tweaks can be made such as their connection speed and transcoding settings to optimize performance with Mezzmo. Figure 3 shows several Unknown Devices, despite Mezzmo's good device support. This is primarily because of the software-based DLNA servers on our network.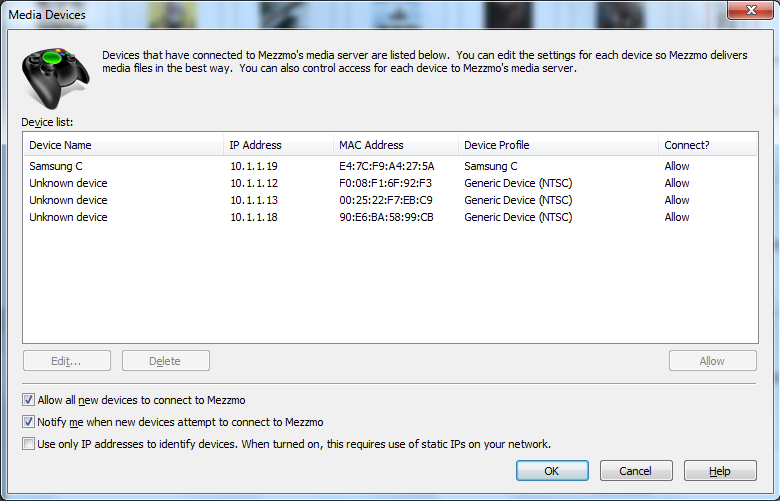 Figure 3: Mezzmo discovered media devices
One unique feature of the Media Devices configuration screen is the ability to set permissions for certain folders, playlists, and files, so that certain devices can be restricted from access. This could come in useful when the kids have their own game console and you don't want them watching content inappropriate for them.
I did have a problem with Mezzmo's presentation of the DVD metadata that support helped me sort out. Our home media solution uses a Vortexbox to rip and stream media to our TV. Once on the Vortexbox, the low power home server then runs YAMMM to find cover art and DVD metadata. All of our other media servers find the folder.jpg that YAMMM populates within the directory. The cover art is then presented in the Mezzmo's Media Library as well as on the DLNA client.
Unfortunately, Mezzmo did not find the artwork in most cases. The artwork needed to be specified within the .nfo and .xml of each movie or it would not be presented. Technically, Mezzmo was probably accurate in its interpretation of the info and artwork. However, it would have been nice to default to artwork found in the directory if none was found in the info files.
Mezzmo usese FFmpeg for transcoding and transcoding can also be shut off. Transcoding settings (Figure 4) are also configurable to set a storage space limit for transcoded files. So every time a movie is viewed, it doesn't necessarily need to be transcoded.
Figure 4: Mezzmo transcoding settings
During the course of testing, I only found one movie which would not transcode or play. The problem turned out to be a remux issue that was fixed in the next Mezzmo release. After everything was set up, streaming to my folks' Sony TV worked beautifully and never stuttered with standard-def content, which was all that was available at the time. Once Mezzmo was set up, all we did was turn on the TV, find Mezzmo in the DLNA devices, choose our movie and go. It really couldn't have gotten any easier.
Closing Thoughts
Mezzmo worked very well for my simple application. Presentation of media on the TV seems faster than from any of our DLNA media servers. Any problems I had were handled promptly and thoroughly by Conceiva's support. It was actually enjoyable talking with them!
Mezzmo also has many other features, such as access control and media ripping/burning that I didn't use, but which may be very useful for others.
We got lucky with our Samsung TV's streaming media format support. It plays everything we need without an intermediary media server. My parents didn't get so lucky with their Sony TV and its meager format support. For them, the $30 investment in Mezzmo saved the day.