Introduction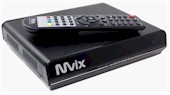 At a Glance
Product
Mvix Ultio 1080p Media Center (MX-800HD)
Summary
BYOD High-Def Media streaming device
Pros
•Attractive UI
•Wide media formats supported
•Nice Photo slide show capabilities
Cons
•Disappointing HD format support
• IR remote code overlap
•UPnP server interaction problems
•Noisy fan
Network media players continue to be a popular addition to the home network for those who want to view their movies or photos or listen to their digital music in the family room. And since disk drives continue to drop in price while increasing in size, it's feasible to have hundreds and hundreds of full-length movies and thousands of photos and music files on your network.
In this review I'll check out a new high-definition capable streaming-media box that will let you play all that content in your entertainment center. The Mvix Ultio MX-800HD advertises support for dozens of different file formats at resolutions up to 1080p. And it does it all at a relatively inexpensive price of $169.
Figure 1 shows the back of the Ultio where you can see the various I/O connectors.

Figure 1: Back Panel
HD video can come in either via component or HDMI and standard-definition video connects via a composite video port. If you're not using the HDMI connector for audio, you have a choice of either optical or RCA audio connectors. To get the Ultio on your network, you can use 10/100 Ethernet port or connect a supported USB wireless adapter (I didn't test this). Mvix doesn't have a list of compatible adapters anywhere on its website. But they sent a link to this product and said that "any adapter with Realtek 8187b chipset will work".
The USB host ports can also be used for connecting an external drive that is NTFS, FAT32 or EXT3 formatted. And if you want to move content directly to an internal drive that you have the option of installing, you can use the USB "slave" port to directly connect the Ultio to your computer where it will be recognized as an external drive.
I tried this out on my MacBook. But the internal drive that Mvix had pre-installed in my review unit was in NTFS format. And since the Mac has read-only access to NTFS drives, I couldn't check out the direct-attach feature.
The sides of the Ultio are vented for the internal fan, which I found to be quite loud when the unit was powered up. I measured power consumption with an internal drive at 15 W. The remote for the Ultio, as seen in the photo up above, is full-featured and easy to use. But it's not back-lit, so if you're wanting to watch movies in a darkened room, you may have issues.
And speaking of remote issues, I had a conflict between my Westinghouse LCD TV and the Ultio where some IR commands overlapped between the two. For example, using my Westinghouse remote to issue a Mute command was also received by the Ultio as a Menu command. (Shouldn't there be some common registry so manufacturers don't overlap with each other?) So while doing this review, I had to tape a piece of paper over the TV's IR port, but that's obviously not a permanent solution.
Setup
The Ultio comes in either a diskless BYOD model or with a 1TB 3.5" SATA drive pre-installed. If you're going to add your own drive, the case opens up easily so you can pop a drive in. Once you've got everything connected up and the box is powered on, you'll be greeted with the attractive top-level menu shown in Figure 2.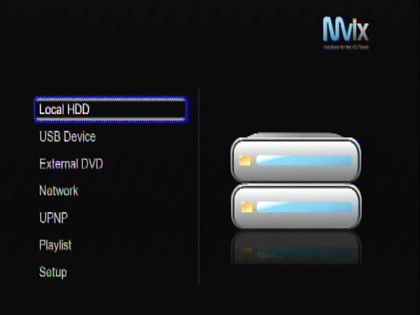 Figure 2: Main Menu
The first two list items select either the internal drive or an attached USB drive as a content source. But we'll first explore the last Setup menu (Figure 3).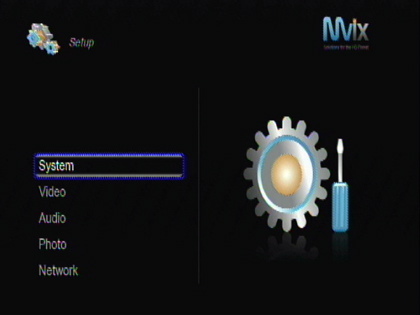 Figure 3: Setup Menu
Under the System settings you'll find basics such as menu language, screen-saver, firmware update, etc. When you first insert the internal drive, you'll also format it using a menu found here.
The Video and Audio sub-menus allows adjusting the output in various ways such as picture resolution, digital audio type, etc. The Photo sub-menu allows adjustment of slideshow parameters, and the Network menu allows you to change from acquiring an IP address via DHCP to using a static address. If you're using a wireless adapter, you'll set it up here.
Once you've got everything configured the way you want it, you'll want to dig into playback. First I'll check out the UPnP capabilities since if you already have a server on your network, the Ultio requires no setup at all. Figure 4 shows the UPnP selection menu where you can see three servers that I have running on my LAN.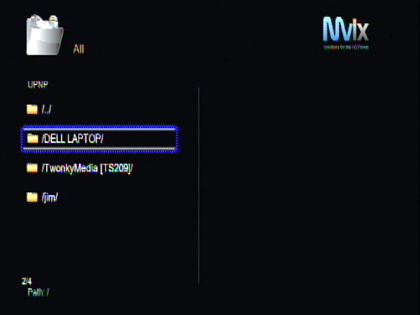 Figure 4: Server Selection
The Ultio itself doesn't come bundled with a UPnP AV server, but there are a number of free servers available for you to install yourself. If you use a NAS device on your LAN, it may also have a UPnP AV server.
Figure 5 shows the top-level menu after I selected one of my UPnP servers.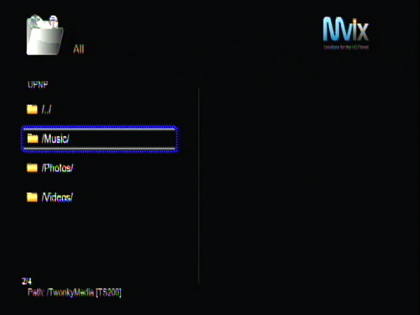 Figure 5: UPnP Top Menu
This a typical menu when dealing with UPnP AV servers. Content is typically divided into Music, Photos and Videos. But after that, the menus will vary depending on the capabilities of your server how it is configured. Some will provide access to Internet Radio stations and others will even provide access to commercial services such as Netfilx on-demand videos.
Figure 6 shows the display when I dug down into one of my music sub-directories and started playing back a file.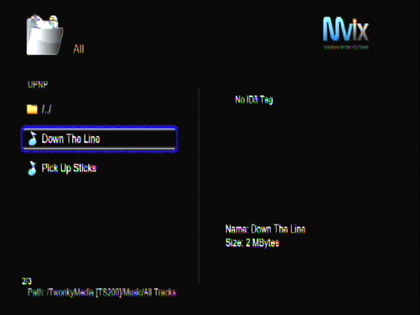 Figure 6: Music Display
It's a bit hard to see on this screen capture, but there's a "No ID3 Tag" error indicating that the Ultio didn't recognize the ID3 tag on the file (more on this later) even though my ID3 editor had filled it out. Some of my files did show tag info, but there doesn't seem to be any support for display of album-art.
The Ultio supports around a dozen or so formats for music including standards including MP3, AAC, WAV, WMA, and OGG. Of course, you won't be able to play back any files restricted with DRM, but fortunately, DRM seems to be going out of style (at least for audio).
For the complete list of supported formats see Mvix's format document. I appreciated the support for a wide rang of formats. But in general, I found the music playback capabilities of the Ultio to be very basic.
Photo Display
Figure 7 shows a page where I am browsing through a collection of photos.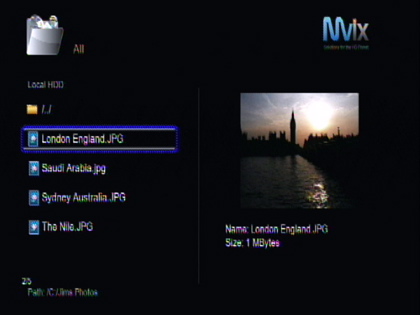 Figure 7: Photo Display
As you move up and down the list of pictures, a preview is shown on the right. A single picture can be shown by using the select button or a slide show can be displayed by using the play button on the remote.
During the slide show, a very nice, smooth "cross fade" is used to transition from one picture to the next. And if you put music files in the same directory, they'll be played back while the pictures cycle. You can also start music playback using the standard audio capabilities and then navigate into a photo directory to start the slide show.
If you want to get a better look at a picture, you can zoom in up to a 16X magnification and use the arrow keys to move around in the zoomed-in display. Support is provided for images in JPG, BMP, GIF, TIF, and PNG format.
Overall, the image slide show capabilities of the Ultio were easy to use and among the best I've tested in UPnP AV players. As a comparison, the DragonTech ioBox-100HD Network Media Tank I tested last month had only the most basic slide show capabilities with a unattractive menu, no music, no image preview, and a simplistic fade-to-black transition.
Video Playback
Music and photos are nice, but one of the biggest reasons people buy these products is for video playback. The Ultio is designed to play back 1080p video and is advertised with slogans of "the most comprehensive media center available in the market today", "format soup" and "it plays ALL". Those are pretty bold claims, so I wasn't surprised that the Ultio didn't live up to them.
For my HD tests, I have a handful of files and the Ultio was only able to play back around half of them. I was pleased to find it could flawlessly play back a 1080i Blue-Ray rip of The Shining that was in VC1 format, and it also handled a short 1080i video in a WMV container.
But here it failed to play a couple of 1080i H.264 files that the DragonTech ioBox handled flawlessly. Figure 8 shows a Fatal Error exception when I attempted to play a H.264 1080i capture of the 2008 NCAA Menu's basketball finals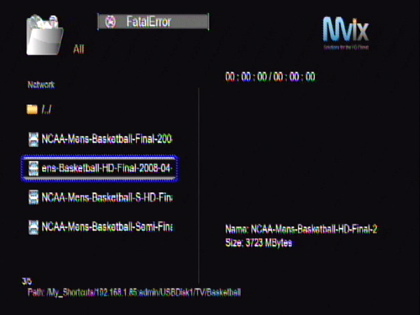 Figure 8: Fatal Error
I have a lot of SD movie content that mostly originated from handbrake rips of my DVDs. When I first started trying them from a UPnP AV server, few would play. I'd mostly just get an invalid file error with no other info. Note that this happened using two different UPnP servers serving content from two different drives.
The Ultio also has the ability to fetch content using a network SMB mount (Figure 9).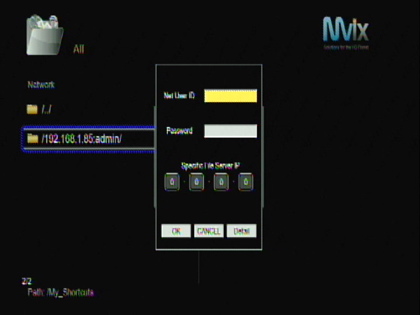 Figure 9: Network Share Setup
When I set up a network mount to access my videos, the same files that failed through the UPnP A/V severs would play fine. As a comparison, the DragonTech ioBox played these files without issue using the same UPnP servers. So there must a problem with the way the Ultio handles the output of the servers.
Note also that when accessing my music through the network share, the ID3 tags that were previously said to be missing were now present, although Album-art was still not displayed.
Figure 10 shows the Video playback menu when accessed through a network share.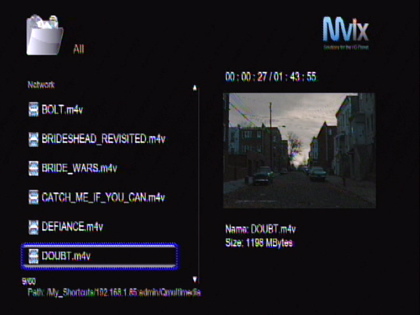 Figure 10: Video Playback
As you move through the list of movies, a preview of the movie starts playing in much the same way as the photo display previewed still images. I found this to be a fun way to roam through my movies, but the downside is that you can get menu lag. If you move quickly through the menu, you don't get the preview, but if you pause on an item for a just a bit, the Ultio starts fetching and decoding the data, which can cause menu navigation to feel sluggish.
One thing I didn't like was that the preview also includes audio. For a preview, I don't think audio is necessary. The preview feature of the menu display can be disabled under the Video Setup menu. I'll also note here that one of my daughter's movies, 10 Things I Hate about you would cause the user interface to crash. All I had to do was stop on that movie in the navigation list, and shortly thereafter, the screen would go black, and I'd get dumped back to the top-level menu. This happened both when accessing the movie through UPnP and through a network mount.
Once nice feature of the Ultio is the ability to play back ISO DVD files. ISO files show up just like any other file, but when selected, they play back just like a standard DVD with all menu navigation, special features, etc. Nice. Note that this only works with ISO files and have no encryption or have the encryption removed and it won't work when served through UPnP.
Another thing I always check out with these players are trick modes, i.e. fast forward, fast reverse, etc. The Utlio has these modes, and they work. But like most devices that stream across the network, the trick-modes felt a bit choppy and/or sluggish with more jumps forward and backward instead of smooth playback.
Mvix advertises support for a wide variety of video formats including MPEG 1, 2, 4, AVI, MOV, WMV, DivX and XviD. For the full list, check out the supported formats document. During my testing, I was able to play back a variety of files in various containers including MPEG 2, VOB, MPEG 4, H.264, AVO, and MOV's DivX, XviD. But I didn't have any luck with my MPEG 1 files or my MJPEG files in a MOV container.
Despite the claim of "it plays ALL", the Ultio only did about as well as most other media players I've seen. But I was disappointed that it couldn't handle more of my H.264 High-def content. Nothing can play it all, but the Ultio didn't even do as well as the DragonTech ioBox, especially when working with a UPnP server.
Other Features
I won't have room to cover some of the other features of the Ultio in detail, but I'll discuss them briefly. One unique feature that the Ultio brings to the table is file management (Figure 11)
Figure 11: File Manipulation
The Ultio has the capability to copy, rename, move and delete files through the TV user-interface. I didn't have the hardware to check it out, but the Ultio can also play back DVDs from a USB DVD player. And ff you want to generate your own custom list of files to play, you can interactively mark individual files for your list (from the internal drive only), then play them back in order.
The Ultio also supports downloadable, installable modules (more on this later). Two capabilities that are available now are a Torrent download feature (Figure 12) and a Samba file-server feature.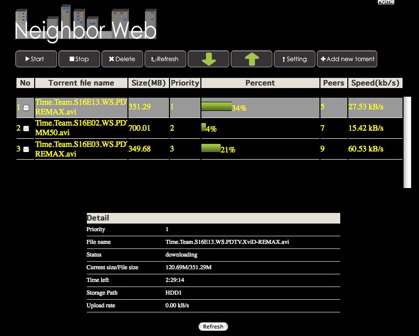 Figure 12: Torrent Capabilities
Figure 12 shows several torrents in the process of downloading. I found this feature worked fine. The file-serving capabilities, basically turn your streamer into a mini NAS. But you'll have little direct control over the configuration, i.e. you can't set up individual shares, user accounts, quotas, etc., although it works well enough for moving files over.
Under the Covers
Figure 13 shows the main board of the Ultio. Like many of the systems I've worked with lately, the interesting parts are hidden away under a massive heat-sink.
Figure 13: Mvix Ultio Main Board (click to enlarge)
Since the main processor is hidden, I had to dig in a bit to figure out what it is. A quick network scan of the device turned up an open Telnet port, which presented a login prompt when I connected. I tried logging in with the documented admin account without luck, but when I tried "root" I was in! No password needed. So keep this in mind if you add the Ultio to your network.
It's no secret that the Ultio runs Linux and Mvix provides a complete GPL download site including source code and a tool chain so you can build your own firmware. Mvix is even running a contest with a $500 prize for the best new feature developed.
Poking around a bit, I saw that the kernel was version 2.6.12.6, there was 128 MB of RAM and the processor was MIPS-based. Specifically the CPU info was listed as a "Realtek Venus" system. A quick Google turned up an interesting page that suggested that the Venus platform was based on a RealkTek RDT1261 chip. But other discussions suggested that the chip was a later revision of the 1261 from Realtek. Shortly after this review posted, however, Mvix sent a note that said "It is not based on model 1261 or 1262 chipset".
I mentioned earlier that the Ultio had a downloaded package capability, but when I had tried it using the documented installation procedure, all I got were errors. Once I was in with a command-prompt, I could see that the mechanism for package management was the standard ipkg system, so based in this, I just installed the packages by-hand using the ipkg-cl command.
Closing Thoughts
The Ultio is an interesting media player with some nice features. I liked the fact that the user- interface was given a bit of thought and polish with nice artwork and media previews. All too often it seems that these UPnP media players just provide little more than a plain list of filenames and directories to choose from.
I also appreciated the openness of the Ultio with the encouragement to external developers. Hopefully some developers will take up the challenge and come up with new capabilities.
The main problem I had with the Ultio was the flakey interaction with UPnP servers. This is unfortunate and hopefully Mvix will issue a new firmware to address it. I was also a bit disappointed that some of my HD content wouldn't play, so I would hope that this can be corrected as well.
Comparing the Ultio and the NMT-based Dragontech ioBox-100HD I reviewed last month, the Ultio is priced at $169 while the ioBox is a bit more at $220. While the Ultio has a superior user-interface and a better slide-show capability, the ioBox played more of my files, had nicer trick-mode capabilities, was silent (no fan!) and had much better interaction with the UPnP servers on my network. You may have different priorities, but if I were to choose between the two, I'd pony up the extra $51 and go with the ioBox.