At a glance
Product
NETGEAR Arlo Smart Home Security Camera System (VMS3230) [Website]
Summary
Wire-free HD security camera system with two HD cameras
Pros
• Cameras are completely wireless with easy magnetic mounting system
• Easy setup
• Decent night vision
• Good video
Cons
• Can't be integrated with other systems
• Somewhat expensive
• No audio
• Motion detection may miss crucial parts of events since camera is not always on
Typical Price: $300 Buy From Amazon
Introduction
NETGEAR's Arlo camera security system is the company's second attempt at packaging the technology acquired with its purchase of Avaak into an easy-to-use home cloud-based video surveillance product that is easy to set up and maintain. The first attempt was VueZone, which you can still buy, but is not compatible with its latest Arlo product I'm reviewing today. Arlo's key improvements vis-a-vis VueZone are better video quality and a more weatherproof case.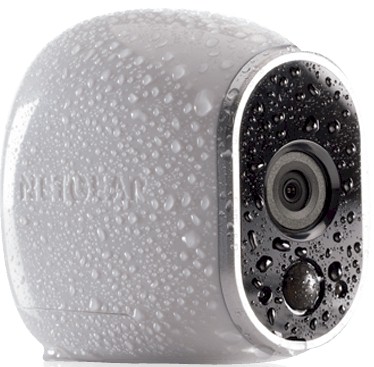 The kit I received for review comes with a 2.4 GHz 802.11n base station, wall-wart power adapter, Ethernet cable, two Arlo cameras, four magnetic camera mounts, and eight CR123 lithium batteries that retails for $349.99. You can also get a four camera kit for $499.99, three camera kit for $449.99, one camera kit for $200 and individual cameras for $160 a pop.
Inside
Arlo was different than other cameras I've reviewed because it comes with its own wireless base station. NETGEAR designed Arlo with its own base station for ease of setup, possible future functionality (local recording perhaps?) and special Wi-Fi power settings designed to maximize camera battery life.
The base station is based on Broadcom's BCM5358 wireless router SoC with 500 MHz MIPS 74 K processor, 128 MB of Flash and 128 MB of RAM. The base station runs its own 802.11n 2.4GHz wireless network that can support up to 10 cameras. There are also two USB ports on the base station that have no purpose presently, but that NETGEAR forums mention may be for future use.
The photo below shows the top side of the Arlo board with its two USB ports, Ethernet jack and power.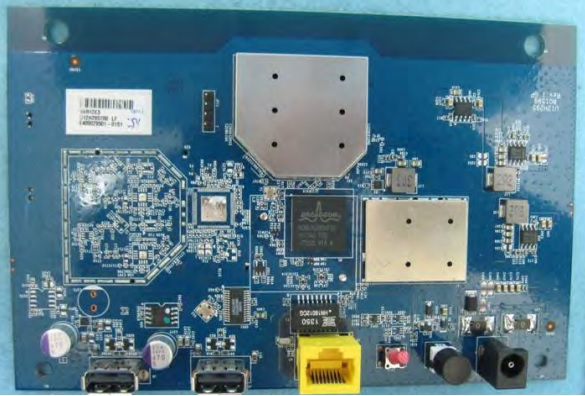 Arlo board with Broadcom BCM5358BOKFBG SoC
The Arlo cameras are 720p HD weatherproof cameras using H.264 compression. The cameras are completely wireless, which makes installation a snap. Each camera has 4 CR123 batteries that never dropped from their full reading despite being set to the Best Video setting during three weeks of testing. That said, Amazon reviews show some customers having battery problems with Arlo, especially in cold weather.
NETGEAR responses to the reviews indicate there was a software bug that incorrectly reported battery level in the cold. But it is safe to say batteries may run down faster as temps get very cold. Arlo's operating temperature is spec'd from 14° F to 122° F. NETGEAR says Arlo batteries should last 4-6 months with 4 minutes of daily use on the Optimized setting.
As a quick test, I put an Arlo in my refrigerator's freezer. Granted, being in the freezer caused only a few motion triggers a day. But at the end of a week's time, it still showed a full battery (all bars).
The table below shows the key information collected for cameras; blanks indicate unavailable information.
| | |
| --- | --- |
| Resolution | 1280×720 |
| Megapixel | |
| Lens | |
| Compression | H.264 |
| Horizontal field of view | 110° |
| Vertical field of view | |
| Audio | No |
| Night vision? | up to 25ft |
| Number of IR LED's | 12 |
| Record to SD card | No |
| Record to network share | No |
| Record to cloud | Yes |
| Wireless | Yes, proprietary, 2.4GHz 802.11n |
| Ethernet | Only on base station |
| POE | No |
| Pan/tilt/zoom | Digital |
| Can integrate w/ other systems | No |
Table 1: Component summary
Setup
Setting up the Arlo system was very easy. The Quick Start Guide shows it can be set up via browser or by mobile device such as Android or iOS. I chose to set up via my Samsung S4, which entailed first getting the Arlo app from the Google Play Store. The app guided me to choose New System Setup, set up a new account and plug the base station into my network where it picked up an IP address by DHCP.
Next, I put the batteries into the two cameras and brought them within 12 inches of the base station to be synced. The range of the base station is 300 feet and tested to work well in that range, but syncing requires closer proximity. The cameras were found and added to my newly created account. Knowing the base station was 2.4 GHz 802.11n and suspecting the sync was actually WPS, I also hit Sync on the base station and WPS pushbutton on my Android phone, but the connection did not complete. The image below shows the setup camera sync step.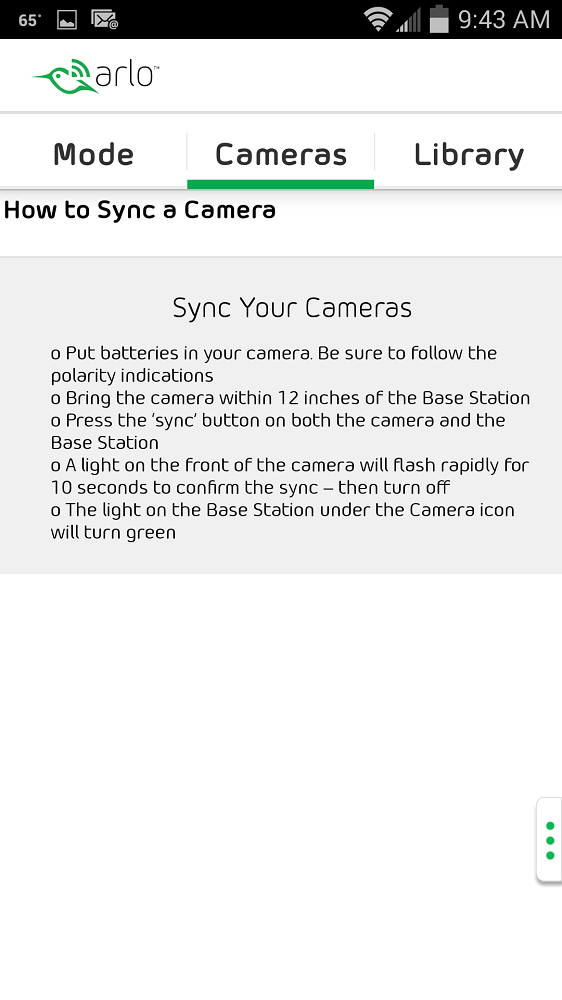 Arlo camera sync screen
Once set up, live and recorded video can be accessed via the Arlo app or any browser. The cameras themselves talk to the base station with AES-128 bit encryption and Transport Layer Security (TLS). On the cloud side, strict passwords are required, authentication happens over an HTTPS connection and login attempts are limited to 5 attempts over 5 minutes.
The cameras are truly wireless, using batteries and a wireless network. A strong magnet is present in the back of the camera for easy mounting. Simply screw the magnetic base to the wall and then pop the camera on by magnet. A more secure and permanent solution can be purchased for about $27, which takes advantage of a tripod thread in the base of the camera. The image below shows the included magnetic mounting solution.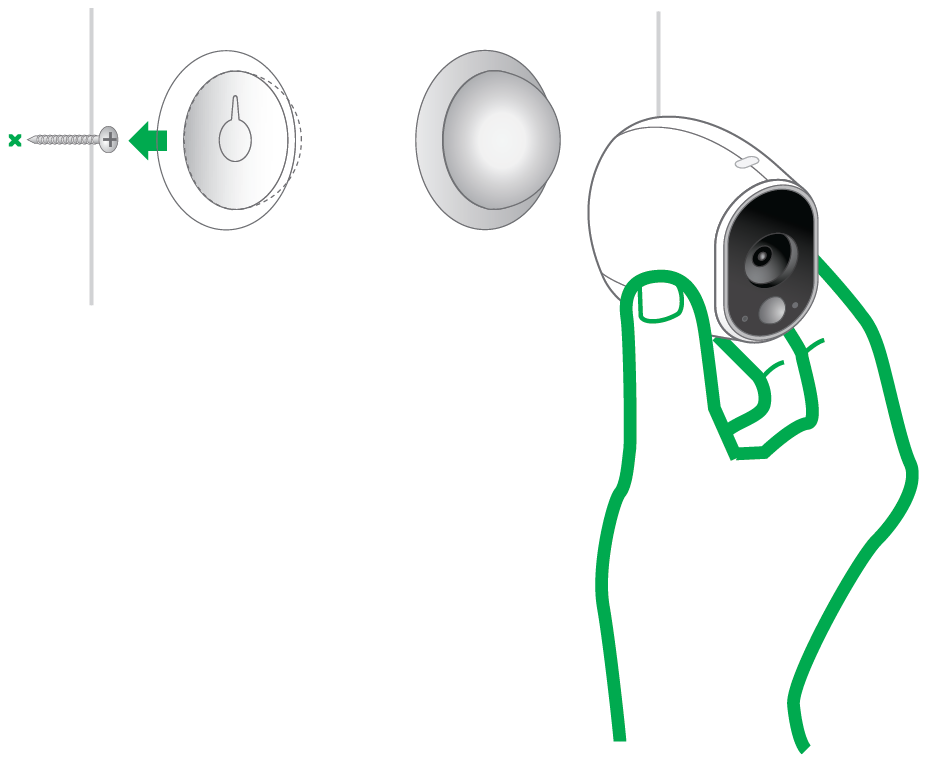 The included mounting solution of the Arlo camera
Features
Similar to Dropcam, Arlo records only to the cloud; it has no local recording capability. Arlo has three different service plans, summarized below.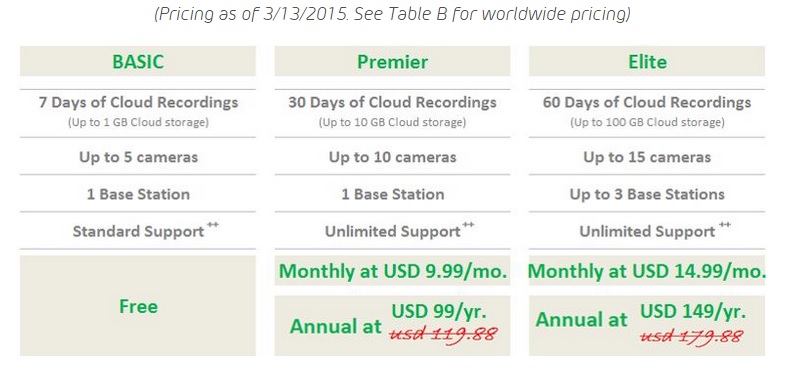 Arlo pricing plans
The Basic free plan includes 7 days of recordings (up to 1 GB) and support for up to 5 cameras. The Premier plan includes 30 days of recording for up to 10 cameras for $9.99/month or $99/yr. The Elite plan holds 60 days of recordings for up to 15 cameras and 3 base stations for $149/yr or $14.99/month. According to NETGEAR, 30 seconds of video on the "Best Video" setting will take up about 2.2-2.8 MB of storage space. With those numbers, even the free account will have room for about 365 30 second videos.
As noted earlier, Arlo records only upon event/motion detection. Its Library view is the basic event timeline you see with all surveillance solutions. It has dates on the calendar and previews of the clips in the window. Clips can be selected and viewed, shared, favorited, downloaded and deleted. The image below shows Arlo's Library view.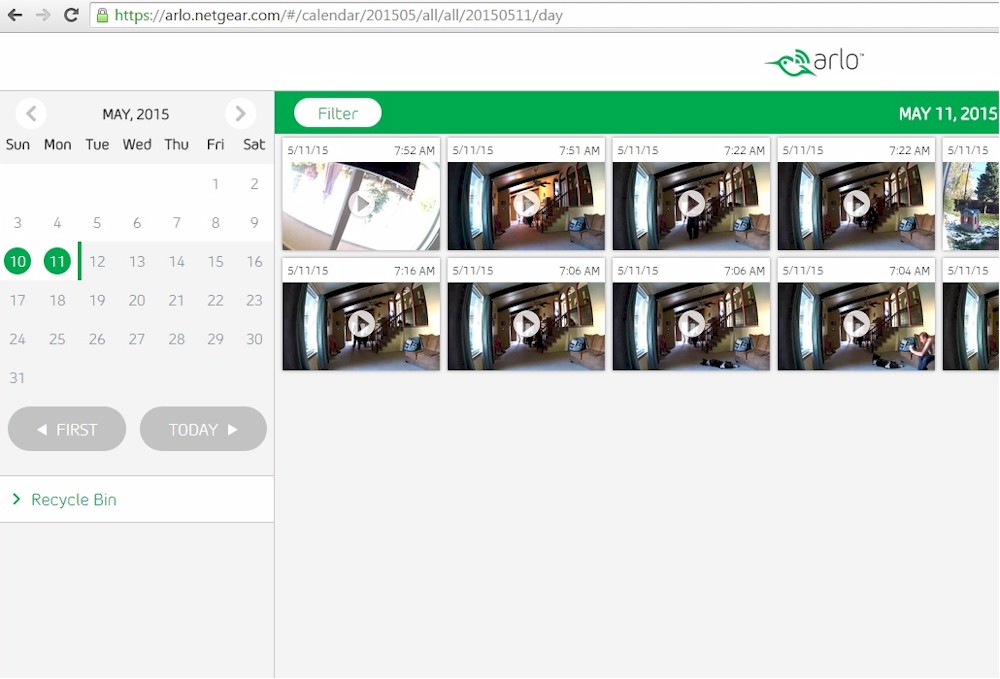 Arlo Library view
Motion detection settings are provided to tweak, schedule and customize event detection. You are not able to preset zones on the image (for instance to leave out passing cars on a street). Motion detection is set up fairly easily though with a simple "Fewer videos" to "More Videos" slider scale and seconds to record after motion on a similar sliding scale. Alerts can be emailed or pushed to mobile devices. Motion detection can be scheduled on and off. The image below shows the motion detection customization screen.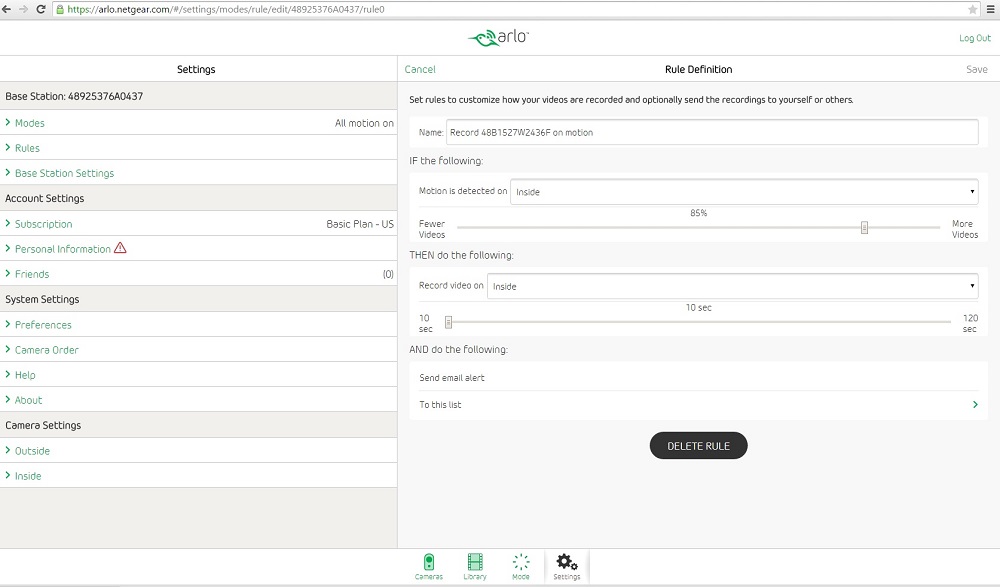 Arlo Motion Rule Definition
This brings us to Arlo's key flaw. Arlo records only when motion is detected, to save battery life. Most surveillance solutions record constantly, which allows "pre-trigger" recording. This means when motion is detected, a preset number of seconds can be added to the clip before the motion detection event. But Arlo can only show what happens after the trigger event. If Arlo isn't quick enough to start recording when triggered, key information can be lost.
To illustrate the point, I've included two videos below with a "burglar". The first is an old Foscam FI8918W, recording to Synology's Surveillance Station. You can see I've set it to add time before and after the motion trigger event.

Foscam FI8918W Motion Indoor Daylight
The second is the Arlo, recording the same event..
Arlo Motion Indoor Daylight
Notice that the burglar had walked almost 3-4 feet before Arlo starts recording. The path taken in this video still lends itself to good face recognition, but every event won't be that way. Those 1-2 seconds that were lost could mean the difference between valuable and worthless video of an event. It's ok for checking on the dog or the kids, but not good enough to monitor a critical situation.
To add to this, Arlo cannot be integrated into a current surveillance solution, due to its proprietary network. Rumors around Arlo forums indicate recording to a NETGEAR NAS might be future functionality, which would potentially allow local recording. But for now, that's only rumor and no recording is presently available without an internet connection. Even with local recording, capturing pre-event motion would mean a significant amount of battery use on the cameras, since they would need to constantly record vs. sitting in standby until motion is detected.
Video and Image Quality
NETGEAR says Arlo will dynamically adjust from 100 Kbps to 800 Kbps bandwidth use depending on connection. This can also be set manually at each camera. I decided to test this on the Best Video setting. What I found was the cameras were using 800 Kbps up and 20 Kbps down. Compare this to the Dropcam I have that uses 750 Kbps up and 400 Kbps down. The numbers are fairly comparable when looking at uplink, but Dropcam uses 20x downlink bandwidth. The big difference is that Arlo only records when motion is detected (or when you ask to see live video) whereas Dropcam is a constant burden on your bandwidth. The table below shows NETGEAR's specs on bandwidth and size for each camera setting.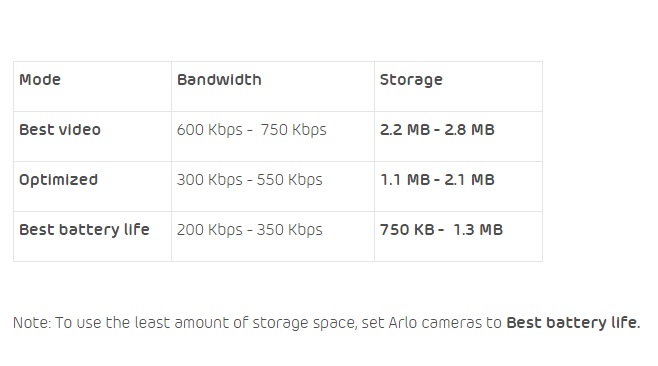 Arlo Video bandwidth and storage specs
In past reviews, I took snapshots with the cameras I reviewed. While this provided an indicator of image quality, it didn't really provide a feel for how movement looked on the camera. How many times have you seen news reports of a bank robbery and cringed at how awful the image of the suspect looked simply because they didn't pause for a snapshot from the camera? I realized static images from a camera don't paint the whole picture and videos would show more completely what a camera is capable of. That said, I took one static image with the Arlo camera. Arlo specs mention the night vision is good to 25 feet, in the image below I am standing at 25 feet for your reference.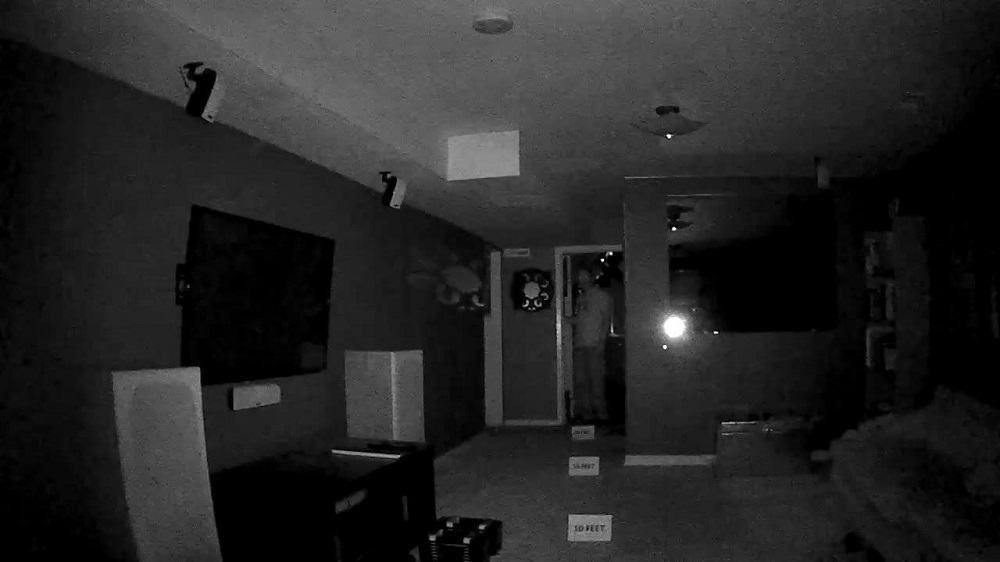 Arlo Night Vision with me at 25 feet
You can see the lens has a definite "fish eye" effect to it, which is even more apparent when you watch the videos. Overall the night vision looks fairly good, it doesn't light up the room like some cameras do, but it does shed adequate light. Let's see how it looks with motion in the video below.
Arlo Motion Indoor Night
You can see Arlo's night vision with motion is also fairly good. The scene is lit well and motion is not blurred. Over time, I will be adding the same scenes on different cameras to this YouTube channel to compare cameras.
I also took some video outside during the day to see how the camera reacts to bright light. The quality is very good with a millisecond of washout before adjusting. Two things are apparent, however. One is the fisheye effect of the lens, which you can see on the window shutter on the left. The second is that the camera turns on so late that the motion event is almost missed. Check out the outdoor daylight video below.
Arlo Motion Outdoor Daylight
Now compare to another video captured with Synology's Surveillance Station. The additional footage in this second video could possibly contain crucial information for identification. As noted earlier, Arlo's lack of ability to capture pre-trigger footage is its fatal flaw that has no workaround.
Foscam FI9805W Motion Outdoor Daylight
Finally, let's take a look at some outside night videos. Decent indoor night vision often doesn't mean good outdoor night vision. First a look at Arlo.
Arlo Motion Outdoor Night
Notice that night vision is fairly good. Then note motion detection starts as I move past the camera, records for my configured 10 seconds and then stops, even though motion is still happening. That isn't good, it cuts off just as the image would provide the best chance for identification. Also curious is how my 15 and 20 foot markers don't show up, I assure you they are there in the same spot as the D-Link video below. Let's take a look at the D-Link DCS-5020L outside.
D-Link DCS-5020L Motion Outdoor Night
Comparing at well beyond 20 feet, I'd say the night vision on these two cameras are fairly similiar, with the D-Link lighting up the scene just a tad more. You'll notice that Synology Surveillance Station actually split the motion into two videos as the distant turnaround went below my configured sensitivity threshold, I've included the trip back for key facial recognition. Also note that the 15 and 20 foot markers are much more identifiable in the D-Link video.
One last note, I did not record any videos in the "Best Battery Life" setting. My reasoning is that people want to see the best video possible from their camera for identification purposes vs. lower resolution that may not look as good. If you feel videos illustrating different resolutions are of value, please say so in the SmallNetBuilder forums and I will get some created.
Closing Thoughts
For setup, Arlo is a huge win. It can be set up and cameras mounted anywhere within 300 feet in literally 15 minutes and requires almost no network knowledge. For motion detection, it depends on what you need. To protect a business, watch an alley, monitor a cash register or other critical security applications, I don't think Arlo works. It turns on too long after a motion trigger and may miss crucial moments of the footage. Arlo also can't integrate into an existing system, so using it with other cameras is out.
On the other hand, to casually monitor a home and get notified if someone is in the front yard, Arlo would be ok.
Finally, the price is a little expensive, especially considering ongoing battery cost, but the free cloud-based storage that comes with it does add value. Bottom line, if you want a video surveillance solution that's quick and easy to set up, has good image quality and don't care about precise motion detection, then Arlo is worth checking out.
Buy Arlo Smart Home Security Camera System from Amazon