Introduction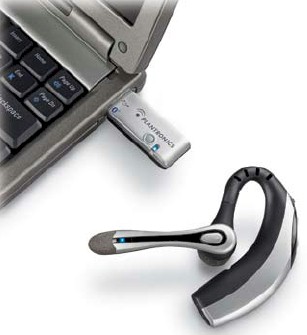 At a Glance
Product
Plantronics.Audio 910 Bluetooth Headset (AUDIO910)
Summary
A step in the right direction, the Plantronics.Audio 910 raises your expectations but then disappoints…just like the last four Bluetooth headsets you've purchased.
Pros
· Promise of seamless switching between Skype and cell
· Much improved Skype performance over open mic and speakers
· Bluetooth adapter included
Cons
· Hard to turn on and off
· Cumbersome to use with multiple programs
· Significant constant background noise
How many Bluetooth headsets have you gone through? The Plantronics.Audio 910 is the fifth Bluetooth headset that I've used. And like all the headsets before it, the.Audio 910 was disappointing. My sense of the past three years of Bluetooth is that things are improving, in that the.Audio 910 was less disappointing than the last headset I used. But, the improvement is slow and apparently we customers had better adjust our expectations downward.
What is Total Mobility?
I love the value proposition that Plantronics is aiming for. The Plantronics packaging says "Total Mobility Bluetooth Headset." Seamless switching is important, but Plantronics does not take seamless switching nearly far enough. And, there are a couple little things like audio quality and range that I need more of.
My list of unmet total-mobility-Bluetooth-headset requirements after using the.Audio 910 is:
Seamless switching between Skype, iChat/AIM, MSN Messenger (based on whichever application is on-top).
Seamless switching of the above applications on both XP and OS X platforms. And while you are at it, throw in Ubuntu.
Seamless switching between application sounds and operating system sounds.
Seamless switching between PC and my Treo 700p.
Seamless switching between my PC and my POTS (plain old telephone service) phone.
Seamless switching off of the Bluetooth headset, computer mic and speakers. And vice versa. (Currently you have to manually set every program individually for audio output, audio input, and interface sounds.)
Crystal clear audio (no ocean in the background, no "burbling" of voices),
Long range (i.e., 50 feet)
Six of my eight wants are for seamless "it just works" switching. But today's reality is a pallid version of the promise. Applications are greedy, fighting over audio and video devices, demanding monopolies on peripherals before working.
In Use
The 910 does provide seamless switching from the XP version of Skype to a cell phone—as long as you don't count
having to power cycle the 910 in order for it to be recognized by the cell phone. Approximately the same is true on the
Mac and switching from Skype or iChat to a cell phone. On the Mac I used built-in-Bluetooth and no installed drivers or programs for the 910.
Plantronics, and other Bluetooth headset manufacturers, might want to argue that they provide seamless switching
across applications, at least on the Windows platform. But, this only occurs after the user lays on a bed of nails to
get each application individually working with the headset. And, if you want to switch off the 910 and use your
webcam's microphone and computer speakers, all bets are off. No Bluetooth manufacturer I've seen lets you toggle their product on and off.
Power cycling the 910 is a pain; literally. The on/off button physically hurts to use. It is the kind of pressure
switch that I'm never sure if I've got pressed all the way. And, the switch is very small and sharply pointed.
The harder you press to be sure you are pressing hard enough, the more it hurts. I constantly have to give up an on/off
attempt. Then, carefully align my thumb nail on the button, and try again. It took me 2 attempts on average, to power
cycle the 910. I caught myself unconsciously using the aiming technique my WWII infantryman father taught me for aiming: "Take a whole breath, aim, let half your breath out, aim again…" press the power button.
The 910 gives you seamless switching on Windows XP (I did not test on Vista) between Skype and cellphone, by installing an application program that anticipates the settings that Skype needs, and makes adjustments automatically. Plantronics deserves a round of applause, virtual beers, and good Karma for adding this Bluetooth auto-set functionality.
Conclusion and Thoughts on Bluetooth Headsets
The problem is that Plantronics' auto-set efforts do not go nearly far enough. Plantronics does not automatically
manage switching across IM clients and the operating system. Plantronics' auto-set does not try to manage the
transition from PC to cell phone for you. I found the Skype-to-cell transition maddening to figure out. You may have a friend who has complained something like the following recently.
"The product says 'seamless switching from my laptop to my phone.' I turn on my phone, but it does not see the headset after I shut down my laptop. So, every time I use the headset I delete and repair (as in find each-other, put in 0000, then connect) it with my phone. This is stupid! Yes,… stupid. I was stupid to buy this thing!"
Wannabe geeks don't think of the headset first. We think of the phone first. And we want to make the headset work as
a peripheral of the phone. Phone master, headset slave. But, to make the 910 work with a cell phone there is no way
around turning the 910 off, waiting for the bad bits to drain out, then turning the 910 back on. Phone master, headset master.
Bluetooth is great. Bluetooth is powerful. But Bluetooth is not complete. Bluetooth headset technology feels to me like it needs another applications layer. A layer to take what the Plantronics.Audio 910 does between Skype and cell, and implement it across all applications programs, and across all platforms that headsets are used.
For example, The GN Netcom 6210 is a
Bluetooth headset that promised to provide seamless switching between POTS telephones and Skype. The 6210 was one of my
previous Bluetooth headsets. You can still buy the product (PROVANTAGE has 83 of them in stock!), but its manufacturer does not show the product in its web catalog.
We are entering the "I am not proud zone." GN Netcom is now Jabra
(maker of Bluetooth many, many, Bluetooth headsets). So, as far as Jabra is concerned, the GN 6210 is obsolete. One
solid reason this is so, is that the Bluetooth audio quality on both phone and Skype is too blurpy and irregular to be good enough for business.
Early adopters bought the 6210, then struggled with it for a week, then dumped it into a drawer, and then paid for it on their work expense accounts. The GN Netcom support people were cheery and encouraging, but there was/is really nothing they can do to make Bluetooth feel like a wire. And that I think, is what we all want: wire quality audio.
Is the.Audio 910 for you? If you must use a hands free headset, and you use Skype a lot, and if you have strong fingernails, maybe. The.Audio 910 is usable. But my usual video conferencing partners insisted that the 910 made me sound "even more white" than I am. So, you too may be subject to friendly abuse from choosing this headset.
But, if you want wire-clear quality, seamless transitions across programs and platforms, the.Audio 910 is probably not for you.