The Sirius Conductor is one of many media devices on the market today that utilize the Z-Wave protocol. Adding Z-Wave to the Sirius Conductor enhances the user's experience by virtually bringing the radio right into the palms of their hands.
If you look at the Sirius Conductor tuner, the first thing you'll notice is its size. Measuring at a slim 1″x"2.6″x3.6″ (WxHxD), the tuner is half the length of a dollar as seen in Figure 1. Also, notice that there is no visual display other than a single LED for a power indicator. This is because the LCD screen has been moved to the remote control.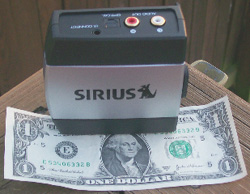 Figure 1. Small size
The universal remote contains a three line LCD screen that is used to display the channel, artist, and the name of the song currently playing. The LCD screen also offers step-by-step instructions making installation and set up simple.
Helpful troubleshooting tips are displayed when hardware is not properly configured. For example, when the antenna is not attached, the remote's LCD screen will indicate "Antenna Not Detected." So make sure you take your remote with you when aligning your antenna.
As you can see in Figure 2, the remote has a built in signal strength meter to help ensure you get the best possible signal. The strength meter provides measurements for both Satellite and Terrestrial transmitters.

Figure 2. Signal indicator
The Sirius Conductor remote not only controls Z-Wave enabled devices. In fact, it can control up to 12 infrared (IR) devices such as your TV, A/V receiver and even Windows MCE.
There are two methods for adding IR components to your remote control. The first is just like any other universal remote. In the back of the Sirius Conductor manual, there is a list of four digit codes that have been organized by device type and then by manufacturer. Using these codes will save you a lot of time when configuring your devices.
If you cannot find your device listed in the Sirius Conductor manual, don't worry. As long as you have a remote that can control the device, you will be able to teach the IR commands to the Sirius Conductor's remote as seen in Figure 3.

Figure 3. IR learning
Z-Wave is a low power radio frequency(RF) technology that allows signals to be transmitted through walls at short distances. The Sirius Conductor remote transmits up to 100 feet at a frequency of 908 MHz. On the other hand, IR uses visible light for data transmission. So you may be wondering how you would control you IR devices from areas not in the line of sight.
The answer is that the Sirius Conductor's tuner has a built in IR blaster. An 1/8th inch mono jack lets you connect an IR emitter. The IR signals you programmed into your remote control are converted to RF and sent to the tuner, where they are converted back to IR.
There are some limitations to the Sirius Conductor design. First, the remote control requires four AAA alkaline batteries that are not rechargeable. There is also no way to control the tuner from the tuner itself. So if you lose the remote or if the batteries die, you will not be able to control your tuner directly. There may be other options in the future, such as using other Z-Wave enabled remotes.
Another limitation is the lack of support for other types of Z-Wave devices. According to Lauren Kruk Winokur, media relations manager at Sirius, the remote supports the Z-Wave metadata class. "It does not support lighting controls, but we are contemplating adding more Z-Wave control features in future products. Its physical shape is loosely based on an existing UEI remote, but is really an all-new design." So the only Z-Wave enabled devices that will benefit from the Sirius Conductor's remote are those that implement the "metadata" class.
If you are a die-hard home automation enthusiast like I am, then you will probably want to control your Sirius Conductor using something other then the remote that comes with it. HomeSeer Technologies has added support to its software(v2.2) for controlling the tuner.
But again, there is a limitation. Since HomeSeer is a primary controller you must add the Sirius Conductor tuner to HomeSeer as a device, just like you would add a light switch or receptacle. When you do this, the Sirius Conductor remote must be set up as a secondary remote control. So the remote will no longer be capable of controlling the tuner.
The Sirius Conductor tuner offers two types of audio outputs: an analog RCA output (red and white connectors) and a digital Toslink optical output. Sirius Satellite Radio's product development manager David Horoschak said that the optical connection provides a "48k Stereo PCM" signal. Optical connections are isolated from electrical noise. Using the optical Toslink connection will provide you with a clean signal, but if you were to use the RCA connections, the quality of your audio could be affected by nearby electrical lines.
Finally, Sirius provides a 21-foot long antenna cable attached to an Indoor/Outdoor antenna. The antenna needs to be mounted with a clear view of the sky. If this is not possible with the supplied cable, then you will need to get an extender. Sirius offers a 50ft extender cable (part #: SIR-EXT50) that has a built in amplifier to combat signal loss.
This article originally appeared on .
© 2008 ZWaveWorld, Inc.