Introduction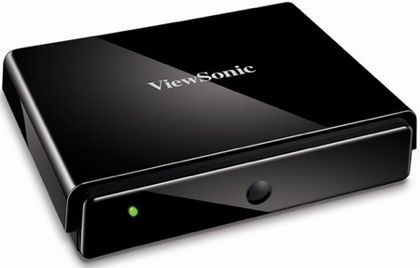 At a Glance
Product
Viewsonic NexTV Full HD 1080p network media player (VMP75)
Summary
Inexpensive media player with Netflix support and integrated web browser
Pros
• Attractive UI
• Extensive video formats supported
• 1080p support
• Silent
• Built in web browser
Cons
• Network sharing issues with Mac OS
• Netflix crashes and problems
• Limited Internet services
• No Flash for web browser
It's clear that in the future, all access to your videos, photos, and music will be over a network. Physical media is on the way out and the rumored bankruptcy filing of Blockbuster is a sign of things to come.
If all of your multimedia files are on the network, you'll need a gadget to access and play those files in your entertainment center. In this review, I'll check out one such device, the Viewsonic VMP75. The VM75 is advertised to support numerous multimedia file types, high definition content and integration with the Netflix streaming service. Let's see how well it works.
Setting Up
If you have Ethernet available in your entertainment center, setting up this little box is not much more difficult than plugging in your network along with the standard audio/video cables. Figure 1, from Viewsonic's manual, shows the back panel of the unit with all the connectors labeled.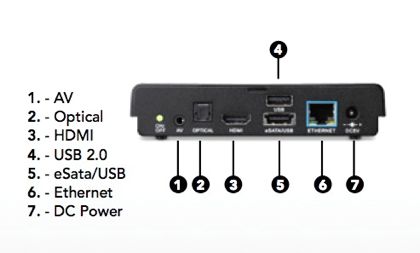 Figure 1: Back panel of the Viewsonic VMP75
This was the first network media player I've seen that had a combo eSATA/USB port. It worked fine, but it made connecting cables in the cramped back panel just a little more difficult than a standard port. And what can you plug into these ports?
If you don't have wired Ethernet available, the VMP75 supports use of various USB WIFI adaptors. For users going this route, see the Viewsonic Web Page for supported models. I don't have an adaptor myself, so I won't cover wireless setup or usage in this review.
The USB ports can also be used for a mouse and/or a keyboard, which comes in handy when dealing with some features that require text input. But the main draw of the USB and eSATA ports is for external drives. Load up a disk with your media collection, plug it into the VMP75 and the content is immediately available on your TV. Disk formats of EXT 2/3, NTFS, and FAT 16/32 are supported.
For controlling the box, you'll use the remote shown in Figure 2.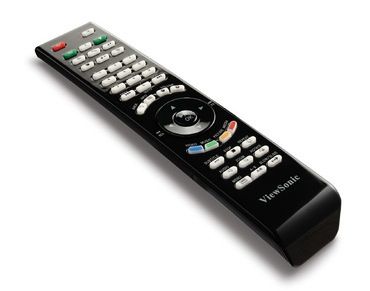 Figure 2: VMP75 remote
The remote worked well enough, but it's not backlit. So if you plan on using the VMP75 in a darkened room, you'll have to navigate through its numerous buttons by feel.
When you have the box all plugged in and powered up, you'll notice that it is completely silent, because it uses no fan. As for power-draw, you won't be footing a big bill for this box. My power-meter registered less than 5 W when the VMP75 was in use and none when turned off.
Feature Tour
Once the VMP75 boots and is ready to use, your TV will show the attractive main menu as seen in Figure 3.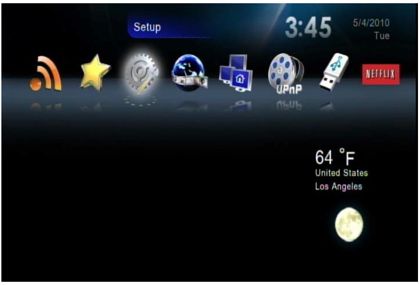 Figure 3: VMP75 main menu
First, I'll explore the Setup menu to see what options we have to configure the box. Figure 4 shows the top-level menu used for configuration.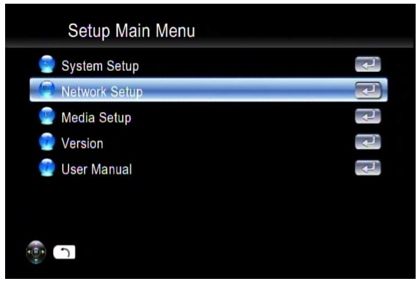 Figure 4: VMP75 Setup menu
Under Network Setup you'll find the basic IP address configuration such as DHCP (default), static, DNS settings etc. And if you're going to set up a wireless adaptor, this is the menu where you'd do it.
Under System Setup there are a number of standard settings for audio and video output, language, screensaver timeout, etc. Note that as far as screensaver, I found that at least once, it failed to turn on, so beware if your TV is susceptible to burn-in.
This menu is also where you'll set up your zip code so that the weather report shown back in Figure 3 is correct for your location. An interesting setting found in this menu is Hard Disk Share Setup (Figure 5).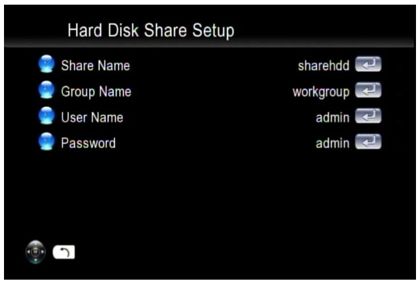 Figure 5: Hard Disk Share Setup for the VMP75
This feature allows you to share one of the plugged in drives to your local network and is designed to make it easy to move your multimedia files to the VMP75 for use. In my case though, this feature gave me trouble. When using it from MacOS version 10.6.4, I found that some files would copy and some would fail with cryptic errors.
To do the reverse and access other network shares, I moved back to the main menu (Figure 3). There you'll find a sharing menu that's designed to let the VMP75 access file shares (SMB or CIFS) on your network. Once again, this feature gave me trouble. I have a number of servers on my network that should have been visible to the box, but only about half showed up. And even with those that did show up, I had mixed results.
Some folders would not be listed at all, and others, when accessed would give an error of Network connection failed and then the box would lock up for several minutes. Note also that there is no way to manually enter info for the servers. If the VMP75 doesn't auto-detect them, you're out of luck.
To see if anyone else was having these types of issues, I searched around and found that it's a common problem with VMP75 users. So, if you were looking to use the VMP75 and primarily access your media via network shares, I'd hold off until Viewsonic releases a fix.
Luckily, you can access your multimedia files via several alternative methods including a local disk plugged into the unit. Figure 6 shows a display of movies from a local disk when I navigated down into one of my directories.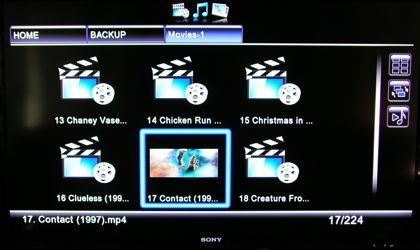 Figure 6: Movie navigation from the local disk
When browsing through your files, there are several options for display, selectable from the menu on the right. In this case, I've selected the thumbnail view. It's a bit hard to see, but the movie I have currently selected has started to play inside the thumbnail, a nice feature but one that can bog down navigation a bit.
You'll note that there is no true "thumbnail" on my videos and you're limited to movie selection just based on file name. As is the case with most all of these boxes, there's no way to navigate and chose movies based on metadata such as actor, director, year, awards, etc.
And how did the VMP75 do with my movie collection? Viewsonic advertises support for a wide range of formats and codecs, including biggies such as H.264, XviD, DivX, WMV 9, MOV, VC-1, MPEG 1,2,4, etc. My experience was that the VMP75 did very well with my motley collection of videos. Not everything played back. But since I have standardized my collection to Mpeg4/H.264 most everything I really cared about played fine.
And how about High Definition video? Viewsonic also advertises the VMP75 is capable of handing 1080p video. And my experience shows it can. I had no issue with any of the HD clips in my collection. During playback, "trick modes" such as fast-forward and reverse also worked fine both with high definition and standard definition videos. One of my old AVI files caused the VMP75 to get in a bit of a confused state during a reverse play operation, but that could have just been due to a bad file.
To play music, you'll navigate to a directory with your files for selection. As with the movies, you are selecting based on file name and not on metadata such as artist, album, year, genre, etc. Figure 7 shows the display while a song is playing.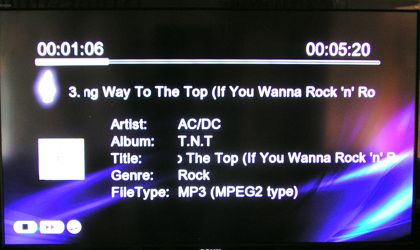 Figure 7: Music Playback
It's hard to see from this shot, but the display did include the album-art while the song was playing back. In the thumbnail view of the directory, the album-art was not used. Once a song is selected and playing back, you can navigate away and the song continues to play. Just as with video, a wide variety of audio formats are supported so check out the Viewsonic web site for specifics. Note that no music or video file restricted with DRM will play.
The VMP75 has the capability to display your photo collection too. Figure 8 shows the menu when I had navigated down into one of my photo collections.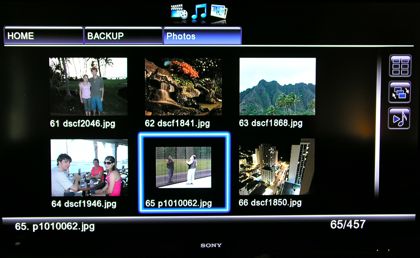 Figure 8: Photo selection menu
From this menu you can select a single picture for display or you can hit the "play" button on the remote to start a slideshow. If you had previously started music, the slideshow will be shown with your music playing in the background. The slideshow feature was fairly bare-bones, but it worked well. Viewsonic advertises support for JPEG, GIF, PNG, BMP, and TIFF files.
If you want to access your files across the network and the file-share method is not working for you, all's not lost. The VMP75 also has the ability to access your data via the UPnPAV protocol which is widely supported and available on Network Attached Storage (NAS) systems as well as most home computer operating systems. Figure 9 shows the top-level menu of the box where I've selected the UPnP option.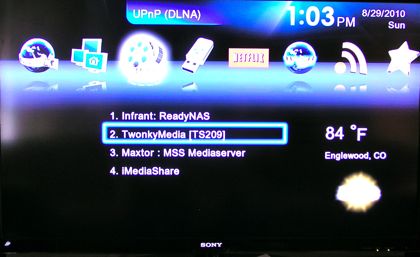 Figure 9: UPnP selection
In this screen, the box has automatically located four different servers on my network, and one of them (iMediaShare) is actually running on my Android cell phone. When you're accessing your data via a UPnP server, a lot of the functionality you get will be dependent on the server side. Some will ignore multimedia files that it doesn't understand even if the client would be able to render them.
For example, my Android server only serves up photos, even though I also have video and music on the phone. Some servers will scan your files and present an organized collection others will just return a simple file list. It's up to the server.
In my case, the UPnP feature worked fairly well. Once I selected a server and navigated into a directory, the basic video, photo and music features coming from the server were pretty much indistinguishable from local playback giving me all the same navigation, sorting and playback options.
Features – more
Viewsonic is trying to tie into the "Social Media" craze by advertising that this box will let you keep up on your Facebook, twitter and other social sites. What this translates to is that that the box comes with a web browser. Figure 10 is a screenshot of the browser after I navigated to the CNN web site.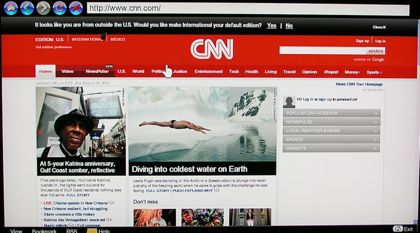 Figure 10: Browsing the web on TV courtesy of the VMP75
In general, the browser on the box rendered pages fairly well, but it doesn't support Flash so you'll get used to seeing broken flash images. I checked out the results of the Acid2 web browser test and this browser passed. But on the newer Acid 3 test, it failed with a score of 43 out of 100.
But in reality, rendering is not the real issue with this browser. The real problem is user interaction. Unless you want to connect a mouse and a keyboard, you'll be limited to cell-phone style entry in text fields, and mouse movement using the arrow keys on your remote. It's painful enough to just barely make it useable for anything other than a quick check of a few previously bookmarked web sites.
A few other features that I won't have room to cover in detail include Live365 and SHOUTCast Internet radio (both worked well), and a RSS feed-reader which also worked fairly well for keeping up with the headlines of your favorite web sites. Figure 11 shows access to the Flickr service, after I had navigated into my account using the VMP75.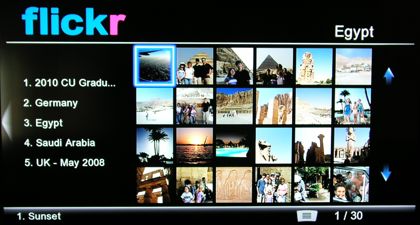 Figure 11: Flickr on the VMP75
This application was done well and appeared to be a true "native" application instead of just a web-browser wrapped around a standard web site. Once in the application, I could navigate, select photos, view a slide show using previously selected music, etc. The only hiccup I saw was the fact that when photo descriptions included HTML, the raw HTML markup would be shown instead of being interpreted or ignored.
Another feature is the ubiquitous YouTube. But unlike the Flickr application, the YouTube interface is just the web-browser with all the navigation problems mentioned earlier. It works, but trying to search and navigate deeply into a complex web site using cell-phone style text input and arrow keys for mouse navigation is painful.
Text on the VMP75's box indicated that a virtual keyboard would pop-up when needed on the YouTube site, but it didn't for me. The only way I could search was by using the remote to enter strings cellphone style.
Netflix Integration
One big selling point for the VMP75 is integration with the Netflix service. If you already have an account, you can use that. Or if you don't, you can use the bundled 30-day free trial. Like the Flickr application, the Netflix application is native to the VMP75 and not just a web- wrapper. Figure 12 shows a typical screen after a movie has been selected.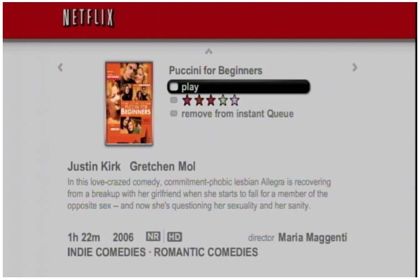 Figure 12: Netflix movie selection
The integration with your standard account allows you to use a computer to manage your movie queue and then use the VMP75 for viewing. This isn't has handy as the newer Netflix interfaces on the WD TV Live Plus, Roku players and Seagate FreeAgent Theater+ HD Media Player. Those devices all allow you to browse and play all Netflix Play Instantly content. The library of movies and TV shows that Netflix is allowed to stream is a bit limited. But it is nice to browse and immediately view something.
So how did it work? Unfortunately, it was a mixed bag. When it was working, it worked well. But I would say on average, I got a crash of the application once ever 30 minutes or so. And when this would happen, the box would exit all the way back to the main menu. I'd have to navigate and select Netflix again, navigate to my movie, and then tell it to resume where it left off. And then, when I was wrapping up this review, I started getting the screen shown in Figure 13 every time I went into the service.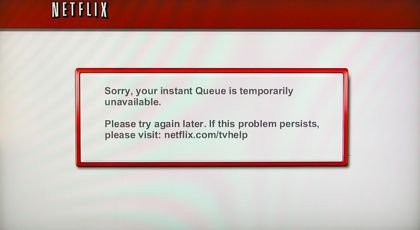 Figure 13: Netflix error
The Netflix streaming service is nice, but if they want to really compete with the cable and satellite companies, crashing every 30 minutes and failing to connect at all is going to be an issue.
Under The Covers
So, as usual when I plug some new device into my network, I get curious as to how it's implemented. After a bit of poking around, It's pretty clear that this box, like many others, is running a version of Linux internally.
One clue is that the documentation mentions Samba which is commonly found on Linux boxes. And a nmap scan of the box identifies it as a Linux kernel in the 2.6.X family. As far as other software that the box might be using, I noticed a web server running on a couple of ports with some sort of broken or non-functional "book marking" feature.
Even though the VMP75 is clearly running some GPL-licensed software, I could find no reference giving me access to the source code as required under the license. Hopefully, this is just an oversight by Viewsonic that will be corrected soon. As far as the hardware, Figure 14 shows the main board of the unit.
Figure 14: VMP75 main board
In this photo, you can see just like other networked media players, the main processor of the unit is a MIPS-based Sigma Designs SMP8654AD and the Ethernet is provided by a Realtek RTL8201CL.
Note that unlike the WD TV Live that I reviewed a while back and which uses nearly the same chip, there is no large heat-sink. Hopefully this version of the chip runs a bit cooler so that heat does not become an issue.
Closing Thoughts
The VMP75 has potential. The hardware obviously has the capability to easily handle HD content, lots of different file formats, and local network streaming. And when you add a nice user interface and the ability to stream Netflix movies, you have a nice little multimedia-streaming box.
But the bugs I encountered really limit its appeal. I couldn't reliably use all my local network shares and the Netflix feature crashed frequently. These bugs really need to be addressed before I could recommend a purchase.
If I compare the VMP75 to the WD TV Live I reviewed awhile back, the WD box had far fewer issues. The WD player didn't have Netflix-streaming, but a newer version, the WD TV Live Plus does, and the price of Plus model and the VMP75 are similar at around $120. At the same price, with similar features and fewer issues, it would be hard to recommend the VMP75 over the WD TV Live Plus.