Introduction
Updated 7/1/2010: Properly ID Sigma chip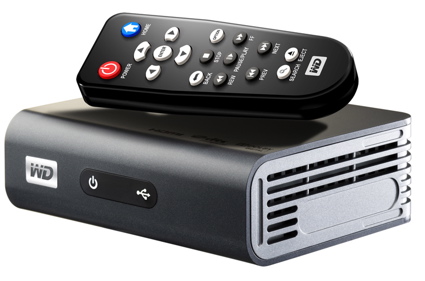 At a Glance
Product
Western Digital WD TV Live (WDBAAN0000NBK)
Summary
Inexpensive and surprisingly flexible media player
Pros
• Attractive UI
• Extensive video formats supported
• 1080p support
• Silent
Cons
• Can't attach USB hub
• Flickr Issues
• Internet content playable is a bit thin
When I reviewed the WD TV last month, I found it was a very capable little box that could play most of the videos, music and photos that I threw at it. But one key limitation of the WD TV is its stand-alone design.
The WD TV has no network features and can play content only from an attached USB drive. If you want to stream your movies, photos or music to your TV from local computers or get content online from services like YouTube, the WD TV won't cut it.
Fortunately, Western Digital has another model that does have network capabilities. So in this review, I'll check out the WD TV Live.
For only $20 more than its standalone sibling, the $149 WD TV Live has all of its playback features, plus a host of features for playing content from your LAN or the Internet.
Setup
Figure 1 shows the back panel of the Live, where along with the power connector, you can see a USB port, an HDMI port, an optical audio connector, the 10/100 Ethernet jack, a composite connector and a component connector.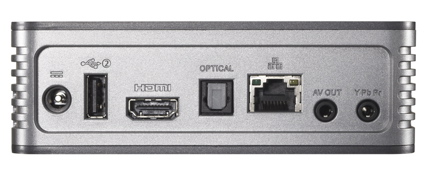 Figure 1: WD TV Live Back Panel
That's a lot of connectors for a five-inch panel, and just like the WD TV, there's an additional USB port on the top of the box. As you check out the Li e, you'll note the lack of a fan vent. This little box runs fanless, silent and only draws 5 Watts of power while in use.
Hooking up the Live is straightforward with no surprises. Ethernet is configured via DHCP and the A/V outputs appeared to be auto-detected. If you intend on using media from a USB drive, you can utilize drives formatted in NTFS, FAT/FAT32, or HFS+.
If you don't have Ethernet handy where you want to use the Live and you want to get it online, you can ignore the Ethernet jack and supply a USB wireless adaptor for connecting to your home wireless network.
There's a list of supported adapters here in WD's knowledge base. But in general, adaptors based on a popular Ralink chipset should work. Note that Western Digital recommends using 802.11n for streaming HD video. But if you really want hassle-free HD viewing, you'll have a higher chance of success using an Ethernet connection. Note that the Live doesn't support USB hubs. So if you use a wireless adaptor, you'll be down to only one USB port you can use for an external drive.
Feature Tour
Figure 2 shows the Live's main menu. The Live operates just like the WD TV if you're playing files from an attached drive. So check out my WD TV review for a rundown on that.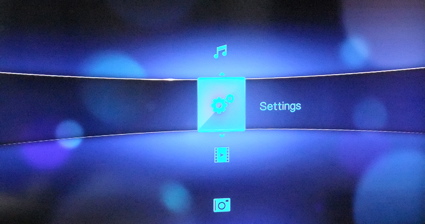 Figure 2: WD TV Live Main Menu
In this review, I'll concentrate on the Live's network-enabled features. Figure 3 shows the network setup, where you can statically assign network info if you're not satisfied with DHCP configuration.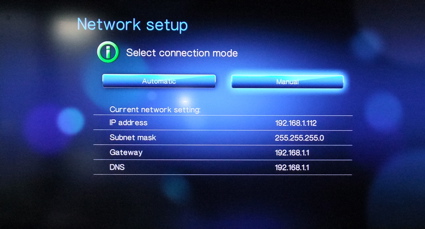 Figure 3: WD TV Live Nework Setup
Wireless setup will be a bit more complicated to set up. But since I didn't have any of the listed USB wireless adaptors on hand, you're on your own for that.
So once you're networked, what new features do you have? The first feature I'll check out is local network streaming. Figure 4 shows a new Media Servers submenu found under the Music, Video and video selections.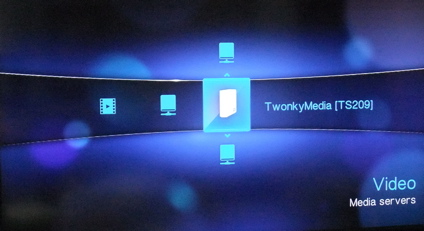 Figure 4: WD TV Live Media Server Selection
In this case, the WD TV has located a UPnP A/V server on my network. The server shown is running on a Qnap TS-209 Pro NAS that I use for my multimedia serving. Chances are, if you have a NAS on your network, it will come with a UPnP A/V server that the Live will be able to use.
And if you don't have a UPnP A/V server on your network, there are a number of free or paid servers that you can run on your Windows, Mac, Linux and even iPhone systems on your net.
Figure 5 shows the Photo selection menu once I navigated down into a directory full of photos.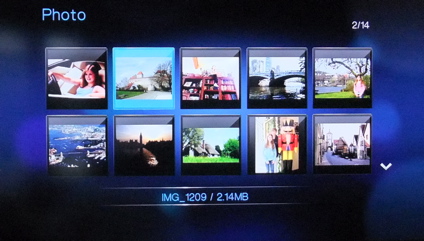 Figure 5: WD TV Live Photo Selection
In general, this capability worked the same as it did with local content. For example, during photo slideshows, you get timing control, nice transition choices, the ability to play music while the show is ongoing, etc. The only difference I could tell between this and use off the local drive was the lack of customizable folder and file art.
When navigating local directories, you normally can assign your own folder or file image to be used in menus. But it appears as if this is not supported when browsing through the UPnP A/V servers. Other than that, this capability was done well. For many networked media players, using an external server usually feels a bit awkward. But with the WD TV Live, it was fully integrated and almost indistinguishable from accessing files from an attached drive.
Accessing Shares
If you don't have or want a media sever on your network, you can also play content from network shares. Figure 6 shows a menu where various systems that advertise folders via the Windows-standard CIFS protocol are listed.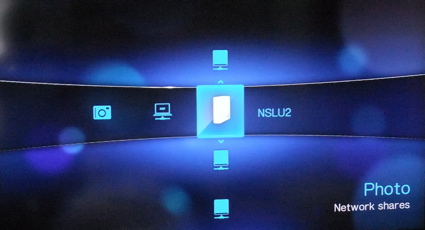 Figure 6: WD TV Live Nework Share Selection
In general, accessing content from network shares was similar to getting it from media servers. The only difficulty I had with using network shares was that one of my systems didn't show up, even though it was running a CIFS server on the same local network. Note that there is no way to manually enter an IP address, share name or any other way to manually direct the Live to pull up a share. So if for whatever reason one of your systems doesn't show up, you're out of luck.
The Live itself optionally runs a CIFS server, so you can easily copy your content over to it. But note that there is no protection via username/password. So if you tell it to share, everything is open to the local network.
The Live also runs an iTunes server, which shares content to any iTunes app running on the network. When I first checked this out, a found a WDTV Live icon under my iTunes' Shared menu, but couldn't see any content listed. But as I was wrapping up this review, I checked again and found and played content. So it looks like it takes awhile for the Live to index content and have it ready for play. But I couldn't find any controls to change the scan interval or force an immediate scan.
UPnP Rendering
The last local network feature I played with was using the WD TV Live as a UPnP Media Renderer. The Live advertises itself on the network as a "Renderer" meaning that I should be able to push content to it from another UPnP-compliant system. Want to control the WD TV Live with an iPhone or an iPod touch? Well, "there's an app for that".
In my case, I ran persona software's media:connect app on my iPod touch that worked as a go-between, or a remote-control for the WD TV Live. This allowed me to browse local UPnP servers on the screen of my iPod, select content and then direct the content to the WD TV Live. And once you've set it up, you can even quit the app so you're not tying up your iPhone as a dedicated remote control.
Figure 7 shows an iPod screen-dump where I've selected music from a server and picked the WD TV Live as a renderer. This worked fine. I heard the music and I could pause, resume, skip, etc. But there was no on-screen indication of my control from the WD TV Live's display at all.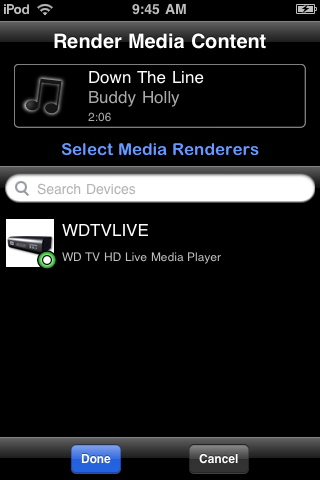 Figure 7: WD TV Live Control via an iPod Touch
I was also able to select Internet radio stations from one of my servers and listen to them to them via the Live. But the same wasn't true for videos and photos. I could successfully send a video and could hear it playing. But the Live's menu remained on the screen, with no trace of the video that I was playing.
Only in the fraction of a second between the time that the menu dropped and the screen-saver kicked in, did I notice that my video had been playing behind the menu the whole time. And when I finally tried to regain control and play video using the Live's own menu, it appeared to get into a bad state, requiring me to pull the power.
It's hard to say whether these problems were the fault of the iPod app or the Live. But it would be a slick feature for Western Digital to get working. It wouldn't even be too much of a stretch for Western Digital to deliver their own app that did both the UPnP management and the local menu interaction.
Internet Content
It's all well and good to use local content. But what if you want to watch that latest viral-video from the Internet or look at photos from your friend's latest wild party? Well, the Live has that ability as well. Figure 8 shows interaction with the "Most Popular" videos listed on YouTube.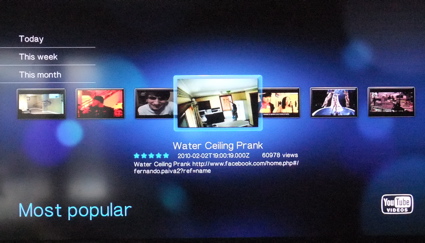 Figure 8: WD TV Live YouTube Interaction
The Live has a fairly complete interface for YouTube, including the ability to log into your account, browse and search categories, rate videos, etc. And I found it worked well. But as with all online content, you're at the mercy of the speed and reliability of your Internet connection.
If it's online photos you're after, the Live has the ability to access Flickr. Figure 9 shows interaction with a Flickr menu.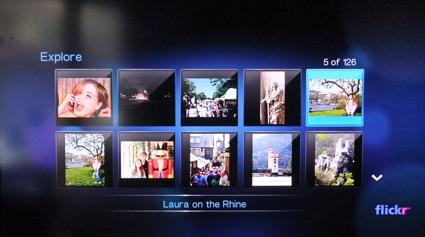 Figure 9: WD TV Live Flickr Support
Flickr interaction was a bit more limited than some of the Live's other features. For starters, there was no support for staying logged into an existing Flickr account. Every time I wanted to view my photos, I had to go through the pain of searching for my account by "typing" my name into an on-screen keyboard using the remote.
When viewing a slide-show, the photos displayed were not a full-resolution version and only filled up a small part of my screen (Figure 10).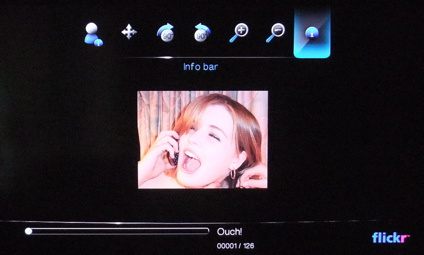 Figure 10: WD TV Live Low Resolution Photos in Flickr
I could use Flickr's standard menus to look for "Interesting", "Hot", or "Recent content. But since everything was in low-res, actually looking at the photos was a bit disappointing. But once again, the standard capabilities of the Live, including music playback during slideshows and the nice transitions worked. WD just needs to get account logins to stick and full-resolution support to really make this capability usable.
What about online music? The Live supports a couple of different services that are nicely integrated into the system and both can be used as music sources when you're playing a photo slide show. If you're after standard Internet radio, there's support for Live365. Figure 11 shows menu interaction when selecting a radio station.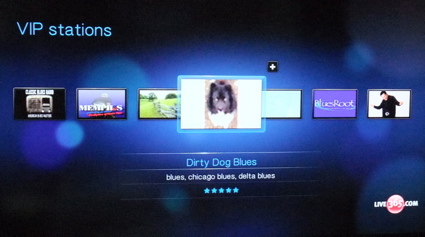 Figure 11: WD TV Live Internet Radio
This capability worked fine, but like most Internet radio capabilities, it was a bit hit and miss with station availability and quality. To get the full set of stations from Live365, you'll need to sign up for their "VIP" service, but you get a free trial to see what's available.
The other music service supported by the WD TV Live is Pandora. This service allows you to specify what type of music you like and it chooses songs and artists for you. Figure 12 shows the Pandora menu.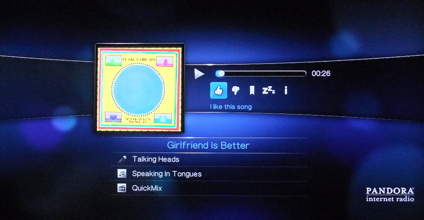 Figure 12: WD TV Live Pandora Support
This also worked well and was fun to play with. Once again, to get the most out of the service, you'll need to sign up for a paid account. But if you listen less than 40 hours a month, you don't have to be a subscriber.
Under The Covers
Updated 7/1/2010
Figure 13 shows the main board of the Live after I removed the cover.
Figure 13: WD TV Live Main Board
It's hard to see much in the photo as the main chip is well covered by a heatsink. But it's been documented to be from the Sigma Designs SMP8630 family. Other devices include 512 MB of RAM and Realtek RTL8201EL Ethernet controller.
Updated 7/1/2010 The device used is a Sigma 8655.
Live the WD TV, the Live runs Linux and there's a active developer community working on feature additions and tweaks. They've even gone as far as getting a standard Debian distribution to run. So if you want to extend the live with web services, Bit Torrent, FTP servers, etc. you're well on your way (although you will void your warranty).
Closing Thoughts
Just like the WD TV I reviewed last month, I really like this product. It has a nice user interface, 1080p HD video output, a wide range of support for various video codecs and it's small, silent and relatively inexpensive. If I had to choose between the standard and the "Live" version, paying the extra $20 for all the network features is a no-brainer for me.
The hacker in me also appreciates the custom firmwares that are available. If I needed to take this box to the next level with extra services, it would be a piece of cake. I hope that Western Digital can address the Flickr and the UPnP Media Renderer issues I found. But even with these minor problems, the WD TV Live is a winner and I have no problem recommending it.