Introduction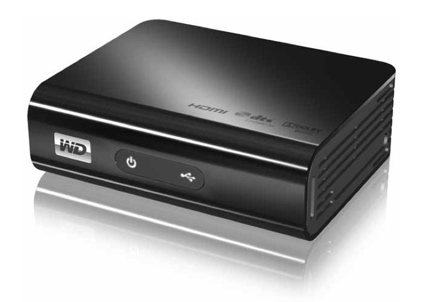 At a Glance
Product
Western Digital WD TV (WDBABF0000NBK)
Summary
Inexpensive media player that plays content from an attached USB drive only
Pros
• Attractive UI
• Extensive video formats supported
• 1080p support
• Silent
Cons
• Can't attach USB hub
• No networked streaming (but can be hacked to add it)
There are a lot of multimedia players on the market these days. Most of these little boxes allow you to stream your movies, photos and music across the home network into your entertainment center. But the hassle of getting these devices set up on the network and supplying a full-time file server is often more than some people want to go through.
In this review, I'll check out a device that simplifies the process by doing away with network streaming and instead uses an external USB drive as the source of multimedia files. Western Digital advertises the $129 WD TV as a multimedia player designed to get your music, photos, and videos off your PC and onto your TV. And it's not limited to standard-definition either. This little box supports a wide range of video codecs and can output 1080p video through an HDMI connector and surround-sound audio through a digital optical audio port.
Setup
Since the WD TV has no network capability, getting it going takes little more than hooking it up to your TV and supplying an external drive. Disk formats of FAT32, NTFS and non-journaled HFS+ are supported. Figure 1 shows the back of the device where you can see the power, HDMI, and composite connectors along with optical audio and a USB port where you'll connect your media drive.

Figure 1: WD TV Back Panel
Not shown is a second USB port on the side of the box. Note that USB hubs are not supported, so you'll be limited to two simultaneous disk connections. For digital audio and HD hookup, you'll need to supply your own cables since the WD TV only comes with a composite cable. The WD TV is silent in use because it has no fan and it draws only a paltry 3 W when idle and 4 W while in use. Figure 2 shows the WD TV remote you'll use to drive the box.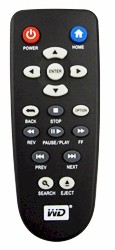 Figure 2: WD TV Remote
At around four and a quarter inches tall, the remote felt a bit small in my hand, and it's also not backlit, so using it in a dark room could be an issue.
Feature Tour
The WD TV has four main menu settings: Videos, Music, Photos and Settings. In general, the menus used in the WD TV were attractive and easy to navigate through. Figure 3 shows the top-level settings menu.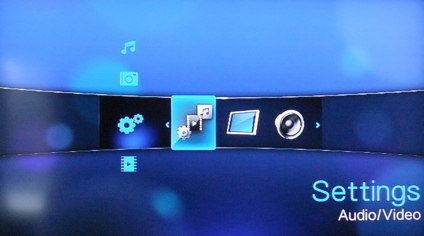 Figure 3: WD TV Settings
The WD TV has a number of different settings for standard items such as video resolution, screensaver timeout, display language, etc. and I won't attempt to go through them all. But I'll touch on a couple of the more interesting ones.
One nice capability found in the Settings menu is File management. Using these menus, you can copy, move, and delete a file or groups of files. It can be a little awkward since you're doing this all with the remote. But it can be handy in a pinch when trying to arrange your files so that they show up the way you want them to and you don't want to unplug the disk and re-plug it into your computer. Figure 4 shows a menu where the user is being asked to select the destination folder by using the right remote button.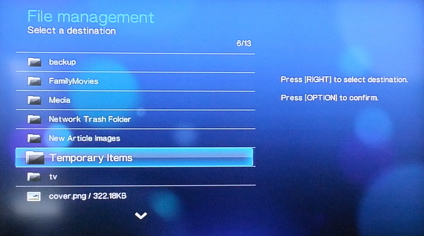 Figure 4: WD TV File Management
The file management worked, but along with being a little bit awkward, there were quirks. Each file operation I performed queued up a new five- minute re-scan of my entire 500 GB external USB drive. The box was usable during this scan, but menu navigation was definitely sluggish until the scan was complete.
Another interesting setting found in the Photo section was "Transition Effect" for slide shows. All too often inexpensive media players have no transition support at all in slide shows and all you get during playback is a black screen between photos. But with the WD TV, you get seven different options (Figure 5) including fades, wipes, zooms, etc. plus the ability to do a random transition.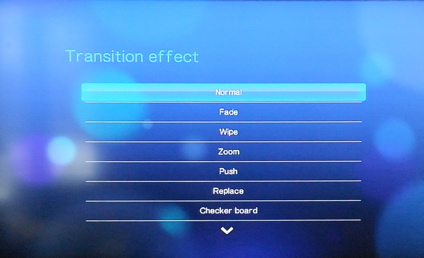 Figure 5: WD TV Photo Transitions
Along with transitions, there is a fairly complete set of playback options including photo display interval, scaling, random ordering etc.
Once you've got all the configuration options set up, you'll want to move on to see what it can do with all your multimedia files.
Photo Display
Figure 6 shows the main menu for photo display where you choose how to navigate your photo collection. Options include sorting by date, folder, recent, or just having all photos in one list.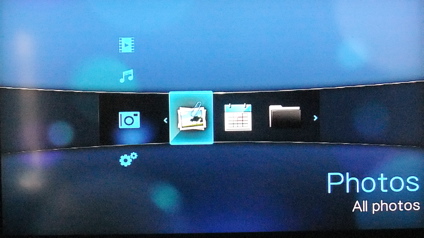 Figure 1: WD TV Photo Navigation Menu
Figure 7 shows the optional auto-generated thumbnail view of a set of images for one of my folders.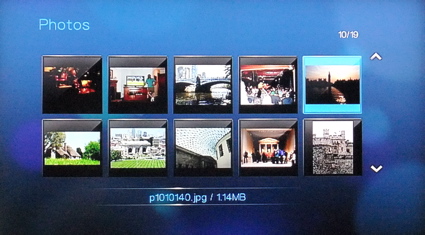 Figure 7: WD TV Photo Selection
Once you select an individual photo, it will display full-size and by using the "Options" menu on the remote, you'll have the ability to rotate, zoom in and out, pan around etc. And if you hit the "Play" button, the whole set of pictures in the current menu will start to play back using the slide show configuration from the "Options" menu. Supported files types are GIF, BMP, JPG, TIF and PNG.
I thought the photo display and slide show capabilities worked well. The only issue I noticed was that during a slide show, some of the photo transitions were less than "silky-smooth" indicating that this capability was stretching the processor a bit.
Music
Figure 8 shows the top-level music navigation menu.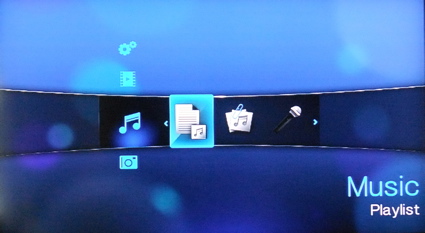 Figure 8: WD TV Music Navigation
Like the photo menu, you can manually navigate into your music collection. But since music files often have standard metadata associated with them, you also have the capability to navigate by artist, genre, album and playlist.
For playlists, PLS, WPL and M3U formats are supported. For the music files themselves, the following types are supported: MP3; WAV/PCM/LPCM; WMA; AAC; FLAC; MKA; AIF/AIFF; OGG; Dolby Digital; DTS.
What won't play back are any files that have DRM restrictions on them. Figure 9 shows the display when I started playback for one of my albums.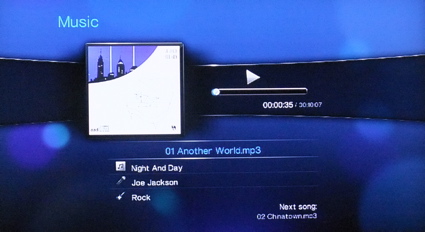 Figure 9: WD TV Music Playback
After a few minutes of playback, the screensaver will kick in showing a bouncing Western Digital Logo (it would have been nicer to use the album art). But you can also navigate into the photo menu to start up a slide show that will play simultaneously with your music. Nice.
Album-art display was a bit hit and miss. Most of my files that had associated art showed up, but not all. If you have trouble with album-art and thumbnails in the menus, the WD TV has a scheme for thumbnail display. You can manually set the menu thumbnail to display for both files and directories by creating a JPEG file with the same name. For example, if you have a "Holiday_Music" folder, you can create a "Holiday_Music.jpg" file within it and that will be used in the menu display. This is a nice capability that goes a long way to making navigation through hundreds and hundreds of files user-friendly.
The WD TV can also use your iPod as a source of music. Using a USB cable, I plugged in a standard iPod and my music was found and cataloged for playback. But when I plugged in an iPod touch, it was recognized as a camera and my music was not found or cataloged. This is probably because Apple disabled direct-connect capability on the iPhone and iPod touch.
Video
The WD TV did well with music and photo display. But displaying video is a much harder task since there are so many formats, file types and resolutions in use. Western Digital advertises support for the following list of containers and codecs: MKV, OGM, AVI, DivX, WMV, QuickTime, Real, MPEG-1, MPEG-2, MPEG-4, DVD (VOB) (Codecs: DivX, XviD, MSMPEG4, ASP, H.264, AVC). That's a fairly impressive list, and HD resolutions up to 1080p are also advertised as supported.
So how well did the box do in my testing? Not too badly, actually. Most of my video collection played, but I did have some failures. This has been a common experience for me when working with media players. I've yet to find a box that will play every thing I throw at it. Luckily, most of the failures were on older files. But I was a bit disappointed to find that the box couldn't handle motion-JPEG videos from a recent digital camera capture.
Video selection is similar to that for music and photos. Figure 10 shows where individual videos can be selected.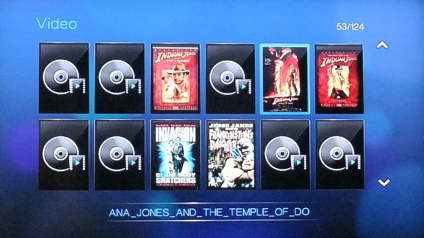 Figure 10: WD Video Selection
In this display, you can see that some videos have thumbnail and some don't. As noted above, when thumbnails are missing, you can create your own by adding an appropriately-named JPGE file.
Most media players have some issue with "trick" modes such as fast-forward, reverse, etc. The WD TV has support for trick modes, too. But don't expect to get the same type of smooth behavior you see on your DVD player. Up to 16-times fast-forward worked. But at anything higher than 4X, the video would jump ahead rather than just play faster. And pressing the reverse button would always cause the video to skip back rather than play backward.
Most of my movies have been ripped using Handbrake and all of these played back fine. But I found that with the more recent rips, the WD TV didn't support trick modes. Any attempt to use the fast-forward or reverse button would result in a "not supported" icon on the display. Odd.
And how about the HD support? I don't have a large collection of HD videos to test with. But there were a few files on the included documentation CD and I downloaded some more 1080p HD trailers from Apple. All played fine, looked great and supported the trick modes.
In general the WD TV worked well. But I'll note that I was able to get the player into a state where it refused to play any media until I power cycled it. This only happened one time and I wasn't able to reproduce it.
Under The Covers
Figure 11 shows the main board of the WD TV.
Figure 11: WD TV Main Board
The main device is completely covered by the heat sink, which I was a bit hesitant to remove. But various sources report it to be the Sigma Designs SMP8635LF, a popular choice for this class of player as well as set-top boxes and Blu-ray players.
For software, it's clear that the box runs Linux. You can find a number of different alternate firmwares available where people have greatly extended the capabilities of the WDTV. New capabilities include support for both USB to Ethernet adaptors and USB to wireless adaptors.
Once you get networking going, you'll be able to run a HTTP, FTP , SSH and other servers and stream your multimedia across the network to the device rather than storing it locally. And what if you want a new look and feel? Figure 12 shows what you movie-selection looks like in one of the alternate firmwares.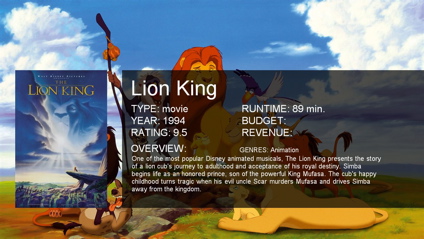 Figure 12: WD TV Movie selection in an alternate firmware
Very nice. Along with the nice graphics on the display, you can also see a lot of movie metadata fetched from IMDB. Of course if you install an alternate firmware, you'll be on your own as far as Western Digital support. But the capabilities look pretty enticing! You get a better look-and-feel, metadata, and you get the ability to stream your content from other computers on your home network.
Closing Thoughts
I liked this little player. It had a few issues, but it handled most of my multimedia files without problem. And its high-def capabilities mean that as my HD library grows, it has the ability to handle it. The ability to customize the menus with my own thumbnails means I can create a user-friendly interface that will make the WD TV easier and more pleasant to use.
Nearly everything I've recently reviewed has had network capabilities. So competitive comparison isn't exactly apples-to-apples. But the closest is the DragonTech ioBox. The ioBox used a similar Sigma Designs chip for processing, had comparable video handling capabilities and had network support. But its user-interface was weaker and it costs around $220, $90 more than the WD TV.
In my own home setup, I currently stream all my content across the network. But in reality, all my content is already on USB drives plugged in to a Network Attached Storage device. It wouldn't be a big stretch to plug them directly into something like the WD TV. But you are limited to only two drives, so depending on the size of your library, this could be a factor.
Since I'm a bit of a hacker, the ability to heavily customize the box is a biggie for me. I'd like to update the WD TV with fancy displays and metadata and add that missing network capability back in. But I'm willing to take the warranty-voiding risk that many people won't.
So is the WD TV right for you? If you're looking for a multimedia player with a nice interface, HD capabilities and with easy setup, you won't go to far wrong with the WD TV. But if you need an HD-capable player that can play content from your NAS or other networked files, you'll need to either hack it or perhaps spend $20 more and move up to the WD TV Live.