Introduction
Ever since I started cataloging camera footage to my YouTube channel it's been fascinating to see how different one camera is from the next. Sometimes I have high hopes for a camera with an amazing interface, yet it will totally disappoint once I start looking at video quality. Other times the interface might be the most basic, outdated interface a camera could possibly have, but the video is great. Still other times, the video is decent and the interface is good, but I'm left thinking "if it only had this".
The YI Home Camera 2 falls into the latter category. For its price and features right now, it's basically a meh product. But with the right improvements, it might be a decent little buy. Anyway, I'm getting ahead of myself.
Inside
I grabbed the internal views of the camera from the FCC lookup site. Clearly shown is the Ambarella Cortex-A9-600MHz: S2LM processor. The YI Home Camera 2 also has 2 Gb of DDR3 RAM and 1 Gb of SLC-NAND FLASH. Wi-Fi is 2.4 GHz only and 11 LEDs help with night vision.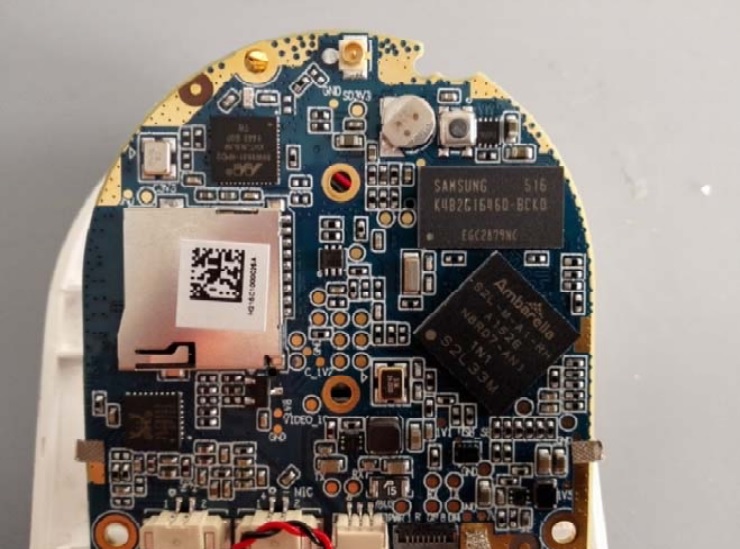 YI Home Camera 2 board
Callouts on the camera are a bit hard to ignore as you get presented with the image below every time you start the YI Home app. Had I purchased this camera, I don't think I would appreciate the ad everytime I start the app. Physical features on the camera itself are very streamlined, including a micro USB power connector and a micro SD card slot under the easily removeable rear cover.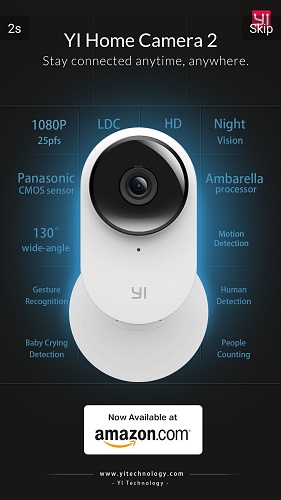 YI Home Camera 2 callouts
Included in the box was the camera itself, Quick Start guide, 32 MB micro SD card and micro USB wall-wart charger.
I've included the specs for the YI Home Camera 2 below along side the Nest Cam since YI compares the Home Camera 2 to Nest several times on their site.
| | YI Home Camera 2 | Nest Cam |
| --- | --- | --- |
| Price | $129.99 | $199 |
| FCC ID | 2AFIB-YHS2116 | ZQANC11 |
| Resolution | 1080p on the SD card, 640 x 360 to the app | 1080p |
| Megapixel | 2.12MP | 3MP |
| Lens | F2.0 130° wide-angle | ? |
| Compression | h.264HP level 5.1 / ROI / LBR (SmartAVC™) | H.264 |
| Horizontal field of view | 130deg | 130deg |
| Vertical field of view | ? | ? |
| Audio | Two-way | Two-way |
| Night vision? | Yes | Yes |
| Number of IR LED's | 11 | 8 |
| Record to SD card | Yes | No |
| Record to network share | No | No |
| Record to cloud | No | Yes |
| Wireless | N150 class 2.4 GHz only | N150 class dual-band |
| Ethernet | No | No |
| POE | No | No |
| Pan/tilt/zoom | Digital | Digital |
| Can integrate w/ other systems | No | No |
Spec summary and comparison
Setup
Setting up the YI Home Camera 2 was easy enough, with a couple of gotchas. The first being that the app wants you to either logi n with Facebook or create a YI account. I opted to go the Facebook route, which was standard enough until the app asked to post to Facebook for me. That had sort of a spammy feel to me. Fortunately, you can just click "Not Now" and continue.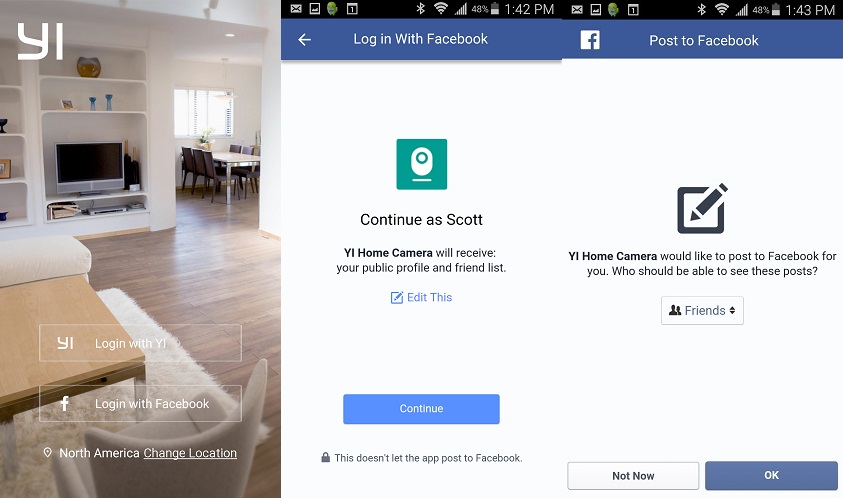 Yi Home app looking for Facebook post permission
Once past the Facebook permission, I was in the app and ready to pair a camera. YI provides a pairing tutorial if you don't feel comfortable enough to hop right in. I ran into the next gotcha here; not huge, but worth noting. For setup, the mobile device you are using for connection must be connected to the same wirelesss network you want to connect the YI Home Camera 2 to. The YI Home Camera 2 only supports 2.4 GHz Wi-Fi.
So if your 2.4 GHz and 5 GHz SSIDs are the same, you'll need to manually make sure you are connected to the 2.4 GHz band. I use different SSIDs for 2.4 and 5 GHz, so I disconnected my phone from the 5 GHz network and connected to 2.4. The YI Home Camera 2 speaks voice commands throughout the process to help you out.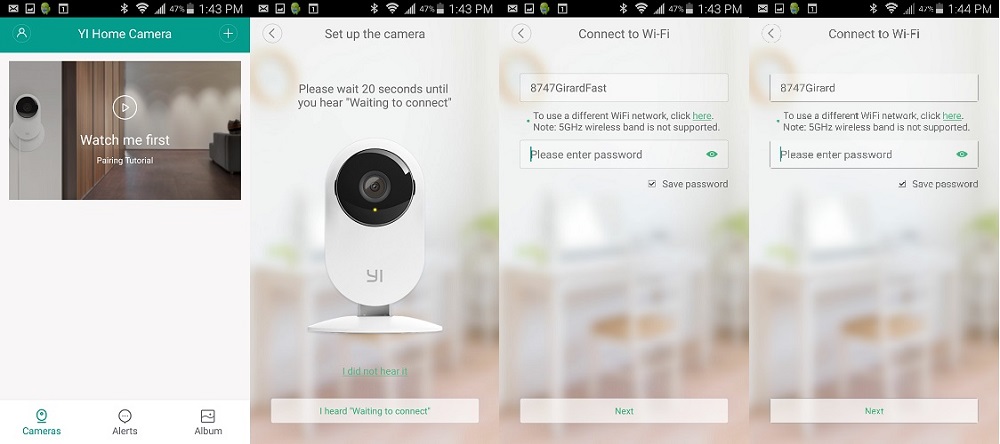 YI Home Camera 2 wireless connection screens
From this point, the app presents a QR code, which you hold in front of the camera. The QR code is acknowledged and the camera goes on to connect. For some reason it took me two acknowledgements and attempts before successful connection. You can see by the time on the upper left that setup was faster than estimated even with an unsuccessful attempt. Once the camera is connected, you can switch your mobile device to whatever network you prefer.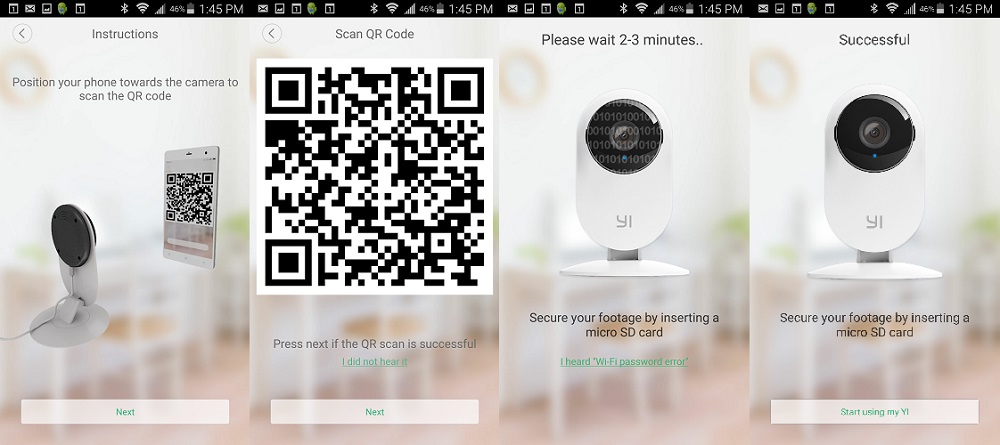 YI Home Camera 2 QR code setup
Features
Most of the cameras I look at in this price range and form factor have some sort of inherent cloud recording. The YI Home Camera 2, at this point, does not, although an FAQ on the YI site seems to indicate otherwise. From what I can gather, full cloud recording is available in China, but not in the US (yet?).
That said, if you enable alerts within the app, 6 seconds of 640 x 360 video is saved to the cloud in the event of motion detection. 6 seconds is better than nothing, but probably not all that useful. I have to ding the YI Home Camera 2 for not having some sort of cloud service, given they compare themselves to Nest Cam throughout their site.
I'm reminded of a local news story not long ago where a couple had two Nest Cams to watch their pets throughout the day. Two burglars broke in to the house and eventually found the Nest Cams and took them, but not before all of the video was uploaded to the cloud. The Nest Cam captured great video and even the burglar's name, I can't help but wonder what 6 seconds the YI Home Camera 2 would display once the camera had been stolen.
Lack of cloud recording aside, the YI Home Camera 2 app interface is nice. Even on Android, the app had sort of an iOS "don't give me a lot of details, just make it work" feel to it. Usually I default to wanting more granularity than that, but I feel it would be perfect for the majority of its target market.
For example, take a look at the composite of three configuration screens below. You can set the camera to detect only humans and the motion sensitivity and alert frequency is simply Low, Medium or High. I tested the Human Detection setting and found it somewhat accurate. It wasn't always spot on, but it seemed to cut down on the number of headlights-in-the-windows types of alerts.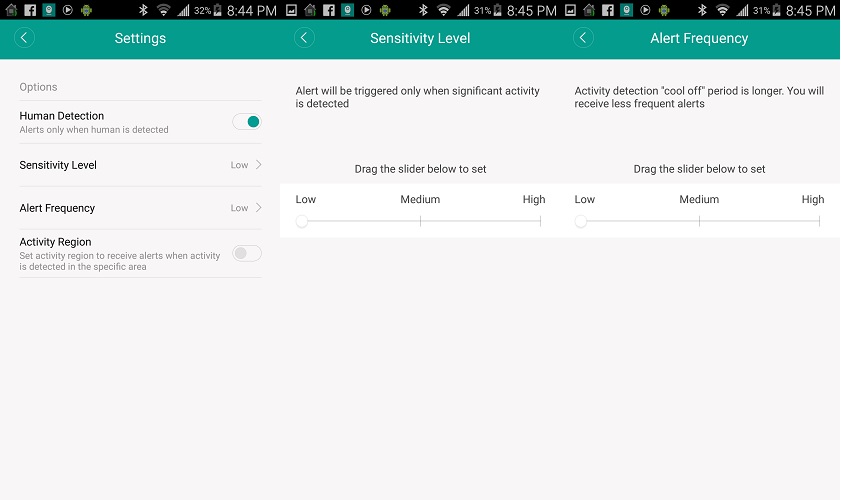 YI Home Camera 2 Alert Settings
Yi Home 2 supports activity regions, something I often ding cameras on that lack it. Setting the zone allows you to capture motion only in the zone, and exclude superfluous motion.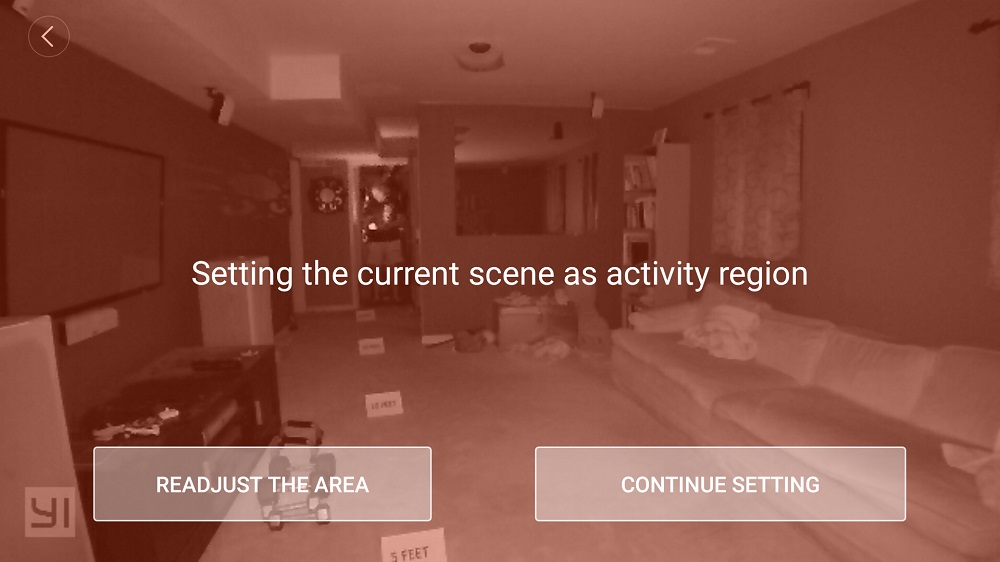 YI Home Camera 2 Activity Regions
A look at the main YI Home Camera 2 screen shows Live Video with the ability to do two-way audio, take a snapshot, record video, adjust resolution, see current bit rate and all alerts.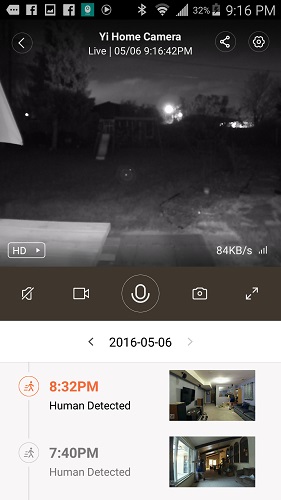 YI Home Main viewing screen
YI Home Camera 2 has a few more valuable settings, such as the ability to set a PIN to protect camera viewing in the app. You can also set schedules for recording. Another fun and potentially useful feature is gesture commands. Hold up your hand, the camera acknowledges, close your fist and send a video message to any device that has the app installed. I tested the feature and as long as I was in good light, it worked.
The app's tutorial mentions low lighting being a problem. A very useful feature within the app is "Lens Distortion Correction", basically reducing the amount of "Fish Eye" or rounded edges in the image, it worked well. The camera also is said to have baby crying detection. I didn't have a baby to borrow, so I tried crying like an upset baby into the camera. Either it didn't work, or the camera was smart enough to know I was faking.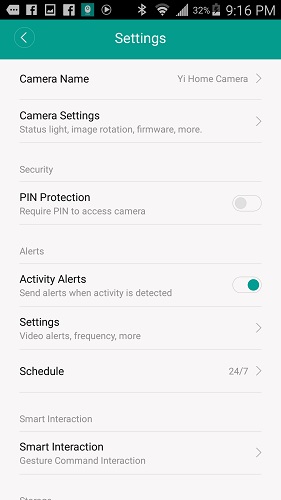 YI Home Main Settings
Video and Image Quality
YI Home Camera 2 recorded at 1920×1080. But as mentioned earlier, only 6 second alerts were sent to the app at only 640×360 resolution. Not acceptable. I don't want to have to pull the SD card or connect the camera to a computer to get my videos. Not only that, the timezone on the SD card did match my timezone. At times I couldn't even find the matching video on the SD card.
I finally just gave up and loaded the 6 second alerts from the app. Bottom line is the camera needs better cloud support. Anyway, let's take a look at a still snapshot at night. I'm going to compare to Nest Cam since the YI Home site compares to Nest Cam. Here's YI Home Camera 2.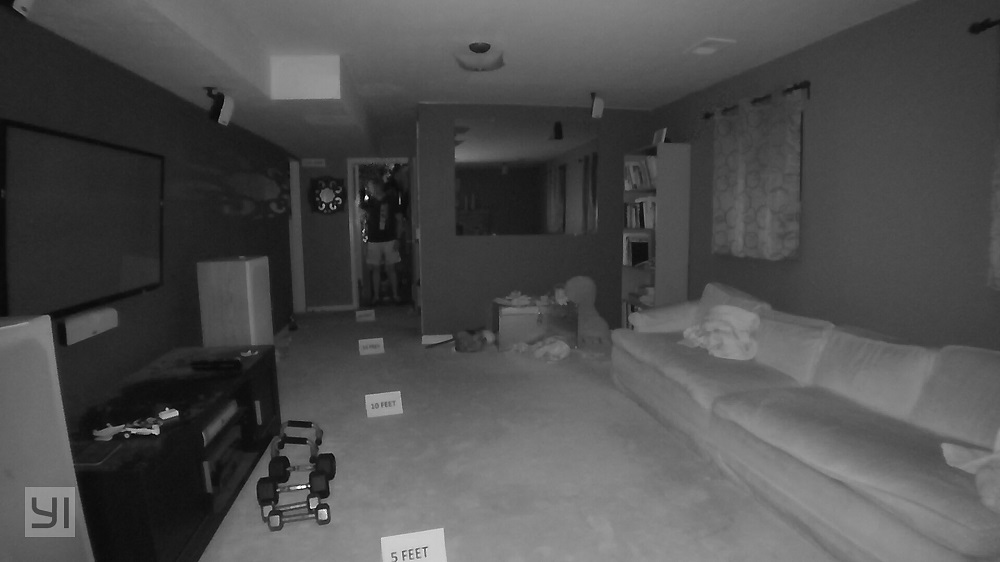 YI Home Camera 2 Night Vision with me at 25 feet
For comparison's sake, let's take a look at Nest Cam.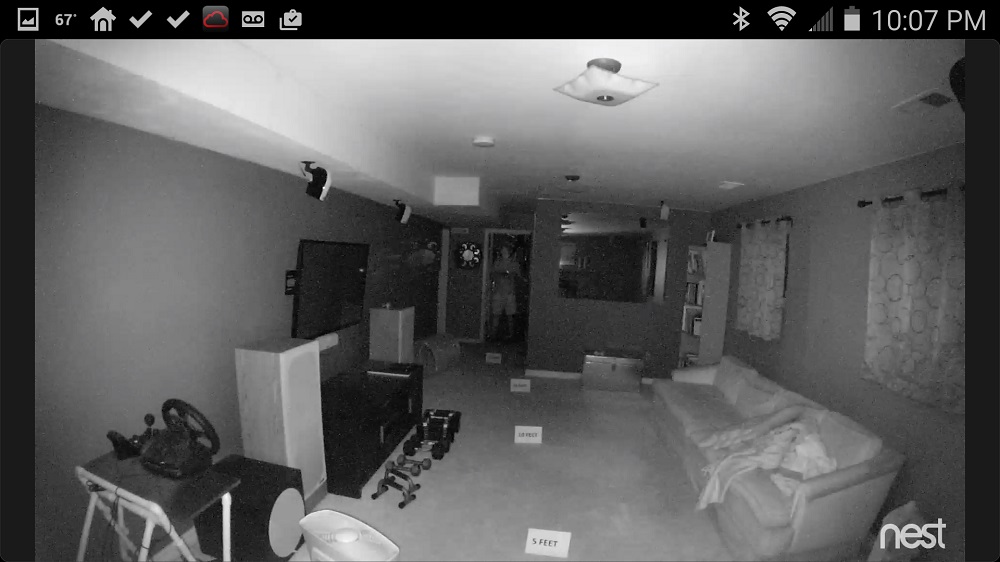 Nest Cam Night Vision with me at 25 feet
This is a pretty good comparison, YI Home Camera 2 looks slightly less grainy. I feel you would be hardpressed to tell the difference without the logos overlaid at the image corners.. Even though both cameras have a 130 degree field of vision, the YI Home 2 image looks closer because the app allows for panning of the entire image.
Let's move on to the videos. The thing that frustrated me most about the YI Home app was the delay on alerts. I would try to do my normal motion tests, but the app wouldn't show new alerts, even on the highest sensitivity and frequency settings. I would do several passes, thinking the camera didn't pick me up. Then all the alerts would flood in, typically 3-10 min later! Thinking about the Nest Cam story I related earlier, burglars would be in your house and gone by the time you were alerted, leaving you with a couple of 6 second 640×360 videos.
YI Home Camera 2 Motion Indoor Night
Let's compare that to Nest Cam. Try to pause each of the videos when my face is most distinguishable.
Nest Cam Motion Indoor Night
You can see YI Home's video is just the 6 second alert that I could download from the app, so it's also only 640×360. Recording starts a bit late and I'm almost right up on the camera by the time it starts. Nest Cam wins here, as long as you purchase Nest Aware cloud service, which continuously records and allows you to determine when to start and end the video clip.
I also took some video outside and inside during the day to see how the camera reacts to bright light, even though we need to remember this is an indoor-only camera. The quality is good on the outside video, but it seems like the image processor is struggling to get coherent pixels.
YI Home Camera 2 Motion Outdoor Daylight
The inside video looks a bit grainy compared to Nest Cam, but not bad overall. I say "YI Home" as I near the camera allowing you to hear the sound quality of the YI Home Camera 2. There is no microphone feedback like some cameras have.
YI Home Camera 2 Motion Indoor Daylight
Nest Cam Motion Indoor Day
Lastly, let's take a look at some outside night videos, bearing in mind that YI Home Camera 2 is not an outdoor camera. I didn't take any outdoor videos with Nest Cam, so unfortunately there is no comparison.
YI Home Camera 2 Motion Outdoor night
Outdoor at night is actually really good. It was an exceptionally dark night and it lit the swingset in the background up very well.
To really compare the YI Home Camera 2 against any of the other cameras I've looked at, feel free to check out the YouTube channel which includes footage of a lot of different cameras in similiar conditions.
Closing Thoughts
The YI Home Camera 2 has a lot of potential. The image quality and night vision is good and the app has a lot of attractive features. Get rid of the spamminess and add cloud recording and this camera might be in business.
As it stands though, given $130 for this camera or $199 for Nest Cam, I'd have to recommend Nest Cam just for the ability to record to cloud alone. YI's site promotes "owning your video content" and that's a great pitch. But if the cameras were stolen, the only people owning the content would be the burglars.