Take a good look at that logo up there. Because you're going to be seeing it more often on "Wireless N" products and you need to know why you won't see the logo below.

When I wrote about "single stream" draft 802.11n last fall, I wasn't really enthused about it. I don't have a problem with the technology itself, which is a valid part of the draft 802.11n specification. What I object to are the politics in the Wi-Fi Alliance and Wi-Fi industry that are once again putting uninformed consumers on the short end of the stick.
Under current Wi-Fi Alliance policy, no single-stream draft 802.11n routers / APs and only a few application-specific single-stream draft 802.11n devices such as printers can be draft 11n Certified. And without the draft spec compliance and interoperability testing that comes along with Wi-Fi Certification, all bets are off in terms of how well single-stream draft 11n products play with Certified draft 11n products (and "legacy" 802.11a/b/g products, for that matter).
Until recently, networking manufacturers seemed to be taking their time in bringing single-stream products to market. Despite the availability of low-cost single-stream chipsets from Ralink and Atheros (and more recently from Broadcom and Marvell), only a few single-stream products have appeared.
Cisco has been the most aggressive in this area, with first its Linksys WRT100 and currently its WRT110. But Edimax started shipping its EW-7711UAn single-stream USB adapter at the end of last year.
What brought this subject back onto the table was my recent spotting of another single-stream router, this time from NETGEAR. But the description for the WNR1000 Rangemax 150 Wireless Router is much bolder than the approach that Cisco originally took with the WRT100, frequently referring to "Wireless-N" and promising an "Extra performance boost when connected to Wireless-N devices" and "Increased performance for Wireless-N notebooks". But, like the Linksys WRT100 and WRT110, the WNR1000 carries only 802.11b/g WiFi Certification.
Revisionist History At Work?
Cisco was careful to avoid the use of the "N" word in any of its original marketing material for the WRT100, instead falling back to the "MIMO" pitch used in the days before draft 802.11n. But it seems that Cisco later got a bit bolder in the WRT100's pitch, with this datasheet containing the bullet point "Much faster than Wireless-G when connected to Wireless-N, but also works great with Wireless-G and -B devices".
It looks like Cisco also tweaked the WRT110's marketing, renaming it from "RangePlus Wireless Router" to "RangePlus-n Wireless Router". The WRT110's web page doesn't include any claims for performance improvement and only states that the product "utilizes Wireless-N technology". But the WRT110's data sheet has the bullet: "Great with Wireless–G, even farther with Wireless–N".
I originally thought that the lack of single-stream draft 11n certification was going to affect only wireless routers and access points and wouldn't be that much of an issue. After all, with entry-level draft 11n routers available for less than $50—about the same price that Cisco gets for its 802.11g WRT54G2—why would anyone buy a slower, non-certified single-stream router for about the same price?
But it turns out that I missed the big elephant in the room: notebook and netbook clients. I had thought that single-stream clients would be draft 11n certifiable because they met the requirements of hand-held devices. But according to Kelly Davis-Felner, Wi-Fi Alliance Marketing Director, the Alliance's requirements specify that single-stream devices are draft 802.11n Certifiable only if they are application-specific. And since computers don't meet that test, wireless client adapters for them can't be draft 11n Certified.
The forces behind getting cheap draft 11n adapters into portable computers are much stronger than those for single-stream routers and so those products are coming soon. The question is whether they will be Wi-Fi Draft 2.0 802.11n Certified. Unfortunately, it doesn't look like they will be, at least not until next year, if ever.
Ms. Davis-Felner told me that "An MRD [marketing requirements document] and test plan for 11n are in development and on track for our plan of record, which is to update the certification when 11n is finalized". This means that if single-stream certification is offered for all devices—and there is no guarantee that it will be—it would not be offered until 802.11n is finalized, which is currently estimated at January 2010.
So in the meantime, if Cisco and NETGEAR's approach is any indication, single-stream draft 11n product makers will just advertise that their products will go farther and run faster when working with draft 11n gear. But if you run into problems when you try that, I'm sure manufacturers won't hesitate for a second to point to their spec sheets and Wi-Fi Certifications, which reference only 802.11b and g spec compliance.
The important take-away from this is that for any product that refers to working with, supporting or using draft 802.11n (or the we-don't-need-to-use-no-steenking-"draft" "Wireless N" moniker), you need to check its Wi-Fi Certification logo carefully. If you don't see the "draft N" as part of the Wi-Fi Logo, then the product has not been Wi-Fi Certified for Draft 802.11n and there is no assurance that it will properly work with Certified draft 802.11n products.
For Shame, Cisco!
The last sentence above was originally going to read "If you don't see the "draft N" as part of the Wi-Fi Logo and 802.11n specified in its supported standards…". But as I was doing some last-minute fact-checking before posting, I took a second look at the Linksys WRT110 spec.
I was shocked to find that the spec not only reads "complies with IEEE 802.11n". But it doesn't even properly refer to 802.11n as a Draft standard!
I'll give Cisco the benefit of the doubt that this is just an error (the downloadable PDF datasheet makes no such claims). But if a product's spec isn't accurate, it can't be properly Wi-Fi Certified and its Wi-Fi Certification isn't displayed on its marketing material, how are consumers supposed to accurately determine what they are buying?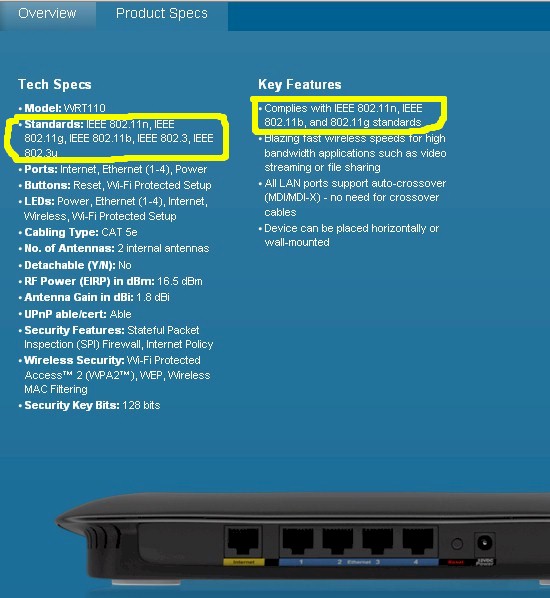 As a final note, I hope the Alliance address the issues of three-stream and dual-band products along with single-stream when they unveil their final Certification test plans. 802.11n is a very complicated standard and needs to be broken down more finely than one letter can signify. The current "draft n" in the current Certification logo doesn't reflect dual-band capability and certainly doesn't address the different maximum PHY rates provided by one, two and three-stream products. Read Brian Dipert's blog post for some background.