I spent a few days up in Washington D.C. at the Wi-Fi NOW conference a few weeks back. It's a fairly small event and not something I would normally attend. But it provided a good chance to get out of the office and be exposed to Wi-Fi topics not on my daily radar.
Wi-Fi As Your Next Mobile Network
A recurring theme of the conference was Wi-Fi's future vis-a-vis mobile wireless technologies. It's no secret that mobile network operators have seriously oversold network capacity and are increasingly relying on offloading traffic to Wi-Fi to ease the pain. A number of presentations touched on various aspects of the problem and possible solutions.
The near-term issue is the rollout of unlicensed LTE in the form of LTE-U and its impact on the 5 GHz Wi-Fi bands. I covered this in LTE-U vs. Wi-Fi: What You Need To Know a few weeks ago and the conference didn't make the subject any clearer.
The only LTE-U tidbit I picked up was Broadcom saying it is building LTE-U "classification", i.e. the ability to detect LTE-U, into its next-generation 802.11ax devices. This could be done by enhancing its AIR-IQ spectrum management technology, announced back in 2015. This is a logical and welcome step that could help keep the LTE-U crowd to their promise of fairly sharing 5 GHz bandwidth. This doesn't mean you should run out and buy the first 802.11ax router you see in this fall, however. It (they?) will likely be powered by a Qualcomm chipset and the company hasn't said whether it has similar plans.
There was much more discussion about 5G mobile networks. It wasn't hard to detect a healthy skepticism about whether 5G networks could or even should be built. Craig Moffett of MoffettNathanson Research made a case for 5G networks needing to be built on cable operator infrastructure. The logic chain is that 5G networks need smaller cells to achieve their higher promised bandwidths and those cells will need to be connected via wired backhaul. The balance between wireless and wired infrastructure is illustrated below with today's networks on top and 5G below.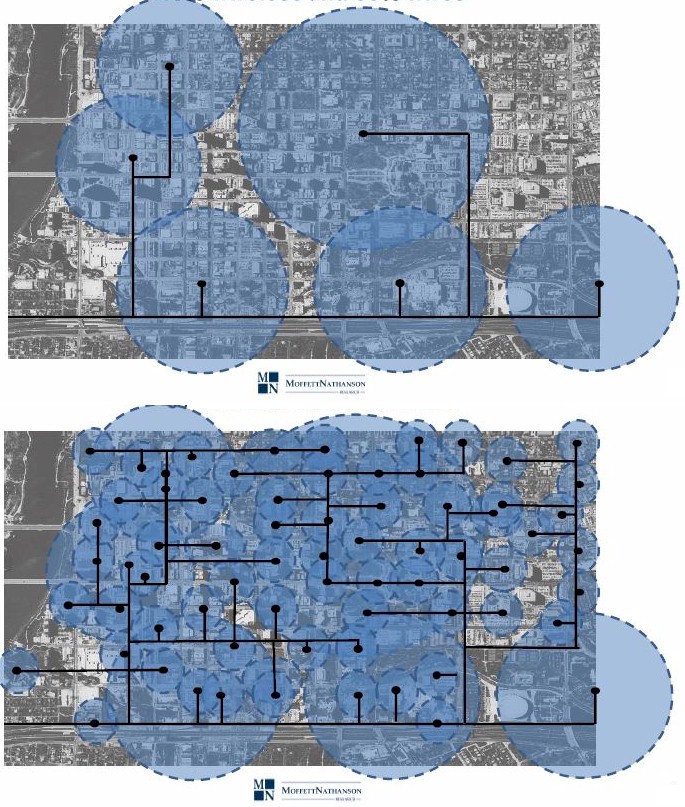 Today vs. tomorrow's mobile network
Image courtesy of MoffettNathanson, LLC
Since cable has the densest (and highest bandwidth) wired network and wires will dominate network cost structure, Moffett thinks only cable network owners will be able to afford to build 5G networks. Moffett's other point that does not bode well for 5G is that, because of the required wired infrastructure density, it will be limited to urban markets. But since only 10% of the population lives in high-density areas, there won't be enough customers to recoup the network buildout.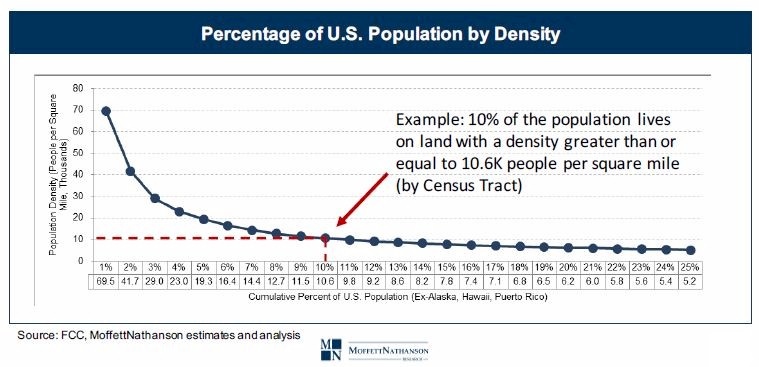 Percent of U.S. Population by Density
Image courtesy of MoffettNathanson, LLC
An alternative view of the future was presented by Mojo Networks' Kaustubh Phanse in describing Mojo's project with Indian partner Reliance Jio Infocomm to build a Billion user Wi-Fi network. They've deployed oper 70 thousand APs to date and plan to eventually have "more than a million(!) APs in the final network. The system uses Mojo's cloud-based architecture, which has no controllers and instead uses software in the APs and cloud to manage the system.
Mojo Architecture
Image courtesy of Mojo Networks
As Mojo has built out the system they've learned that customers don't want to pay a lot for the hardware. So they've been working with partners including the Open Compute Project to come up with hardware and software specs for "white box" APs that could be built by any OEM. A check of the OCP's Networking project page shows it is still early days for this effort, however.
Other presentations touched on other aspects of Wi-Fi's ability to complement or perhaps replace LTE for out-of-home connectivity. Howard Buzick of Boingo talked about how the company is moving beyond being the annoying thing that gets in your way of free Wi-Fi at airports to designing an deploying "carrier grade" Wi-Fi systems in stadiums and commercial real estate. Did you know Boingo runs Wi-Fi networks for U.S. military bases? Boingo also has a sizable business in cellular DAS (Distributed Antenna Systems) that bring mobile connectivity into buildings, subways and other places where a better cell signal is needed.
Chris Chuang of Republic Wireless described the ongoing journey of Republic's "Wi-Fi first" approach to running a mobile network. Since I've been a Republic Wireless customer from their beginning, I can attest to the continous improvement of its service. I don't know why more people don't check them out, especially if you're a relatively light mobile user. My typical cell bill runs under $15 a month with a 1 GB data plan. I rarely exceed the 1 GB because I'm on Wi-Fi most of the time, which is the whole idea of a "Wi-Fi first" service.
Running a company like Republic Wireless requires expertise in aggregating bandwidth from multiple networks and making it all invisible to the user. Republic has developed its own technology to make Wi-Fi / mobile network transitions invisible. But Carnegie Technologies has technology you can buy if you're a network operator looking to make Wi-Fi offload more seamless.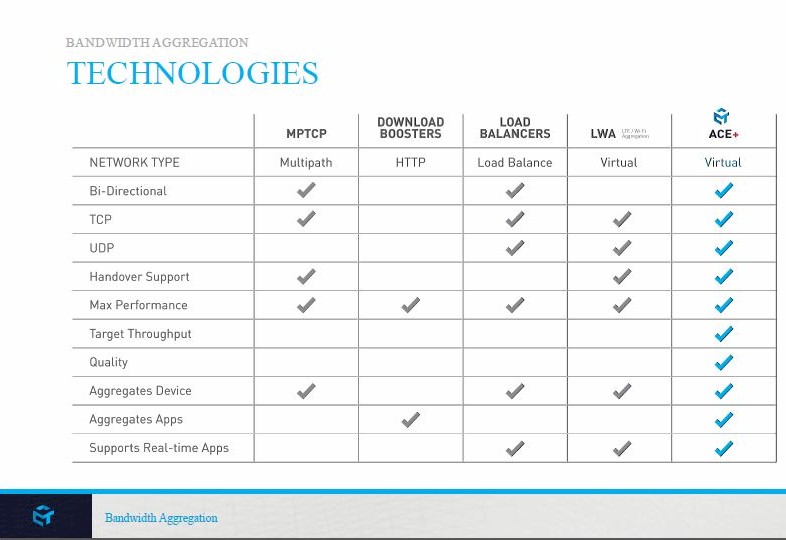 Bandwidth Aggregation Technologies
Image courtesy of Carnegie Technologies
The 5G discussion frequently touched on the need for more spectrum to satisfy bandwidth hunger. I won't bore you with the point and counterpoint, but it sure looks like the Wi-Fi industry better start ponying up more lobbying bucks if it hopes to get its voice heard. At least in the U.S., the CTIA, which is the voice of the mobile industry, dwarfs the Wi-Fi Alliance in influcence in Washington.
The Other Wi-Fis
The conference also provided brief glimpses into wireless technologies we don't hear that much about. Mike Lee of startup Newracom spoke about the company's 802.11ah aka "HaLow" chipset. 802.11ah's IEEE name is "Sub 1 GHz", but is has been dubbed "Wi-Fi HaLow" by the Wi-Fi Alliance for marketing purposes. 11ah operates in the 900 MHz unlicensed band and has a combination of lower power consumption and increased range intended to compete against Bluetooth, ZigBee, Z-Wave and similar technologies for IoT applications.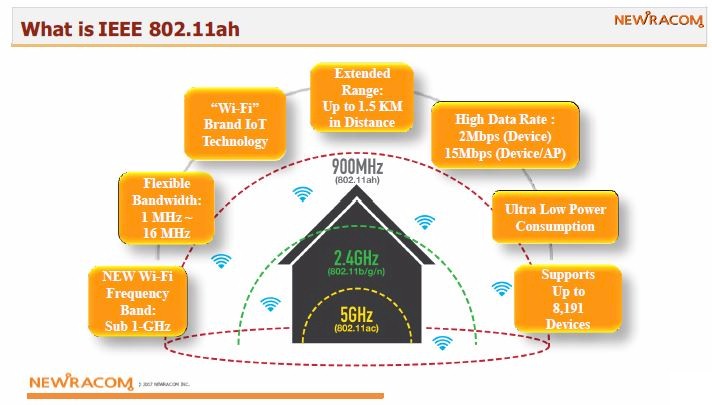 802.11ah key features
Image courtesy of Newracom
The 802.11ah standard was approved in October 2016, but devices supporting it have yet to appear from established Wi-Fi chipmakers. So Newracom has forged ahead to try to get this technology into use. They currently are shopping around AP and STA reference designs, focusing on service providers vs. retail.
Another Wi-Fi technology we don't often hear about is 802.11af aka TV White Spaces aka TVWS. The IEEE standard was approved in February 2014, but hasn't yet earned a cute name from the Wi-Fi Alliance. That's probably because it is a technology more focused on "last mile" access than in-home connectivity.
11af uses UHF and VHF TV channels freed up by the move to digital TV. 11af networks don't require a license, but the radios have to be intelligent enough to know which channels are available and to avoid interference with in-use TV channels.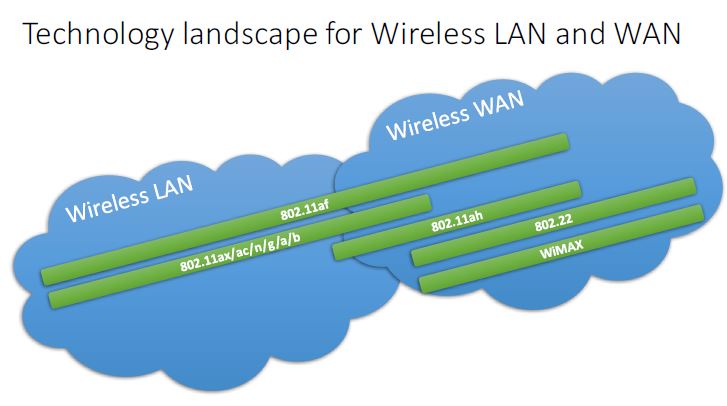 WWAN technology comparison
Image courtesy of Microsoft
I was suprised the main presenter on this topic was Paul Garnett from Microsoft. Microsoft's goals are similar to Google's and Facebook's in this area; getting everyone in the world connected to the internet. Since 11af frequencies are lower (~700 – 800 MHz), signals can punch through heavy foliage. TVWS maker Adaptrum claims a 10km non line-of-sight range for its ACRS 2.0 radio.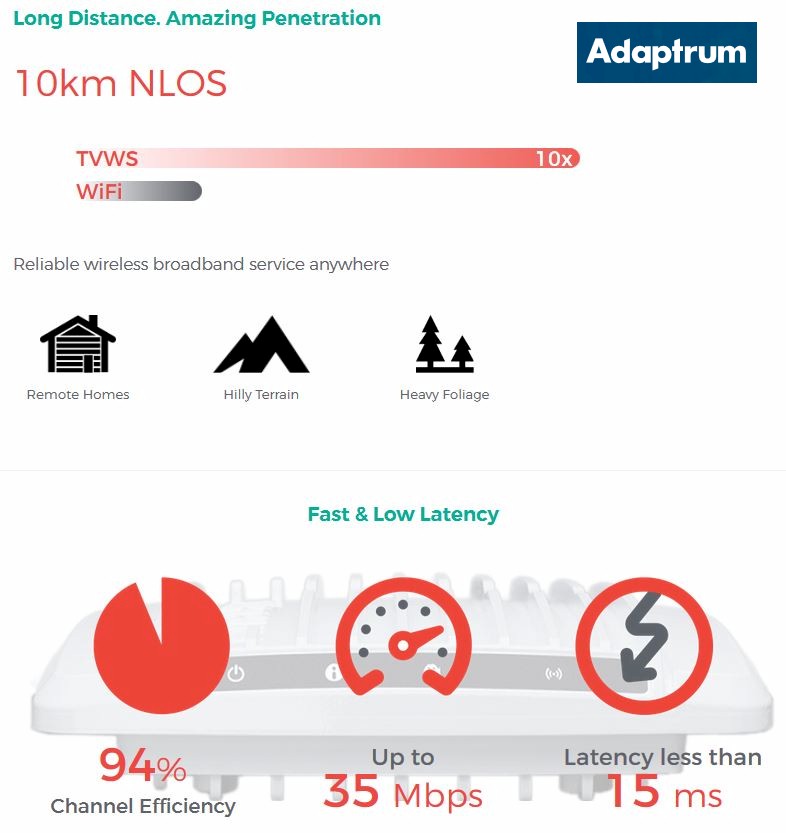 Adaptrum 802.11af radio key features
Image courtesy of Adaptrum
Microsoft has more than 20 grant-based projects in progress around the world using TVWS to get communities on the internet more affordably than using mobile LTE-based networks.
But TVWS isn't the only last-mile wireless technology. Both Mimosa Networks and Cambium Networks were on hand to pitch their 5 GHz based fixed wireless systems. Mimosa positions its latest gear as "5G", but it's Wi-Fi based, not LTE.
60 GHz Wi-Fi wasn't ignored either. Wi-Gig gear maker Peraso is also trying to position 60 GHz technology as a fiber-to-the-home replacement. But I think the odds are slim given 60 GHz' signal propagation challenges. They may have more luck with the more traditional Wi-Gig applications of display mirroring, high-speed file transfer and the possible use in connecting VR headsets.
There was even mention of using 60 GHz for backhaul in consumer "mesh" Wi-Fi systems. Arris CTO Charles Charris seemed particularly bullish on using 60 GHz, perhaps the upcoming 802.11ay vs. the current 802.11ad, for backhaul to connect "micro-nodes" in each room. Their studies have made them more optimistic than I for 60 GHz' potential as anything other than an in-room technology.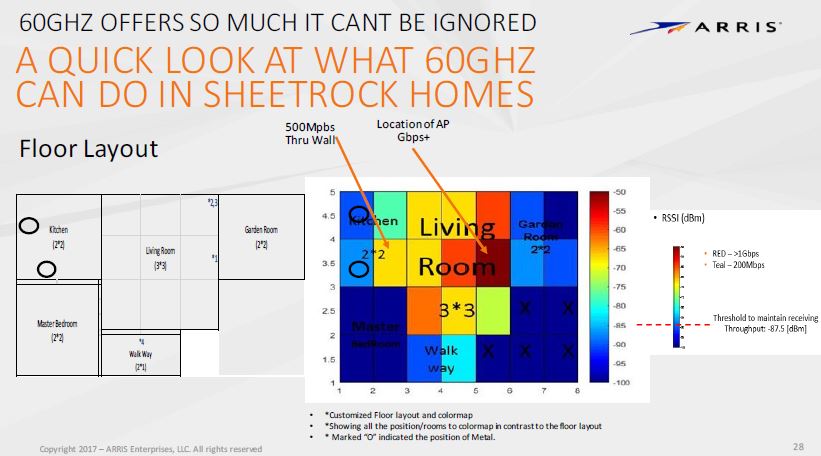 60GHz propagation
Image courtesy of Arris
Finally, Broadcom's Avi Bhagtani presented a different vision for future consumer distributed Wi-Fi system backhaul. His solution is 160 MHz wide 5 GHz to interconnect future 802.11ax mesh nodes. Since this eats up the eight 5 GHz channels normally available in the U.S., I'd expect any system using 160 MHz wide channels for serious backhaul bandwidth had better support DFS channels, too.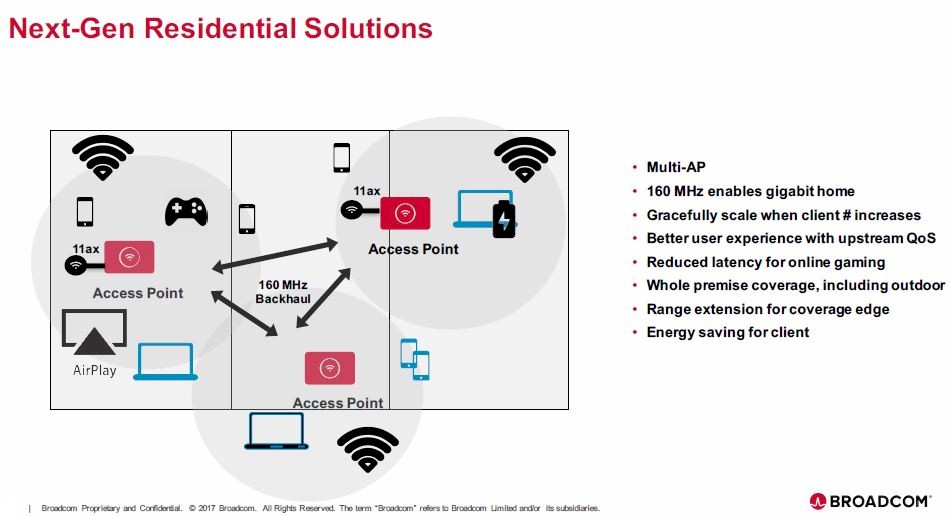 160 MHz backhaul
Image courtesy of Broadcom