Updated 6/4/2013: More TurboQAM info
With the formal release of the draft 802.11ac spec coming up this November, consumer router manufacturers are pushing us hard to send our N routers to the recycle pile and move along to the brave new world of AC. As it always is with new technology, one of the barriers to entry is high price,.
Although WD's My Net AC1300 had been recently discounted to as low as $130, it's now back up to $160. And other top-end draft 11ac routers sit somewhere between there and $200. Hence, the race to get cheaper AC routers to market.
ASUS has joined the party with its RT-AC56U that it showed at January's CES and formally announced at Computex. ASUS confirmed Computex PR activity for the product, but said that a formal North American announcement would be done closer to availability, "which should be towards the end of June". In the meantime, let's take a brief look at what's makes the AC56U tick.
The photo below taken at ASUS' CES suite shows the RT-AC56U is an AC1200 class router. This means that both 2.4 and 5 GHz radios are 2×2 (two transmit, two receive channels) supporting maximum link rates of 867 Mbps in 5 GHz and 300 Mbps in 2.4 GHz.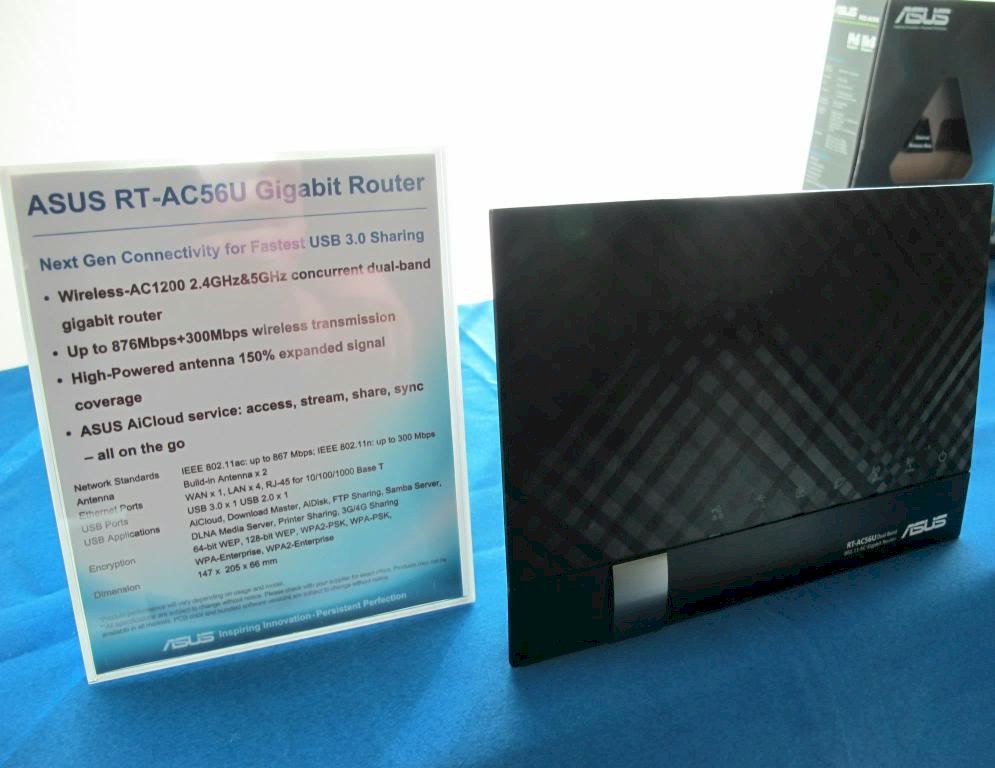 ASUS RT-AC56U at CES 2013
[photo credit: forums.vr-zone.com]
AC1200 routers are a good match for folks looking to upgrade computers and notebooks to draft 11ac, since 2×2 USB adapters are the fastest we're going to see for awhile. If you're looking for full 3×3 AC1300 Mbps link rates, your options are an AC1750 router in bridge mode, ASUS PCE-AC66 PCIe adapter or a dedicated AC1300 wireless bridge.
The rear view of the AC56U below shows Gigabit WAN (1) and switched LAN (4) ports, one USB 2.0 port and one USB 3.0 port. Unlike its flagship RT-AC66U, the AC56U has internal antennas vs. removable dual-band external dipoles.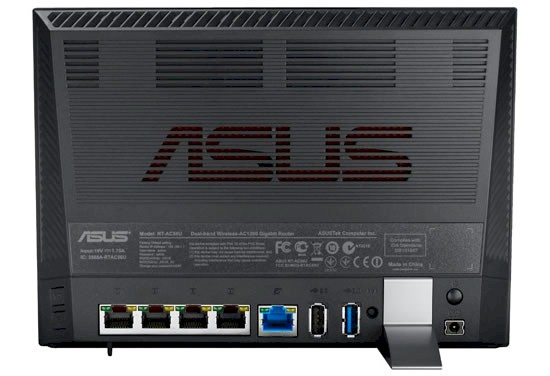 ASUS RT-AC56U
The FCC ID photo of the rear of the board shows ASUS' signature large heatsink that provides thermal relief for all the main components. You can also see the four antennas—two per band—printed onto the board.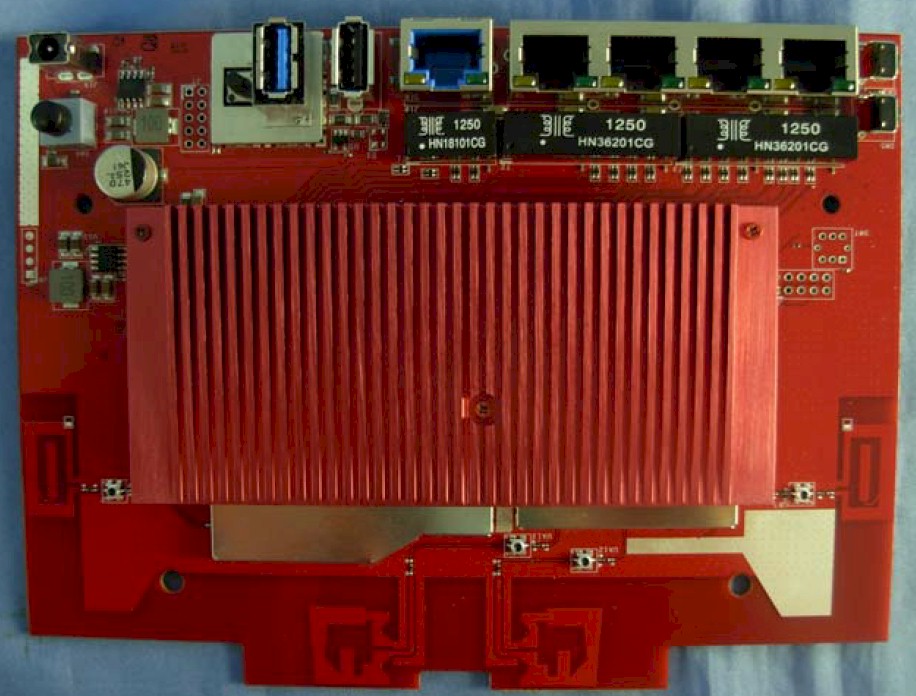 ASUS RT-AC56U board rear
Here's the front of the board. This is what you see when you pop off the front cover.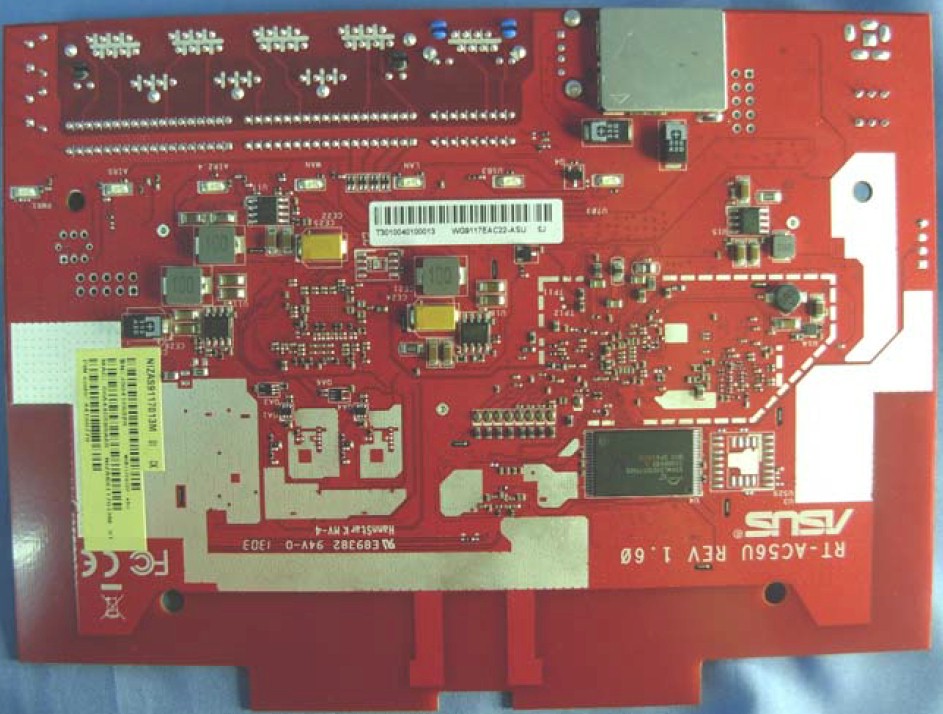 ASUS RT-AC56U board front
Here is the rear side again, but with the heatsink and three RF shields removed. The processor SoC is at the upper left, 2.4 GHz radio below it and 5 GHz radio to the right.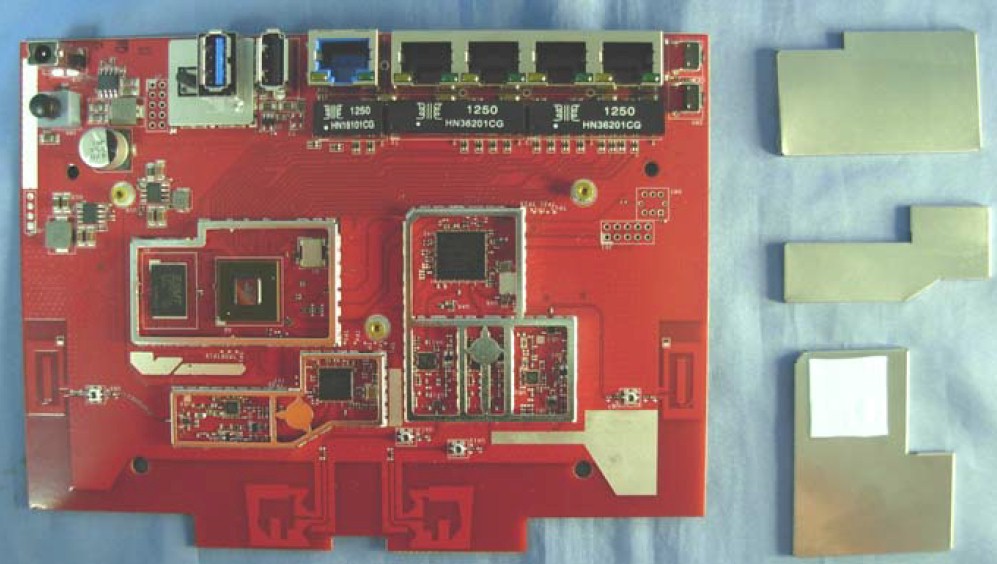 ASUS RT-AC56U board rear – exposed
The FCC ID document had nice close-ups of most all the key components, which are summarized in the table below along with the RT-AC66U's and the Linksys EA6300. The photos were not clear enough to make out the flash memory size, so I've pegged it at 128 MB. This has been confirmed by RMerlin, who has had early hardware access.
ASUS RT-AC56U
EA6300
ASUS RT-AC66U
CPU
Broadcom BCM4708A
Broadcom BCM47081A0
Broadcom BCM4706
Switch
Gigabit in BCM4708A
Gigabit in BCM47081A0
Broadcom BCM53125
RAM
256 MB (ESMT M15F2G16128A)
128 MB
256 MB
Flash
128 MB
128 MB
128 MB
2.4 GHz Radio
– Broadcom BCM43217 2×2 802.11b/g/n transceiver
– One (?) unspecified 2.4 GHz amplifier
Broadcom BCM43217
2×2 802.11b / g / n transceiver
BCM4331
5 GHz radio
– Broadcom BCM4352
2×2 802.11a/b/g/n/ac transceiver
– Skyworks SE5003L 5 GHz Power Amp (x2?)
Broadcom BCM4352
2×2 802.11a/b/g/n/ac transceiver
– Two unidentified power amplifiers
– Broadcom BCM4360
– Skyworks SE5003L 5 GHz,
23dBm Power Amp
w/ Power Detector (x3)
Table 1: ASUS RT-AC56U key components compared
The AC56U's design is very similar to the original EA6300 that Linksys did not ship, but with some small differences. ASUS has given the AC56U twice the memory and opted for the slightly beefier BCM4708A vs. the BCM47081A in the Linksys. Both products use the same 2.4 and 5 GHz radios and both appear to add two external power amplifiers to the BCM4352 5 GHz radio.
The FCC ID photos aren't clear enough in either case to make out the make and model of the 5 GHz outboard amplifiers. But since Linksys cited performance problems as the reason for rebranding the EA6400 design as the EA6300v1, it will be interesting to see how the AC56U performs.
Where Does AC1900 Come From?
Ever since the RT-AC68U was outed a few days ago, speculation has been rampant about how ASUS came up with a 1.9 Gbps total throughput spec. So far, they haven't responded to requests for an explanation.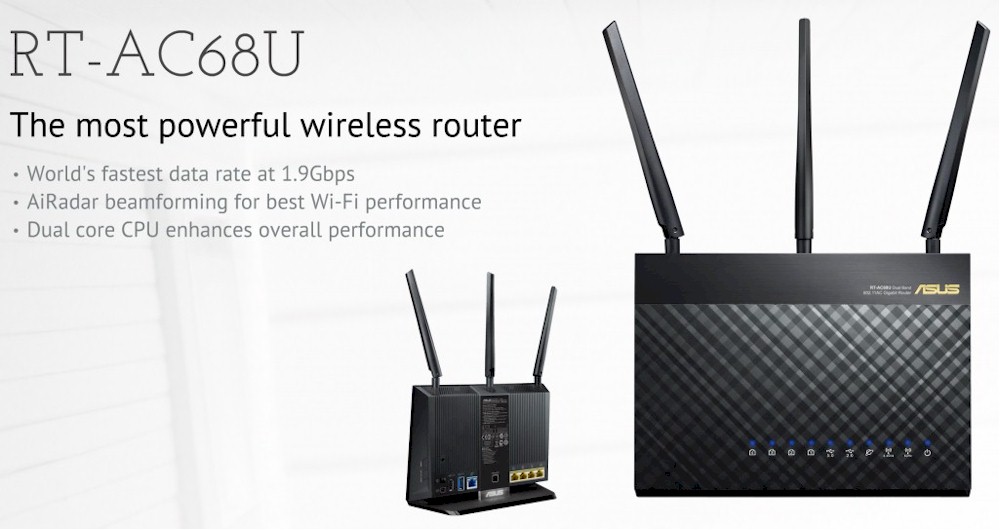 ASUS RT-AC68U
What we do know about the product is that it is Wi-Fi Certified and has 3×3 radios on both bands.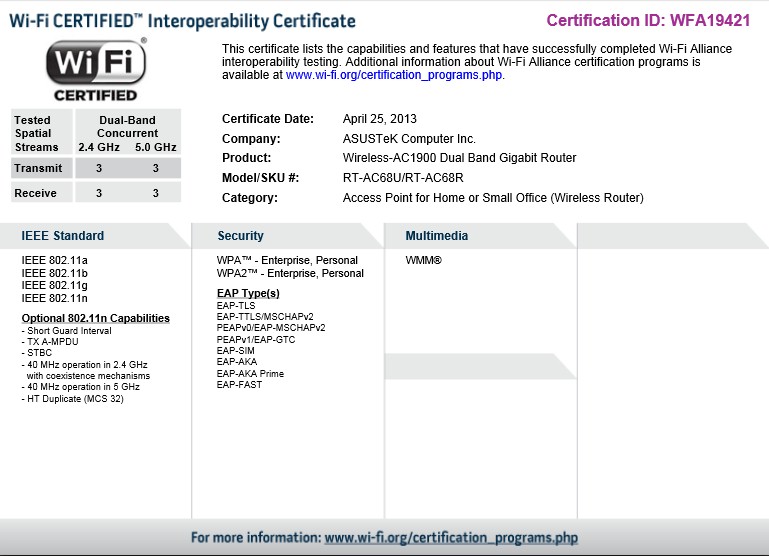 ASUS RT-AC68U Wi-Fi Certification
It is also likely that it is sporting Broadcom chips inside. The "dual core" most likely refers to the new BCM4708 as the main SoC CPU. Since Broadcom hasn't announced new 3×3 2.4 or 5 GHz radios it most likely uses the old 3×3 standby of Broadcom's BCM4360 for 5 GHz.
Since the math doesn't work for 5 GHz 160 MHz channel link rates, the extra 150 Mbps of link rate (from AC1750) is most likely in the form of a proprietary throughput enhancement on the 2.4 GHz side.
And, in fact that seems to be the case. Recent Broadcom announcements of new 1×1 and 2×2 client devices refer to "TurboQAM" technology and its ability to increase 2.4 GHz link rates by 33%. (This version of "TurboQAM" should not be confused with Broadcom's earlier use of the moniker with its DOCSIS 2.0 cable modem chips.) This Telecom Lead story from April says "Broadcom's TurboQAM technology implements the highest data-rate 256-QAM mode [emphasis mine] in 2.4 GHz for faster throughputs".
Looking up the highest 256-QAM mode for a 40 MHz channel in the 802.11ac link rate table below comes up with 200 Mbps per stream. Multiply times three streams and you get… 600 Mbps. Note that "normal" 802.11n radios support up to only 64-QAM, which provides a maximum 450 Mbps link rate for 3×3 devices.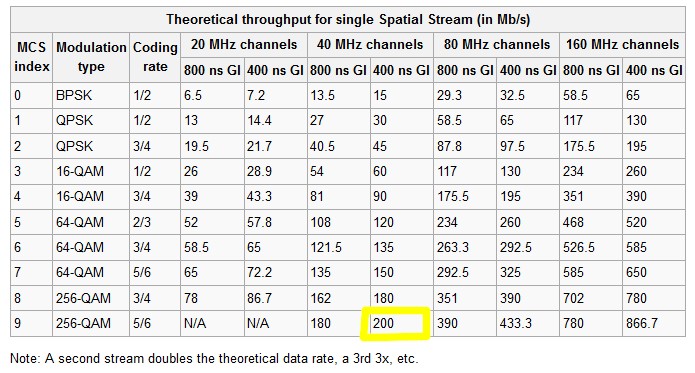 802.11ac Data rate table
Although TurboQAM has been recently mentioned in 2×2 and 1×1 device announcements, it's uncertain whether it can be enabled for Broadcom's existing 2.4 GHz 3×3 mainstay, the BCM4331. So perhaps the RT-AC68U will sport its "enterprise" BCM43431 equivalent, which does support TurboQAM.
Of course, like all proprietary throughput-tweaking technologies before it, TurboQAM is specific to Broadcom. But since they have almost 100% market share in draft 802.11ac at this point, we could see other manufacturers besides ASUS hop onto the AC1900 Mbps train.
Updated 6/4/2013
ASUS responded with the following:
This 600Mbps functionality only works with the PCE-AC66 at the moment and boosts each 802.11n stream's throughput from 150Mbps to 200Mbps.
Broadcom responded with the following:
TurboQAM is a Broadcom technology incorporated into our 11ac chips which allow you to transmit and receive at 256 QAM while operating in the 2.4 GHz band.

All of the Broadcom 11ac chips support the TurboQAM feature including:

-1x1ac combo chips (used in HTC One and Galaxy S4)
-2×2 11ac
-3×3 11ac
-Enterprise 11ac solutions.
So it looks like any Broadcom-based draft 11ac product could get this bit of link rate enhancement when used with a Broadcom-based client.
The "our 11ac chips" in the Broadcom response is significant. TurboQAM requires newer 11ac devices and is not implemented on N devices. This means that routers using N chips like the BCM4331 and BCM43217 can't become "AC1900" routers. This includes all AC1750 routers on the market to date.
So, my best guess at this point is that that RT-AC68U uses two BCM4360's—one for 5 GHz and the other for 2.4 GHz—to achieve its 1900 Mbps total link rate.