Can They Ship This One?
Updated 9/4/2008: Added info on USB "SharePort" functions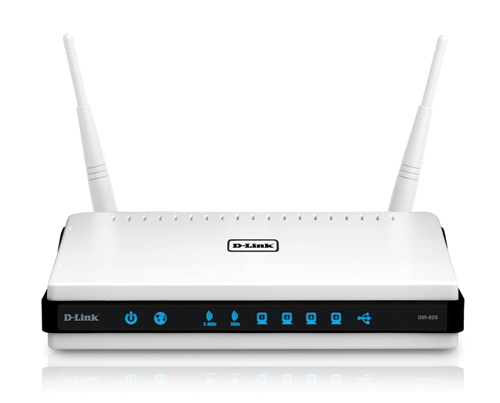 reviewed] and WRT610N [reviewed]. The DIR-825 quietly appeared on D-Link's website last week and could be the replacement for the company's troubled and much-delayed DIR-855 [reviewed], which is still in short supply.

The FCC photos show pre-production samples. Shipping product may differ.
Thanks go to SNB Forum members jdabbs, who provided the initial research into the FCC ID docs and Tipstir, for…the tip!
Figure 2 shows the inside of the 825. Although the fuzzy FCC pictures are a bit hard to make out, you can see a layout that looks very similar to the DIR-855's, with two mini-PCI radio boards stacked together. The boards appear to have three antenna terminals, but only two are cabled out to external antennas attached via RP-SMA connectors.
Figure 2: DIR-825 inside view
In fact, a closer look at the FCC photos turns up a "DGL-4500" marking on the board (Figure 3).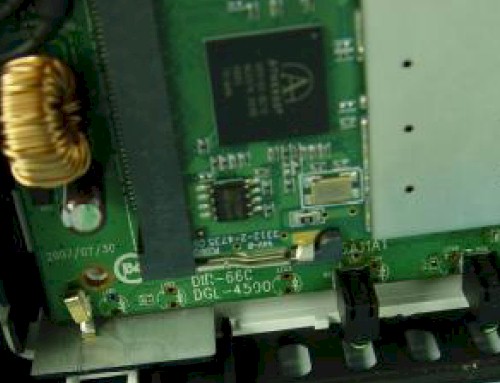 Figure 3: "DGL-4500" marking on main board
You can definitely see the family resemblance between the 825 and 855's boards in Figures 4 and 5.
Figure 4: FCC photo of DIR-825 main board
Component close-up photos in the FCC ID docs were nice enough to clearly show that the 825 uses a Ubicom IP5170U clocked at 350 MHz—same as used in the 855. But the switch is different, with the 825 using a Realtek RTL8366SR gigabit switch, instead of the Realtek RTL8356 in the 855. The single PSC A2S28D40CTP memory chip provides 16 MB of DDR RAM.
Figure 5: DIR-855 main board
Radios and Antennas
Unlike other vendors who seem to like internal antennas, D-Link is sticking with external, upgradable, removable dipole antennas in the 825. As noted earlier, there are only two antennas and the internal photos don't show any sign of third internal antennas. I asked D-Link why only two antennas were brought out since they are using 3×3 radios, but didn't receive a response.
Figure 6 shows the 2.4 GHz mini-PCI radio module that uses an Atheros AR9160 dual-band 3×3 MIMO MAC/Baseband chip and AR9103 3T3R 2.4 GHz radio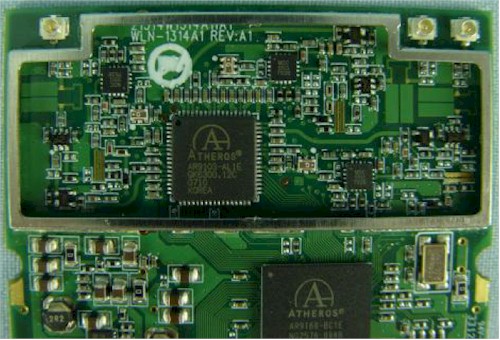 Figure 6: DIR-825 2.4 GHz radio
The 5 GHz board (Figure 7) uses an AR9106 2.4/5 GHz 3T3R radio and another AR9160 BB/MAC chip. These are the same chipsets (and perhaps the same radio modules) used in the DIR-855 revision A2—the one that is supposed to be now shipping.
Figure 7: DIR-825 5 GHz radio
Closing Thoughts
The "SharePort" feature mentioned only as a bullet ("Includes SharePort™ technology for Sharing USB Devices like Printers and Storage over Your Network") on the product webpage is a bit of a head-scratcher. D-Link's routers have sported a single USB 2.0 port for awhile now. But rather than support print and/or storage serving, the port was useful only for whoever (anyone?) uses Windows' Connect Now wireless setup feature.
I could find no mention of the feature in the user manual submitted to the FCC, but those are often early slightly-modified versions of similar product manuals. But my D-Link contact said that "the SharePort feature is a multi-function USB port" and that he was working on documentation in preparation for the product's release. So when I get a copy, I'll update this article.
Updated 9/4/2008
This information was provided by D-Link:
SharePort network shared USB peripheral port – supported peripherals
* USB Printer
* USB MFP multifunction printer
* USB storage

SharePort uses the integral USB2.0 port and built-in firmware to share attached USB peripherals with all computers on the local network. This makes it easy for networked users to share access to printers, MFP, and storage devices that normally require direct PC USB port onnectivity. Previous USB peripheral sharing methods were very limited and required that the "sharing PC" needed to be powered on at all times to access the peripherals. SharePort is "greener" because it is not necessary to power a computer for sharing.
Speaking of release, my contact said that the product was "in final testing and will be available soon (no date yet but could be as early as early/mid Sep)". Given D-Link's track record with the 855, this might mean that we'll see one this year. But it's just as likely that it could be a year from now. I have already requested my review unit, so we'll see how it goes.
As for pricing, the 825 seems to have made it into some etailer databases, with pricing between $160 – $170. This is almost half of what the 855 is going for and within spittin' distance of Linksys' WRT610N. So if D-Link can deliver the goods, which includes a better driver for its only dual-band client (the DWA-160), they might have at least a fighting chance of getting into the dual-band, dual-radio draft 11n game.
Updated 9/4/2008
This information was also provided by D-Link:
The DIR-855 is still the advanced concurrent dual-band model. To offer a lower cost version we removed the OLED display and looked at other ways to trim production costs. The DIR-825 is the result. While at first appearance it might seem that it has a lot in common with other exisiting products, there are some design differences.