WRT400N
Updated 4/25/2009: Added WET610N memory details
Updated 4/24/2009: Added WRT400N details
News of Cisco's WRT400N less-expensive follow-on to its WRT610N simultaneous dual-band draft 802.11n router leaked out shortly after CES. But with today's announcement, we are free to take a look inside it as well as the WRT320N dual-band single radio router and WET610N dual-band bridge that were also debuted.

The FCC photos usually show pre-production samples. Shipping production product may differ.
The 400N doesn't look much different than the 610N, coming in the same UFO case with internal antennas.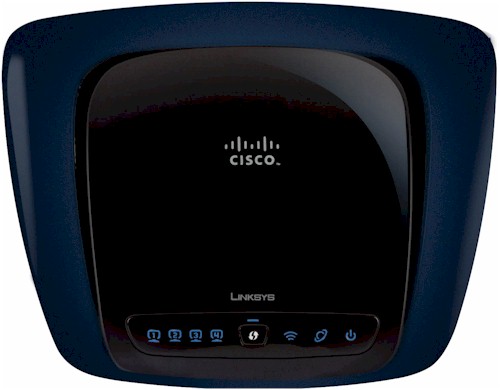 Figure 1: Linksys WRT400N Simultaneous Dual-N Band Wireless-N Router
Figures 2 and 3 show the inside of the 400N and 610N respectively. Cisco has been pretty faithful to its main wireless technology supplier, Broadcom, only occasionally straying to other vendors. Figure 2 shows that the 400N is one of those cases, since it uses an all-Atheros design.
You never know with FCC photos how closely they match production product. I'm guessing that one of the RF shields has been removed over the upper radio and possibly a second over the processor and switch section. There is no sign of heatsinks, however. Note that there are two antennas per radio vs. the 610N's three per.
Figure 2: WRT400N inside view
Figure 3 shows the WRT610NV1 for reference, so that you can see the design,which uses a BCM4705 CPU, two BCM4322 single-chip dual-band draft 11n radios and probably a Broadcom BCM5397 5 port gigabit switch under the heatsink.
Figure 2: WRT610NV1 board
Figure 4 is a closeup of the WRT400N board, which is still a bit fuzzy to make out components. Fortunately there are more pictures in the FCC ID document, which clearly show an AR7161 600 MHz Wireless Network Processing Unit (WNPU) and dual-band AR9220 and single-band AR9223 single-chip draft 11n radios. There are no close-ups of the switch section. But since Atheros is relatively new to making switches, it's probably an AR8216 6-port 10/100.
Updated 4/24/2009
I opened the review sample and confirmed the AR8216 as the switch and found 32 MB of RAM and 8 MB of flash. The 5 GHz radiio had a shield over it, but the 2.4 GHz did not. There were no heatsinks used on any of the devices.

The each radio has two antennas, sited at the four corners. Each radio's antenna pair is arranged diagonally, with the 2.4 GHz at the front left and rear right and 5 GHz at front right and rear left locations.
Figure 4: WRT400N board
WRT320N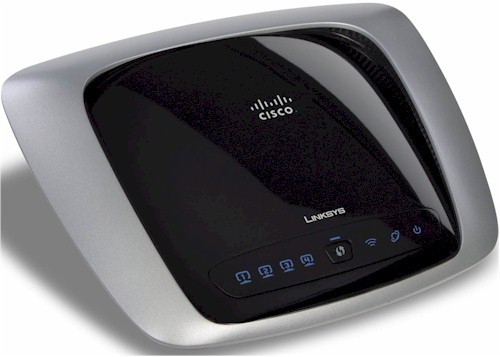 Figure 5: Linksys WRT320N
For its first Linksys dual-band single-radio draft 11n router, Cisco stuck with Broadcom, using its BCM4717 Intensi-fi XLR 802.11n (2.4/5 GHz) Router System-on-Chip to really drive down cost (Figure 6).
Figure 6: WRT320N inside
It's a three-antenna design, with once again a heatsink on the gigabit switch chip. So I'll stick with the same guess as on the WRT610N, a Broadcom BCM5397 5 port gigabit switch. Figure 7 shows the SiGe 2547A RF front ends that live under the RF shield.
Figure 7: WRT320N RF front end
Figure 8 shows the 2547A's block diagram, detailing its power amplifiers, filtering, power detector, Diversity switch, diplexers and associated matching.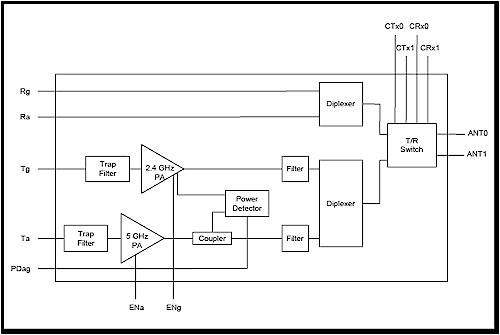 Figure 8: SiGe SE2547A block diagram
WET610N vs. WGA600N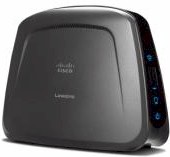 Figure 9: Linksys WET610N
Updated 4/25/2009: Added WET610N memory details
A look inside the new WET610N (Figure 10) reveals that it is based on a Metalink WLANPlus chipset comprised of a MtW8171 2×3 802.11n MAC/BB and MtW8151 2×3 2.4/5GHz 802.11n RFIC.
This is a dual-band 2T 3R draft 11n solution that claims to use Advanced FEC (Forward Error Correction) and be optimized for streaming video due to its ability to do UDP transfers with "minimal" delay, "constant" throughput and "zero" Packet Error Rate. The Star STR9101 is a SoC router and there is 32 MB of RAM and 8 MB of flash.
Note the two metal antennas mounted on board at the top side slanted sections. There is also a printed circuit board antenna in the middle. Kudos to the Cisco design team for the attractive enclosure that orients the antennas in an optimal vertical plane.
Figure 10: WET610N board
In contrast, the WGA600N "gaming adapter" (Figure 11) uses an Atheros AR9160 two dual-band 3×3 MIMO MAC/Baseband and AR9104 dual-band 2×2 MIMO 802.11n Radio. The CPU is a Ubicom IP5090U.
There are two metal antennas here, mounted on board on the left and bottom left of the photo. But the WGA600N's box makes the antennas sit horizontally and close to the surface that it sits on.
Figure 11: WGA600N board
Even though Ubicom is known for its automatic QoS technology, it appears that Metalink has something that Cisco likes better.