The last time I wrote about the games that manufacturers are playing with single-stream draft 802.11n routers (Buyers Beware! Single Stream Draft 802.11n Products Bring Back Spec Spin), I warned that buyers looking for cheap draft 11n routers will need to look over their specs very closely. Well now it seems that Cisco is taking an even bolder step in marketing its entry level "N" router.
The WRT120N has come onto the scene since the previous article and is positioned to eventually replace the WRT110, which Cisco also specs as supporting draft 802.11n. But where the WRT110's advertising copy is somewhat fuzzy about whether or not it is a draft 11n router, the WRT120N's copy makes no bones about it. But while Cisco has dubbed the WRT120N "Wireless-N Home Router", there are three things that you need to know before you decide to buy.
It's Not Draft 2.0 Wi-Fi Certified
If you carefully check the WRT120N's specs (Figure 1), you'll see that it is spec'd as supporting 802.11b, g and draft 11n, it is certified only for 802.11b and g. So even though Cisco is marketing the router as a draft 2.0 802.11n "compliant" product, you'll need to take their word for it.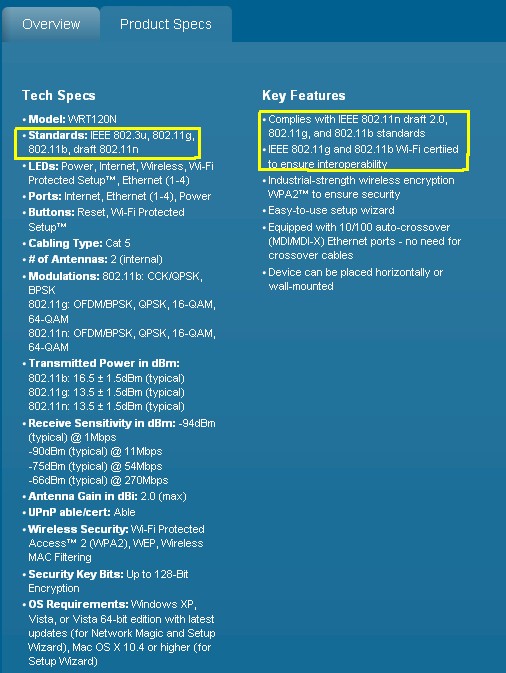 Figure 1: Linksys WRT120N spec
To be fair, Cisco couldn't submit the WRT120N for Wi-Fi Certification, because single-stream access points (and wireless routers) are not recognized in 802.11n. And while the Wi-Fi Alliance has plans to offer a certification for single-stream APs / routers, that program won't be available when the Alliance begins testing with its released-standard Certification suite sometime in the September / October time frame.
It Supports Only 150 Mbps Maximum Link Rate
When I wrote the previous article, I was aware of the WRT120N. But I didn't include it, since Cisco had requested delayed release of its FCC internal photos and provided no indication that it was a single-stream product when I inquired about its positioning. (Note to self: Ask more direct questions next time.)
The internal view of the WRT120N (Figure 2) reveals two antennas, which would lead you to believe that it is not a single stream product.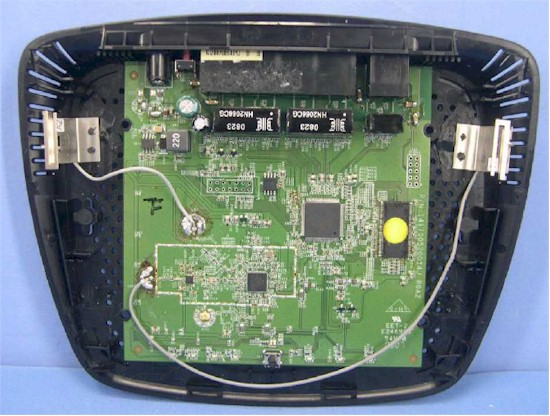 Figure 2: WRT120N internal
It's only when you look at the closeup view of the radio section that you see that an Atheros "Align" AR9285 single-stream N MAC/BB/radio is used.
Figure 3: WRT120N radio closeup
Since the WRT120N can support only single-stream 802.11n, its maximum link (raw data rate) is limited to 150 Mbps—a fact that Cisco mentions nowhere in the product's web page, downloadable spec sheet or even its User Manual for the product.
In contrast, NETGEAR and Belkin clearly state the 150 Mbps maximum speed of their WNR1000 and N150. D-Link is a bit less forthcoming and actually misleading about the speed limit of its single-stream DIR-600, saying that the router will "improve the speed of your wireless signal up to 4X faster than standard 802.11g". The last time I checked, 4 X 54 Mbps (11g's maximum link rate) = 216 Mbps.
You Don't Save That Much
So how much will you actually save by buying the non-Wi-Fi-Certified, believe-us-when-we-tell-you-its-802.11n-compliant, single-stream "N" WRT120N?
A Pricegrabber check showed the current lowest price for the WRT120N as $59.99 from NewEgg and Buy.com. A check of Cisco's next-step up, dual-stream, Draft 11n certified Linksys WRT160N showed multiple vendors selling new product at $80 and refurb product for $39.99. So, depending on your willingness to buy refurb, you actually lose money by buying the WRT120N, or save about $20. And if you shop carefully, you can find other, older certified draft 11n routers for less than or about the same as the WRT120N.
Bottom Line
It's bad enough that the leading consumer networking manufacturers are pushing reduced-capability, single-stream "N" product to market and worse that the Wi-Fi Alliance seems to be in no rush to get a single-stream 802.11n certification program in place.
But it's really disappointing that the consumer wireless market leader is making matters even worse by not clearly identifying its single-stream 11n router and making its 150 Mbps limitation clear to unsuspecting consumers. And it's unfortunate that this bad behavior is being rewarded, since according to Pricegrabber, the WRT120N is among its top-selling wireless routers.
My advice is still to steer clear of single-stream "N" routers until the Wi-Fi Alliance gets a certification program in place.