Have you noticed something about wireless routers lately? Actually, it's more something that's not there—antennas! In fact, wireless routers still do have antennas. It's just that consumer networking manufacturers seem to be following the lead of cell phone manufacturers and putting antennas inside the product enclosures.
Since internal antennas remove some options from buyers' wireless range improvement possibilities, I checked in with Linksys, D-Link and Netgear to see whether the move to internal antennas is here to stay and the reasons for it.
Linksys
Linksys' initial response via Trevor Bratton, Linksys' North American P.R. Manager, was very simple: "It's very simply an evolution of the design, very similar to what has happened to cell phones and car antennas". I felt that this was a bit light, so asked for more details.
Trevor then told me: "the design team did some extensive focus group research with unit[s] that had antennas and units that didn't and the aesthetics of the antenna-less designed were more popular – particularly so on a WW [worldwide] basis".
Linksys was quick to note that the change to internal antennas was made on the condition that performance was not sacrificed in favor of aesthetics.
I didn't get an answer to my query of whether all future Linksys consumer wireless routers would have internal antennas. But recent product introductions all are using what I call the "sting ray / UFO", non-stackable design with internal antennas.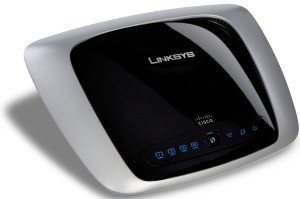 Linksys "stingray" wireless router w/ internal antennas
Netgear
Netgear seemed the most ready for the question and came back with the longest response, including even a little shot at competitors for being copy-cats. Phil Pyro, Director of Product Marketing at Netgear, wrote:
"NETGEAR pioneered the use of multiple internal antennas. We see several advantages for this advanced design technique:
With advanced MIMO technologies multiple antennas can allow for better diversity, receive combining, and spatial multiplexing
· Internal antennas allow for an array of antennas to be used, not just 2 or 3.
· Multiple external antennas are unmanageable and unsightly. Can you imagine a wireless router with 8 external antennas?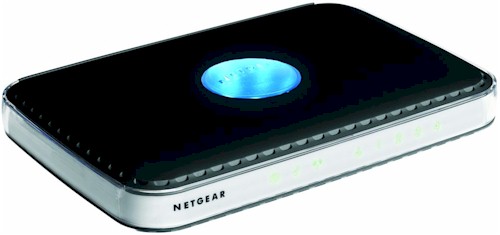 Netgear WNDR3300 RangeMax Dual Band Wireless-N Router
· Preset internal antennas allow for RF designers create the best antenna pattern for optimal wireless performance
· Preset internal antennas takes the guesswork out of having them external so consumers can avoid the trial-and-error process of adjusting and checking and readjusting and rechecking wireless performance
· Internal antennas are better protected from possible damage and misalignment
· Use of new antenna materials, such as metamaterial antennas NETGEAR uses, allow for smaller, cost-effective, and high-performance antennas to be used in smaller internal spaces
We cannot comment on why others have decided to follow NETGEAR innovations on the use of internal antennas, but imitation is the greatest form of flattery."
Although Netgear is very bullish on internal antennas, it also produces a line of "blue box" small business wireless routers and access points. So I asked whether they will also be moving to internal antennas and received this response:
"Because businesses often have the need for the ability to add external antennas that provide different performance characteristics (directional, omni-directional, high-gain, etc.), the business products will continue to use removable external antennas."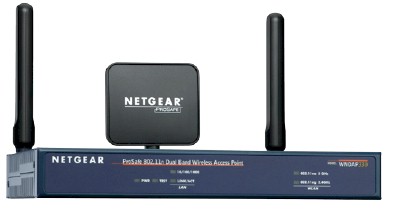 NETGEAR WNDAP330 ProSafe 802.11n Dual Band Access Point
D-Link
Of the three companies polled, D-Link seems to be the most likely to continue to use external antennas in its consumer wireless routers, but not exclusively. It should also be noted that D-Link's external antennas are usually upgradeable.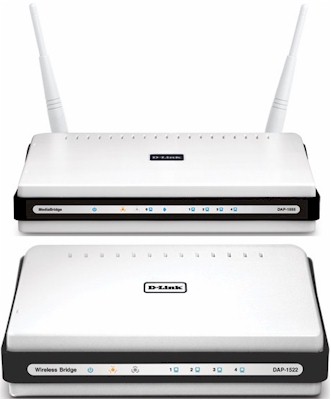 D-Link DAP-1522 (without) and DAP-1555 (with) Xtreme N Duo Wireless Bridges
Dan Kelley, D-Link's Director of Marketing, responded:
"We've used internal antennas on a lot of products in the past, many times in combination with external antennas. The decision to use internal, external or combination comes down to several engineering and product marketing factors as you might imagine from form factor, cost, performance, etc. "
Bottom Line
If you want the option of being able to upgrade antennas on your wireless router, your options are becoming more limited if you want to stay with the "Big 3" consumer networking companies. D-Link seems to be your best bet for wireless routers with external antennas (that are even upgradeable!), with Linksys and Netgear swinging hard over to the side of internal antennas.