Wireless travel routers require their own test method because of their unique capabilities and limitations.
Wireless travel routers are a special class of router designed primarily for sharing internet access to wireless devices from a single wired or wireless connection found in a hotel room.
Their key attributes are small size, easy setup and ability to handle Ethernet or WiFi WAN connection. They are typically designed to cover the area of a typical hotel room and handle up to 5 or 6 devices. They are not designed to be general-purpose wireless routers.
Most travel routers do not have an Ethernet LAN port and many do not expose even simple firewall features such as DMZ. So we were not able to use our normal IxChariot-based test methods or even, in most cases, to test wired routing throughput separately from wireless.
So, travel router performance values are a combination of wired routing and best-case wireless throughput.
The basic test setup is shown in the figure below. The Router under test's WAN Ethernet port is connected to a Windows computer that serves as the WAN test endpoint. A second Windows laptop is connected via wireless to the router under test to serve as the LAN test endpoint.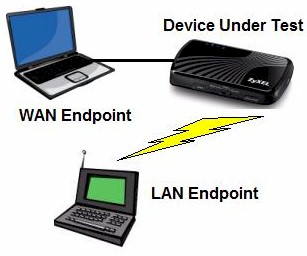 All routers are prepared for test as follows:
Upgraded to latest firmware
Reset to factory defaults
2.4 GHz settings: Channel 6, 20 MHz bandwidth mode
5 GHz settings (if available: Channel 153, Auto 20/40 MHz bandwidth mode
WPA2/AES wireless security used.
The router under test and LAN wireless endpoint placed approximately 12" apart. There is no other wireless activity present during testing.
The test process is:
LAN wireless testpoint is associated with router under test
A Windows batch script uses robocopy to copy a 1.15 GB Windows BKF file from LAN to WAN endpoint and delete the file from the LAN computer
The batch script then copies the BKF file from WAN to LAN endpoint, then deletes the file from the WAN endpoint.
If the router under test also supports 5 GHz, the LAN wireless endpoint is associated using the 5 GHz band and the test repeated.
The robocopy throughput values are converted to Mbps and entered in the Router Charts Database as Location A values. For convenience in using the charts, the same values are also entered as (wired) WAN to LAN and LAN to WAN Throughput. For dual-band routers, the highest values of the two bands are entered as the wired values.