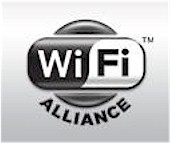 The Wi-Fi Alliance has started certifying draft 802.11ac products. And says 11n will essentially be dead in four years.
The Wi-Fi CERTIFIED ac certification program opened for business last week (June 11) and can handle 5 GHz draft 802.11ac only or dual-band ac / n products.
The first crop of CERTIFIED ac products that also form the test suite are:
Broadcom BCM4360 5G WiFi Single Chip MAC/PHY/Radio for Clients and Routers
Intel® Dual Band Wireless-AC 7260
Marvell Avastar 88W8897 AP Reference Design
Marvell Avastar 88W8897 STA Reference Design
Mediatek Dual Band 802.11ac Reference Access Point
Mediatek Dual Band 802.11ac Reference STA
Qualcomm® VIVE™ 802.11ac 3-stream Dual-band, Dual-concurrent Router
Qualcomm® VIVE™ 802.11ac 3-stream, PCIe Client
Realtek RTL8197D+RTL8188AR+RTL8192CE AP/Router
Realtek RTL8812AE HMC card
A look at a Certificate for an ac CERTIFIED access point shows that the certification is being done against Draft 3.0 for 802.11ac. Will this change when the standard is released? CERTIFIED ac FAQ say that "If market conditions dictate, Wi-Fi Alliance will update the program toinclude additional features and ensure backward compatibility with previously certified devices".
Wi-Fi Certificate for Broadcom AP
The Alliance is predicting big things for dual-band ac products as shown in the graphic taken from its media deck.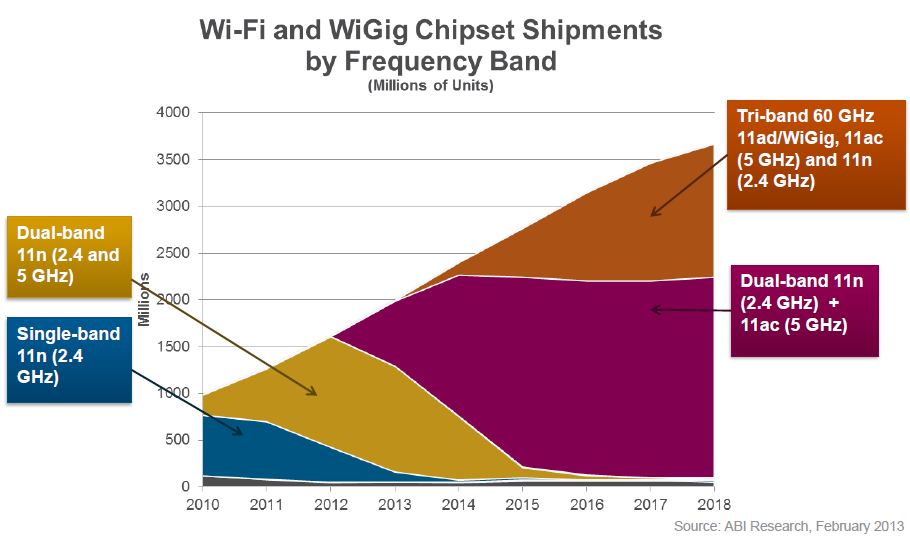 11ac, 11ad kill off 11n
The interesting points in this graphic, which is based on this ABI Research report, are:
Single-band n chipsets are almost dead now
Dual-band n chipsets are already in decline and will be essentially gone by 2017
Dual-band n/ac chipset shipments will overtake dual-band 11n next year
Dual-band n/ac shipments will peak and plateau next year, when tri-band ad / ac / n devices start to ramp
Where are all those ac chipsets going to go? Smartphones.