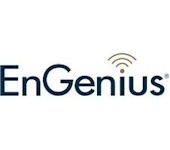 EnGenius is shipping a new indoor high-power access point.
The EAP900H is a concurrent dual band 2.4 + 5 GHz wireless N900 class indoor access point in a ceiling-mount "smoke detector" format. It features high transmit power (2.4 GHz: 28 dBm / 5 GHz: 25 dBm) and six internal 5 dBi antennas for extended coverage.
EnGenius EAP900H Access Point
Other features include powering via supplied ac adapter or 802.3 af/at PoE, Gigabit Ethernet LAN port, 8 SSIDs per radio, 802.1g SSID-to-VLAN tagging, traffic shaping and adjustable transmit power.
The EAP900H also has a band-steering feature that automatically detects 5 GHz-capable clients and pushes them to the 5 GHz band to relieve network congestion. In addition, the AP supports PMKSA (Pairwise Master Key Security Association) and fast handover for "seamless" roaming among APs.
The AP is managed via web browser, CLI or EnGenius' free SNMP-based Zone Controller software.
The EnGenius EAP900H High-Powered Dual Band N900 Indoor Access Point is covered by a one-year limited warranty and is available now at a list price of $299.