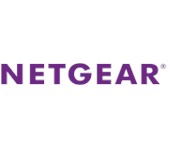 Updated – NETGEAR has announced its draft 802.11ac router.
It seems that the race is on to get draft 802.11ac routers to a market that is still questioning whether it is really worth it to pay more for the dizzying array of Wi-Fi router flavors already flooding the market.
NETGEAR today unveiled its R6300 802.11ac Dual Band Gigabit WiFi Router, with an "industry first" claim. It's not the first announced draft 802.11ac router, however. That claim goes to Buffalo's AirStation WZR-D1800H. But if both Buffalo and NETGEAR hold their claimed ship dates (Buffalo says they will ship in June), NETGEAR will beat Buffalo to market by a matter of weeks.
With its vertical lean-back stance and black case, NETGEAR's R6300 looks a lot like ASUS' hot RT-N56U "Black Diamond" or RT-N66U "Dark Knight" routers, the latter sans its three antennas. Actually, the R6300 looks identical to the WNDR4700 Media Storage Router announced at CES, but not yet shipping. Unlike the WNDR4700, the R6300 won't have an integrated hard drive, however.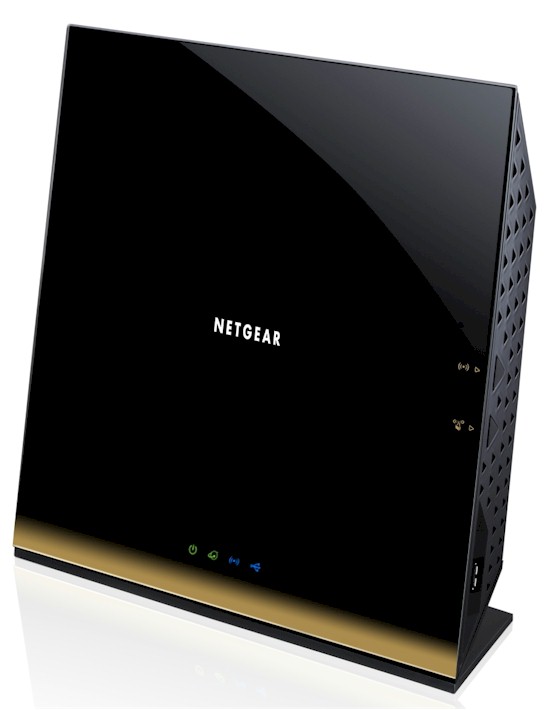 Specwise, the R6300 and Buffalo routers are the same, with a three-stream (450 Mbps maximum link rate) 802.11bgn 2.4 GHz radio and 1300 Mbps maximum link rate draft 802.11ac 5 GHz radio, both based on Broadcom chipsets. NETGEAR is dubbing this combination AC1700, following the industry convention of adding the maximum link rates together to form the largest number they legally can advertise (N600, N900, etc.).
Note that since the 802.11ac standard is still in development, all products shipped for the next year or so will be draft 802.11ac. The standard currently stands at Draft 2.0 with standard approval currently scheduled for December 2013. Manufacturers are not going out of their way to make this clear to consumers, however. "Draft" is nowhere to be found on the R6300's web page or its data sheet.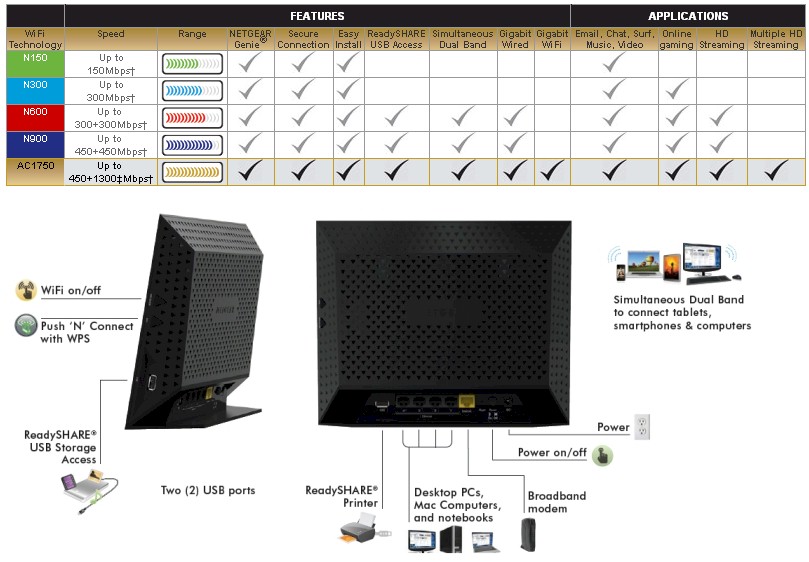 NETGEAR is packing lots of features into the R6300 including Gigabit ports, parental controls, guest network and ReadySHARE drive and printer sharing with DLNA media serving with two USB 2.0 ports. While there is no sign of the R6300 having any of the cloud/app features that NETGEAR says it is developing, the router will work with the NETGEAR Genie app.
The iOS flavor of the Genie app adds AirPrint support, but all Genie flavors still work only when connected to the LAN side of the router. If you're looking for remote access, it looks like Cisco's Connect Cloud may get you there first, if it hits its June ship date.
Of course a draft ac router isn't any good without a draft ac client, which NETGEAR did not announce. The only game in town for that right now is Buffalo's WLI-TX4-1300H draft 802.11ac media bridge. But Buffalo hasn't been clear about its pricing or availability and neither it nor the WZR-D1800H router are up on Buffalo's site.
If you want to be among the first to be a guinea pig for what amounts for a beta test of draft 802.11ac technology, get your $199.99 ready and keep an eye peeled at your favorite etailer/retailer come June to pick up your very own R6300.