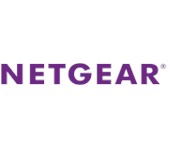 NETGEAR has announced the first AC3200 router.
The R8000 Nighthawk X6 AC3200 Tri-Band WiFi Router is no longer a rumor. It's the first router based on Broadcom's XStream platform announced only in two months ago, beating ASUS' RT-AC3200 announced a few weeks ago at Computex.
The "Tri-Band" branding refers to the three radios in the XStream architecture; one covers the 2.4 GHz band, while the second radio covers the low 5 GHz band (Channels 36 – 48) and the third radio covers the high band (Channels 149 – 165).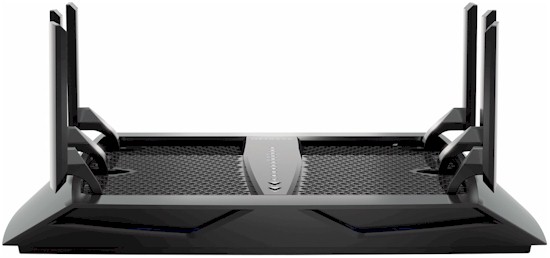 NETGEAR R8000 Nighthawk X6 AC3200 Tri-Band WiFi Router
A total of six non-upgradeable antennas are configured as three dual-band for the 2.4 and 5 GHz low band radios and three single-band for the high-band 5 GHz. The router comes configured with a single 5 GHz SSID with the router automatically assigning devices to one of the two radios based on actual connect rate. (For more on XStream see MU-MIMO vs. XStream: The Coming Battle For Wi-Fi Airtime.)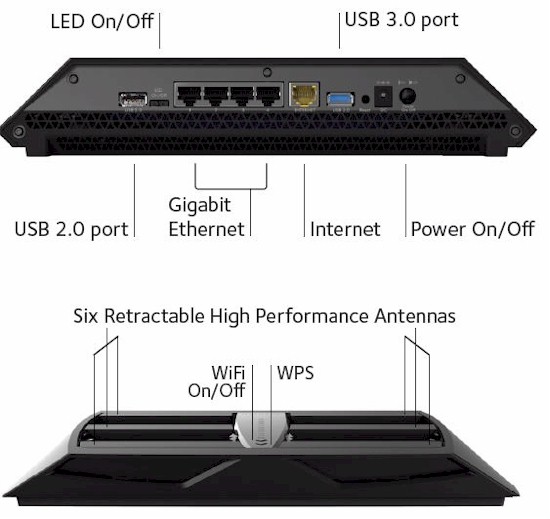 NETGEAR R8000 feature callouts
NETGEAR's specs say the R8000 supports alternative distros that will be available from MyOpenRouter.com. Other features include:
Dual-core 1 GHz Broadcom BCM4709 CPU
Beamforming support
IPv6 support
Open VPN server
Gigabit WAN (1) and switched LAN (4) ports
One each USB 2.0 and USB 3.0 ports for storage and printer sharing
Not among the R8000's features is Multi-User MIMO (MU-MIMO) support. That requires a "Wave 2" 802.11ac chipset, which Broadcom's XStream architecture doesn't have. The first MU-MIMO capable routers will be based on either Quantenna or Qualcomm Atheros silicon and require client devices also supporting MU-MIMO.
ASUS announced its Quantenna-based RT-AC87U at CES and recent Forum posts indicate that engineering samples are in the field. But no firm ship date has been announced. It is unclear whether the RT-AC87U will support MU-MIMO when it starts shipping. NETGEAR's outed R7500 X4 Nighthawk presentation material clearly states that it will be "MU-MIMO Ready".
The R8000 is available for pre-order today
at an MSRP of $299.99, with shipments starting July 11.