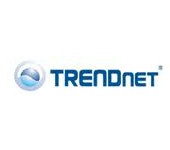 TRENDnet announced new AC and N wireless gear and its first NAS at Computex.
TRENDnet's first foray into NASes is the dual-bay BYOD TN-200. It holds two 3.5" SATA drives up to 4 TB in capacity that can be arranged into a two single-drive or one RAID 0, 1 or JBOD EXT4-formatted volume.
LAN connection is via a Gigabit Ethernet port and external storage can be added via a single USB 2.0 port. The port can also perform UPS shutdown synchronization. Other features include a UPnP / DLNA media server, BitTorrent and FTP download service and backup support for Apple Time Machine, rsync, attached USB and Amazon S3. The TN-200 ships this month for $169.99. (All prices quoted are U.S. MSRP.)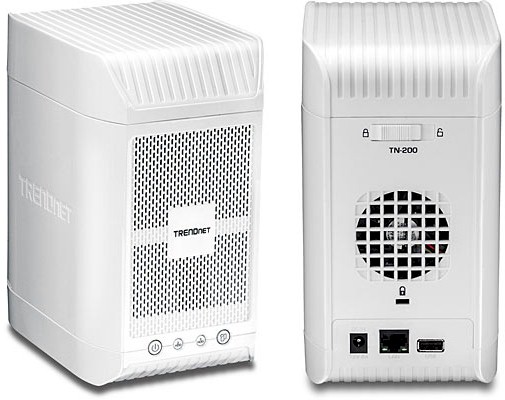 TRENDnet TN-200
The TRENDnet TEW-800MB Dual Band Wireless Media Bridge is billed as an AC1200 class product. But since can connect only at maximum link rates of 867 Mbps in 5 GHz or 300 Mbps in 2.4 GHz, we class it as an AC867 product (its maximum connection rate).
The bridge has a built-in four-port Gigabit switch and supports easy setup via Wi-Fi Protected Setup (WPS). The TEW-800MB is expected to start shipping in July for $159.99.
TRENDnet is still expanding its lower-priced, lower throughput N line with two routers, two access points and a PCI-e adapter. All products except the adapter support simultaneous dual-band operation at maximum link rates of 300 Mbps in both 2.4 and 5 GHz, making them N600 class. The TEW-726EC N600 Wireless Dual Band PCIe Adapter operates in only one band at a time, which SmallNetBuilder classes as a dual-band N300 product. It starts shipping in July at $39.99.
The TEW-752DRU and TEW-751DRU N600 Dual Band Wireless Routers differ in that the more expensive ($99.99) TEW-752-DRU has Gigabit ports and one USB (2.0) port for storage sharing. The TEW-751DRU ($84.99) has no share port and since the port speed isn't specified, we're assuming 10/100. Both support IPv6. The 751DRU starts shipping in August, with the 752DRU following in September.
For access points, TRENDnet is adding the high-end TEW-753DAP N600 Dual Band PoE Access Point. It can be powered by PoE (standard not specified) or DC adapter and supports up to 8 SSIDs per radio, WDS bridging and repeating, IPv6 and traffic shaping per SSID. Its $299.99 MSRP, however, is a bit high. Shipments start in August.
The last N600 addition is the more affordable TEW-750DAP N600 Dual Band Wireless Access Point ($79.99 MSRP). It has a built-in four-port 10/100 switch, supports WDS bridging and repeating and is IPv6 ready. It is the last product in the group to hit the shelves, this October.