At a glance
Product
Amped Wireless High Power AC1750 Wi-Fi Router (RTA1750) [Website]
Summary
AC1750 class router with Gigabit Ethernet ports and USB 2.0 storage sharing
Pros
• Up and down bandwidth-based QoS
Cons
• Very slow storage sharing
• Expensive for an AC1750 router
• No wireless bridging
• Not Wi-Fi Certified
Typical Price: $220 Buy From Amazon
Introduction
Updated 2/25/16 – Router performance retest due to measurement process error
We don't often look at Amped Wireless products because Amped tends to be very late to market and we have found its products don't live up to their "unmatched Wi-Fi range and coverage" claims.
But when Amped made a big deal about announcing its first AC1750 class router—the RTA1750—we decided to once again try to see if Amped brings something unique to the Wi-Fi party.
The Amped Wireless RTA1750 High Power AC1750 Wi-Fi Router is the new top of Amped's router lineup. Unlike many of its previous products, the RTA1750 is Qualcomm-based. As the diagram below shows, the RTA1750 has Amped's signature assortment of transmit power and receive low-noise amplifiers for each of its six 2.4 and 5 GHz radio chains (three chains each).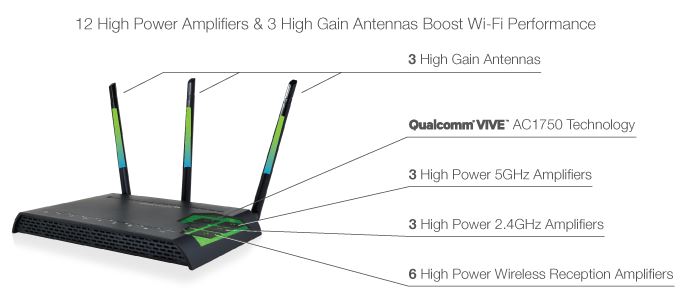 Lookit all these amps!
The rear of the router has three RP-SMA antenna connectors, reset switch, WPS button, power connector, 4 Gigabit LAN ports and Gigabit WAN port. There is also a USB 2.0 port for storage sharing and main power and LED on / off switches. No Wi-Fi on/off switch, though.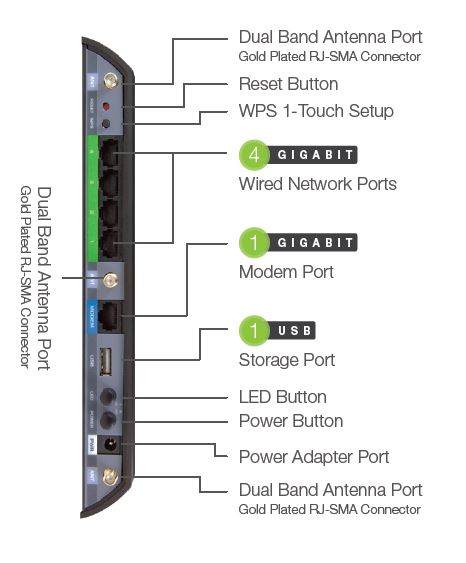 Amped Wireless RTA1750 connectors and ports
The front panel has indicator lights as shown in the callout graphic below. Note the panel markings are not white, but grey-on-grey that makes them hard to make out. LAN port indicators show link and activity, but don't change color to indicate link rate.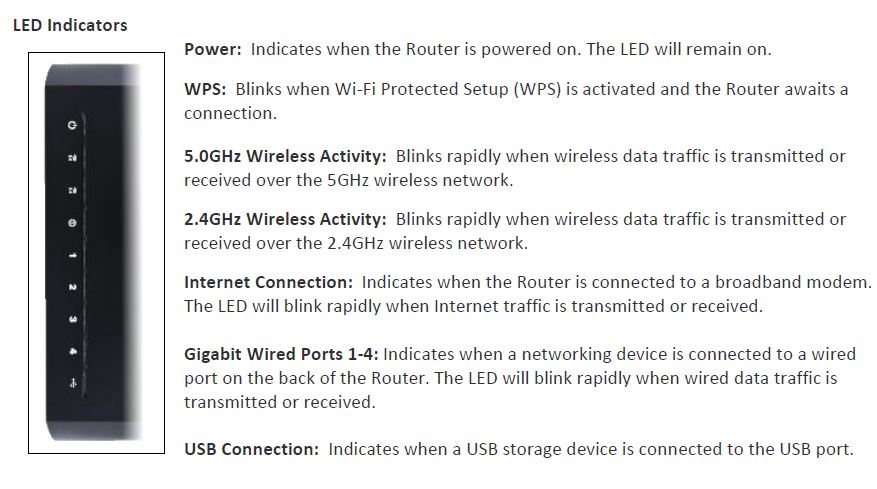 Amped Wireless RTA1750 lights
The bottom of the router has plenty of vent slots, but the top has only one row at the rear of the top cover. The router is designed to sit flat on a desk or can be wall mounted either horizontally or vertically with centrally positioned four-way screw slots.
Inside
The heart of the RTA1750 is a Qualcomm QCA9558 3×3 abgn WLAN SoC, which serves as the main processor and 2.4 GHz radio. A QCA9880 3×3 11ac radio handles 5 GHz band duties and there's a QCA8337 Gigabit switch that supports the single WAN and four switched LAN ports.
We've seen the QCA9558/QCA9880 combo many times before, most notably in TP-LINK's Archer C7 V1 and V2, D-Link's DGL-5500 and most recently in Edimax' WAP1750 access point.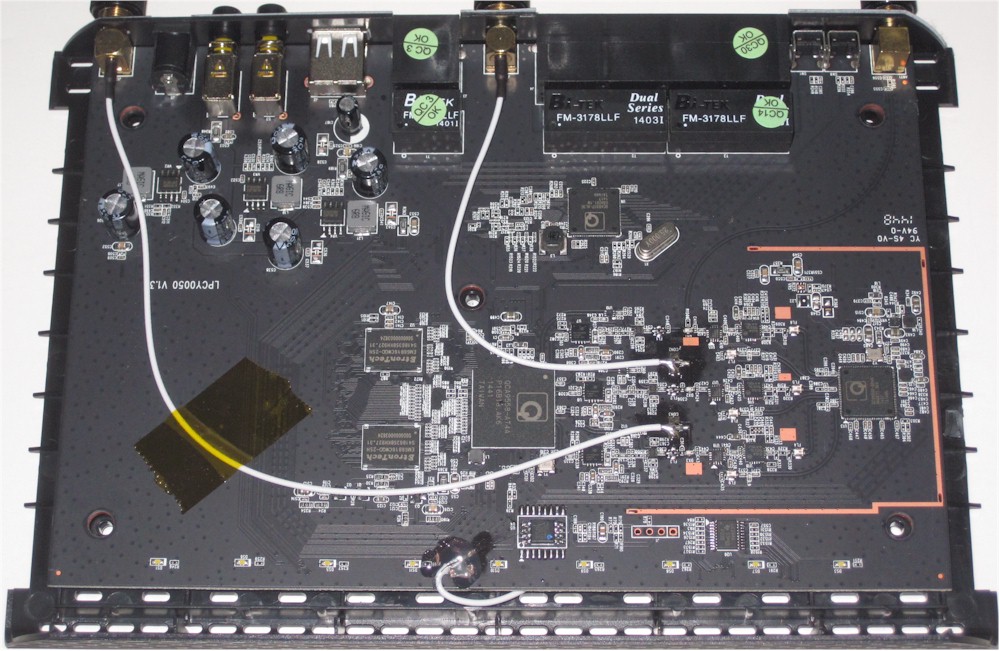 Amped Wireless RTA1750 internals
Key components are summarized in Table 1.
Amped Wireless RTA1750
CPU
QCA9558 3×3 abgn WLAN SoC
Switch
QCA8337
RAM
128 MB
Flash
16 MB
2.4 GHz Radio
In QCA9558
– Skyworks SKY65900 2.4 GHz power amp (x3)
– Skyworks SKY15971 2.4 GHz LNA (x3)
5 GHz radio
– QCA9880 3×3 802.11ac radio
– Skyworks SE5023L 5 GHz power amp (x3)
– Skyworks SKY85601 5 GHz LNA + switch (x3)
Table 1: Component summary
Feature Summary
Here is a list of the RTA1750's features. It hasn't changed much since we reviewed the R1000G back in 2012. Changes are bolded.
Routing
Static and Dynamic IP, PPPoE , PPTP and L2TP WAN connections
MAC address cloning
MTU Adjustment
DHCP Server, range setting, lease time setting, and default domain
DHCP Client list
DHCP reservation
VLAN support
Virtual Server entry for single or multiple ports with TCP, UDP or all protocols forwarded. Enable/disable for each entry.
Port filtering – can set individual or range of incoming ports. Allows you to enable or disable TCP and UDP ports on network devices.
Bandwidth-based upload/download QoS control. Bandwidth rules list based on IP address (or IP range), port range and protocol
DMZ Host
UPnP enable/disable
DDNS support for Dyndns (www.dyndns.org) and TZO (www.tzo.com)
IPv6 support
NAT enable/disable
RIP 1/2 dynamic routing
Static routes
Security
Firewall enable/disable at each component level
VPN Passthrough enable/disable for PPTP, L2TP and IPSec
IPv6 pass through on VPN connection enable/disable
DoS (denial of service) enable/disable
Enable UDP Flood filtering (with settable threshold)
Enable TCP-SYN Flood attack filtering (with settable threshold)
Ignore Ping Packet from WAN port
Remote Management on WAN enable/disable
MAC address filtering
URL filtering
Internet access control – Rule based access control for host (domain name or IP address)
Wireless features
WEP, WPA / WPA2 Personal and Enterprise (RADIUS) support
4 guest wireless networks
Wi-Fi Protected Setup (WPS) support, pushbutton and PIN
Auto and manual channel set
Transmission rate set
SSID broadcast enable/disable
Enable/disable wireless
Beacon interval, RTS threshold, Fragmentation Threshold adjustments
Wireless MAC address filtering (allow or deny based on MAC address)
WMM disable
Short GI disable
Wireless access schedules
5 GHz Wireless modes: a, a+n, a+n+ac (default)
2.4 GHz Wireless modes: b, b+g, b+g+n (default)
5 GHz channel width 20MHz/40MHz/80MHz
2.4 GHz channel width 20MHz/40MHz
Transmit power adjust, 15%, 35%, 50%, 70% and 100%
Wireless network statistics, packets sent/received, active associated clients
Storage features
SMB file sharing (no user accounts)
FTP server. Can set port and control anonymous FTP and anonymous write protection. No secure FTP
IPv6 appears to be supported, but controls for IPv6 WAN connection are scattered among a few screens vs. being selected via a control on the WAN connection settings as most other routers do.
The storage features noted above are pretty basic. Note there are no media servers and USB printer sharing isn't supported. Note also the single USB port is USB 2.0.
The admin GUI's look and feel hasn't changed. It still has the same green and black motif and feature organization.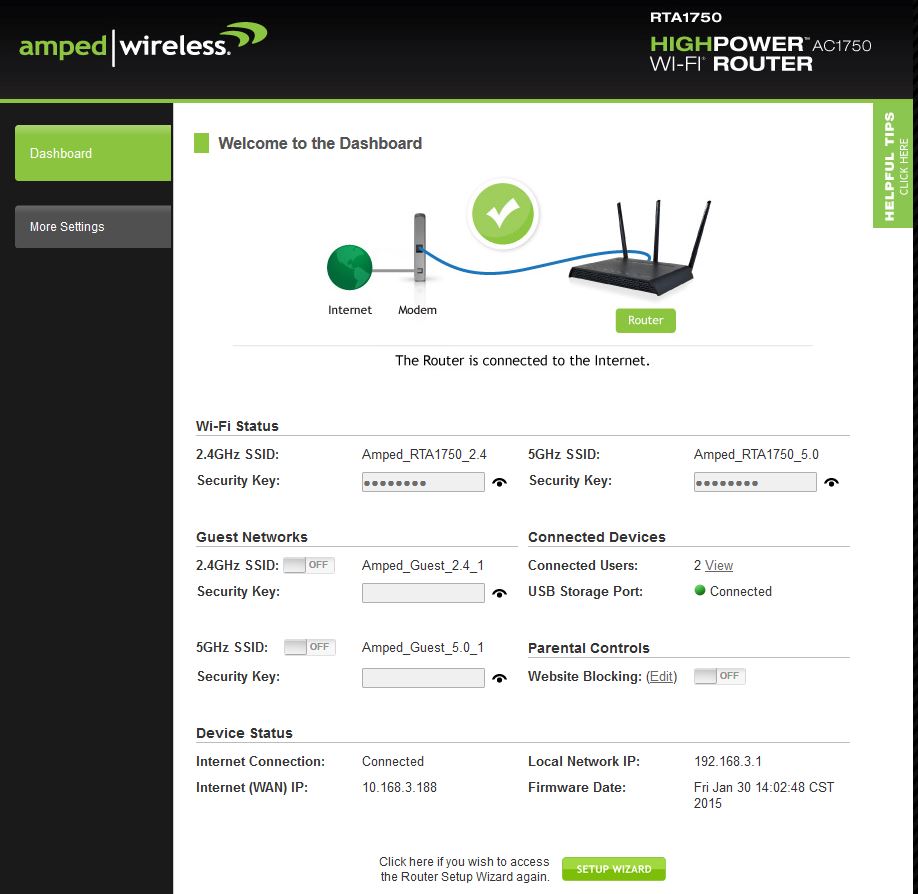 Amped Wireless RTA1750 Dashboard landing page
The same setup wizard also launches when you first connect to guide you. If you want to explore Amped's router feature set further, check the R1000G review and browse the gallery of admin screenshots below.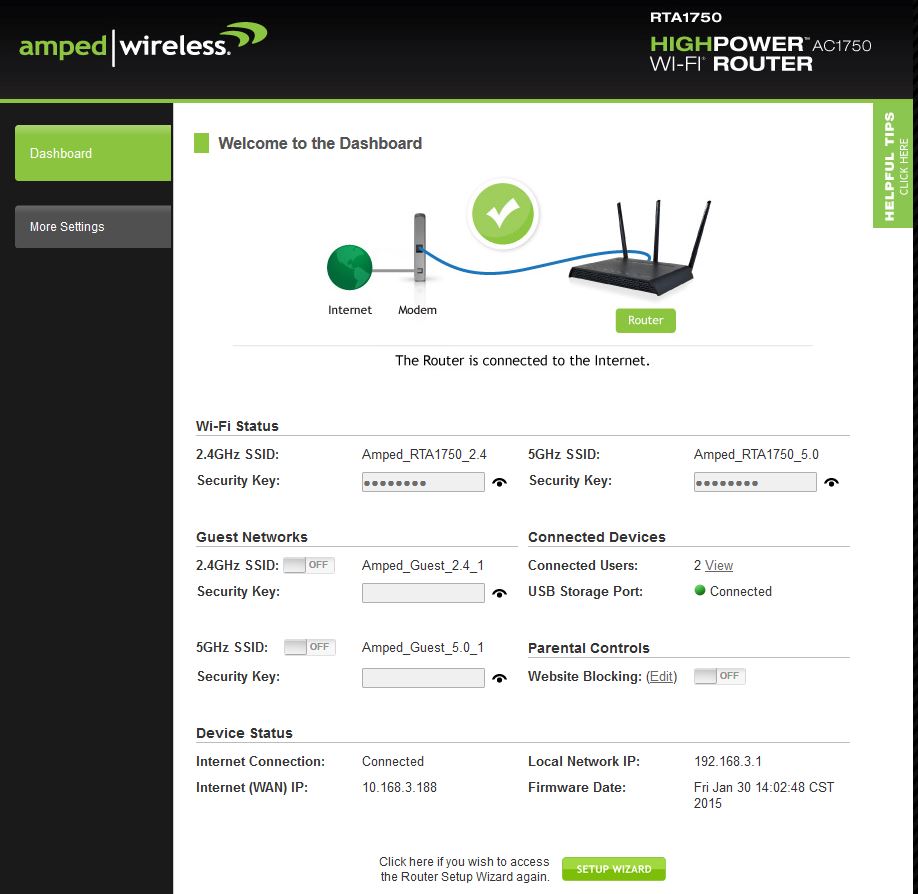 Status dashboard is the log in landing page
2.4 GHz basic settings
2.4 GHz advanced settings
5 GHz basic settings
5 GHz advanced settings
This is a fancy way to present transmit power settings
Various passthrough settings. Don't know why IPv6 settings are here.
WAN type settings. You can't select IPv6 protocol type here
Domain based website blocking
You can limit LAN access by MAC address
You can limit LAN access by IP address
USB sharing features are bare-bones
You can assign LAN ports to VLANs
Protection against various DoS attacks
Bandwidth based QoS for both internet up and downlink
Status page
Logging example output
Storage Performance
The summary below shows all AC1750 routers we've tested with our standard procedure with USB 2.0 connections and both FAT32 and NTFS drive formats. It's obvious that storage throughput isn't one of the RTA1750's strongest features.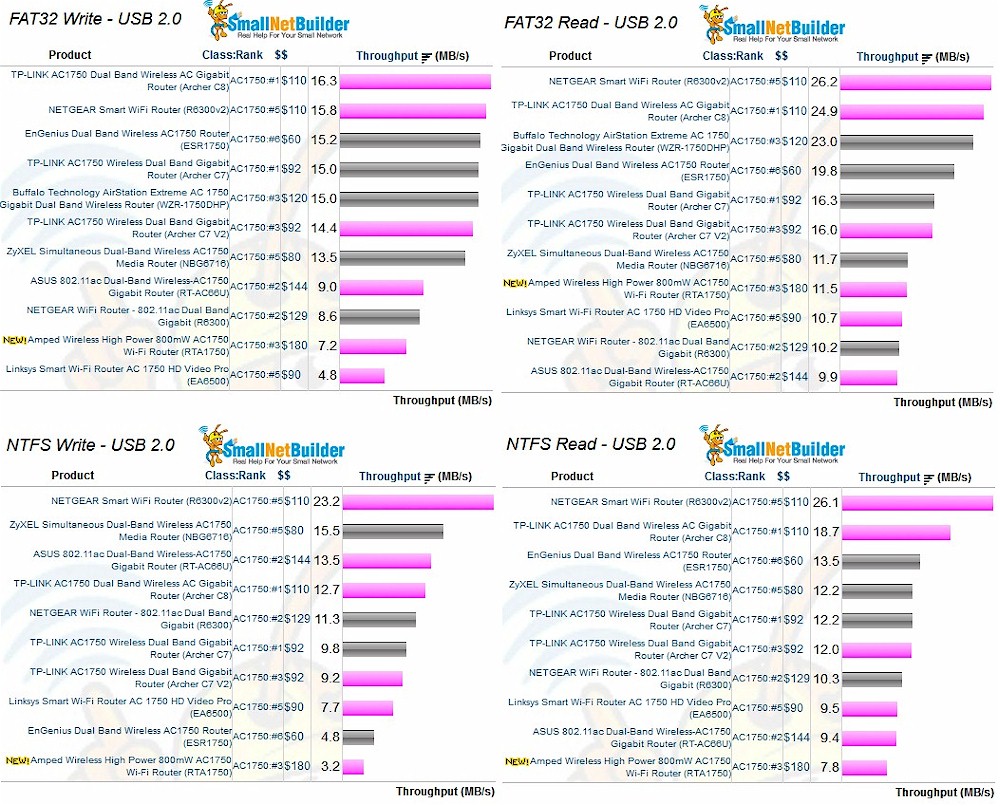 Storage Performance Comparison – USB 3.0
Routing Performance
Updated 2/25/16 – Router performance retest due to measurement process error
Routing throughput was measured using our standard router test process with the router loaded with 2.0.8 firmware. Table 2 summarizes the results and includes the top-ranked AC1750 class TP-LINK Archer C8 for comparison. Maximum simultaneous connections hit our test process limit; we consider anything over 30,000 connections as equal for ranking purposes.
| Test Description | Amped RTA1750 | TP-LINK Archer C8 |
| --- | --- | --- |
| WAN – LAN | 815 Mbps | 777 Mbps |
| LAN – WAN | 818 Mbps | 771 Mbps |
| Total Simultaneous | 1177 Mbps | 1080 Mbps |
| Maximum Simultaneous Connections | 39.189 | 7821 |
| Firmware Version | 2.0.8 | 3.16.27 Build 20140903 Rel. 75232 |
Table 2: Routing throughput
The IxChariot unidirectional composite plot for the RTA1750 is similar to most routers we test now with cyclical variation between mid-to-high 800 Mbps range and peak speeds over 900 Mbps for both directions.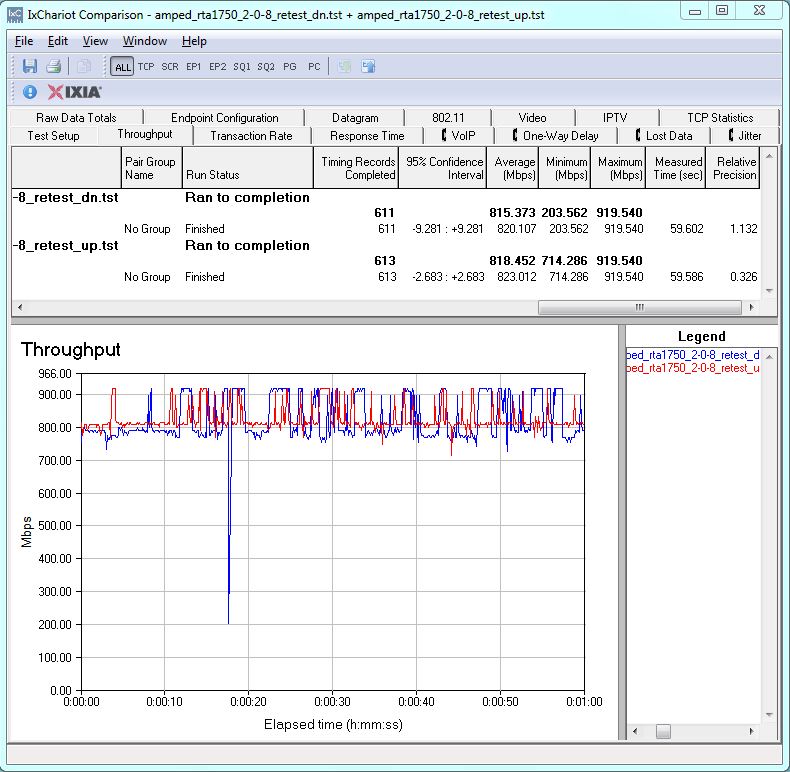 Amped Wireless RTA1750 routing throughput unidirectional summary
The RTA1750 simultaneous up/downlink benchmark plot shows significant battling between up and downlink traffic. This indicates the router is struggling to maintain smooth routing.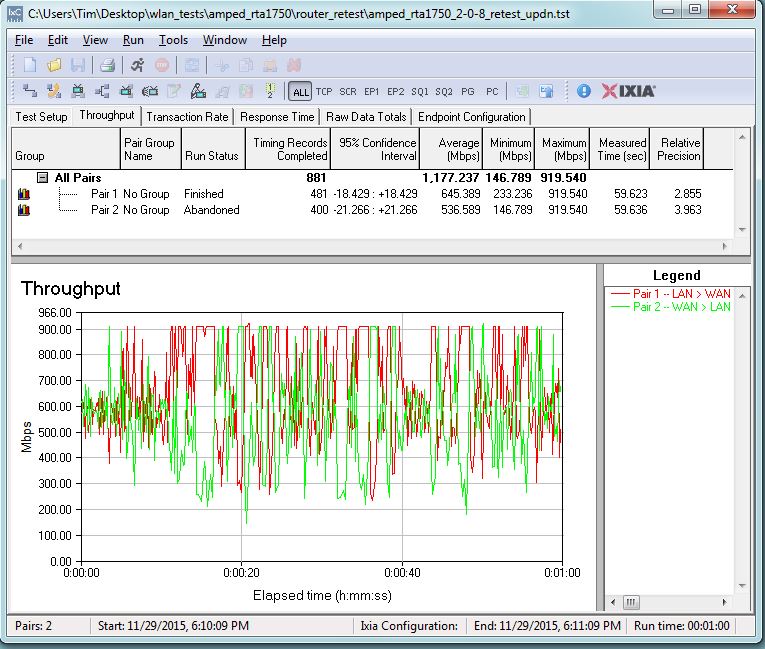 Amped Wireless RTA1750 routing throughput bidirectional summary
Wireless Performance
The RTA1750 is not Wi-Fi Certified (Amped has not Wi-Fi Certified any of its products.) It was tested using the Revision 8 Wireless test process with 2.0.8 firmware loaded. The router comes with WPS enabled. I connected a Windows 8.1 notebook to the router's 5 GHz SSID and was prompted for WPS PIN with a pushbutton alternative. A pushbutton session quickly resulted in a WPA2/AES connection. WPS has settings pages for both radios and can be disabled.
The router defaults to unique SSIDs and auto channel select for each radio and 80 MHz bandwidth for 5 GHz and 40 MHz bandwidth for 2.4 GHz.
For performance testing, the router was first reset to factory defaults. The 2.4 GHz radio was set to Channel 6 and 20 MHz only bandwidth mode. The 5 GHz radio was set to Channel 153 and left in 80 MHz channel width to enable 802.11ac link rates. The NETGEAR R7000 bridge mode standard test client was connected using WPA2/AES encryption.
Our standard practice is to center the router under test's antennas on the turntable, both front-to-back and side-to-side in the chamber. This method is intended to keep maximum distance between the router under test and chamber antennas as the router rotates during test. The photo below shows the RTA1750 in the test chamber in its starting test position.
RTA1750 in test chamber
The Benchmark Summary below shows the average of all wireless throughput measurements made over the tested attenuation range.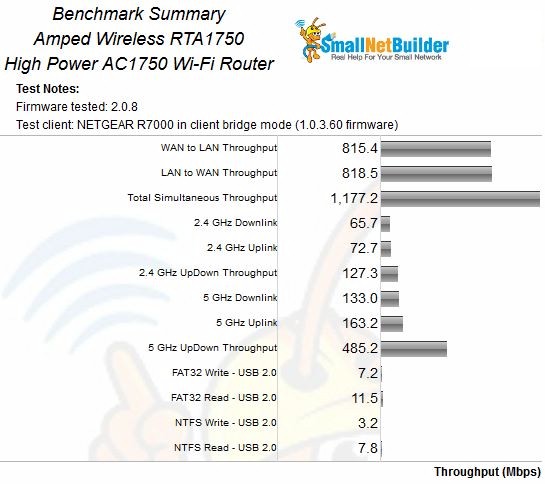 Amped Wireless RTA1750 Benchmark Summary
I chose #1 and #2 ranked AC1750 routers for comparison, which are currently the TP-LINK Archer C8 and ASUS RT-AC66U. The ASUS actually is tied for #2 with Securifi's Almond+ router. But since we haven't reviewed the Almond+ yet, I left it out of the comparison.
2.4 GHz downlink performance shows the RTA1750 distinguishing itself by staying under the other two routers' curves throughout the tested range. It also disconnected after the 57 dB attenuation test, indicating poorer range performance than the ASUS.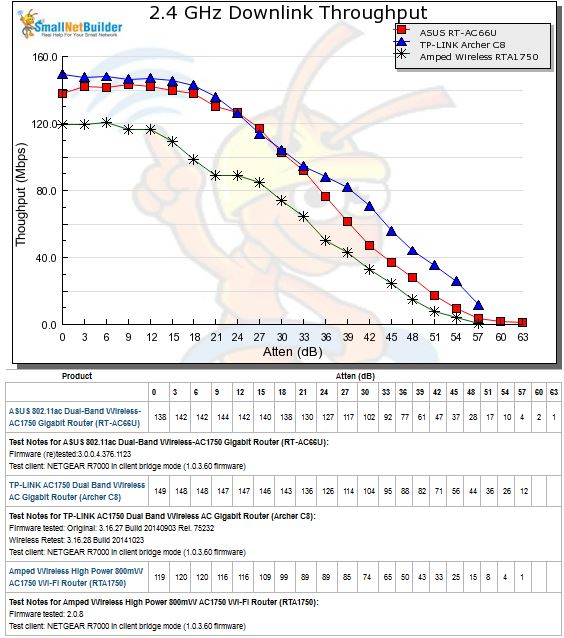 2.4 GHz Downlink Throughput vs. Attenuation
2.4 GHz uplink shows the ASUS as the clear winner for most of the test range, while the TP-LINK and Amped products are pretty well matched.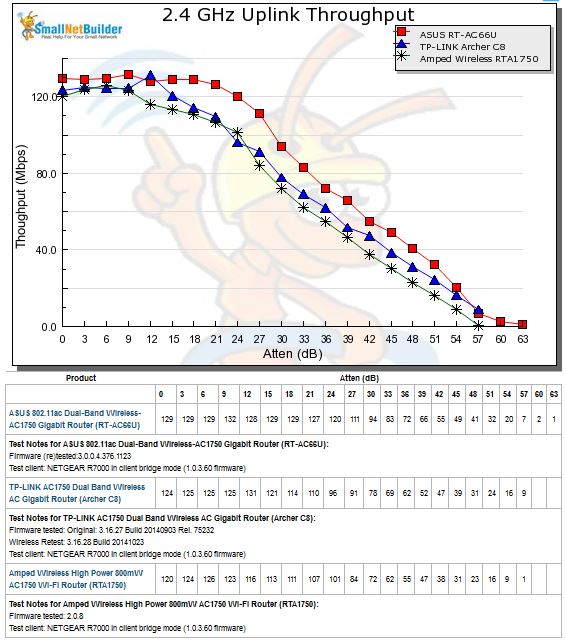 2.4 GHz Uplink Throughput vs. Attenuation
Performance spreads out in the 5 GHz downlink profile. This time, the ASUS is the first to lose connection, with the Amped and TP-LINK routers staying connected out to the 39 dB test. But the RTA1750 has lower throughput than the other two products throughout most of its range.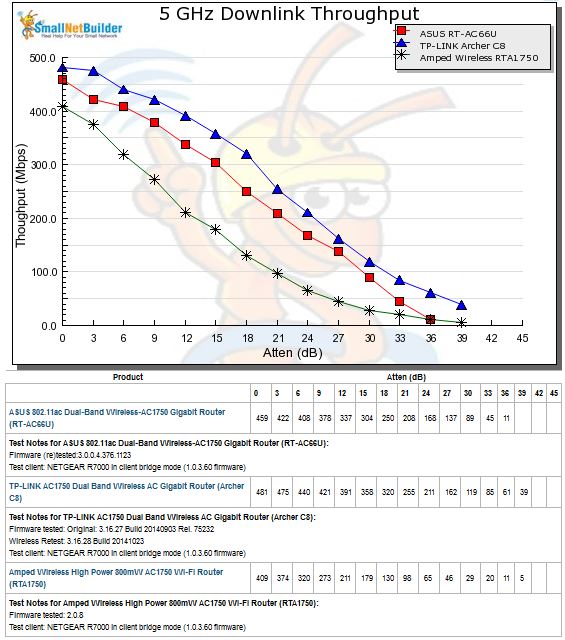 5 GHz Downlink Throughput vs. Attenuation
5 GHz uplink shows all three products pretty evenly matched. The Archer C8 has higher starting throughput than the other two products and ties the Amped for staying connected the longest.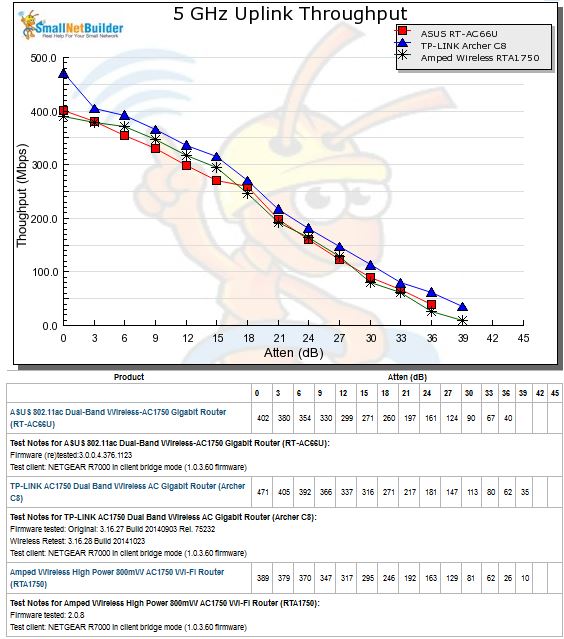 5 GHz Uplink Throughput vs. Attenuation
To put all this into perspective, I turned to the Router Ranker Performance Summary and included the TP-LINK Archer C7 V2, which also tied for #3 ranking. Comparing the two shows there is more than one way to get a #3 ranking!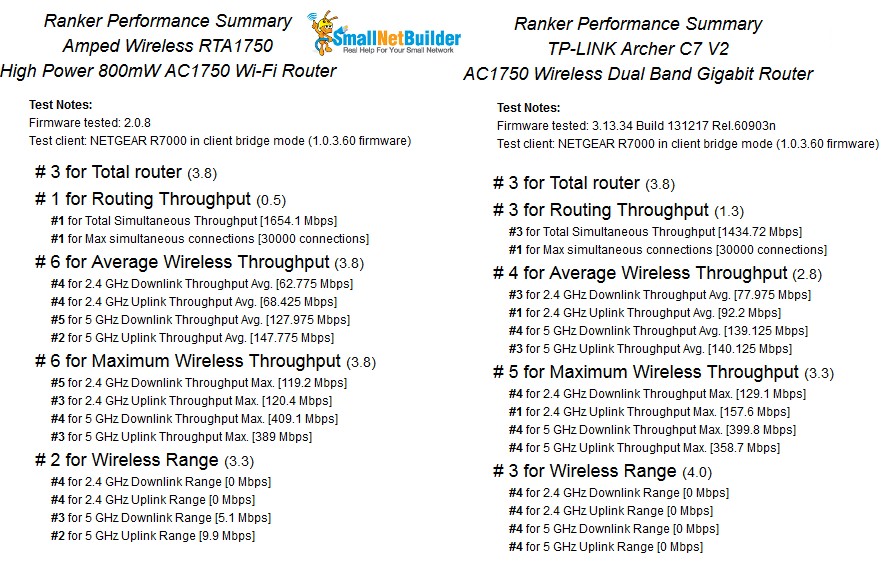 Ranker Performance Summary Comparison
Closing Thoughts
At $180, the Amped Wireless RTA1750 is one of the, if not the most expensive AC1750 class routers you can buy. But I don't think it would be money well spent. It only runs with the pack on wireless uplink performance on both bands and significantly underperforms on downlink throughput, including losing connection at the same time or before much lower priced competitors. And while its simultaneous routing throughput is chart-topping, its USB storage sharing throughput is embarrasingly low.
In the end, Amped Wireless products may have more amplifiers than other Wi-Fi gear. But, at least by our measurements, they don't deliver on Amped's "3X the range of other routers" claim.
Buy High Power AC1750 Wi-Fi Router from Amazon