At a glance
Product
Belkin N750 DB Wireless Dual-Band N+ Router (F9K1103) [Website]
Summary
Ralink based dual-band simiultaneous router with Gigabit Ethernet ports, three stream N on 5 GHz only and USB printer and drive sharing
Pros
• Gigabit ports

• Excellent 2.4 GHz performance
• Guest network (2.4 GHz only)
Cons
• No service blocking or web filtering
• Poor 5 GHz performance
Typical Price: $520 Buy From Amazon
Overview
Updated 7/18/2011: AP switch clarification
Belkin has a new N router line that has been completely revamped from head to toe. Out with its poorly-received "app" based Surf, Share, Play and Play Max line and in with five new models. The comparison chart in Figure 1 pulled from Belkin's site summarizes the key differentiators except for frequency band.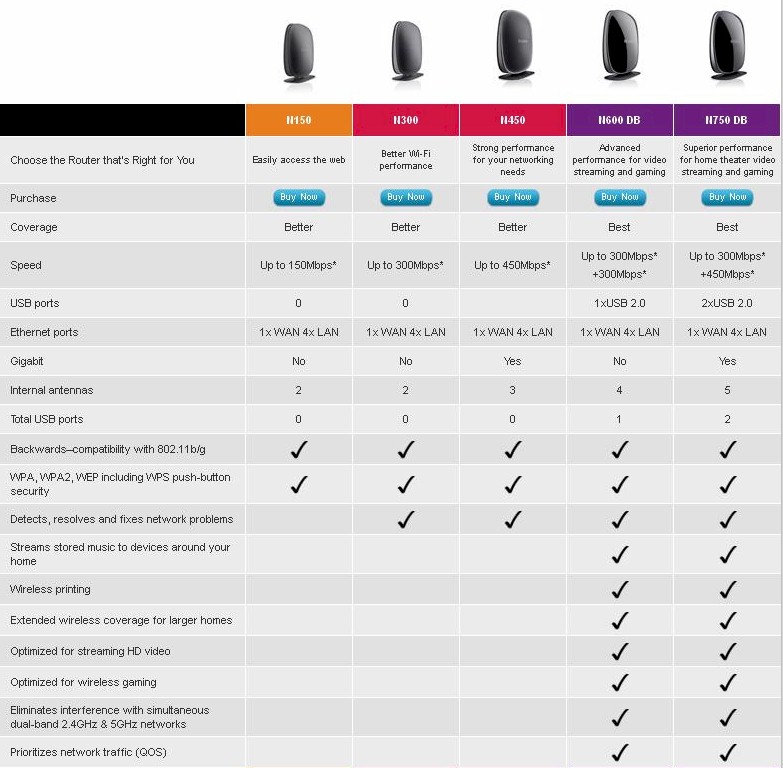 Figure 1: Belkin N series feature comparison
There are two three-stream N models in the lineup, the 2.4 GHz single band N450 and the subject of this review, the N750 DB. As seems to be the trend with most dual-band three-stream N routers of late, the N750 DB provides up to 450 Mbps link rate on the 5 GHz radio only. And you only get that rate if you have a matching three-stream N adapter and use 40 MHz bandwidth mode.
The new line retains the old one's focus on simplicity and ease of setup. As Figure 2 shows, there are only two front panel indicators, so as not to confuse non-techies.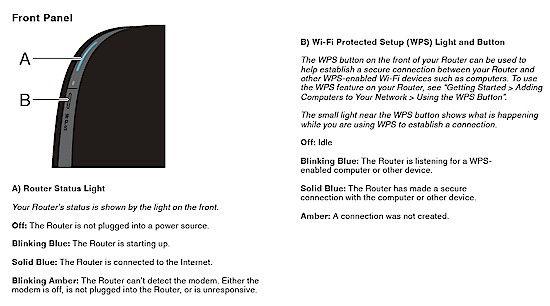 Figure 2: Front panel callouts
Don't go looking for network status indicators on the back panel, either. Figure 3 shows the only ones you get are for the two USB 2.0 ports that you can plug printers and drives into for sharing.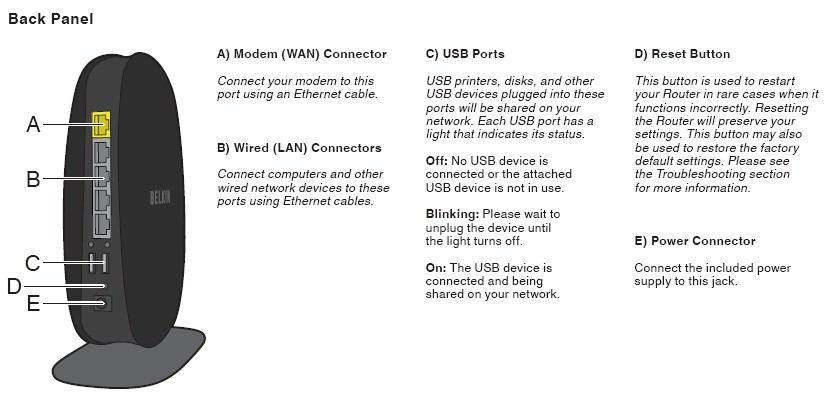 Figure 3: Rear panel callouts
Belkin ships the N750 DB with both a WAN port cable and the power supply already plugged in. They also have the usual installation CD that walks you through setup and installs a "Router Manager" app. As usual, I didn't try either one.
Inside
You can't really see a lot of detail in the fuzzy FCC ID photo in Figure 4. Fortunately, the internal pictures file has closeup shots of the key components.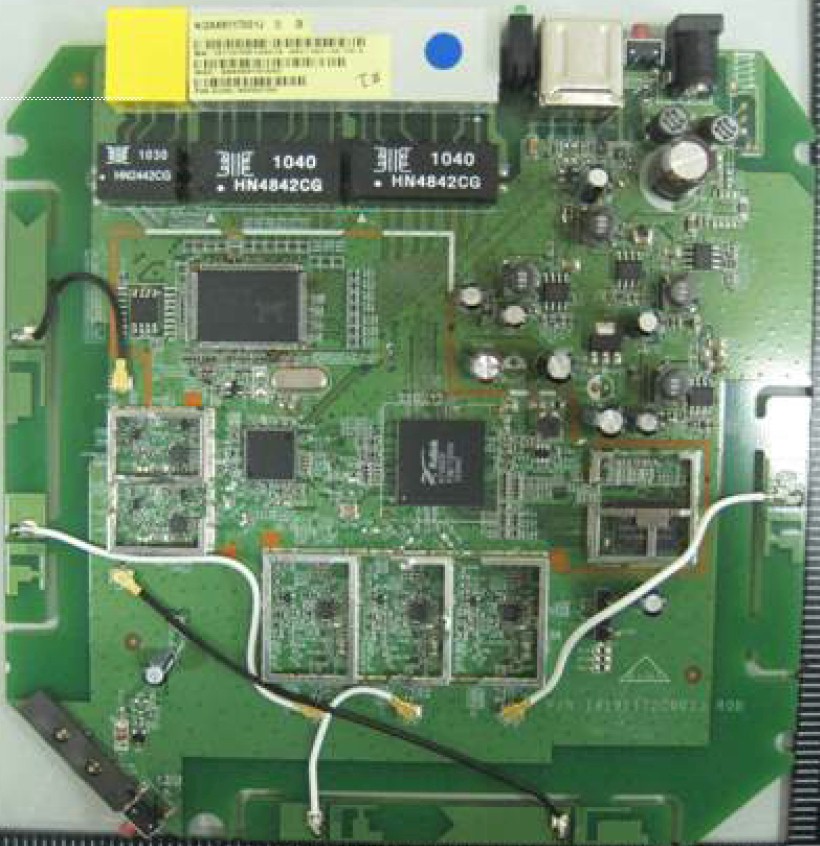 Figure 4: Belkin N750 DB board
The main CPU and 5 GHz radio come from a Ralink RT3883F 3X3 N SoC. This is a second-generation 3X3 N device from Ralink, that's also in TRENDnet's TEW-691GR and probably in the just-available TEW-692GR.
The 2.4 GHz radio is a Ralink RT3092 2X2 N SoC. A Realtek RTL8367R 5+1-port Gigabit Ethernet switch handles the WAN and LAN ports and I was able to make out 64 MB of RAM. I couldn't see how much flash, but my guess is 8 MB.
Features
Belkin has never been big on cramming a lot of routing features into its products and the N750 DB continues the tradition. Here's the summary:
Routing
DHCP, Static, PPPoE, Telstra BigPond/OptusNet CableWAN types
DHCP server with lease time adjust
UPnP support (no exposed controls)
Built-in dynamic DNS client for DynDNS
DMZ host
WAN ping allow / deny
20 virtual servers (single port forwards) with separate source and destination ports
Three level manual uplink QoS for eight services (single port)
PPTP and IPsec VPN pass through (no exposed controls)
Automatic upload and download QoS
Logging
USB SMB/CIFS storage sharing
UPnP / DLNA media server (USB storage)
Wireless features
Switchable AP / Router mode (software switch)
Guest SSID on 2.4 GHz radio only
MAC address filtering
WEP, WPA / WPA2 Personal support
Wi-Fi Protected Setup (WPS) support, pushbutton and PIN
Auto and manual channel set
Missing features
IPv6 support
DHCP reservations
Port range forwarding
Triggered port forwarding
QoS rule adjustment
URL / keyword filtering
Email alerts or log sends
Transmit power adjust
HTTPs admin access
Firewall rule scheduling
Features – more
The real weakness here is in port forwarding. You can set only 20 single port forward rules, but at least you can specify source and destination ports (if you're into that sorta thing). If you need to forward port ranges or trigger ports, you can't.
There is also no way to filter outbound ports to block access to services. No web keyword filtering either. So if it's parental controls you're looking for, better move on.
VPN passthroughs are limited to just PPTP and IPsec; no L2TP. There are no controls exposed for these, so if you want to disable them, you can't.
Updated 7/18/2011
On the wireless side, you get a single guest SSID with its own wireless security setting, but on the 2.4 GHz radio only. There are no wireless client isolation controls and no transmit power adjustments. You can shut off each radio, but not on a scheduled basis. The 1.00.40 firmware added a software switch to convert the router to an access point, but there is no hardware switch.
An interesting feature is Self-Healing. I'll let Belkin explain via its online help file entry:
Self-Healing is an automatic maintenance function that keeps your network running smoothly and efficiently without the need for any user interaction. The router reinitializes itself at a set period of time on the days of your choosing, this frees up the routers memory and ensures the user is not required to restart or switch off the router. Clients may lose their connection to the router for a few seconds during the self healing cycle, although all should reconnect once it's complete. That's why it's best to select a time the network is less busy or not in use.
It's refreshing to see a manufacturer admit that its product should be rebooted on a regular basis and even makes it easy. Note that this feature is disabled by default.
USB drive sharing works only with FAT, FAT-32 and NTFS formatted drives. The Video Mover feature is just Belkin's way of saying that UPnP AV / DLNA media serving can be enabled from attached USB drives.
I tested file transfer speed with our trusty Iomega UltraMax Pro drive attached and FAT formatted, using my standard Windows filecopy test from our NAS test bed. Write speed measured 6.0 MB/s, while read came in at 8.2 MB/s. Not the fastest USB sharing option I've seen on a router, but not atypical.
Browse the gallery below for a tour of some of the admin screens with additional commentary.
The landing page provides a status overview. No login required.
You can adjust DHCP lease time, but can't reserve IPs.
You get PPPoE, but not PPTP WAN types. MTU can be adjusted on PPPoE.
2.4 GHz modes also supported are off, 11g only and 11n only. Additional 5 GHz modes are off, 11a only and 11n only. Sorry, no transmit power adjust.
You can choose WEP and WPA/WPA2 PSK only. No WPA Enterprise / RADIUS modes (no biggie for home use).
Guest WLAN is supported on the 2.4 GHz radio only.
Although it looks like you can adjust QoS settings, you really can't. Disable / enable only.
Behold all you get for managing the firewall. No triggered port forwarding, port ranges and no outbound port filters.
You gotta love a manufacturer that admits that its product should be rebooted to keep 'your network running smoothly'.
Routing Performance
Routing throughput running the latest 1.00.40 firmware and our router test process measured a very high 793 Mbps WAN to LAN, 819 Mbps LAN to WAN and 825 Mbps total with up and down tests running simultaneously. That ranks it #3 on the Total Simultaneous Routing Throughput chart, behind the ASUS RT-N56U and Cisco RV 220W.
Maximum simultaneous connections weren't quite as impressive, topping out at numbers indicating an 8,192 limit.
The IxChariot composite plot in Figure 5 shows upload speed lower than download in the simultaneous routing test, a typical result.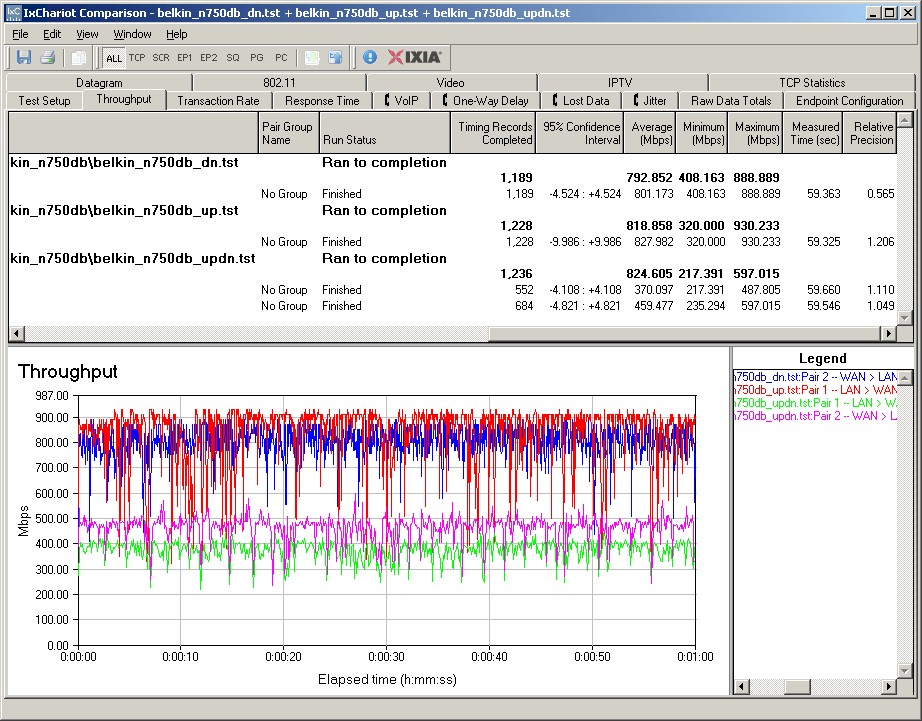 Figure 5: Belkin N750 DB routing throughput summary
Wireless Performance – 2.4 GHz
I thought I was prepared for three-stream N testing, having purchased a Lenovo x220i Thinkpad with Intel Centrino Ultimate-N 6300 card and the three-antenna option. I should have checked it before now, but I've been pretty busy trying to keep up with the inflow of review product.
When I went to start testing, however, I could not get a 450 Mbps link rate. Long story short, the x220i came with the 6300 card, but not with the three antenna option! So it'll be a few weeks before I get one that's made properly and can run a full set of three stream tests on the 5 GHz radio. In the meantime, I ran all the two-stream tests.
The N750 DB is Wi-Fi Certified and properly defaulted to 20 MHz bandwidth mode in 2.4 GHz on power-up. The 5 GHz band came up in Auto 20/40 mode. I was able to run a Wi-Fi Protected Setup (WPS) pushbutton session with my Win 7 client that resulted in a WPA2/AES secured connection to the 2.4 GHz radio. All tests were run with this secured connection using our wireless test process.
I ran a 2.4 GHz Wireless Performance table (Figure 6) for the Belkin and two other dual-band "750" routers, the Cisco Linksys E4200 and NETGEAR WNDR4000. Note that the Cisco and NETGEAR both use Broadcom BCM4331 three-stream chipsets for their 5 GHz radios.
The N750 DB seems to behave more similarly to the Cisco Linksys E4200 than the WNDR4000 when it comes to lower signal performance. In fact, the Belkin produces some of the highest throughput I've seen, if not the highest, in Locations D, E and F.
Highest throughput of 83.7 Mbps was seen running downlink in 40 MHz mode in Locations A and B. I was able to measure 105 Mbps running simultaneous up and downlink tests in Location A and 40 MHz mode.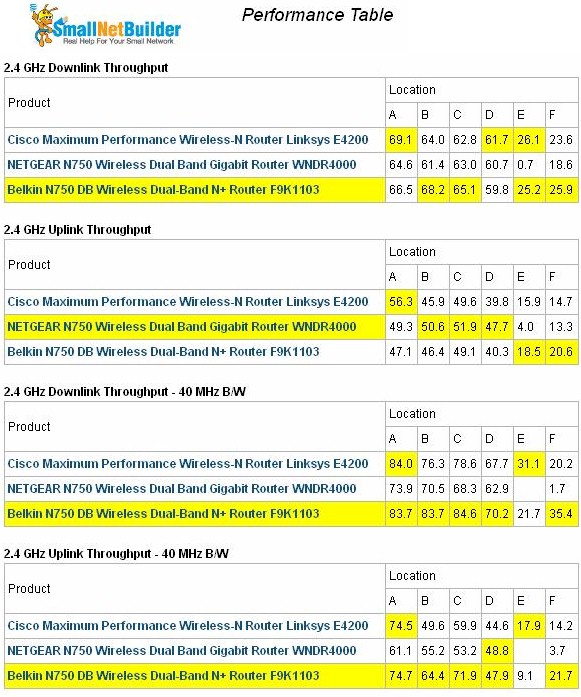 Figure 6: Belkin N750 DB Wireless Performance summary – 2.4 GHz
Throughput stability was generally good with no multi-second deep dropouts observed in strong signal locations. The IxChariot 20 MHz mode downlink summary plot in Figure 7 is typical of what I saw during testing.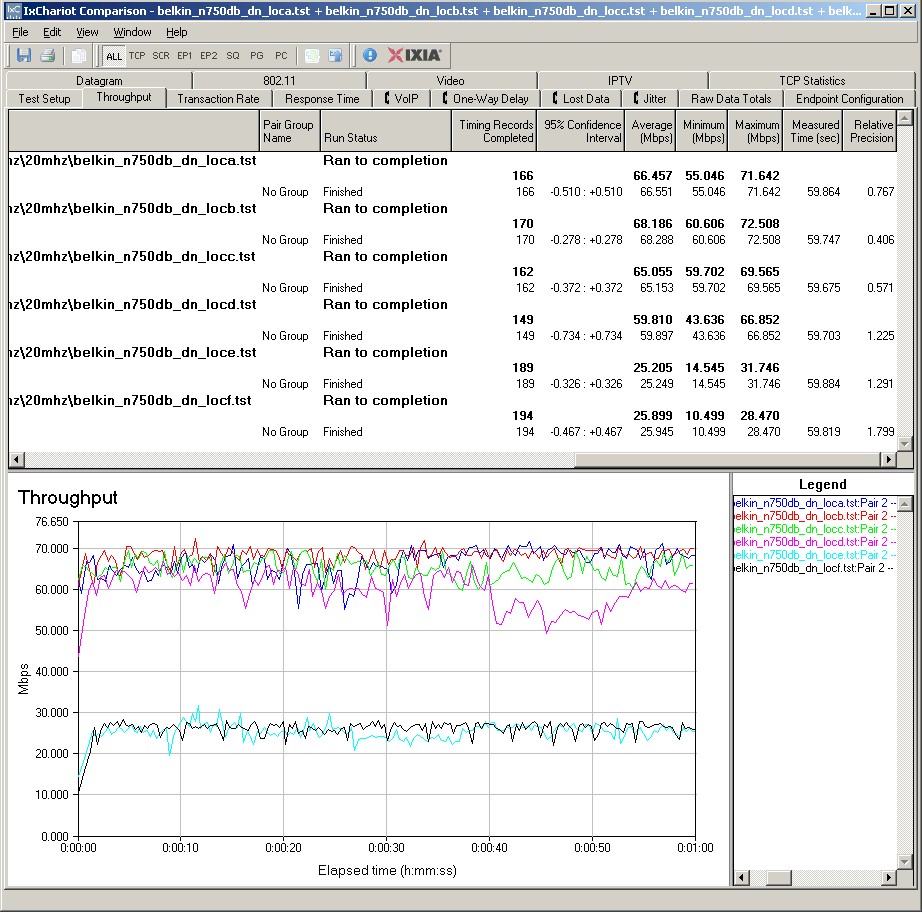 Figure 7: Belkin N750 DB IxChariot plot summary – 2.4 GHz, 20 MHz mode, downlink
Here are links to the other 2.4 GHz plots if you'd like to check them out.
Wireless Performance – 5 GHz
Whatever pixie dust Belkin put into the 2.4 GHz radio, it forgot to put into the 5. While I was running the 5 GHz tests, I almost thought someone had swapped in a different product! The 5 GHz Wireless Performance Table in Figure 8 shows the N750 DB as the lowest performer among the three, pretty much across the board!
Highest throughput of 62.0 Mbps was obtained running upnlink in 40 MHz mode in Location A. I was able to squeeze out only 85 Mbps running simultaneous up and downlink tests in Location A and 40 MHz mode.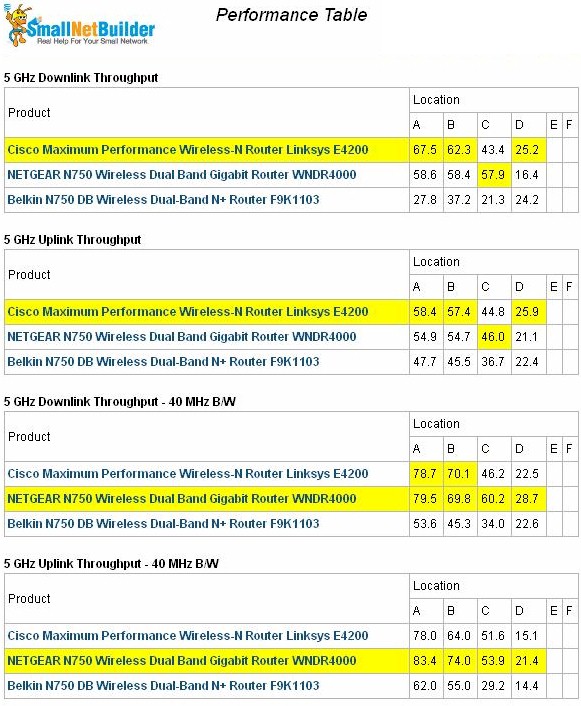 Figure 8: Belkin N750 DB Wireless Performance summary – 5 GHz
You can see in Figure 9 that hroughput stability in 5 GHz was pretty bad compared to 2.4 GHz. Connection was stable enough, even in Location D. But it didn't break through into my dead-zone Locations E and F.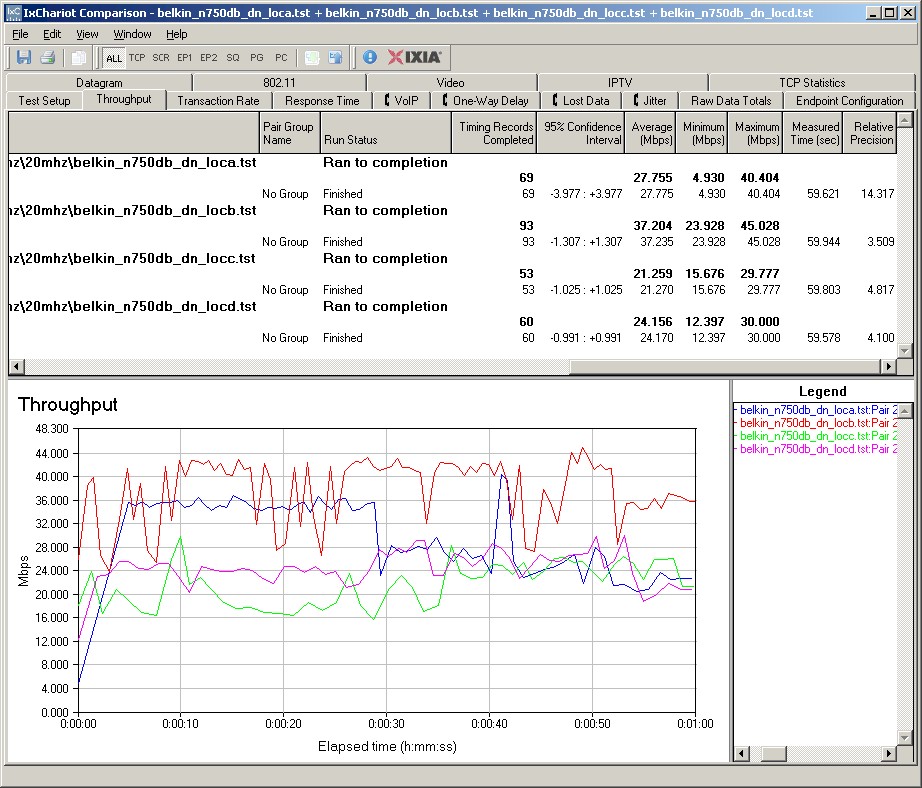 Figure 9: Belkin N750 DB IxChariot plot summary – 5 GHz, 20 MHz mode, downlink
Here are links to the other 5 GHz plots if you'd like to check them out.
Closing Thoughts
Belkin has been trumpeting the results of the testing that it paid Tolly to do. You can download the report here for the price of giving up some contact information. The report is full of lots of impressive big numbers, like > 900 Mbps of total combined throughput, which was obtained by adding together bi-directional wired routing throughput and best-case 2.4 and 5 GHz wireless throughput.
The one important thing the report doesn't mention is whether they used TCP/IP or UDP for the test streams. I suspect UDP, since it usually gooses the results a bit due to lower protocol overhead. (I use TCP/IP for all routing and wireless testing.)
I can say that the N750 DB is one of the fastest routers I've seen to date for wired routing throughput. And it's also one of the best 2.4 GHz routers I've tested for mid to low signal strength performance.
But when it comes to the 5 GHz band, the N750 DB seems to morph into an entirely different beast, with anemic throughput and less stable throughput. Maybe it'll look different when I come back and run the three-stream tests on it, once I get a properly-manufactured test machine in house.
Buy N750 DB Wireless Dual-Band N+ Router from Amazon