Introduction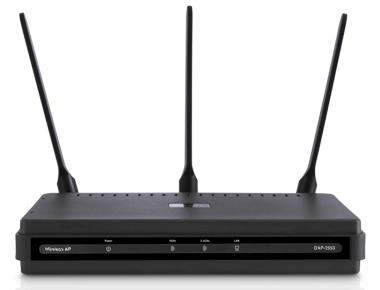 At a Glance
Product
D-Link AirPremier N Dual Band PoE Access Point (DAP-2553)
Summary
Dual-band, single radio 802.11n business AP /Bridge /Client based on Atheros silicon
Pros
• Dual-band
• Can be used as AP, WDS bridge or client
• Can be powered by power wart or 802.3af PoE
• External, upgradeable antennas
Cons
• Single radio, so no simultaneous dual-band.
• No WPS support
• Won't extend your 5 GHz range vs. cheaper products
Given the interest that the DAP-1522 garnered as an 802.11n bridge, I asked D-Link to send its business-grade DAP-2553 for review…quite some time ago, in fact. The delay in review is all my fault, so my apologies to D-Link up front for the time it's taken me to get to it.
A lot of 802.11n water has flowed under the Wi-Fi bridge since I looked at the DAP-1522 back in mid-2008. Back then, the 1522 was the cheapest way to add 5 GHz band 11n coverage to an existing LAN.
But now, dual-band APs are very common and you can even pick up a single-radio DIR-628 refurb for under $50, as I write this. However, price isn't the 2553's main claim to fame, but business features like VLAN and 802.3af PoE are.
Figure 1 shows the 2553's back panel, which contains a single 10/100/1000 Ethernet port, reset button and power socket. The three dual-band antennas are connected via RP-SMA jacks, so can be upgraded if you so wish.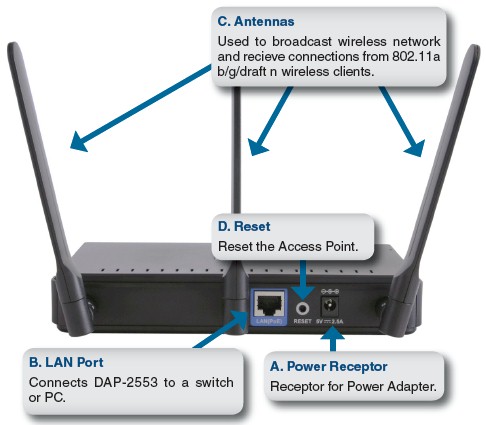 Figure 1: DAP-2553 Rear panel
The front panel is pretty simple, with just indicators for power, 5 GHz, 2.4 GHz (to indicated radio mode) and LAN Link / Activity. The 5 and 2.4 GHz lights just blink at a steady 1 second rate and provide no indication of actual wireless traffic.
Note that there is no mode indicator to show whether the 2553 is functioning as an AP, WDS bridge, WDS bridge / repeater or wireless client. There is also no button to kick off a WPS push-button session, since the 2553 doesn't support WPS, nor a mode switch to manually set AP, Bridge, Repeater or Client mode.
Internal Details
Figure 2 shows the rather fuzzy FCC ID photo, which is clear enough to show the Atheros devices that power it. Fortunately, the internal pictures file had close-ups of the key devices, which are an Atheros AR9132 802.11n 400 MHz Wireless Network Processing Unit (WNPU) and AR9106 Dual-band 3×3 MIMO 802.11n radio.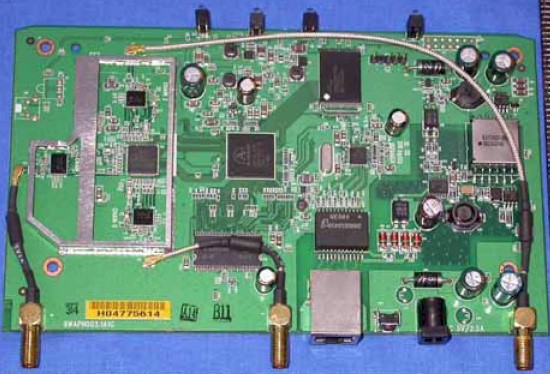 Figure 2: DAP-2553 board
There was no close-up of the Gigabit Ethernet device, but I'm guessing it's an Atheros AR8121. 16 MB of Spansion flash rounds out the design.
Features
Initial setup was a bit annoying since the 2553 comes set to a fixed 192.168.0.50 IP, which doesn't lie within my LAN's range, instead of grabbing a LAN-compatible IP via DHCP. But after a quick change of my computer's IP address to the 2553's subnet, I was able to log into the admin interface, which isn't password-protected by default.
I'm not going to tour you through the 2553's interface, since D-Link conveniently has an online emulator of the 2553's complete admin GUI. Instead, I'll just summarize the 2553's key features bullet-style:
WEP and Personal / Enterprise WPA / WPA2 wireless security
Wireless Modes
2.4 GHz: Mixed 802.11n, 802.11g and 802.11b; Mixed 802.11g and 802.11b; 802.11n only
5 GHz: Mixed 802.11n, 802.11a; 802.11a only; 802.11n only
MAC address filtering
802.3af Power over Ethernet support
Tranmit power control (100, 50, 25, 12.5%)
Transmit data rate (but limited, see below)
Client connection limit (0-64, 20 default)
Up to four SSIDs, each with separate wireless security
Up to four VLANS w/ 802.1q tagging
"Rogue" AP scan
Wireless access enable / disable schedule
Four level priority-based QoS
DHCP server with IP reservaton
Telnet, SSH, SNMP, HTTP, HTTPS admin interfaces
Client-to-client and client-to-wired-LAN partitioning
Ethernet and WLAN statistics
Logging
The feature set provides a bit more than your average consumer wireless router and makes for a relatively full-featured AP. Emailed alerts, to go along with the "rogue" AP scan (D-Link calls this feature "Intrusion Dection, which is really isn't), and log / statistics summaries would have been nice.
As noted earlier, Wi-Fi Protected Setup (WPS) isn't supported, since it's not used in the business environment that the 2553 is intended for. The Transmit Data Rate control was only available when a mode that included 11n wasn't selected.
I didn't try the WDS bridging features of the 2553, but did try Wireless Client mode. Figure 3 shows that you need to select a band before you scan. So you'd better assign both the wired device and the 2553, static IPs in your LAN's subnet, but outside your LAN's DHCP server, so that the two can communicate. Once you get connected, which isn't obvious from the Wireless Settings page by the way, you can change your client to use DHCP so that it gets proper gateway and DNS settings.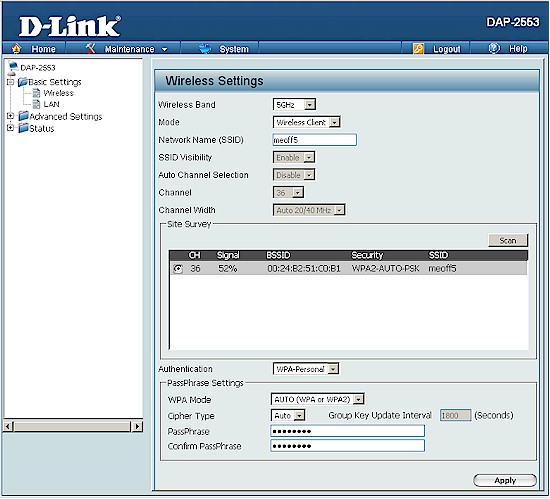 Figure 3: DAP-2553 set as wireless client
Actually, the way I initially tried this was to keep the 2553 attached to my LAN's switch while I set it to client mode and scanned. Once it picked up my LAN's wireless AP, I selected it, entered the WPA2 passphrase and waited. Once I saw all the LEDs on my LAN switch start blinking madly—due to the network storm caused by the switch port-to-port connection made by the new wireless connection—I knew that the 2553 had connected.
Wireless Performance
I used our standard open air test method described here to test the 2553's wireless performance. Testing was done using our standard wireless test client, an Intel Wi-Fi Link 5300 AGN mini-PCIe card in a Dell Mini 12 running WinXP Home SP3 and version 12.4.4.5 of the Intel drivers. I left all client-side defaults in place except for enabling throughput enhancement (packet bursting).
The 2553 was loaded with 1.0.6 firmware. All factory default settings were left in place, except setting channel 1 for the 2.4 GHz band and 36 for 5 GHz.
Figure 4 shows the IxChariot aggregate plot for all 2.4 GHz band downlink tests using 20 MHz channel width. Throughput variation isn't too bad, except for large dropouts in Location B, that pushed down its average throughput. The other plots can be viewed via these links: 2.4 GHz uplink- 20 MHz BW; 2.4 GHz downlink 40 MHz BW; 2.4 GHz uplink 40 MHz BW.
Figure 4: D-Link DAP-2553 wireless throughput – 2.4 GHz, 20 MHz mode, downlink
Figure 5 shows the IxChariot plots for the 5 GHz band tests in 20 MHz bandwidth mode. The other plots can be viewed via these links: 5 GHz uplink- 20 MHz BW; 5 GHz downlink 40 MHz BW; 5 GHz uplink 40 MHz BW.
Figure 5: D-Link DAP-2553 wireless throughput – 5 GHz, 20 MHz mode, downlink
The 2553 actually does pretty well against other tested dual-band products, especially running uplink. It tops the average throughput charts for dual-band products in both 2.4 and 5 GHz bands except for 2.4 GHz, 40 MHz mode. Maximum throughput was 92.9 Mbps running 5 GHz downlink in Location A in 40 MHz bandwidth mode.
I added only the DAP-1522 into the Wireless Location Performance Table along with the 2553 so that you can see what sort of performance the extra $40 or so buys you.
The Performance Table gathers all the average throughput test results for the selected adapters into a single table. It then highlights the highest throughput value in each Test location for each benchmark test. If results are within 1.0 Mbps of each other then both products' results are highlighted. Finally, the number of highlighted results are tallied for each test group and the product name with the most highlighted values is then highlighted.
Figure 6 shows that the 2553 does quite well, besting the DAP-1522 in all four cases. But note that the DAP-1522 was tested using a second D-Link DAP-1522 as the test client instead of the Intel 5300. So it's possible that the different clients account for some of the performance difference.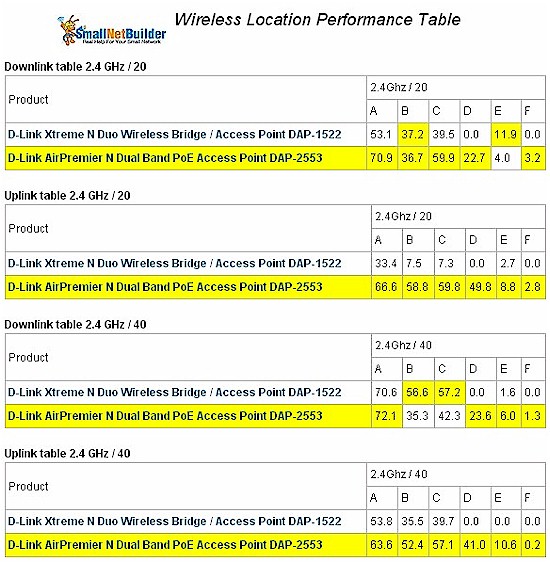 Figure 6: Wireless Performance Comparison Table – 2.4 GHz
Figure 7 shows similar results for the 5 GHz band. It also shows that the 2553 doesn't work miracles, since it was unable to reach test locations E and F, just like most other 5 GHz N products we've tested.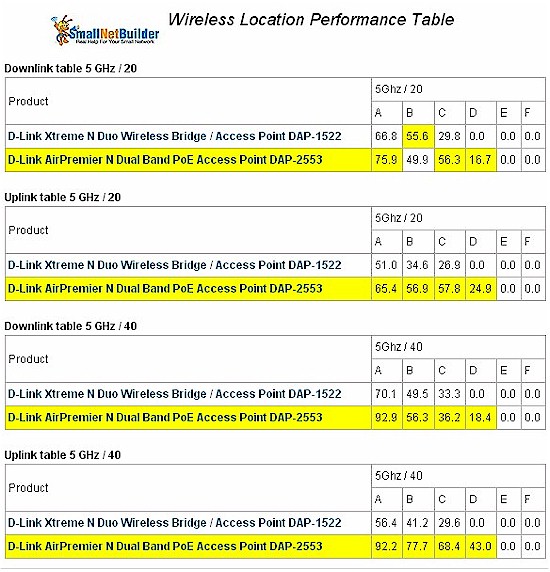 Figure 7: Wireless Performance Comparison Table – 5 GHz
I also checked that the 2553 properly limited connect rates to 802.11G's 54 Mbps maximum when using WEP or WPA-TKIP wireless security. Like all other N products, you need to run with no wireless security of WPA2/AES to access any link rates above 54 Mbps.
Use the Wireless Charts to further compare and explore the DAP-2553's performance.
Closing Thoughts
If you're thinking that the DAP-2553's external antennas and higher price will buy you better performance than the DAP-1522, it looks like it probably does. But, like all 11n APs and routers I've tested so far, the DAP-2553 won't reach any farther if you're using it in the 5 GHz band.
However, given its extra features, ability to upgrade antennas, and average chart topping performance, if you have the money to spend, I'd recommend the DAP-2553 over the DAP-1522.