At a glance
Product
D-Link Wireless N PowerLine Router (DHP-1320) [Website]
Summary
Single band N router with 10/100 ports and built-in HomePlug AV
Pros
• Strong wireless performance, especially at low signal levels
• 100 Mbps wire-speed routing throughput
• Upgradeable external antennas
• 40 Mbps powerline throughput
Cons
• Three vs. four LAN switch ports
• No wireless Guest network
Typical Price: $18 Buy From Amazon
Overview
Boy, it's been a long time since I've reviewed a D-Link router! But when I saw that the company had released a combination N wireless / HomePlug AV product, I had to take a look.
The DHP-1320 doesn't look like D-Link's typical router. Its all-white plastic case indicates an attempt to make it spouse friendly so that it doesn't get tucked away into an equipment cabinet. D-Link hasn't gone as far as Cisco's new Linksys E-series designs, however, and still has blinky lights on the front panel as shown in the front panel callout shot below. They even include screw-head mounting slots on the bottom cover in case you want to wall or ceiling mount it.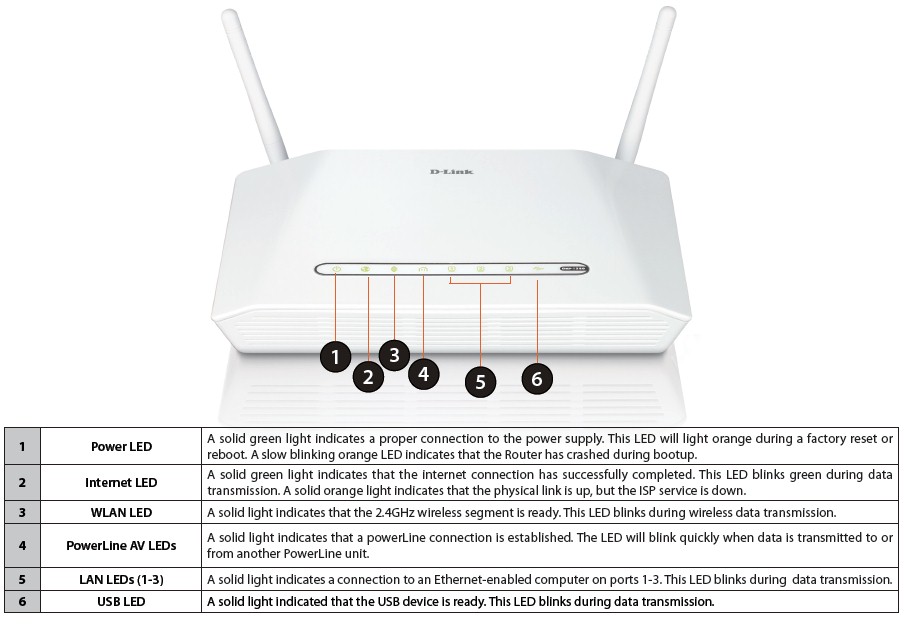 DHP-1320 front panel
D-Link also still believes in external and, yea, even upgradeable antennas, with dual dipoles that attach via RP-SMA connectors. All the ports are 10/100 and since the internal HomePlug AV adapter takes up one Ethernet port, you get only three switched LAN ports.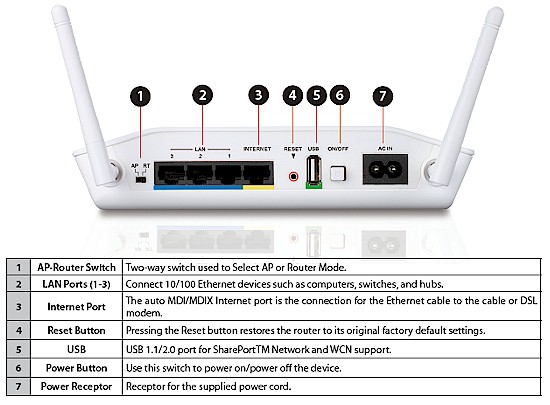 DHP-1320 rear panel
That USB 2.0 connector supports D-Link's un-user-friendly SharePort printer and storage sharing feature and WCN Configuration, in case for some odd reason you would still want to use that.
Note the handy power switch and AP / Router mode switch. But if you want to shut off wireless completely, you'll need to do that from the admin interface.
Inside
The inside shot from the FCC ID docs shows most of the circuitry covered by an RF shield. The components on the right are the internal power supply and part of the HomePlug AV circuitry.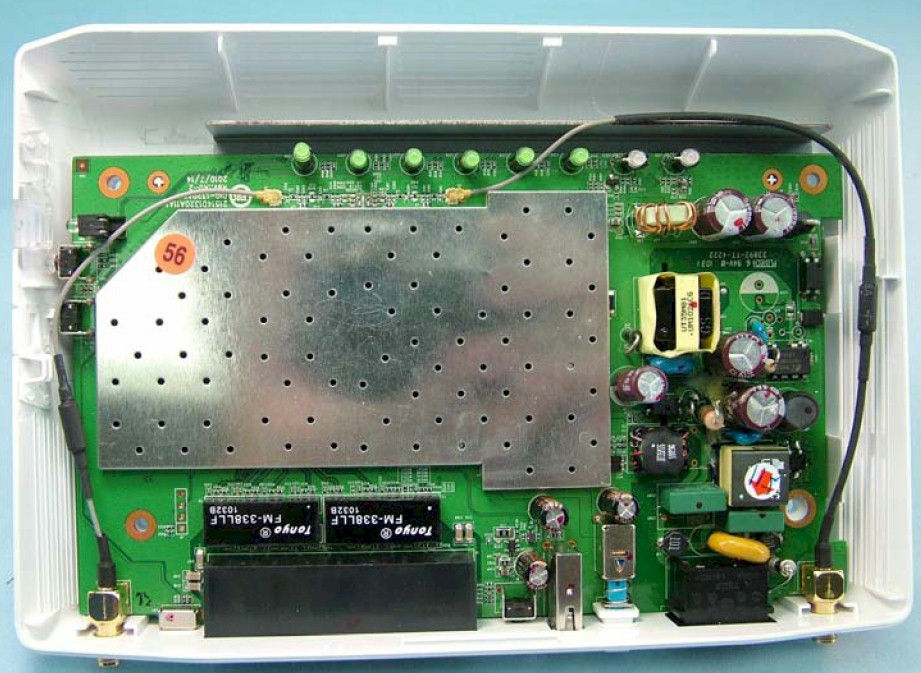 DHP-1320 inside
With the RF can removed, we see that it's an Atheros-based design, which is no surprise, given Atheros' push to popularize its "Hy-Fi" combination wireless / powerline product portfolio.
The main CPU is an Atheros AR7241, which is pretty hard to find information on. It appears to be a router SoC with built-in four-port 10/100 switch and an extra 10/100 port for WAN use. The 2.4 GHz radio is an Atheros AR9287 2 X 2 single-chipper. I could make out 32 MB of RAM, but could not tell how much flash there is. It's probably 4 or 8 MB.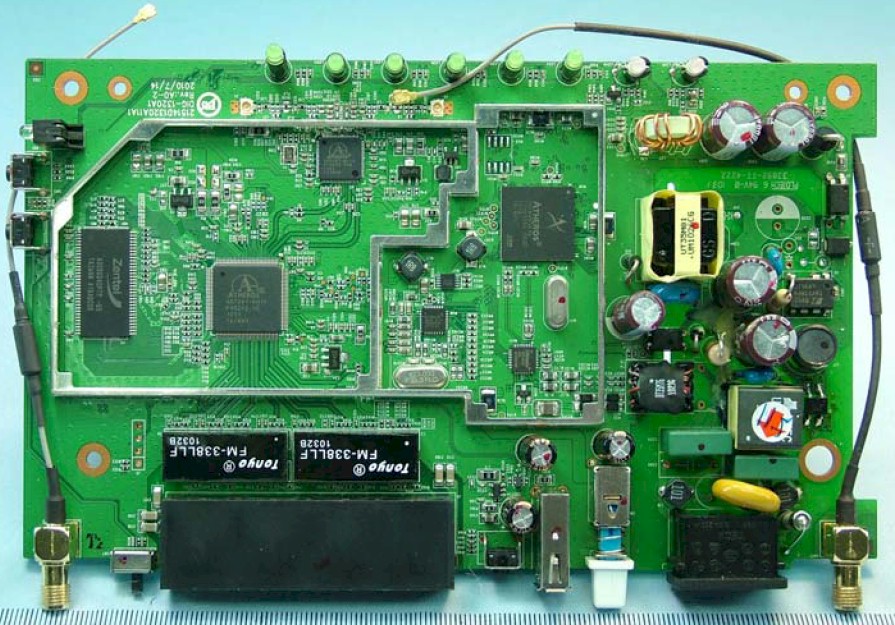 DHP-1320 board detail
The 200 Mbps HomePlug AV powerline portion uses Atheros' INT6400 / INT1400 third generation HomePlug AV chipset.
Features
The DHP-1320 doesn't stray far from the standard D-Link routing interface or capabilities. Here's a quick rundown of the features. You can also test drive it in AP and router mode using the on-line emulator.
Routing
DHCP, Static, PPPoE, PPTP, L2TP WAN types
DHCP server with MAC address reservation, lease time setting and NetBIOS controls
Built-in dynamic DNS client for dlinkddns.com and dyndns.com free and custom services
Static routes
DMZ host
SPI firewall disable, UDP / TCP endpoint filtering, anti-spoof checking
WAN ping allow / deny
Multicast stream enable
IPv6 support (static, link-local, autoconfiguration, PPPoE, IPv6 over IPv4 tunnel, 6to4, 6rd)
IPv6 static routes
PPTP, IPsec, RTSP, SIP ALG disables
Schedulable single port, port range and triggered port forwarding. (Can't set source and destination ports)
Allow / deny (global) MAC address filtering for network access
Outbound schedulable port filtering by IP or MAC address with selectable web access logging
40 domain-based allow / deny (global) Web access filters
8 inbound IP range allow / deny (global) filters
Remote admin access enable, IP access filtering, port setting and graphic authentication enable
UPnP support
Syslog support
Email alerts and log send
Automatic uplink (LAN to WAN) only QoS with manual / automatic uplink speed detection.
Shareport printer / storage sharing (requires client driver)
Wireless features
Switchable AP / Router mode (physical switch)
WEP, WPA / WPA2 Personal and Enterprise (RADIUS) support
Wi-Fi Protected Setup (WPS) support, pushbutton and PIN
Auto and manual channel set
Wireless modes: b-only, g-only, n-only, mixed b/g, mixed g/n, mixed b/g/n (default)
High / medium / low transmit power adjust
Beacon period, RTS threshold, DTIM interval adjusts
Wireless client isolation (from each other)
WMM disable
Short GI disable
Powerline features
Public / private network name setting
Pushbutton network join / disconnect
Four level QoS (by MAC address)
Missing features
HTTPs admin access
Manual adjustment of auto QoS features
Wireless guest access
Wireless on / off schedule or physical wireless disable button
I'll also note that there is an annoying 15 second saves required for each page when you make admin setting changes. This can get old fast. I also wish that there was a short cut for adding and especially editing Access policies (outbound port filters). I appreciate the wizard's help, but not every time!
Routing Performance
Routing throughput running the latest 1.00NA firmware and our router test process measured 93 Mbps WAN to LAN, 94 Mbps LAN to WAN and 142 Mbps total with up and down tests running simultaneously. So you're getting pretty much 100 Mbps wire-speed. The IxChariot composite plot below shows upload speed lower than download in the simultaneous routing test.
Maximum simultaneous connections topped out at 15,993, which is a few thousand better than some of the Cisco E-series routers I've tested, like the E3200 (12,274).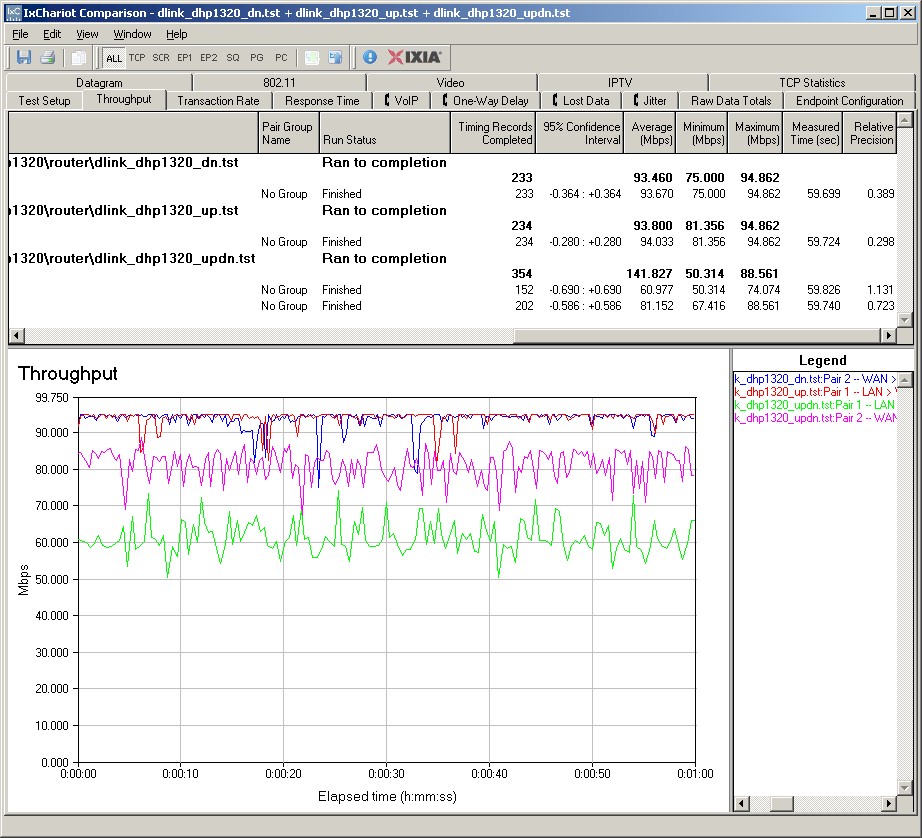 Wireless Performance
The DHP-1320 is Wi-Fi Certified and properly defaulted to 20 MHz bandwidth mode on power-up. I successfully ran a Wi-Fi Protected Setup (WPS) session with my Win 7 client by entering the WPS code found on the router's bottom label. The WPS session completed quickly and resulted in a WPA2/AES secured connection with the same WPA2 pre-shared key. All tests were run with this secured connection using our wireless test process.
I ran a 2.4 GHz Wireless Performance table for the 1320 and three other high-ranking single-band routers i.e. the Buffalo WZR-HP-G300NH, EnGenius ESR9850 and Cisco Linksys E1500. The Buffalo and DHP-1320 trade off wins in this matchup, with the D-Link winning running downlink and the Buffalo on uplink.
A key factor in the DHP-1320's overall high ranking is its relatively high throughput in weak signal test locations E and F. Its throughput stays up in the double-digits in all tests, except for 40 MHz mode uplink.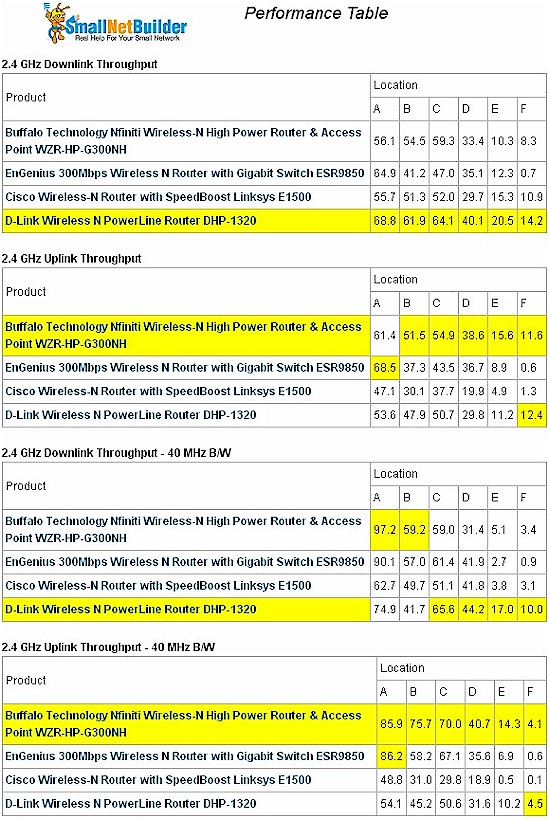 DHP-1320 Wireless Performance summary – 2.4 GHz
Throughput stability was generally good with no multi-second deep dropouts observed. But tests at lower signal locations exhibited some signs of rate switching during the one minute test interval. You can see this in the Location F trace in the IxChariot plot below, in which throughput seems to switch back and forth between 20 and 10 Mbps average rates.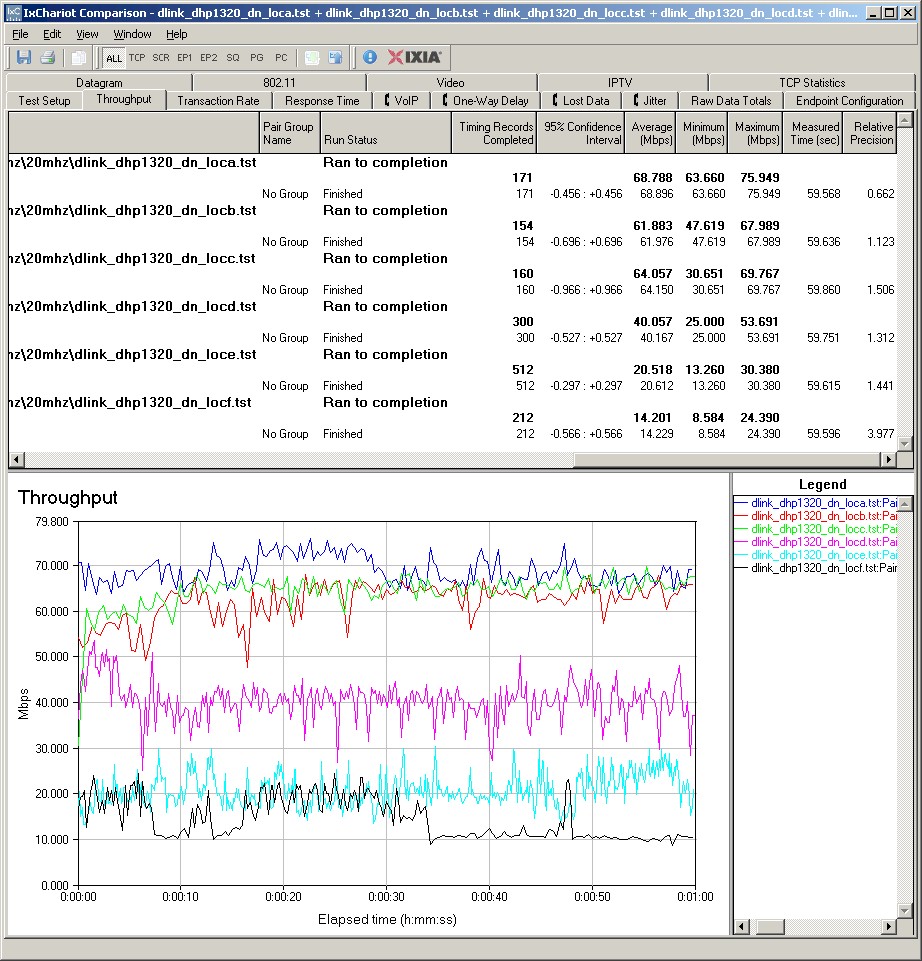 Here are links to the other plots if you'd like to check them out.
Powerline
There isn't much to the powerline interface accessible via the Setup > PLC Settings menu. The single page shown in the screenshot below is all there is.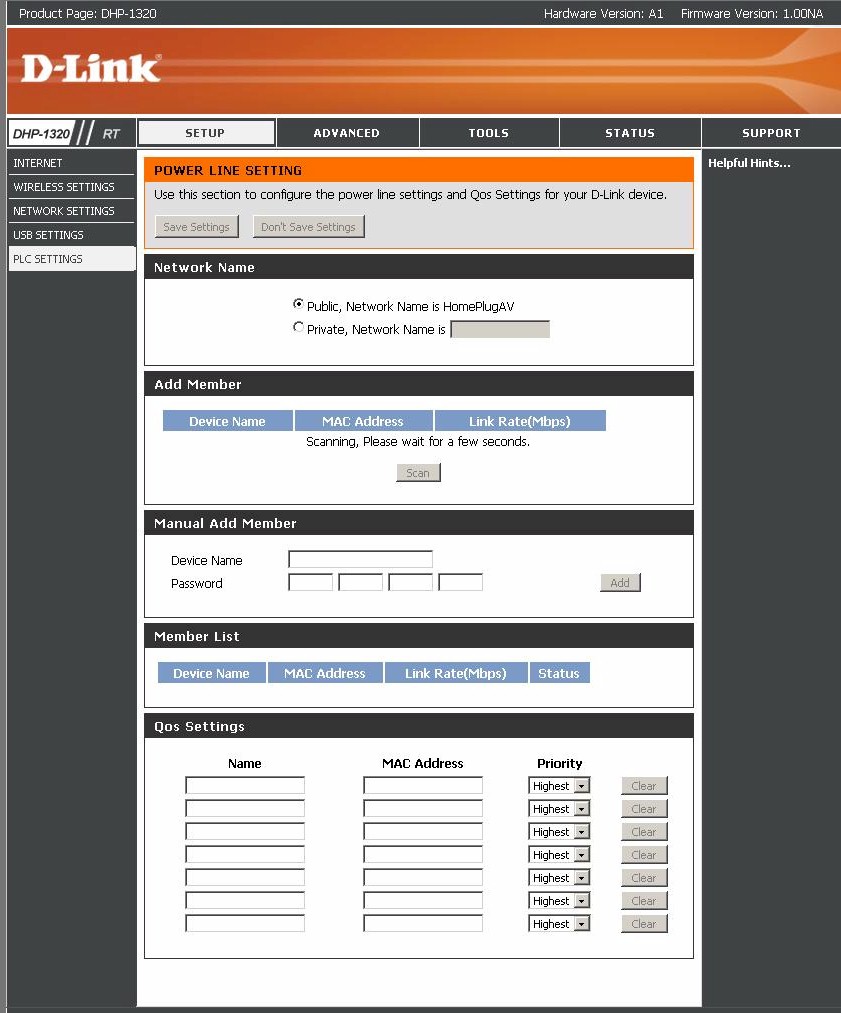 DHP-1320 Powerline settings
The main reason you'd pay the extra for the 1320 is its built-in HomePlug AV connectivity. In the HomePlug AV Adapter Roundup, I found a remarkable similarity among the products tested. The better products were able to maintain close to 40 Mbps of usable throughput in test locations spaced across my home.
I'm happy to report that the 1320's powerline portion performed similarly. I ran tests in the same three locations used in the round-up and was rewarded with steady throughput above 40 Mbps in all locations.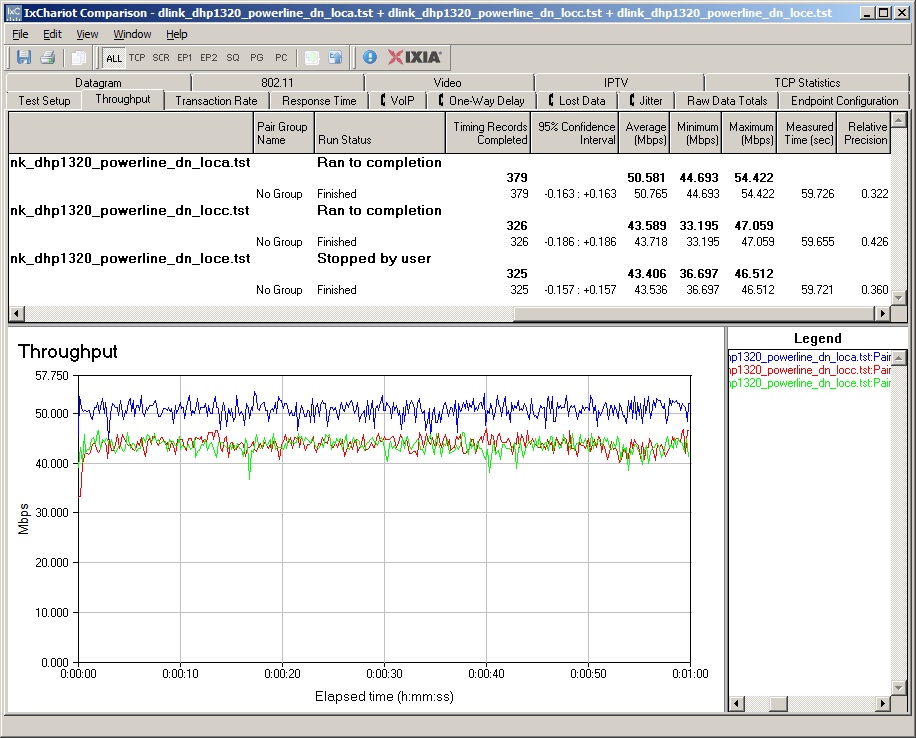 DHP-1320 Powerline three-location performance – downlink
The best case same-outlet throughput was even higher than I measured in the roundup, coming in at 51 Mbps for both up and downlink.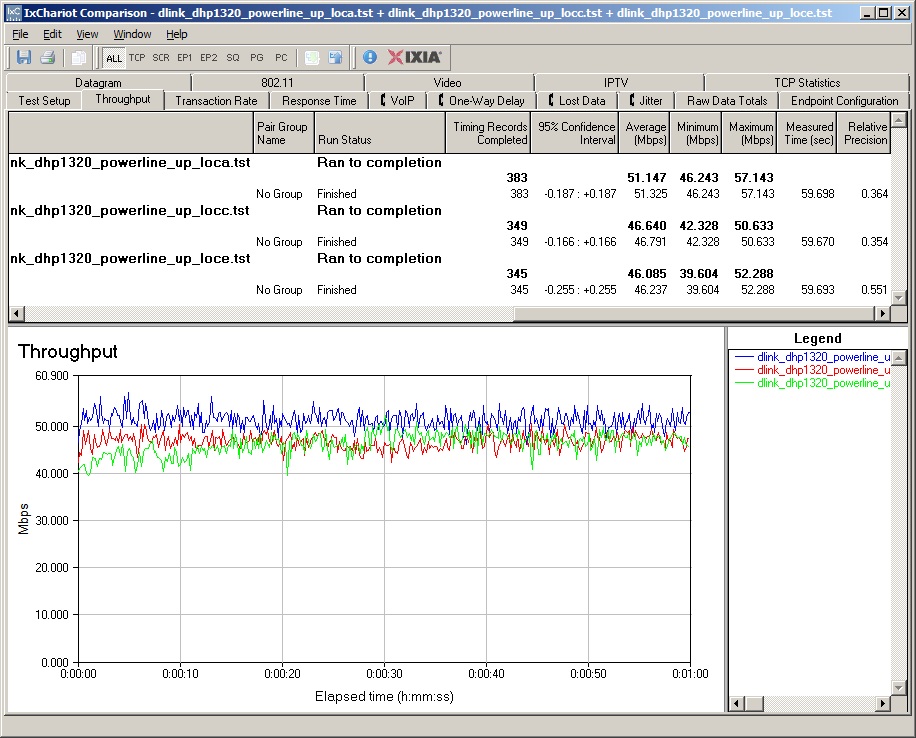 DHP-1320 Powerline three-location performance – uplink
Running more than one simultaneous stream raised the total throughput a bit. Running simultaneous up and downlink tests yielded a total of 64 Mbps.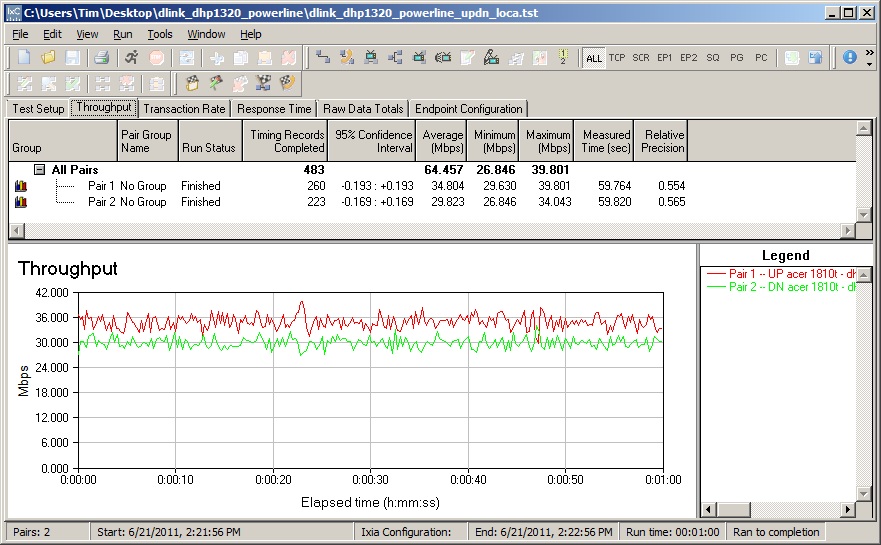 DHP-1320 Powerline three-location performance – up and downlink
Closing Thoughts
You need a high-bandwidth powerline connection in order to get the full benefit from extending an 802.11n wireless network via a powerline-connected AP. An extension AP may have a higher-bandwidth connection to a wireless client because it's now closer. But if that AP then has to connect via a 10 Mbps pipe back to the main router, you might as well use a wireless repeater.
It looks like the DHP-1320 has a nice combination of features—100 Mbps wire-speed routing, 802.11n wireless with good low-signal performance and HomePlug AV powerline bandwidth capable of delivering reliable 40 Mbps bandwidth.
So when I pair it up with the D-Link DHP-W306AV PowerLine AV Wireless N Extender I also got in for review shortly, I expect to find the best solution yet for building a fast, reliable multi AP wireless network without having to string Ethernet cable.
If you've been thinking of trying powerline networking again, the DHP-1320 would make a good place to start. You'll get a nice 2.4 GHz N router with HomePlug AV built in for a price as low as $65 (current prices from TigerDirect and CircuitCity at Amazon
)!
Buy Wireless N PowerLine Router from Amazon