At a glance
Product
()
Summary
Pros
Cons
Typical Price: $
Introduction
Wi-Fi has certainly made life easier for Road Warriors. While you can find Wi-Fi in many places, some hotels still provide in-room internet access via a wired Ethernet connection. The same holds true in many offices and conference rooms. A wired connection is fine if you're traveling with a conventional notebook that has an Ethernet port. But many travelers are ditching notebooks for iPads, iPhones, Android tablets, and smart phones – none of which have wired network ports. Even some of the new ultra thin notebooks like the latest iteration of MacBook Air have shed the built-in Ethernet port. Unless you have a cellular data plan, you need a Wi-Fi connection.
The D-Link DIR-505 SharePort Mobile Companion (AKA All-in-One Mobile Companion) aims to solvethis connectivity problem for you. At its core, the DIR-505 is a portable wireless router/AP in a convenient "wall wart" form factor. Though it's quite similar to the recently-reviewed TP-Link TL-WR700N, the DIR-505 has a few additional features that may make it worth its premium price.
Product Tour
The DIR-505 comes in a small 2.77" x 2.60" x 1.69" (7.036 x 6.60 x 4.29 cm) convenient form factor designed for the traveler. Unlike some of the compact travel routers I used to travel with, the built-in power plug ensures that you'll never forget to bring its power supply. The power plug is offset, so you won't consume more than one outlet. You'll find all of the connections on the bottom of the device shown in Figure 1.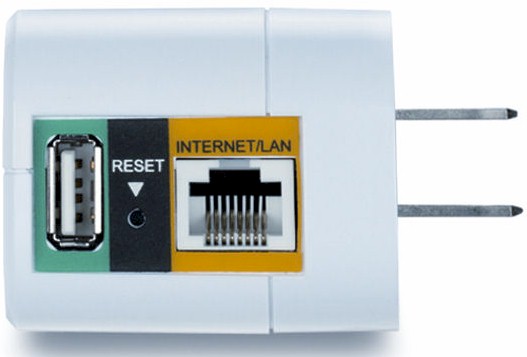 Figure 1: Bottom view of the DIR-505
The bottom of the device has a USB 2.0 port, a "pin" reset button, and a single10/100 Mbps Ethernet port that you can connect either to your Cable/DSL modem (in router mode) or to your local network if you're using the Access Point mode. You can attach USB storage (Flash drive or external disk) to share files with others on your network via SharePort, or you can use the USB port to charge your phone if you have an appropriate cable.
A Wi-Fi protected setup button (WPS) is another of the features that distinguishes the D-Link product from its TP-Link competitor. WPS allows you to easily connect to other devices that also support WPS. With information found starting on page 146 (of the 200 page user guide), I successfully connected my Windows 7 computer using the WPS push button method. I just pressed the WPS button on the side of the DIR-505 (the side opposite from the DLink logo in the first image above) when Windows 7 prompted me for the network security key.
The DIR-505 also supports WPS using a PIN number found in the device's security menu. WPS is a requirement for Wi-Fi Certification and the packaging for the DIR-505 indicates that it has been certified. As Tim pointed out in his review, the TP-Link product, lacking WPS, is not Wi-Fi Certified.
On the top of the device, shown in the first image above, you'll find a three-position mode switch. The factory default is Router/AP, and is most likely the one that you'll use. In this mode, you can configure the device to be a traditional router to route traffic from the internet (or the hotel's network) to your own private subnet (default is 192.168.0.0) or to be an access point to bridge from your existing wired network to provide wireless access.
To change between modes, you have to log into the device and change the configuration from within the management UI. The Repeater mode allows you to connect to another wireless network and boost the signal for your wireless clients. In the Wi-Fi Hot Spot mode, you can use Wi-Fi to wirelessly connect to another network, and then route that network to your own IP subnet. This mode can provide added wireless security as well as allow clients attached to the device to share files securely. This would be useful if, for example, you were holding a small group meeting in a location that only had Wi-Fi access.
Inside
I only had a single sample, and I didn't want to risk damaging it by tearing it apart to take photos. However, Figure 2, taken from the photos submitted by D-Link for FCC certification, shows that the device is based on an Atheros AR1311 SoC. While there is no information to be found about the device, it appears to be a single-stream (1X1) 802.11bgn multi-function wireless router/AP/bridge. The Nanya device also visible in the photo provides 64 MB of RAM. The flash device on the other side of the board wasn't clear enough to pull a part number from.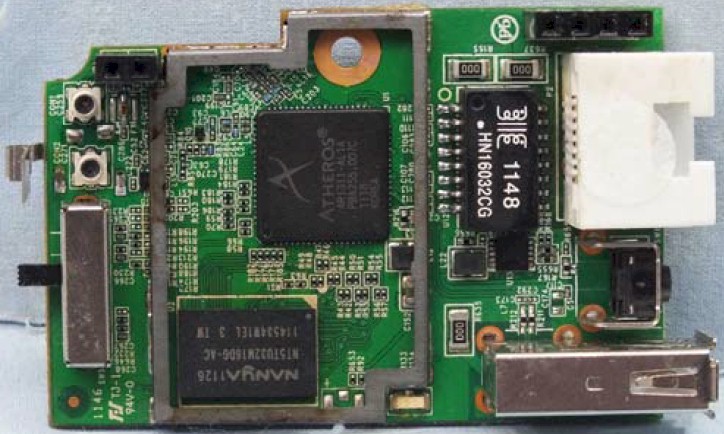 Figure 2: FCC photo of the DIR-505 PCB with the RF shield removed
Setup
Setup is fairly straightforward. Compared to setting up a traditional four port router, it only requires the additional step of connecting your wireless client to the DIR-505. The Quick Install Guide tells you connect to your DIR-505 using the wireless network name (SSID) and WPA key provided on a card. My sample didn't have a card with the information, but the required credentials also appear on a label just below the power connector. (D-Link confirmed that a card should be included in with each product.)
Once you connect to the DIR-505, you are instructed to go to http://dlinkrouter. Actually, if you type in any URL such as https://www.smallnetbuilder.com, the DIR-505 intercepts your request and takes you to a first run wizard shown in Figure 3.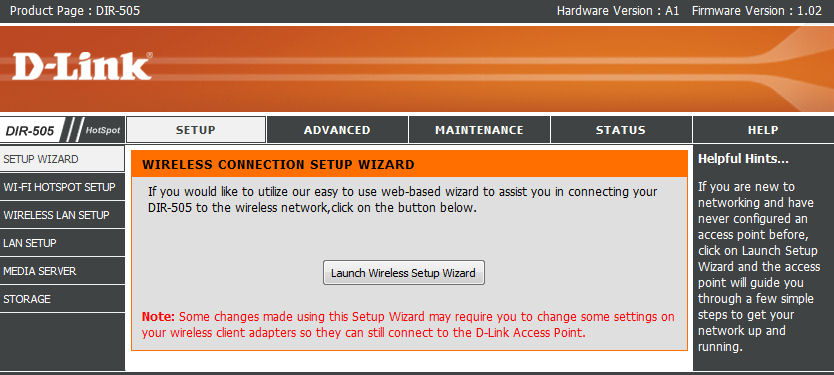 Figure 3: First run Setup Wizard
The wizard guides you through choosing the operating mode (router or AP), configuring the internet connection, setting Wi-Fi security, router password, and time zone. I like the fact that the DIR-505 comes pre-configured with wireless security enabled, and that the wizard prompts you to enter an admin password. You can also enable graphical authentication in addition to using a password. All-in-all, the wizard ensures a secure setup.
Once you complete the wizard, you should be connected to the internet. You'll only need to log into the UI to change some of the more advanced features such as port forwarding, DDNS (Dynamic DNS), setting up a guest network, or to configure the DIR-505 for sharing attached USB storage. You'll also have to log into the device to change it between router and AP modes.
Tip: The documentation is a little out of sync with the current firmware version. You'll find the router/AP selection box on the Manual Internet Connection Setup page, not on the Manual wireless connection setup page shown in the user guide.
If you've ever logged into a recent D-Link router, the DIR-505 user interface will feel very familiar. Figure 4 shows the landing page for All-in-One Mobile Companion.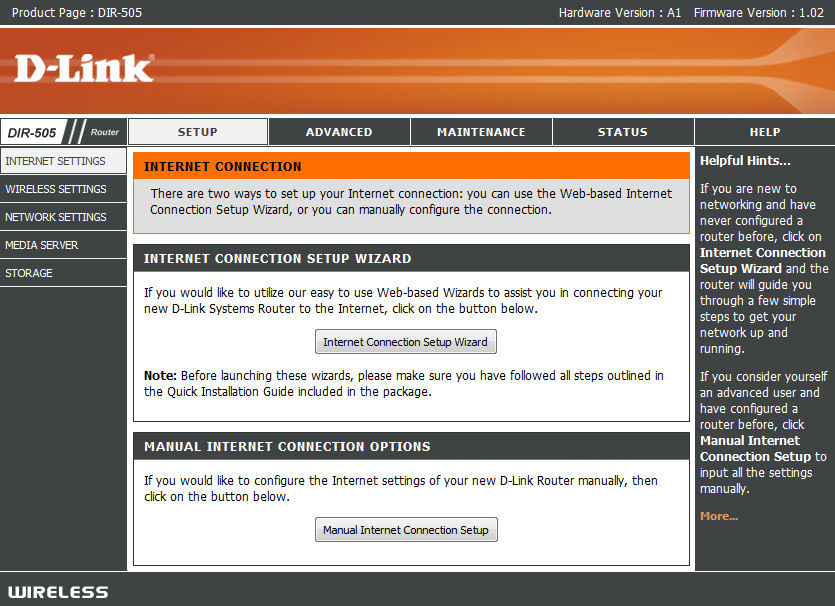 Figure 4: Web Management home page
Features
The DIR-505's feature set is surprisingly complete, supporting almost all of the features found in D-Link's top-of-line routers. Here's a summary:
Routing
Static and Dynamic IP, PPPoE, PPTP and L2TP WAN connections
Enable/disable DNS relay
DHCP Server, range setting, lease time setting and local domain; Primary/Secondary DNS server settings
Mac address clone
Set MTU
DHCP Client list
DHCP reservation
Virtual Server entry for single ports with TCP, UDP or all protocols forwarded. Enable/disable for each entry. Some common applications provided.
Port triggering – can set individual or range of incoming ports. Allows you to enable or disable TCP and UDP ports on network devices.
DMZ Host
UPnP enable/disable
DDNS support for Dyndns (www.dyndns.org – free or custom),dlinkddns (free)
Security
Enable/disable SPI
Enable/disable anti-spoof checking
MAC address filtering
Enable/disable Remote Management on WAN (user defined port)
Enable/disable HTTPS server
Enable/disable graphical authentication
Website/domain filter
Change admin password
Auto timeout for admin login
Wireless features
WEP, WPA / WPA2 (PSK / RADIUS) support
AP, Router, Repeater and Wi-FI hotspot modes
Auto and manual channel set
SSID broadcast enable/disable
Enable/disable wireless
Schedule wireless access
Guest network with separate security credentials/modes
Wireless MAC address filtering (allow or deny based on MAC address)
Enable/disable Short GI
Enable/disable IGMP Snooping
Enable/disable WLAN partition
Wireless modes: mixed b/g/n (default), n-only; mixed n/g
Channel width 20MHz/40MHz
Transmit power adjust: 100%, 75%, 50%, 25%
Wireless network statistics, packets sent/received, TX/RX packets dropped, collisions, errors, active associated clients (showing rate/signal %)
In Use
I used the DIR-505 over the course of three days while working on this review. I tested it in router mode, AP mode as well as in the Wi-Fi HotSpot mode. Since the router and AP modes are most familiar, I'll comment briefly on the Wi-Fi HotSpot mode.
Normally, in either the router or AP mode, you would have a wired connection to either a modem, or to your local network. If the only internet connection available is Wi-Fi, Wi-Fi HotSpot is the mode to select.
To test this mode, I unplugged the device from my network and moved it into another room without a wired Ethernet connection. I moved the hardware switch on the top of the unit to select Wi-Fi HotSpot. When the DIR-505 rebooted, I reconnected to it, and ran the wireless setup wizard. (Figure 5) Note that the landing page changed to reflect change of mode switch.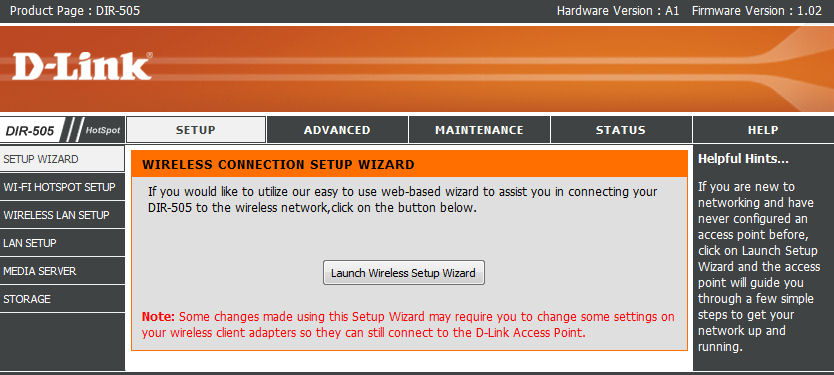 Figure 5: Wireless Connection Setup Wizard for Wi-Fi HotSpot mode
The wizard performs a site survey and presents you with a list of Wi-Fi networks in range. (Figure 6) I selected my home network (Penguin), and when prompted, entered the WPA password.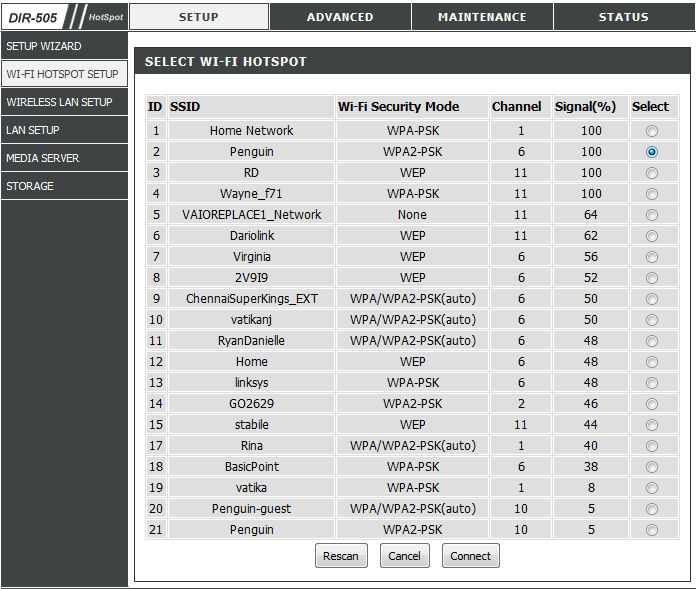 Figure 6: Select Wi-Fi HotSpot site survey screen
Completing the wizard, I assigned a new name to the DIR-505, and configured a different WPA security key. Figure 7 shows a summary of the Wi-Fi HotSpot configuration.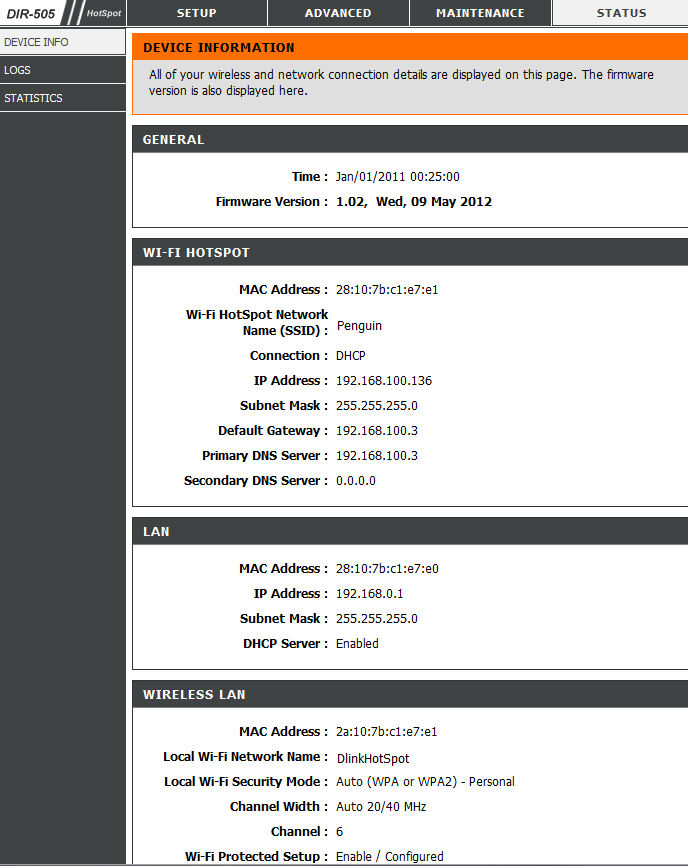 Figure 7: Wi-Fi HotSpot configuration summary
When the device rebooted, I connected to the newly named wireless network (DlinkHotSpot), walked over to the device and pressed the WPS button. In about 30 seconds, my Windows 7 wireless client found the network and connected to it. Needless to say, I'm a big fan of WPS!
SharePort
D-Link offers access to files stored on a USB storage device plugged into the USB port on the DIR-505. You can configure SharePort for web access via http: (default port=8181) or https: (default port=4343). When you connect with a browser, you have your choice of either Category view or Folder view.
In Category view, the DIR-505 collects files into the following categories: Music; Photo; Movie; and Document. The Folder view (Figure 8) gives you a more traditional tree view of the device. You have the option of creating a new folder, uploading or deleting, but apparently no direct download button. Clicking on a file allows you to play a media file in your web browser if the file type is supported.

Figure 8: SharePort Web Access showing several movies in the folder view
D-Link offers a free SharePoint application for both the Android and the iOS operating systems. I don't have an iOS device, but I did download the Android app. Like the Web Access interface, the Android app has both category and folder views, but functionality is similarly limited to playback and upload. While SharePort seems OK for streaming, I feel that the UI needs to be improved before I would consider it a viable option for file uploads/downloads from a portable device.
Performance
Tim didn't performance test the DIR-505. As a portable device, you don't really need the range to cover an entire house. For its intended purposes, you'll probably only need coverage for a hotel room (or two if you have a suite) or a conference room. While I recognize that my Droid Razr is not a calibrated piece of test equipment, I did measure signal strength with two different Wi-Fi analyzer programs.
Though the signal strengths varied, in general, the signal strength on the DIR-505 was lower than on a NETGEAR WNDR3800 that I also measured. Figure 9 shows about a 9 dBm difference between my WNDR3800 (Penguin) and the DIR-505 (DlinkHotSpot) measured by Amped Wireless' Wi-Fi Analytics program.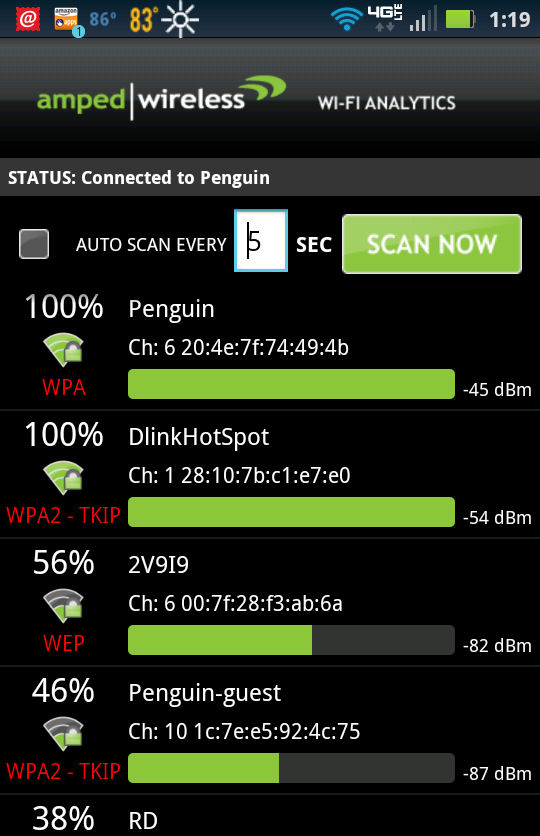 Figure 9: Signal strength comparing a NETGEAR WNDR3800 and the DIR-505
Similarly, the Android Wi-Fi Analyzer app (Figure 10) showed somewhat more than 10 dBm difference between the WNDR3800 and the DIR-505. The devices were within a few feet of each other, and were on separate non-overlapping channels.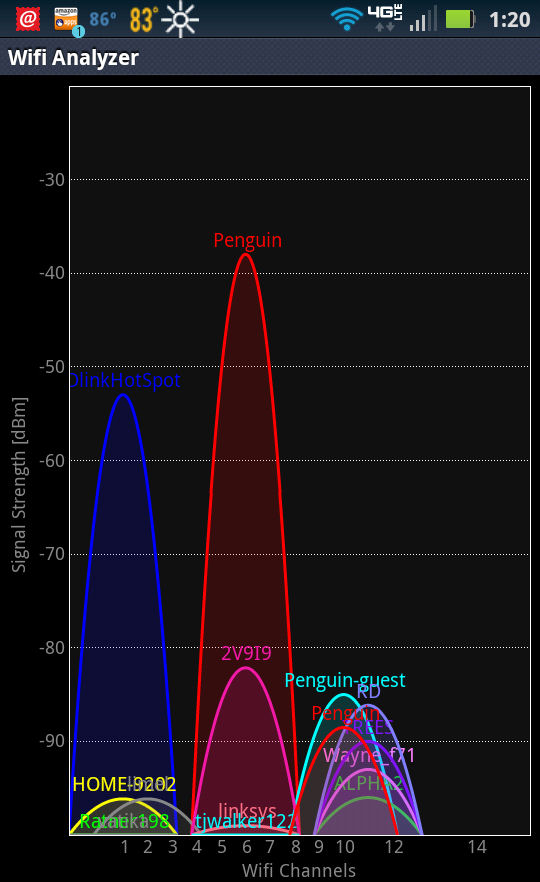 Figure 10: Wifi Analyzer screenshot comparing DIR-505 & NETGEAR WNDR3800
Closing Thoughts
The DIR-505 has just started to ship, so online merchants haven't really started to discount the retail price of $69.99. At $70, it faces very stiff competition from the TP-LINK TL-WR700N, which is widely available for $30 or less. Both share a similar "wall wart" form factor and similar operating modes. The D-Link device has a three position switch for changing operating modes, though you can't change between router and AP modes with the switch – you have to log into the device to change between those modes. In contrast, the TP-LINK requires that you log into the device to change between any of its five modes. And, though you're not likely to use it, the TP-LINK product has an Ethernet bridge mode.
For me, SharePort both on the Android and via Web Access was a disappointment, and not a feature that would sway me to spend more money to get. Judging from the feature list, the TP-Link appears to have more user-configurable security features that the DIR-505 including VPN Passthrough, disabling ping response on WAN port, DoS (denial of service) protection and filtering for UDP flood filtering and TCP-SYN flood attacks, each with a settable threshold. While those features may be baked into the DIR-505, they certainly aren't user configurable.
On the plus side, the DIR-505 supports WPS (Wi-Fi protected setup) and has a WPS push button on the case. From my experience, both with my Android phone and a Windows 7 wireless client, the push button WPS makes connecting to the DIR-505 extremely simple. I tested it in AP, Router and Wi-Fi Hot spot modes and it worked flawlessly. Conversely, the TP-LINK TL-WR700N lacks a WPS push button and is not Wi-Fi Certified. And, since we get occasional visitors, I really appreciate the Guest network feature.
Even though the DIR-505 currently commands a premium price, I'd still probably opt to purchase it – primarily because it does have WPS and is Wi-Fi Certified. However, I'm certain that a lot of consumers will buy a less expensive, non-certified product and gamble that it will work with their equipment. But I also suspect that D-Link will face a lot of pricing pressure from the TP-LINK TL-WR700N and other devices that perform similar duties and cost much less.