At a glance
Product
D-Link Cloud Router (DIR-605L) [Website]
Summary
Entry-level 100 Mbps 802.11bgn router with a few cloud-based monitoring features thrown in
Pros
• Almost 100 Mbps wire speed routing
• WDS bridging/repeating & AP modes
• Decent wireless performance
• Some admin/monitoring features via mydlink cloud portal
Cons
• No guest or scheduled wireless access
• No IPv6 support
Typical Price: $13 Buy From Amazon
Overview
Updated 3/8/2012: Added link to SCB article
You may be sick of hearing about "the Cloud" by now, but you might as well get used to it. The Cloud has invaded NASes and networked media players and it's now starting to engulf the lowly router. The first example of this new genus is D-Link's DIR-605L Cloud Router.
You might expect that a first-in-category product would come at a premium price. But D-Link has taken a different approach by starting with an entry-level 802.11bgn router with 10/100 Ethernet ports, adding a handful of monitoring features available via its existing mydlink.com portal and pricing it under $50.
I covered 605L's cloud features in a separate SmallCloudBuilder article. This review will cover its feature set and performance.
The 605L is more physically similar to D-Link's DHP-1320 powerline router, than its "Amplifi" siblings like the DIR-827 and DIR-657. The small, well-ventilated case is made to sit on a desktop and has no bottom-cover mounting slots and no bundled vertical-mount stand. The dual non-upgradeable 5 dBi antennas seem to loom over the smallish case, but are light enough to not cause it to tip over backwards.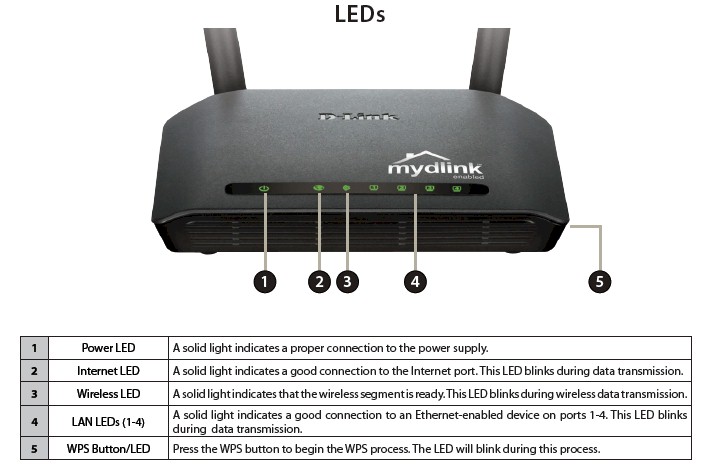 DIR-605L front panel
The front and rear panel callouts taken from the user manual don't need much explanation. As befits a sub-$50 router, all ports are 10/100, not Gigabit and there is nary a USB port for storage or printer sharing.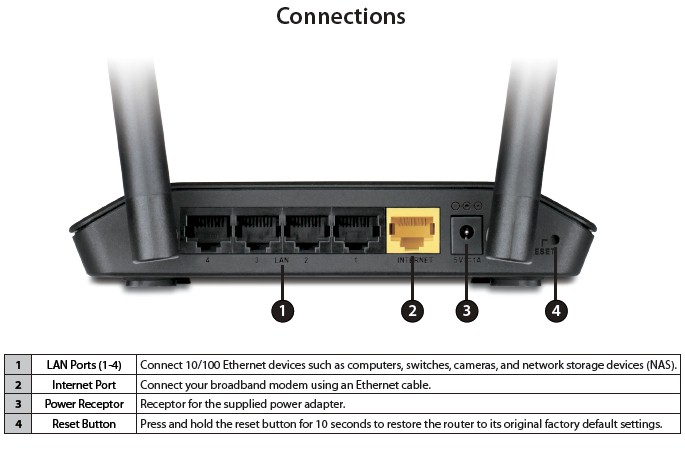 DIR-605L rear panel
Inside
The inside shot from the FCC ID docs below isn't great, but it's clear enough to reveal that Realtek was tapped to power the 605L.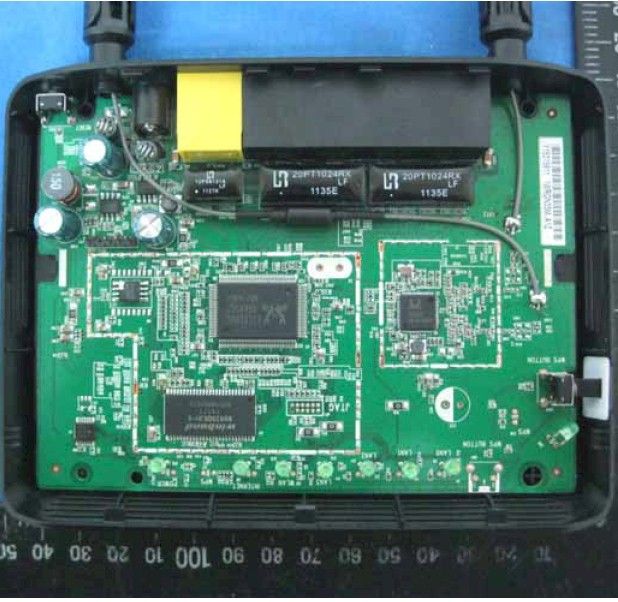 DIR-605L rear panel
Other FCC photos had close-ups of all the key components, which are summarized in Table 1.
CPU
Realtek RTL8196C 5 port 10/100 switch
& 32 bit RISC CPU SoC
Switch
in RTL8196C
RAM
32 MB
Flash
4 MB
Radio
Realtek RTL8192CE 802.11b/g/n 2T2R WLAN SoC
Table 1:Component summary
The design is very similar to the Amped R10000G that we just reviewed; actually more like its R10000 10/100 sibling. Note that the 605L doesn't have separate transmit power amplifiers like the Amped routers. But it was able to run all tests in Location F.
Features
Even though it is based on a different chipset than D-Link's other products, the admin interface has the classic D-Link router look shown in the Internet Connection screen below.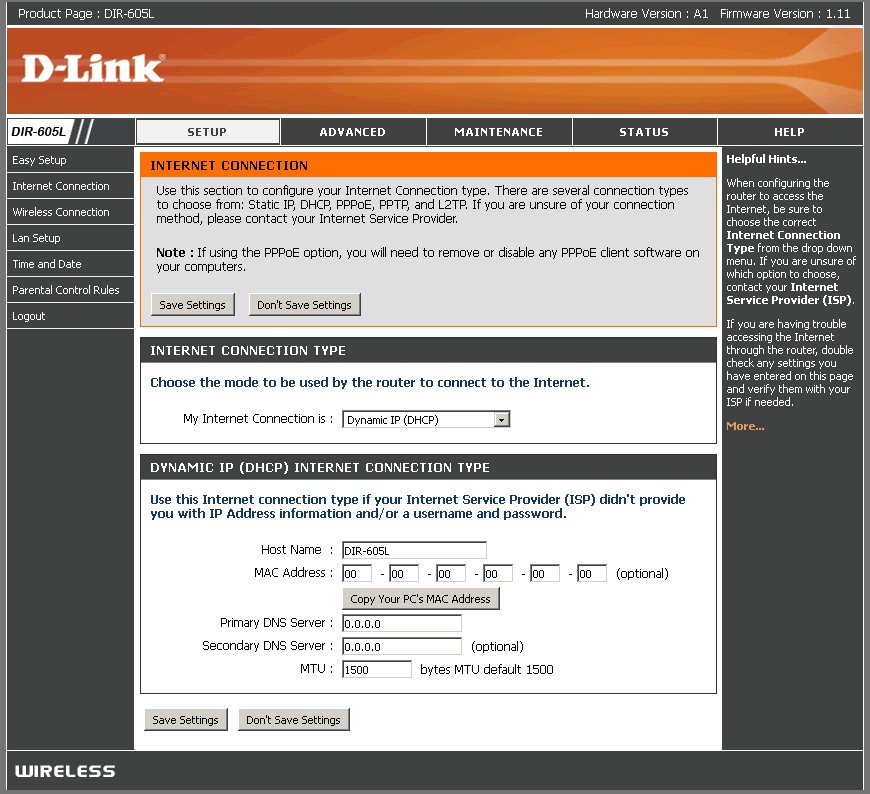 DIR-605L rear panel
There are a few differences, though, so let's run through a feature summary.
Routing
DHCP, Static, PPPoE, PPTP, L2TP WAN types
DHCP server with MAC address reservation, lease time setting
Built-in dynamic DNS client for dlinkddns.com, oray.cn and dyndns.com free and custom services
Static routes (32)
WAN port speed (10 Mbps, 100 Mbps, Auto)
Multicast stream enable
Remote admin access enable, IP access filtering, port setting and graphic authentication enable
UPnP enable/disable
Syslog support
Email and save logs
Syslog support
Browser-based log view
Schedulable Uplink/downlink bandwidth control for IP ranges. Can't specify service ports.
Cable connection/port speed check
Save/restore settings
mydlink event management
Firewall
Non-schedulable port range forwarding (separate public & private ports settable)
Non-schedulable triggered port forwarding (can't set source and destination ports)
Schedulable allow/deny MAC filtering
Non-schedulable deny MAC ACL
SPI firewall disable, anti-spoof checking, RTSP ALG
Schedulable Inbound/outbound firewall rules with source/destination, protocol and port range (50)
Schedulable URL filter (10)
DMZ host
WAN ping allow / deny
Wireless features
Modes: Router, AP, WDS, WDS+AP, WDS+Router
WEP, WPA / WPA2 Personal support
Wi-Fi Protected Setup (WPS) support, pushbutton and PIN
Auto and manual channel set
SSID broadcast control
Wireless modes: n-only, mixed b/g, mixed b/g/n (default)
Bandwidth: 20 MHz, Auto 20/40 MHz
Transmit power adjust (100, 70, 50, 35, 15%)
Beacon period, RTS threshold, Fragmentation, DTIM interval adjusts
Short/long preamble, CTS mode, STBC, 20/40MHz coexist, Short Guard Interval enables
WMM disable
Missing features
IPv6 support
HTTPs admin access
Wireless guest access
Wireless on / off schedule or physical wireless disable button
Wireless client isolation
WPA/WPA2 Enterprise (RADIUS) support
Thirty second reboots are required to save setting changes. But at least you can make changes on multiple screens and save once. Given D-Link's aggressiveness in supporting IPv6, it was a surprise to see support missing on the 605L.
D-Link hasn't posted an emulator for the 605L. So I've posted most of the key screens in the gallery with explanatory captions.
This is pretty basic as a setup wizard. You get to look at it every time you log in.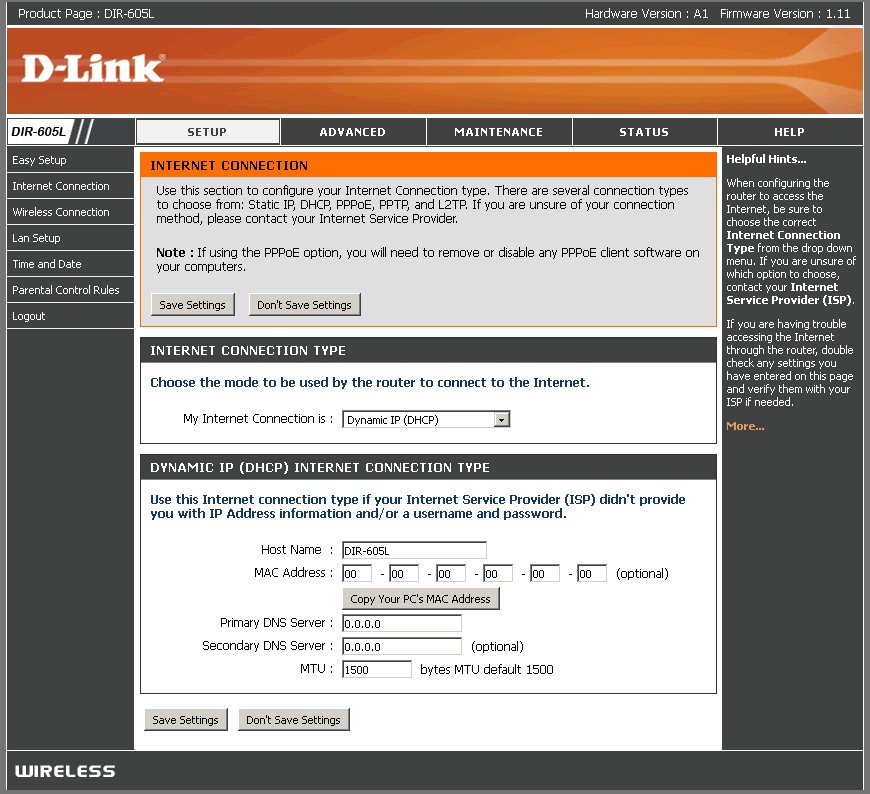 The usual suspects for WAN connection are supported (Static IP, DHCP, PPPoE, PPTP) as well as L2TP
The Manual Wireless setup screen combines channel and wireless security settings. You need to go to the Advanced Wireless page to change bandwidth mode–a good choice
Unlike other D-Link routers, there is not a built-in option to use OpenDNS for parental control. Instead you get a measly 10 URL filters which can be set to allow only or deny only.
You get 24 of these port forward rules. You can set public and private ports separately and TCP/UDP/Any traffic type. But you cannot schedule the rules
Similar deal for triggered ports, i.e. no scheduling
Not sure why there are two functions that appear to do the same thing. Except MAC filters are schedulable, ACL filters are not.
You get up and downlink bandwidth-based QoS. But bandwidth is controlled by IP, not by service port and IP.
Miscellaneous firewall settings. But you also get 50 schedulable firewall rules that can be used for in and outbound service port filtering.
Here are the advanced Wireless settings. Guest networks are not among them. But lots of controls you shouldn't mess with are.
More miscellaneous settings. Note the WAN port speed and multicast controls. No IPv6, though.
The handy-dandy connection checker that comes with Realtek-based switches
Here are those schedules I have been referring to. You get 33 of them.
Log setup including syslog support
These provide a hint of what you'll see via the mydlink.com cloud portal.
The built-in log is not pretty, but it is there
A view of all sessions that the firewall sees as open
Nothing fancy here
Routing Performance
Routing throughput running the latest 1.11 firmware and our router test process measured 87 Mbps WAN to LAN, 86 Mbps LAN to WAN and 133 Mbps total with up and down tests running simultaneously. This is a bit lower than most other routers that I judge 100 Mbps "wire speed". But, in reality, you would be hard pressed to see a difference.
Maximum simultaneous connections topped out at a relatively low 6,483. But again, this number is more than sufficient for a home/SOHO router.
The IxChariot plot below shows a moderate amount of throughput variation under the high continuous-traffic load of our test scripts.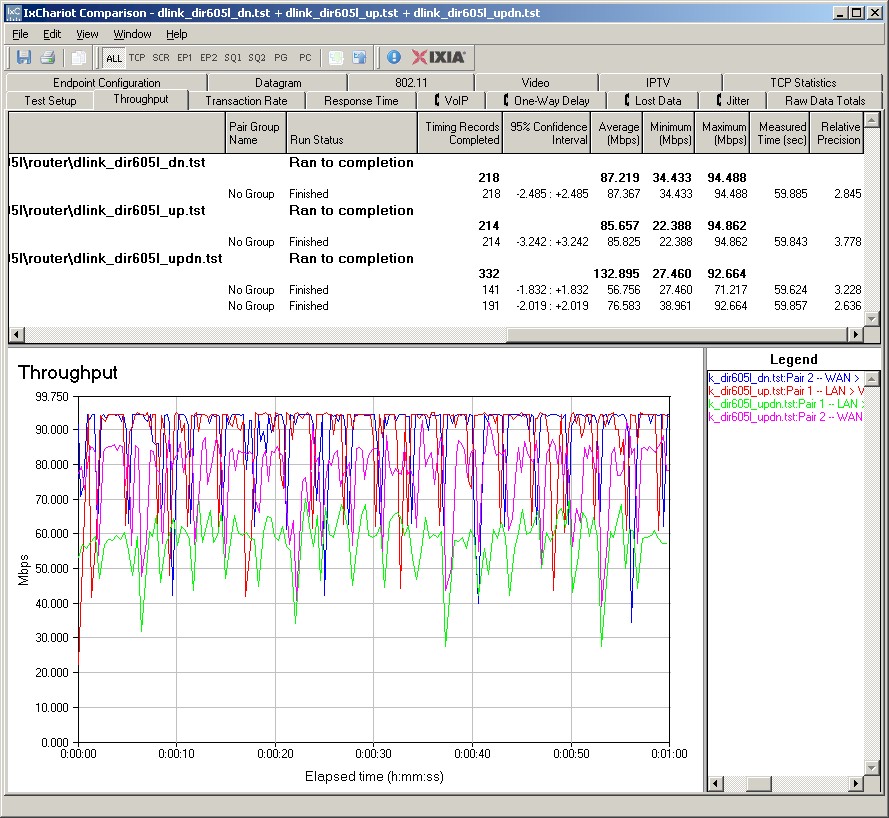 DIR-605L Routing Throughput
Wireless Performance
The DIR-605L is Wi-Fi Certified and properly defaulted to 20 MHz bandwidth mode on power-up. I successfully ran a Wi-Fi Protected Setup (WPS) PIN session that resulted in a WPA2/AES secured connection. The WPS session took a bit longer than I normally see with other routers to complete and I think the router had to do a 30 second reboot to store the new settings. All wireless performance tests were run with this secured connection using our wireless test process and our standard Channel 1 setting.
To compare performance, I ran a 2.4 GHz Wireless Performance table with the 605L and another recently-reviewed $50 single-band router, the TP-LINK TL-WR1043ND. The 605L's uplink throughput is generally higher than the TP-LINK's and it had higher Location D throughput (moderate-to-low signal level) in three out of four tests runs.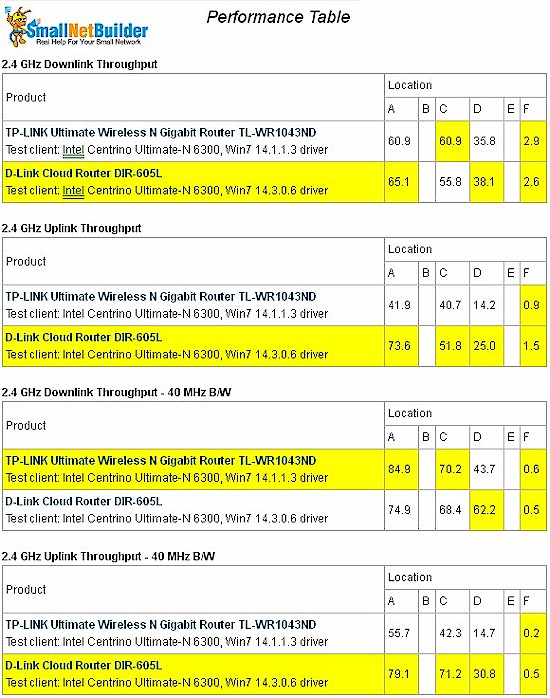 Wireless Performance Table
Throughput stability was generally good with no multi-second deep dropouts observed or large throughput jumps due to excessive link rate hunting. Top throughput of 99 Mbps was measured in Location A with simultaneous up and downlink tests running in Auto 20/40 MHz. mode.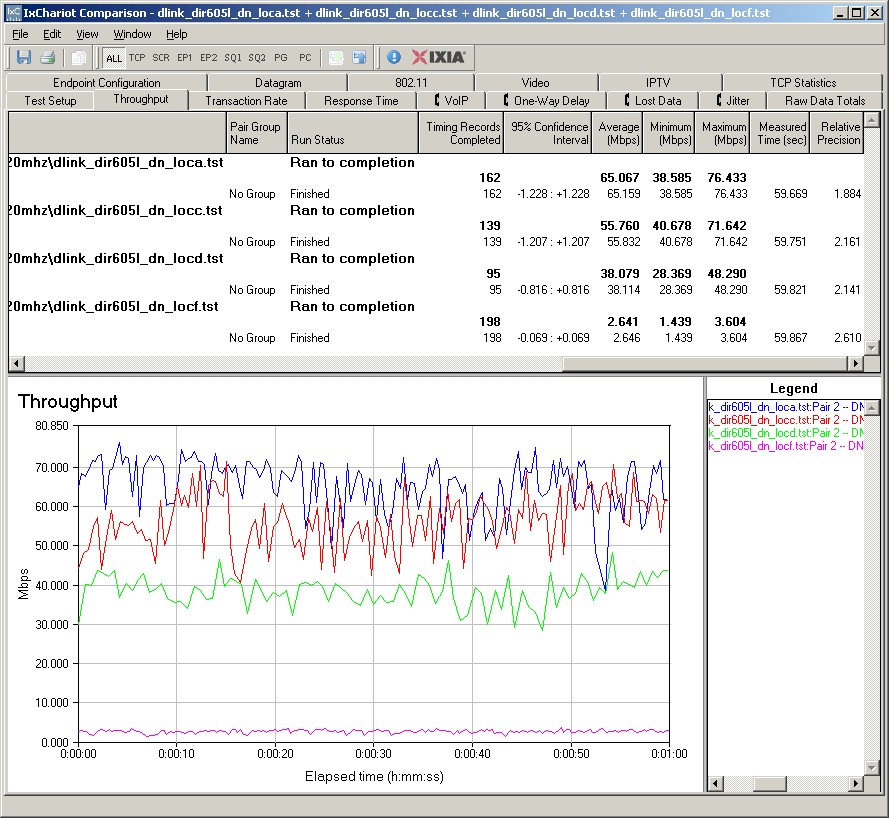 DIR-605L Wireless Throughput – 20 MHz downlink
Here are links to the other plots if you'd like to check them out.
Closing Thoughts
The DIR-605L is a decent performer for wired routing throughput with wireless performance better than many routers costing twice as much. Yet, when stacked up against the features of the equally-priced TP-LINK TL-WR1043ND, it doesn't look as appealing.
For the same money, the TP-LINK has Gigabit Ethernet ports, upgradeable antennas and can share a USB drive via FTP or UPnP, while matching the 605L with WDS support and up/downlink bandwidth-based QoS. But the D-Link still has the edge on the TP-LINK in wireless performance.
The real reason you'd opt for the DIR-605L, however, is its cloud features. As I've mentioned at the top of the review, those features mainly focus on letting you monitor router status and where your users are going on the web, so they won't knock your socks off. But I've provided the full details over on SmallCloudBuilder, so, be sure to read the rest of the story there.
Buy Cloud Router from Amazon