Introduction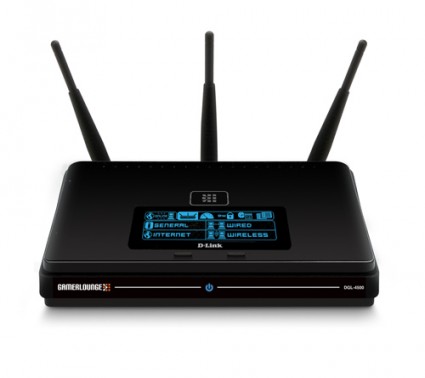 At a Glance
Product
D-Link Xtreme N Gaming Router (DGL-4500)
Summary
Dual-band single radio Wi-Fi Certified 802.11n Draft 2.0 router based on Atheros XSPAN silicon
Pros
• Gigabit WAN and LAN with excellent routing speed
• High simultaneous sessions
• Automatic QoS for Internet uplink and WLAN
• Useful front panel
Cons
• No matching dual band cards available from D-Link
• Couldn't get WPS to work
I don't know what it is with dual-band draft 11n routers and D-Link, or the obsession that people seem to have with them. But, judging from my mail, some people are really anxious to find out how this router checks out.
So as to not keep you in suspense, I'll give you the bottom line up front. If you liked D-Link's single-band draft 11n DIR-655 [reviewed], then you'll like the DGL-4500. Whether you want to pay $60 – $70 more for a nice, but not essential, OLED display and the ability to use the less-crowded 5 GHz bands (assuming you have the wireless client adapters to match) is the main issue you'll have to decide.
Overview
The 4500 comes in the same plastic enclosure as the DIR-655, but it's in the de rigeur black instead of white, because black is what all gamers (the intended audience for this product) crave, right?
The usual array of front panel lights has been replaced by an OLED display, which I found to be more useful than the one on the Belkin N1 Vision router [reviewed]. Figure 1 shows a summary of the information categories available.
Figure 1: DGL-4500 Front Panel
Actually, the display image in Figure 1, which I grabbed from the User Manual, doesn't represent the one you get with the latest 1.02 firmware. Figure 2 shows another shot of some of the detailed displays, which looks more like what you get with the current firmware.
Figure 2: More OLED panel displays
You can get all sorts of status and configuration information, including average throughput of Internet and LAN wireless and wired connections. I checked the speeds against those reported by IxChariot during my testing and found that the 4500's readings tended to be a bit high. But they are certainly accurate enough to give you an idea of how fast your connections are running.
But, like the N1 Vision, navigating the menus was a bit annoying. Instead of the hard-to-press keypad of the N1 Vision, the 4500 provides only two buttons. One is for moving among the main menu categories, while the other is used to enter a category. The buttons were easy enough to press, but I kept hitting the wrong one and entering sub-menus that I didn't want. The navigation experience is like that on some of the monitors and displays that I've used…frustrating, but you eventually get the job done.
Note that the display blanks after about a minute of no button presses. So if you want to keep a constant eye, say, on your wireless or Internet bandwidth use, there's really no way to do it. Again, I have the same complaint as on the N1 Vision—no network activity indicators. So there is no quick way to determine whether you have a valid Ethernet link, or whether someone (or something) is using the Internet when they shouldn't be.
Connectors on the rear panel (Figure 3) include four 10/100/1000 LAN ports, one 10/100/1000 WAN port and power jack. All ports are auto MDI / MDI-X, which means they'll figure out how to connect to whatever you plug into them. There is also a reset-to-factory-defaults switch and USB port.
Figure 3: DGL-4500 Rear Panel
Unlike the Linksys WRT350N [reviewed] and WRT600N [reviewed], the USB port isn't used to attach a drive for sharing over your LAN. It's just there to support the flash-key based Windows Connect Now (WCN) method, which hopefully will fade to black now that the industry has agreed upon Wi-Fi Protected Setup. Note that all three antennas use RP-SMA connectors for easy upgrade.
Internal details
Figure 4 is a shot of the 4500's main board taken from the FCC documents. Although the photos are fuzzy, the shields present on the production version are removed to reveal component details.

See the slideshow for more internal photos
The processor is the Ubicom IP5160—the same as used on the DIR-655. The gigabit switch however, is a Realtek RTL8356, instead of the Vitesse VSC7385 used on the DIR-655. The Realtek switch chip supports up to 9K jumbo frames, and I found that it handled 4K jumbo frames just fine. D-Link doesn't spec jumbo frame support, however, so that's just between you and me.
Figure 4: Main board
The mini-PCI radio module has been removed in Figure 4, but there is a shot of it in Figure 5.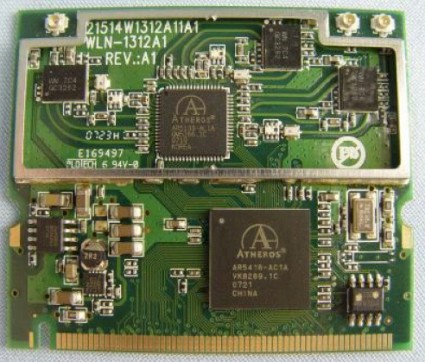 Figure 5: Radio board
It uses the Atheros XSPAN dual band chipset, which includes a AR5416 Baseband / MAC and AR5133 3Tx, 3Rx 2.4/5 GHz radio.
Routing Features
The 4500's feature set is similar to that of its other D-Link Ubicom-based routers including the DGL-4300 [reviewed] and DIR-655 [reviewed]. You can use D-Link's online emulator to explore the entire admin interface. I'll just hit some of the main features.
Figure 6: Status Screen
NOTE: The emulator is still at firmware version 1.00, while this review is based on the version 1.02 firmware.
WAN Support – Types handled include Static, Dynamic, PPPoE, PPTP, L2TP and BigPond. All modes support MAC address spoofing and setting MTU.
Firewall – In addition to being quite speedy, the 4500's router firewall is pretty full-featured. All port forwarding and filtering features can be scheduled, with schedules applied on a rule-by-rule basis. Single port, port range and triggered port range forwarding methods are all there.
MAC address filtering applies to both wired and wireless clients with allow and deny options and a pick list of DHCP clients to help speed building the filters.
Access Controls have been improved from when I looked at them on the DIR-655. You now get a "wizard" that steps you through the options. You define Access Control rules for each machine separately and can block all or some web access and/or just log web access. You still can't copy rules to ease the pain of setup, but you can define a rule for all machines that don't have a specific policy set.
The Website Filter feature can now be set to allow or deny sites and works in conjunction with the Access Controls as the "block some" option. I found the interface to be a little funky due to an inconsistent use of the "Save Settings" button. You have to click the Save Settings button to get a website filter to go away after you click its little trash can. But you don't have to click Save Settings when you add a filter.

I also found that you can bypass a filter by using the site's IP address. This is a step backward from the DIR-655, which properly blocked sites using either IP address or domain name.

If you want to block more than just web access, you can also set up filters in the Access Controls to block access to specific IP addresses and/or ports. You also can filter all inbound traffic for eight IP address ranges.
Firewall Settings provide a range of options that allow detailed control of traffic flow through the router. There are options here that I've never seen on routers in this class, such as "NAT Endpoint Filtering" and "Anti-Spoof Checking". You also can disable the SPI part of the firewall and pass-throughs for PTP, IPsec, RTSP and SIP traffic.
Up to 32 static routes can be entered
Dynamic DNS clients – Clients for various Dyndns.org options and D-Link's DLinkDDNS.com service (also provided by Dyndns.org) are supported.
Logging and Reporting – Log messages are clearly written in plain English, with separate categories and levels. You can now change the "What To View" and "View Level" settings without rebooting or losing the log info.

Logging to a syslog server is supported and the emailed alerts and logs feature allows you to set the SMTP server and user and password authentication. It took me awhile to get this to work, but it finally did. Things would have been easier had there been a "test mail" button.

Secure remote access – Optional HTTPS admin access is supported by the 4500 and you can apply the Inbound Filters.
Routing Features – more
But there are also some omissions.
Router and Bridge (AP) mode – For some reason D-Link dropped this mode that is included in the DIR-655. So you'll have to manually disable the DHCP server, set an appropriate IP address and move cables to use the router as an access point.
Admin idle timeout adjust – One of my personal annoyances. The timeout appears to be fixed at around 5 minutes.
No separate Traffic Log – Although the log messages are clearly written in plain English, the handling of traffic logging is disappointing. Traffic log entries don't have a separate category, so you'll have to wade through the other Info category messages.
I tested Ubicom's technology, which is behind the "GameFuel" (Figure 7) and WISH wireless features, when I reviewed the D-Link DGL-4300 and Hawking HBB1 Broadband Booster and found it to work. So I didn't repeat that testing for the 4500. Suffice it to say that it works very well and you don't have to think much about it at all.
Figure 7: GameFuel Screen
I still like that you can see what GameFuel is doing with the Internet and WISH sessions by checking those Status pages. Figure 8 is a sample I grabbed from my 4500.
Figure 8: Internet Sessions
Routing Performance
I put the 4500 through our suite of router tests, with the results shown in Table 1 along with the DIR-655 for comparison.
Test Description
DGL-4500
Throughput – (Mbps)
DIR-655
Throughput – (Mbps)
WAN – LAN

242

231

LAN – WAN

244

245

Total Simultaneous

256

254

Maximum Simultaneous Connections
200
200
Firmware Version

1.02

1.04
Table 1: Routing throughput
The results show that the DIR-655 and DGL-4500 have essentially the same performance. This shouldn't be surprising, since they use the same IP5160 Ubicom processor.
Use the Router Charts to see how the 4500 stacks up against other routers.
Figure 9 shows a composite of WAN to LAN, LAN to WAN and simultaneous up/down IxChariot throughput tests. Throughput is nice and steady and evenly balanced between upload and download. Note that I disabled the "Game Fuel" automatic QoS feature to run the router tests.
Figure 9: DGL-4500 simultaneous throughput test results
Wireless Features
The 4500's wireless features are very similar to those of the DIR-655, with minor tweaks to handle the 5 GHz radio, most notably the 802.11 Band radio buttons shown in Figure 10.
Figure 10: Basic Wireless Setup
The user interface still does not indicate the extension channel used in 40 MHz channel mode, which I think it should. Note that channels in the 5 GHz Lower (36, 40, 44, 48) and Upper (149, 153, 157, 161, 165) bands are available, whether or not you choose the Auto Channel Scan Wireless Channel option. Other dual-band 11n products that I've tested allow access to only the four Lower band frequencies when you manually choose your 5 GHz channel.
The 802.11 Mode selector provides the options shown in Figure 10 when set to 2.4 GHz and Mixed 802.11n and 802.11a (default), 802.11a only and 802.11n only for 5 GHz.
The Basic Wireless settings screen also provides access to Wireless Security settings, which include a full suite of WEP, WPA and WPA2 settings, with both "Personal" (PSK) and "Enterprise" (RADIUS) WPA/WPA2 modes.
I was able to get each mode to work manually with D-Link's 2.4GHz DWA-652 card, but was unsuccessful in getting the Wi-Fi Protected Setup pushbutton or PIN modes to work. Note that you can start a WPS push-button method on the 4500 either by the front-panel OLED display and buttons, or pushing a button on the right-front side.
The Advanced Wireless settings (Figure 11) are the same as in the DIR-655, except that the L2 Isolation checkbox, which keeps wireless clients from being able to communicate with each other (default disabled), has been renamed to WLAN Partition. Otherwise, everything is the same as I found in the DIR-655.
Figure 11: Advanced Wireless Setup
Wireless Performance
I tested the 4500 using our wireless test procedures, which use both open-air testing and Azimuth's ACE 400NB Channel Emulator.
A D-Link DWA-652 Cardbus card was inserted into a Fujitsu P7120 Lifebook (1.2 GHz Intel Pentium M, 504 MB) notebook running WinXP Pro SP2 with all the latest updates. I used the latest 1.30 Driver and Utility downloaded from the D-Link support site, which uses the Atheros 6.03.107 driver. I used both Windows Zero Config and the D-Link Client Utility during testing.
The router had 1.02 firmware and I left all factory default settings in place, except to set Channel 1 for 2.4 GHz tests and Channel 36 for 5 GHz tests. I initially disabled the wireless auto-QoS WISH feature. But then decided to run some tests with and without it and saw no difference in performance, so left WISH enabled (which is the default).
Since D-Link hasn't released a dual-band draft 11n adapter, I had to run the 5 GHz band tests with the Linksys WPC600N, that I used in my WRT600N tests. I ran this by D-Link, who initially didn't offer options other than their DAP-1555 AP/bridge. But after I had completed my testing they said that they could rush a sample of their DWA-160 dual-band draft 11n USB adapter that they plan to release in "early Q1".
Since my policy is to review only Wi-Fi Certified Draft 2.0 11n products, I declined D-Link's offer. But I will retest the 4500 with the DWA-160 once it is released.
Maximum Throughput – 2.4 GHz
I started with close range open-air IxChariot tests to look at maximum performance and throughput variation. Testing was done with the router and notebook about 10 feet apart in open air sitting in my lab with no other networks in range.
Figure 12 shows a composite IxChariot plot of 2.4 GHz band wireless uplink, downlink and simultaneous up and downlink tests in the default 20 MHz channel bandwidth mode. The best speed of 69 Mbps was found running downlink. Throughput is generally stable, but with occasional dips in throughput, which lower the average numbers.
Figure 12: Up and downlink throughput – 2.4 GHz band, 20 MHz bandwidth
If you look at the results for the simultaneous up and downlink tests (the first listed), you'll see a big difference in up and downlink speed (uplink is slower). This effect seemed to come and go with some simultaneous up/down tests having more equitable throughput.
Figure 13 shows a composite of test runs with the Auto 20/40 MHz mode forced. The best-case 115 Mbps throughput was obtained with simultaneous up and downlink streams, with second-best results running downlink. Here, the simultaneous up and downlink test throughput is about evenly split.
I monitored spectrum use during testing with the Cognio Spectrum Expert, which confirmed that Channels 1 and 5 were used with the Channel Width control set to Auto 20/40 MHz.
Figure 13: Up and downlink throughput – 40 MHz bandwidth
Maximum Throughput – 5 GHz
Figures 14 and 15 show test results for the 5 GHz band. These results are pretty disappointing, primarily due to high throughput variation. This seemed to be due to frequent link rate switching that occured during each test, which I was able to monitor by watching the Windows Wireless Connection properties on the test client.
I have to chalk this up to the mismatch between the Broadcom-based Linksys WPC600N client and the Atheros-based 4500. Although manufacturers have made good strides toward interoperability, these results show that their job isn't completely done yet.
Figure 14: Up and downlink throughput – 5 GHz band, 20 MHz bandwidth
Figure 14 shows results with a 20 MHz channel width and Figure 15 with Auto 20/40 MHz, which is the default for the 5 GHz band.
Figure 15: Up and downlink throughput – 5 GHz band, 40 MHz bandwidth
Security mode throughput
I think this might be the last review for awhile in which I check throughput for WEP and WPA/TKIP modes for draft 11n products. It looks like manufacturers are content to drop back to 54 Mbps best-case link rates in those modes, penalizing anyone who mixes draft 11n and legacy gear on the same draft 11n router [related article].
The DGL-4500 is no exception, as shown in Figures 16 and 17
Figure 16, taken running uplink in 20 MHz channel mode in the 2.4 GHz band, shows a loss of 75% and 66% for WEP and WPA-TKIP modes and about a 14% loss for WPA2. I think the WPA2 loss is actually negligible, since it look like high throughput variation is the primarly cause of average throughput loss.
Figure 16: Security mode throughput comparison – uplink
Figure 17 shows downlink loss for WEP 128 and WPA-TKIP around 70% and ~11% for WPA2. Some of the WPA2 loss is again due to throughput variation.
Figure 17: Security mode throughput comparison – downlink
Throughput vs. Path Loss
NOTE: We don't refer to "range" in these plots, but instead use the more accurate "Path Loss". For an explanation, see the How we Test Wireless article.
Figure 18 was generated using the Compare Benchmarks tool of our Wireless Charts and shows up and downlink performance in 20 and 40 MHz channel modes in the 2.4 GHz band. There is only a modest throughput boost using the 40 MHz channel bandwidth mode running uplink, with the best speed obtained running downlink.
Figure 18: Throughput vs. Path Loss – 2.4 GHz
Figure 19 shows the curves in the 5 GHz band. When forced to the non-default 20 MHz channel bandwidth mode, there is actually poorer performance with smaller path loss (higher signal levels). But when the default 40 MHz channel width is used this effect seems to go away.
Again, I suspect that this odd performance is due to the use of the Broadcom Intensi-fi based client (the Linksys WPC600N). But since you can't get a dual-band Atheros-based client in the U.S. yet, the WPC600N is what you may end up having to use if you want your notebook to use the 5 GHz band.
Figure 19: Throughput vs. Path Loss – 5 GHz
Throughput vs. Path Loss – Competitive Comparison
For a product-to-product comparison, I chose two of the three other dual-band draft 11n routers that I have tested so far: the Linksys WRT600N (Broadcom Intensi-fi) and Apple Airport Extreme Gigabit (Atheros XSPAN).
I didn't include the Buffalo Nfiniti Dual-band router, since Buffalo is out of the WLAN market until it comes to some sort of agreement with CSIRO. Since you can generate your own comparisons with the Wireless Charts, I'll only show some of the eight comparison plots.
Figure 20 shows a comparison of downlink performance in the 2.4 GHz band with the default 20 MHz channel width. There isn't a huge difference in performance, and no overall clear winner. But it's interesting to see the difference in performance between the Apple Airport Extreme and the 4500 with higher path loss, given that both are using the same Atheros chipset. The uplink plot tells a similar story.
Figure 20: Throughput vs. Path Loss product comparison – 2.4 GHz, Downlink, 20MHz channel
Figure 21 switches to uplink and 40 MHz channel width mode and shows suprisingly similar performance. The Apple Airport Extreme isn't shown in the plot, since it prohibits using channel bonding in the 2.4 GHz band. The downlink plot is here if you want it.
Figure 21: Throughput vs. Path Loss product comparison – 2.4 GHz, Uplink, 40MHz channel
With the switch to 5 GHz, Figure 22 shows a wide variation in performance. But keep in mind that the Linksys WRT600N is the only product that I was able to test with its matching WPC600N client. The Apple was tested with the Marvell Topdog-based Buffalo nFiniti dual-band client, and the 4500 was run with the Linksys WPC600N.
The most interesting thing in this plot is that the 4500 outperforms the "matched" Linksys product under high path loss (low signal) conditions. Also of note is that the 5 GHz downlink comparison in 40 MHz mode looks essentially the same, but with all curves moved up by around 20 Mbps. (Uplink plot is here.)
Figure 22: Throughput vs. Path Loss product comparison – 5 GHz, Downlink, 20MHz channel
The last plot (Figure 23) shows a 5 GHz, Uplink, 40MHz channel comparison. The DGL-4500 manages to improve its performance with low path loss, but doesn't beat the Linksys pair. The downlink 40 MHz channel plot looks a lot like Figure 22.
Figure 23: Throughput vs. Path Loss product comparison – 5 GHz, Uplink, 40MHz channel
Use the Wireless Charts to generate other comparisons.
Mixed STAs
The 4500 doesn't break any new ground when running a mix of draft 11n and 11g clients (STAs). I set up my usual test using a second notebook with a Linksys WPC54G V3 11b/g card (Broadcom chipset). Both it and the Fujitsu notebook with D-Link DWA-652 card were associated with the 4500, which was set to its 20 MHz Channel mode and 2.4 GHz—its "out of the box" settings.
I then ran two IxChariot throughput.scr streams, alternating the STA that got on the air first. Figure 24 shows how uplink throughput was shared when the 11n pair started first, while Figure 25 shows the 11g pair starting first.
Figure 24: Mixed 11n, 11g STAs – Uplink, N starts first
The results show the familiar behavior that I've come to expect: the 11g STA gets knocked down to around 6 Mbps and the 11n STA gets its throughput cut by around half.
Figure 25: Mixed 11n, 11g STAs – Uplink, G starts first
(Downlink plots are available: N first, G First.)
Legacy Neighbor WLAN Tests
As I noted in the Linksys WRT350N review, in the interest of time (I've got a lot of wireless products piling up to be tested!), I'm only going to run the "Legacy Neighbor" test when I get a combination of router and client chipsets that I haven't tested before. Since I've already looked at how the Atheros XSPAN chipset behaves when encountering a "legacy" (802.11b or g) WLAN operating in its 40 MHz mode extension channel, I didn't check it this time.
As a reminder, the Atheros seems to be a bit more "legacy" friendly than other chipsets since it doesn't completely knock the 11g WLAN off the air, like products based on other chipsets do.
Closing Thoughts
As I said up front, if you like D-Link's single-band DIR-655 [reviewed], then you'll like the DGL-4500 as a dual-band alternative. That is, as long as you can find a suitable dual-band draft 11n client and you don't mind living without simultaneous 2.4 and 5 GHz operation.
The other issue is the $60-$70 premium that D-Link is asking for the dual-band capability. I think that's a bit much for swapping the single-band radio chip for the dual-band version. But I'm sure the OLED display is a factor in the price difference, too.
But I think the pricing is more aimed at extracting a premium from buyers who are opting to add dual-band capability now when they upgrade to draft 11n. I also think that the dual-band draft 11n market is stuck in chicken-or-egg mode right now. That means that prices are high because manufacturers aren't seeing the demand, or demand is soft because dual-band prices are so high.
It's going to take someone to make the first move and drop their dual-band prices and do some customer education on the merits of dual-band. But since manufacturers are having a hard enough time selling single-band draft 11n, it may be awhile before that leader emerges.
Finally, for those of you who are obsessed with the simultaneous dual-band DIR-855 that D-Link announced this past January and has yet to ship, I have some advice. I think D-Link will see how sales of the DGL-4500 go before releasing the DIR-855. They will probably kick it loose with the DWA-160 dual-band draft 11n USB adapter I mentioned earlier, when it is released in "early Q1" 2008.
In the meantime you can visit D-Link's DIR-855 webpage and view the DIR-855 slideshow that I just posted. The internal photos in the slideshow confirm that the DIR-855 is just a DGL-4500 with the second radio installed and in a white case. Since the performance is already baked into the radio and main board, that review will be an easy one to write.

Check out the slideshow