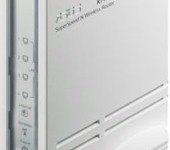 The ASUS RT-N13U Wireless N Router with All-in-One Printer Server has been added to the Router and Wireless Charts.
The RT-N13U is a step below the RT-N16 and based on Ralink's RT3052F 2T2R single chip AP/router SoC. This single device contains the processor, BB/MAC, radio, 10/100 Ethernet WAN and four port 10/100 LAN switch. 32 MB of RAM and 4 MB of flash complete the compact design.
The RT-N13U also has a single USB port that can share a printer or have a USB drive attached. Like the RT-N16, the attached drive can be used with the HTTP, FTP, BT (BitTorrent) download client and to serve files via FTP. But unlike the RT-N16, SMB file sharing isn't supported. There is also uplink-only priority-based QoS on the router, and WDS bridging / repeating is also supported.
Routing throughput measured 93 Mbps WAN to LAN and LAN to WAN. But total simultaneous throughput measured around 143 Mbps, indicating that up and downloads speeds are being limited by the 10/100 Mbps ports. The RT-N13U had no problem with the maximum simultaneous session test, hitting our test limit of 200 on the first try.
Wireless performance was quite surprising, especially considering the SoC design. Like the RT-N16, it reached all six of our test locations in both 20 MHz and 40 MHz bandwidth modes. But average up and downlink speeds using 20 MHz bandwidth mode at our lowest signal level test locations E and F as around 18 Mbps, which is at least 3X the RT-N16's performance.
The Location E and F results helped push average throughput across all six test locations to 40.9 Mbps and 45.1 Mbps running downlink in 20 MHz and 40 MHz bandwidth modes and 37.2 and 39.8 Mbps uplink. Maximum throughput was 69.9 Mbps running uplink in Location B in 40 MHz bandwidth mode and among the highest we've seen.
We had no problems with DNS Caching, as we had with the RT-N16. Since that product finally has been Wi-Fi Certified, we've started on that review. Because it has a similar feature set, the RT-N13U will get a short follow-up review after the RT-N16 is done. In the meantime, use the Router and Wireless Charts to compare the RT-N13U to other products.