At a Glance
Product
PowerCloud Systems SkyDog [Website]
Summary
Kickstarter-funded N600 class router focused on internet use reporting
Pros
• Easy Setup
• Easy remote administration
• Strong user-based internet use reporting features
• DNS-based content filtering
Cons
• Internet use & parental controls are a work in progress
• No storage sharing or remote access
• Most features go away after 3 years if you don't pony up for a subscription.
Introduction
Updated 7/3/2013: Security information added
It's not often that we review products funded by KickStarter. But when we see something with unique features, why not? Earlier this spring, PowerCloud Systems launched a Kickstarter project for its Skydog router. Tim covered the announcement on April 10. Skydog is on track to ship in September. But since Tim signed up for an early beta, we have one to review.
As noted in the announcement coverage, PowerCloud is a PARC spinoff that's been around for a few years, trying to get traction with its cloud-based Wi-Fi network management platform. The company has partnered with companies like D-Link and ZyXEL to offer PowerCloud-enabled access points and also produced a few access points of its own. These enterprise-focused products all require paid licenses to reap the benefits of PowerCloud's CloudCommand technology.
Skydog is PowerCloud System's first foray into the consumer market and uses its CloudCommand infrastructure and technology. Skydog's focus is giving consumers a centrally-managed and monitored Wi-Fi network.
Since Skydog is still in beta, we won't be doing performance testing until we get a final production unit. As with most beta products, some features are not implemented yet. So think of this review as a snapshot of the product as of the 3.0.1 beta.
The Hardware
Skydog is a generic-looking 802.11n N600 class router with Gigabit Ethernet WAN and LAN ports.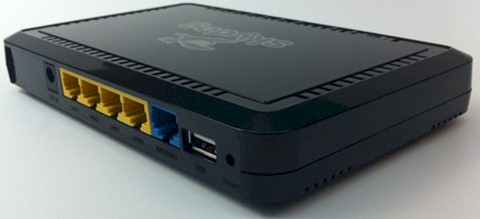 Skydog rear view
The FCC ID (U2M-WBR4200AGN) reveals Senao (the parent company of EnGenius) as the manufacturer. The inside view taken from the FCC docs shows a Qualcomm Atheros based design. The WikiDevi page is fairly thin on information because the photos are not clear enough to ID all the components.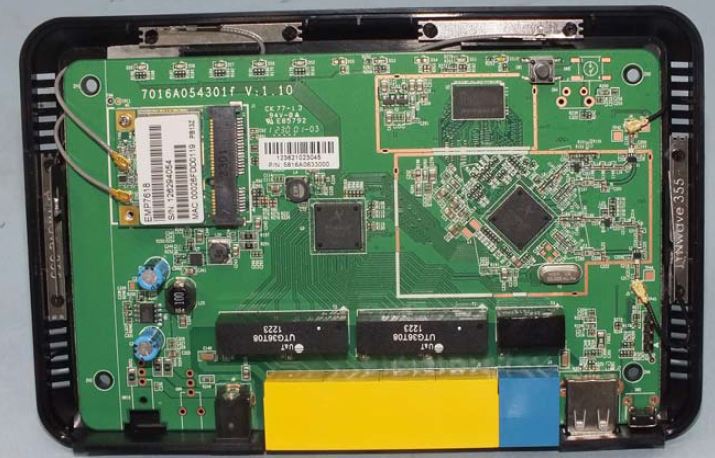 Skydog inside
The mini-PCIe module uses an Atheros AR9382 dual-band 2×2 SoC. The other radio—that probably also serves as the main CPU—is a mystery. The photo below shows that the second digit is fuzzy, so the WikiDevi's AR1022 guess could be wrong. There is no closeup of the Gigabit switch, but it's clear that it's also from Atheros.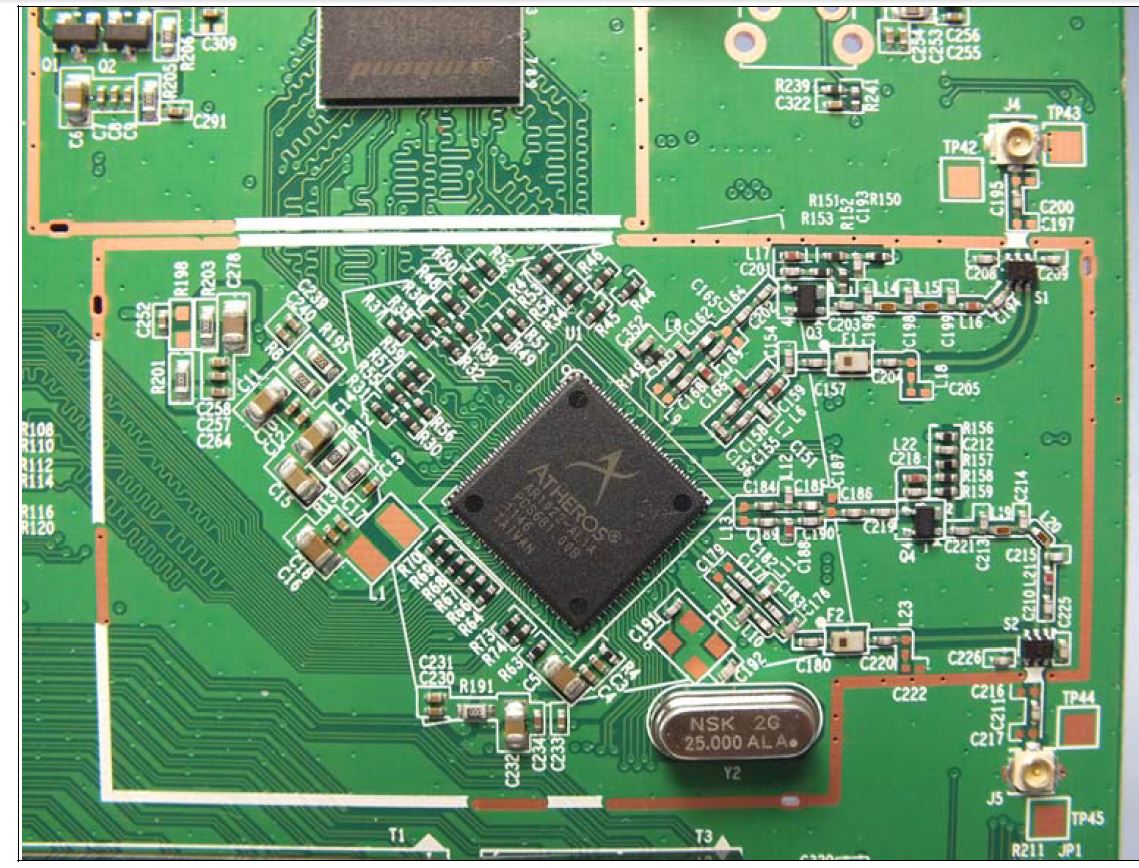 Skydog mystery chip
There are no power amplifiers visible on the mini PCIe module or main board. So you should not expect wireless range to be particularly impressive.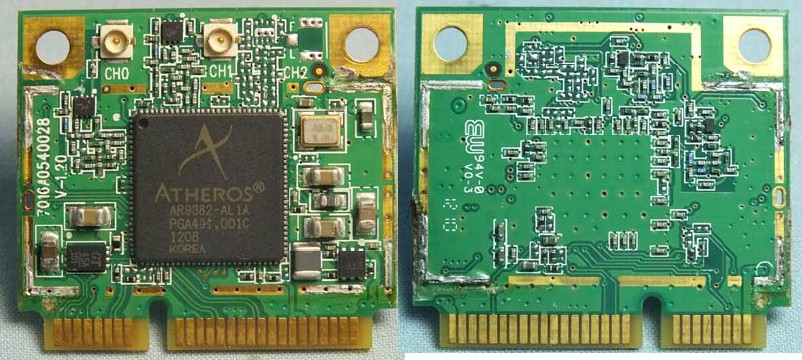 Skydog mini PCIe board detail
Setup
In order to get the full benefit from Skydog, you have to register the device. If you are upgrading/replacing your existing router with a Skydog and you already have an internet connection, you can pre-register it before you disconnect your old router and hook it up. You can register the router using your Google credentials and the device ID found on the bottom of the unit, or you can create a Skydog account.
As with most routers, if your ISP provides an IP address via DHCP, configuration is a snap. Once connected to the internet, Skydog will check for firmware updates and install them if necessary. It will also perform an internet speed check. The status light will continue to blink until you register the device. The quick start guide warns you that the initial firmware check/upgrade and the internet speed test could take up to five minutes to complete.
If you're not willing to give up your existing router, you can still use Skydog to monitor and control internet usage. Just attach the WAN port of Skydog to a LAN port on your existing router. All devices connected to Skydog, either wired or wireless, will be monitored by it. The gallery below shows the setup process.
After logging into your Skydog account, you register your router using the UIC code on the bottom of the device. This links the router to your account. You just name your network and select a time zone.
You can select "Make it Happen" to accept default settings or select "Customize"
On the previous screen, I chose customize. Here are our options.
There are four types of notifications. You can choose email, SMS or both.
This is the confirmation page so you can check your settings before applying them.
Click Go to the Dashboard when the configuration has finished and the router has rebooted.
The Skydog router displays your initial bandwidth test results. By default, the bandwidth manager is disabled.
Skydog setup process gallery
Hands On
As noted earlier, my Skydog had beta 3.0.1 firmware. For my testing, I connected Skydog's WAN port to a LAN port on my public facing router. Skydog easily connected to the internet. Since I had already registered the device, Skydog was ready to use immediately after it ran its bandwidth test. I connected five wireless devices and one wired device.
When you log into your Skydog account, you land at the Dashboard page shown below. The dashboard provides a quick overview of the current status of your network.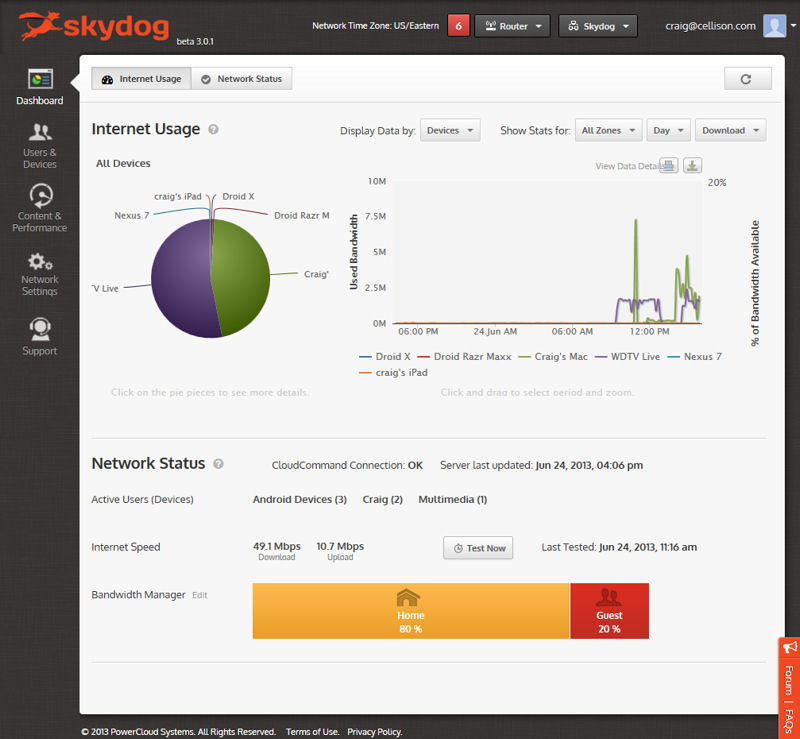 Skydog Dashboard
One of my test devices supports WPS (Wi-Fi Protected Setup). So I started the WPS session on the client and pushed the WPS button on the router. Nothing happened—the WPS light on the router didn't flash. According to Skydog, WPS won't be implemented in the first release of software, but will be added in a future release.
At the top of the Dashboard page you'll see a summary of internet usage. The pie chart shows that the bulk of the usage was by the WDTV Live device and Craig's Mac. If you hover your mouse over a segment, the bandwidth used for the time period specified appears. Above the usage graph you'll find drop-down boxes that let you display data by device, user or zone, show stats for all zones or individual zones, select the display period (Hour, Day, Week or Date Range) or by direction of traffic.
Across the top of the screen, the number shown in the red box shows the number of notifications. Notification triggers include a new device added to the network or a change in user access policy. The Router drop-down shows router statistics and lets you configure various router options. The Skydog drop-down box lets you add a new network, view admin accounts and set notification preferences. By adding a network, you could, for example configure, manage and monitor a network for remote family members or technically challenged friends. Finally, the Person icon lets you add an administrator, sign out, view/edit your account profile and change your account password.
You access management choices from the menus on the left side of the screen. At the bottom of the screen, you'll see if your connection to CloudCommand is active and the last time that your Skydog router sent data to PowerCloud. Your last tested internet speed is shown along with the option to test now. Finally, the bandwidth manager summary shows how you've allocated your bandwidth.
Skydog focuses on managing and controlling access for users and monitoring internet bandwidth usage for uses and devices. As each device connects to the network, either by wired Ethernet or via a wireless connection, it joins the network as an unassigned device. Users are Skydog's way to aggregate statistics for multiple devices in a logical manner. As you'll see in the gallery below, I created user Craig and assigned my iPad and Macbook to that user. Similarly, I created user Android Devices and assigned my three Android-based devices to that user.
Note that I placed one of the Android devices into the guest zone just to test grouping and reporting across zones. It worked as expected. Finally, I assigned my WD TV Live media streamer to user Multimedia. It's a good idea to put a little thought into how you want to group multiple devices, since access control is done by user, not by device.
Using Skydog DNS content filtering, you can apply one of three content filters to all devices assigned to an individual user. Likewise, you can completely restrict access to the internet for all devices associated with a user in half-hour increments 24 hours/day and 7 days/week. You could, for example, create a schedule that would deny internet access from 10PM to 7AM and set a medium strength content filter for the balance of the schedule for all devices used by your children. Skydog will allow you to use third-party DNS content filtering services such as OpenDNS, which may give you more flexibility in defining categories that you want to filter.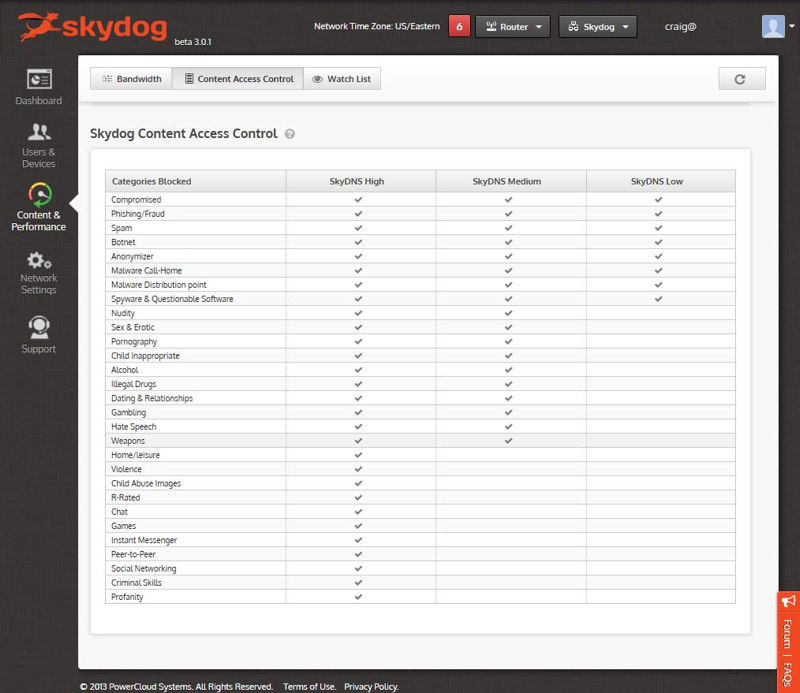 Skydog Content filters
As noted before, there are some features that aren't implemented, but are supposed to be added prior to production units being shipped in September. Most notably, some of the parental control features haven't been fully implemented yet. You can't, for example, set time limits on usage of specific applications. Nor can you block specific web sites or services for specific users. You can, however, even with the current beta, monitor usage levels for websites that you define.
Since Skydog depends heavily on graphics for many of its reports, I've included an extensive gallery of each of the menus and major features. In the gallery, you'll see how to set up an access control schedule for a user that includes no access, restricted, and unrestricted access. You'll also see screenshots of reports for different time periods (hour, day) and watched web site reports. I urge you to view the gallery, as I've included more information in the individual captions.
After logging into your Skydog account, you register your router using the UIC code on the bottom of the device. This links the router to your account. You just name your network and select a time zone.
You can select "Make it Happen" to accept default settings or select "Customize"
On the previous screen, I chose customize. Here are our options.
There are four types of notifications. You can choose email, SMS or both.
This is the confirmation page so you can check your settings before applying them.
Click Go to the Dashboard when the configuration has finished and the router has rebooted.
The Skydog router displays your initial bandwidth test results. By default, the bandwidth manager is disabled.
Skydog features gallery
Despite all of Skydog's reporting features, other functions you might normally expect in a router may not be there. The screenshot below shows only a few settings under the Network Settings > Internet tab. So if you are looking for a router for gaming that supports port triggering or want to see a port map of ports opened by UPnP, this isn't the router for you. I'll also cover more Skydog negatives in the Closing Thoughts.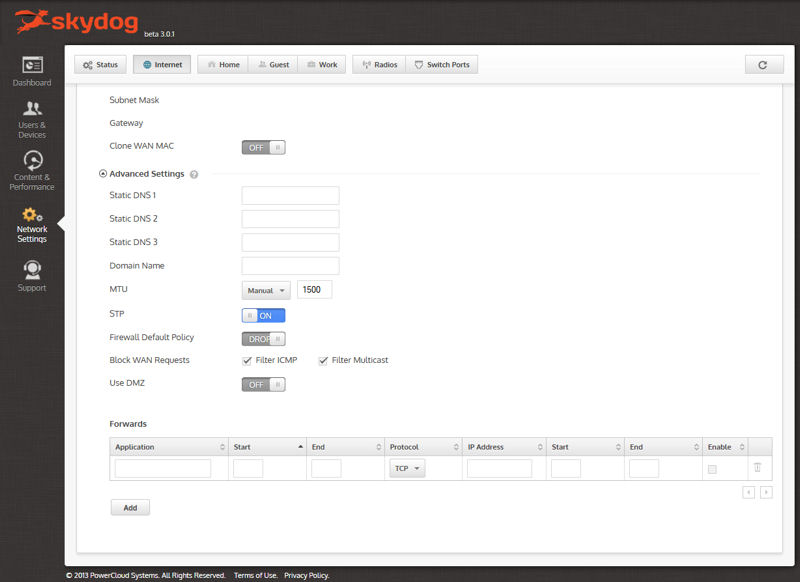 Skydog port forwarding
Security
Updated 7/3/2013
After you've set up your account, Skydog stays in constant contact with Powercloud's CloudCommand server. Skydog sends regular updates about users, devices and usage to the server. According to my tests, it sends data every 60 seconds. When you request statistics, such as weekly usage by user, the data is compiled by the CloudCommand server and delivered almost instantly to your Skydog. All configuration is done in the cloud and pushed out to the Skydog appliance. Reports are delivered securely to virtually any web browser using HTTPS.
Some readers may be concerned about the security practices of a company that collects internet usage data and network device information from its users. They certainly were about Cisco's initial approach to adding cloud services to its Linksys routers. We asked PowerCloud to describe its data security policies. and will update the review when they respond. Their edited responses are found below in the form of Q & A.
Q: Please describe the data collection process.
A: Skydog reports two types of quantitative information: bandwidth usage and configuration status.
a. Traffic data is exclusively in terms of how much traffic is generated by each device in terms of upload/download to/from the Internet. The information is aggregated and its granularity decreases over time. All bandwidth usage information is discarded after 90 days. We in the future might offer more extended access as part of a premium service.

b. Configuration status data provides the system basic loop-back information on configuration changes applied from the cloud to the router.
Skydog reports two types of qualitative data: URL monitoring (when option is activated) and device identification.
a. URL monitoring is an optional service and must be activated by the end user. It specifies which URLs should be monitored. Only the variation of each URL specified in the configuration screen as a set of natural expressions is tracked. No per-page data is gathered, tracked or sent. Only how much traffic is occurring for the destinations specified.

b. Device identification utilizes a combination of information from the operating system, network interface and BIOS. All information is already expressed in all standard network traffic. Skydog aggregates it to make it friendly and help end-users identify the devices connecting to their network and facilitate the assignment to network users.
All SkyDNS – based content filtering is executed via standard DNS protocol calls and no unique information is transported to our DNS Servers. A different server provides DNS resolutions according to the chosen policy.
All connectivity from/to the Skydog routers occur via a TLS tunnel utilizing 256 AES certificate-based encryption
Q: Who has access to the data?
A: The network administrator and additional administrators the primary administrator gives access to.
Q: If a user lets their subscription lapse, how long will Skydog keep the data?
A: For the current beta there is no limitation, although data is progressively aggregated reducing its granularity. For the production product, the data will discarded after 90 days of use.
Q: How is the data stored on your servers? Is it encrypted?
A: Critical and sensitive data is encrypted.
Q: Is data anonymized?
A: We do not perform aggregate data analysis. All analysis and rendering of data is associated to a specific customer account. If in the future we decide to utilize aggregate statistics, the data set utilized for that type of mining would be anonymized.
In the end, it comes down to whether or not you're willing to trade control and managability for access to your internet usage and network device information. Some will feel that that's too much to give up. Others will probably willing make that trade-off, since ISPs from day one have had the ability to track your internet usage.
Closing Thoughts
From a hardware standpoint, Skydog is a generic dual-band N600 class router with Gigabit Ethernet ports. Though it does have a single USB 2.0 port on the rear, it doesn't do anything, at least not yet. You can't attach storage to it and it doesn't work as a printer server. Skydog was vague about future uses for the USB port, saying only that they have plans for it and not specifying a timeframe.
Viewed strictly as an N600 Gigabit router, Skydog is way overpriced at $149. A search on Amazon for N600 Gigabit routers yielded a lot of choices well under $100. For example, you can pick up an app-enabled Linksys EA2700 for about $70. With draft 802.11ac routers offering more speed at similar pricing to Skydog, and breaking the $100 barrier, consumers have even more choices to ponder.
But it is Skydog's "secret sauce" or "Unique Selling Proposition" (USP) that is its key appeal. Skydog's USP right now is its extensive internet use monitoring. This will be complemented by internet use controls if PowerCloud delivers all that it is promising when the final product ships in September.
PowerCloud isn't making it obvious that Skydog requires a subscription service. You have to go all the way to the shopstarter Pre-Order checkout page and look at the caption under the item picture to find mention of it.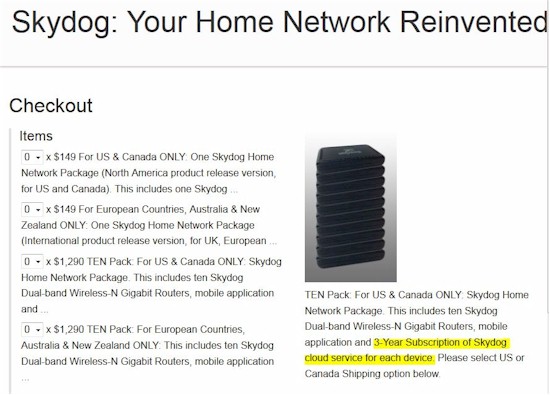 Skydog subscription price disclosure
The price for service after the initial three-years hasn't been officially disclosed. But PowerCloud told me that subscriptions are expected to be between $20-30 per year.
Should you decide to not continue your subscription, you're essentially left with an overpriced Gigabit N600 router, since PowerCloud's cloud services are really what makes Skydog tick. All use data is stored in the cloud and all report generation is done there, too. If you don't keep your subscription, you lose access to all of your historical data, DNS-based content filtering, remote access to the device and all reporting capabilities.
Without a continuing subscription, you might as well go out and by yourself a new 802.11ac router – "N" routers will probably mostly be gone three years from now (when the free subscription expires) with the exception of entry level devices trying to hit low price points.
PowerCloud says there are more features that will be added to Skydog before production units ship in September. And yes, in my conversation with Skydog, they confirmed that they are still on target to deliver units on schedule. The major features missing in this beta that are yet to be implemented are related to Parental Controls.
While you have currently have three levels of DNS-based content filtering in Skydog, you can't customize the levels. Nor can you limit access to specific sites or applications for users. Also missing is the ability to alert users as they approach their usage limits for specific applications. So the screenshot taken from the Skydog Kickstarter page is currently misleading.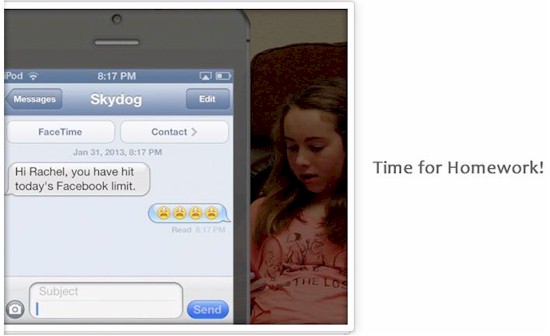 Skydog Alert – a feature that's not in the current beta

From a security standpoint, I like that you can have work, home and guest zones separated in their own VLANs. And it's nice that you can individually configure LAN ports to place them in either the home or work zone. (The guest zone is 2.4 GHz Wi-Fi only.)
Bottom line is that Skydog is targeted at a specific group of users who want to closely monitor and manage access to the internet and are willing to pay a premium for those features. Since I have no kids and really don't need to restrict access to the internet, there are routers with more features that are more appealing to me.
The question for PowerCloud is whether more people are like me or like those they designed Skydog for. Still, I found it very interesting to monitor the internet usage of the six devices that I connected to the router. I like what I saw and I'm anxious to see the final product.
Skydog seems on track to deliver the product they promised, when they promised. But keep in mind that promises can be broken. So you may want to keep your credit card in your wallet until Skydog is out of beta.