Introduction
Updated 3/29/16 – MU-MIMO performance retested
Updated 2/25/16 – Router performance retest due to measurement process error
TP-Link's Archer C2600 AC 2600 Wireless Dual Band Gigabit Router makes the third QCA-based 4×4 router with working MU-MIMO to hit the SmallNetBuilder test bench. So excuse me if I dispense with the MU-MIMO background provided in the previous reviews. Hit Part 1 of the Linksys EA8500 review for a quick review of what MU-MIMO is and why you might care. You can also do a quick skim of the Amped Wireless "Athena" RTA2600 review to see how it fared.
TP-LINK Archer C2600 top view
The rear of the C2600 has four RP-SMA antenna connectors, power connector, on / off switch and four Gigabit LAN ports and one Gigabit WAN port. There are no link / activity lights for the individual Ethernet ports. All you get is one LAN indicator on the top panel that lights steadily when something is connected to one or more LAN ports.
The two USB 3.0 ports are on the router's right side, with other buttons shown in the callout graphic below.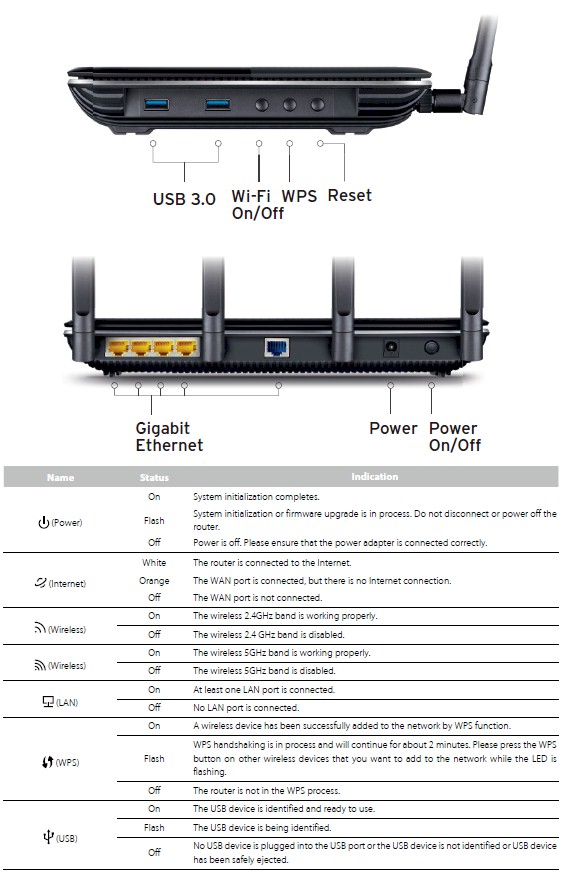 TP-LINK Archer C2600 callouts
The bottom and back part of the top panel of the router have plenty of vent slots. There are no vents on the sides. The C2600 is designed to sit flat on a desk, but can be wall mounted via two bottom-panel screw slots that will orient the rear panel toward the ceiling.
Inside
TP-LINK didn't put a short-term hold on its FCC ID docs, so I didn't have to open the router for component identification. The first picture shows the main board out of its shell, but with RF cans and heatsinks in place.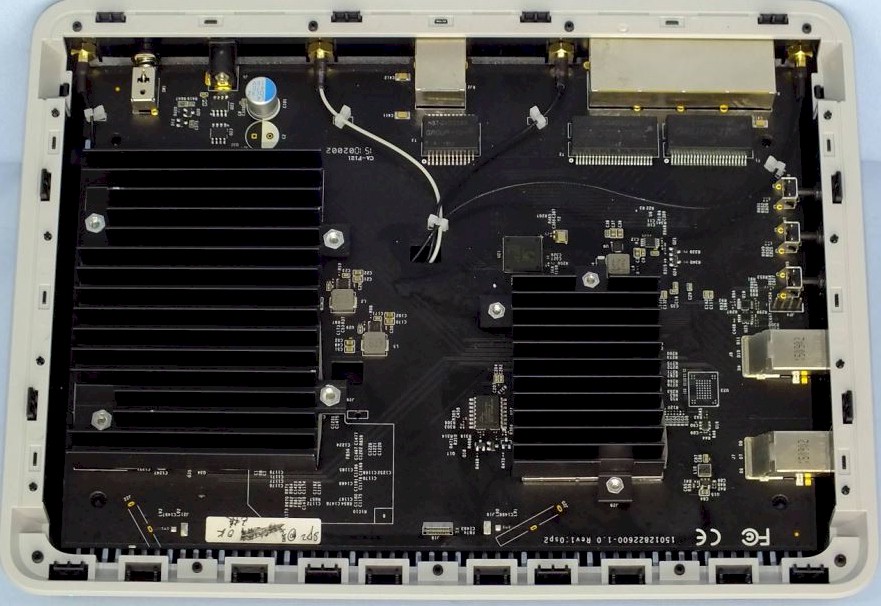 TP-LINK Archer C2600 inside
Here's a closer picture with the cans removed. It's still not clear enough for component ID. But the FCC internal pictures file had close-ups of most key parts.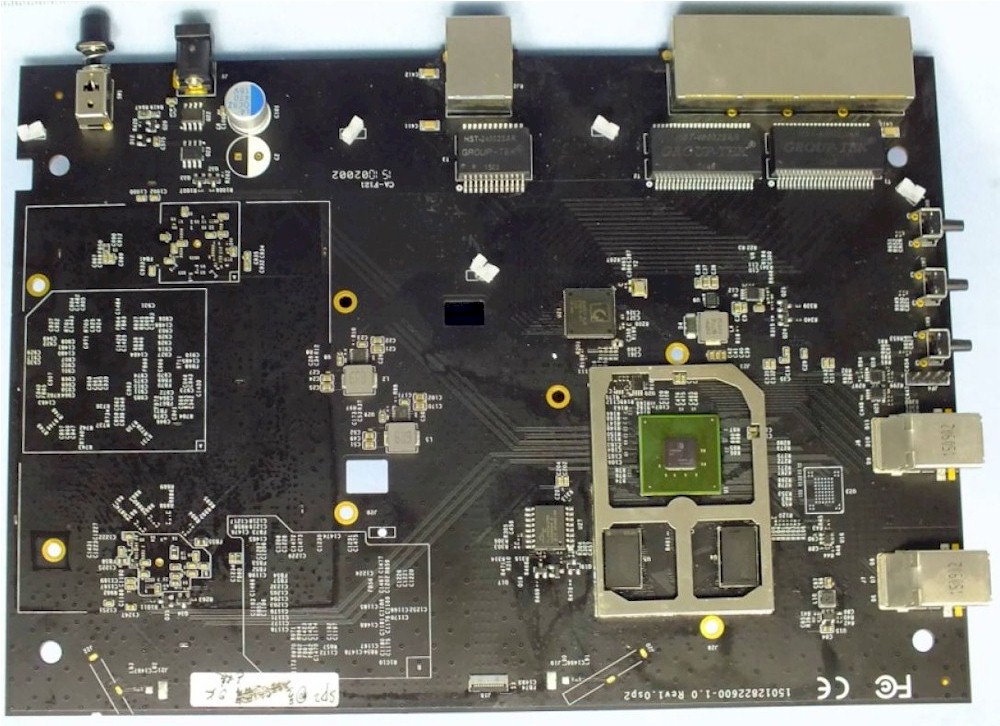 TP-LINK Archer C2600 board top
Here's the bottom of the board with the two radios' RF cans intact. There are no heatsinks on these cans.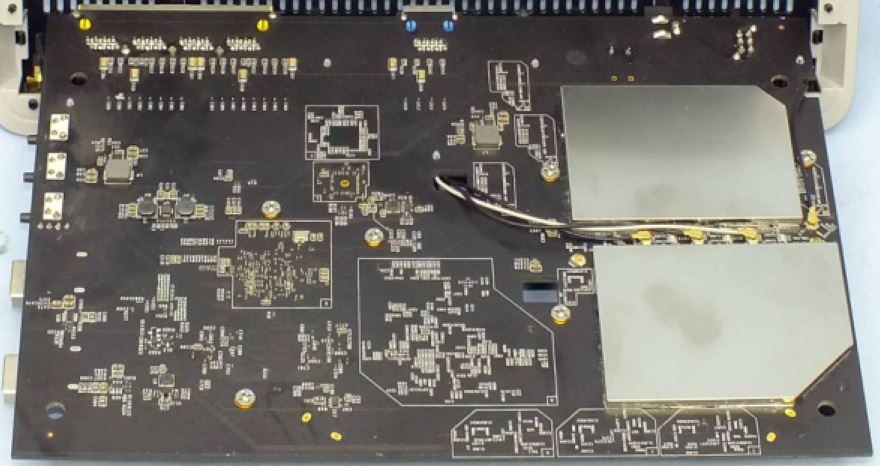 TP-LINK Archer C2600 bottom view
Key components for the TP-LINK, Linksys and Amped Wireless AC2600 routers are summarized and compared in Table 1. Component-wise, the three are the same except for Amped's choice of QCA9990 radio vs. the QCA9980 used in the TP-LINK and Linksys designs. QCA describes the 9980 as aimed at router and gateway designs while the 9990 is for enterprise access points.
TP-LINK Archer C2600
Amped Wireless C2600
Linksys EA8500
CPU
Qualcomm dual-core IPQ8064 Internet Processor @ 1.4 GHz
Qualcomm dual-core IPQ8064 Internet Processor @ 1.4 GHz
Qualcomm dual-core IPQ8064 Internet Processor @ 1.4 GHz
Switch
Qualcomm Atheros QCA8337
Qualcomm Atheros QCA8337
Qualcomm Atheros QCA8337
RAM
512 MB
512 MB
512 MB
Flash
32 MB
128 MB
128 MB
2.4 GHz Radio
– QCA9980 4-stream 802.11ac MU-MIMO radio
– Skyworks SE2623L 2.4 GHz power amp (x4)
– QCA9990 4-stream 802.11ac MU-MIMO radio
– Skyworks SE2623L 2.4 GHz power amp (x4)
– QCA9980 4-stream 802.11ac MU-MIMO radio
– Skyworks SE2623L 2.4 GHz power amp (x4)
5 GHz radio
– QCA9980 4-stream 802.11ac MU-MIMO radio
– Skyworks SKY85405 5 GHz power amp (x4)
– QCA9990 4-stream 802.11ac MU-MIMO radio
– Skyworks SKY85405 5 GHz power amp (x4)
– QCA9980 4-stream 802.11ac MU-MIMO radio
– Skyworks SKY85405 5 GHz power amp (x4)
Table 1: Component summary
Here are the Amped (top) and Linksys (bottom) board top shots for comparison. The components used may be similar, but these are three very different board designs, with TP-LINK the only one with the radios on the bottom of the board.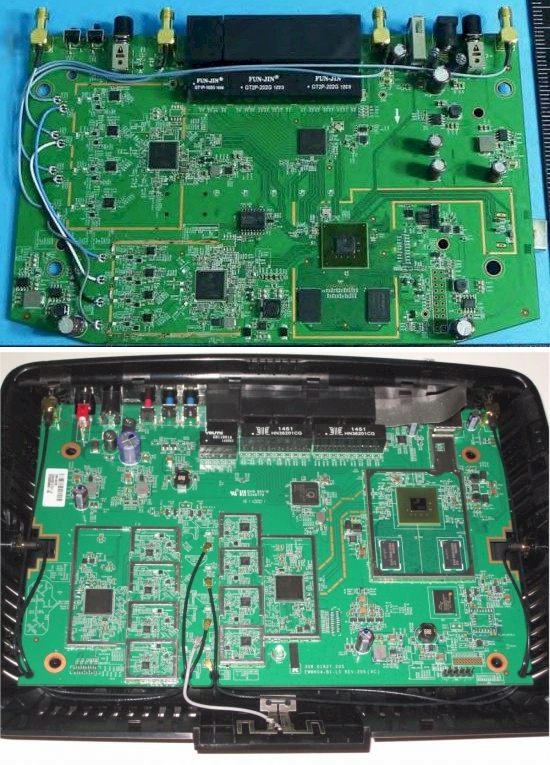 Amped Wireless RTA2600 & Linksys EA8500 boards
Features
The C3200's admin GUI and feature set is similar to the Archer C3200's. We did a pretty good run-through of the features in that review, so check it out if you're interested C2600's software knobs and switches. Since I learned the trick about TP-LINK posting a more complete set of emulators on its Global English website (vs. U.S.), I can post it for your browsing pleasure.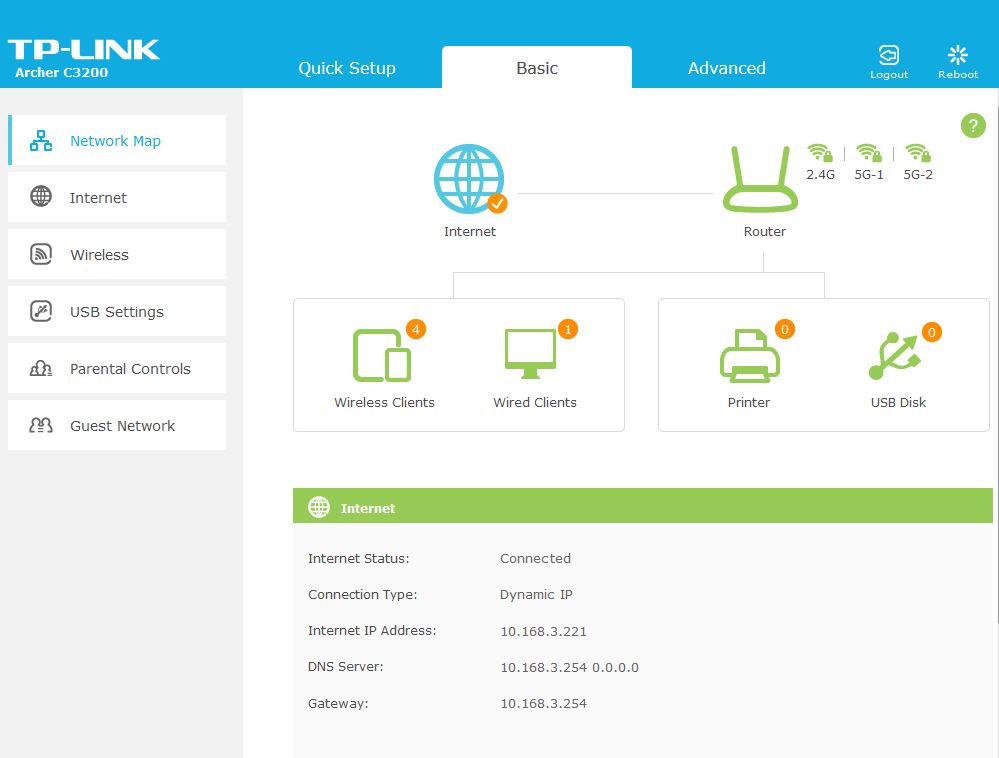 Basic mode status
The C2600 and C3200's features differ a bit because of their different chipsets. The top-level menus differ in sequence and the C2600's QoS entry vs. the C3200's Bandwidth Control.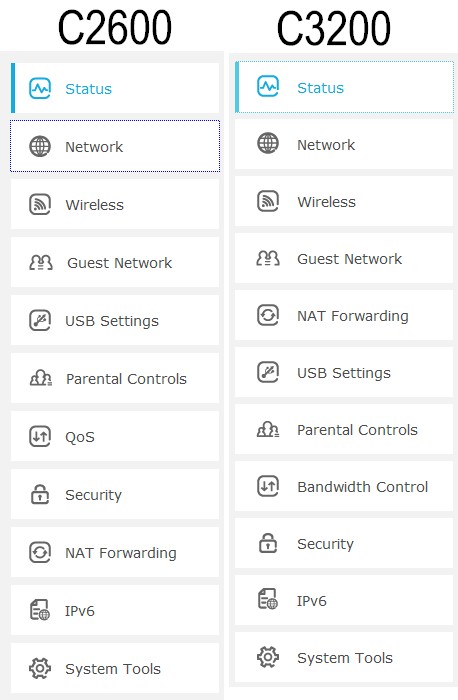 Basic mode status
Diving into the sub-menus reveals a few other differences. The summary below is the C3200's list with C2600 missing features struck out and added features in bold red. We'll cover wireless features later.
Routing / Firewall
Static IP, Dynamic IP, PPPoE, PPTP, L2TP WAN connections
MTU Adjust on PPTP and L2TP only
WAN MAC address clone on all connection types
LAN IGMP snooping
IPTV support with multiple modes, IGMP V2 / V3 select and internet / IPTV select for each LAN port
DHCP Server with lease time setting, default domain, gatway and primary/secondary DNS
DHCP Client list
DHCP reservation (no pick list)
DHCP Condition Pool
IP / MAC binding
Virtual Server entry for single or multiple ports with separate local and remote ports and TCP, UDP or all protocols forwarded. Enable/disable for each entry. 9 preconfigured common service ports
Port triggering – can set individual or range of incoming ports. 9 preconfigured common applications
DMZ Host
UPnP enable/disable with list of current UPnP applications, settings, protocols, internal port and status
DDNS support for Dyndns (www.dyndns.org) and No-IP (www.no-ip.com)
IPv6 support:

WAN types: Dynamic; Static; PPPoE; 6to4 tunnel
LAN address assignment: SLAAC; DHCPv6 server
MTU adjust

SPI firewall enable/disable
DoS controls: ICMP-Flood; UDP-Flood; TCP-Flood, Block LAN ping, Block WAN ping
DoS controls: Low / Medium / High Flood block modes
Blocked DoS Host list
DoS Protection Low / Middle / High Level settings (packets / sec) for ICMP / UDP / TCP-SYN-FLOOD
VPN Passthrough enable/disable for PPTP, L2TP and IPSec
Application Layer Gateway enable/disable for FTP, TFTP, H323, SIP and RTSP
Static routes
Bandwidth Control
Enable/disable bandwidth control with user settable upload / download speeds.
Bandwidth rules list based on IP address (or IP range), port range and protocol
QoS
Enable/disable bandwidth control with user settable upload / download speeds.
Priority-based rules for High, Middle and Low priority based on MAC address, application port range and protocol or physical port including main and guest Wi-Fi
Access / Parental Control
Schedulable internet access time by MAC address (no service / port control)
Keyword blacklist / whitelist
USB features
SMB storage sharing with account-based folder authentication
Local FTP server (no secure FTP)
Internet accessible FTP (changeable port)
Media server
Print server
Admin / System
Local management port adjust (80 default) and MAC address control
Remote management port adjust (80 default) and single remote IP / MAC address setting
Time zone, NTP server, daylight savings settings
Ping and traceroute tools
Online help (internet access not required)
Firmware upgrade from downloaded file (no auto check)
Backup and restore settings
Reset to defaults
Router reboot
Password change
Log with Type and Level setting and scheduled auto email (no alerts)
LAN traffic statistics
SNMP agent enable with Read / Set Community, System Name, Description, Location & Contact, Trap Manager IP
LED on / off schedule
Missing Features
HTTPS management option for either local or remote access
Bandwidth usage monitor
Port-based access control
NAT Boost control
The biggest differences between the QCA-based C2600 and Broadcom-based C3200 are in bandwidth management and VPN. The C2600 uses Priority-based QoS vs. the bandwidth-based controls of the C3200. The C2600 controls refer to a database, but this appears to be a simple database containing applications and the ports and protocols used. I see no sign of the C2600 using Qualcomm's StreamBoost intelligent bandwidth-shaping.
The C2600's difference in VPN is that it has no VPN server, just PPTP, L2TP and IPsec pass-throughs. It also doesn't have a UPnP / DLNA media server. Two things such an expensive router should have are HTTPS management and port-based access controls. You can only completely block internet access for specific devices, not just access to specific services. This seems redundant, since you can schedule internet access by MAC address via the limited Parental Controls.
Features – Wireless
The C2600's main wireless controls are similar to the C3200's. The Basic Wireless Screen contains only enables, SSID and pasword for each radio. Both radios are enabled by default with different SSIDs based on the router MAC address, but the same WPA / WPA2 password for both.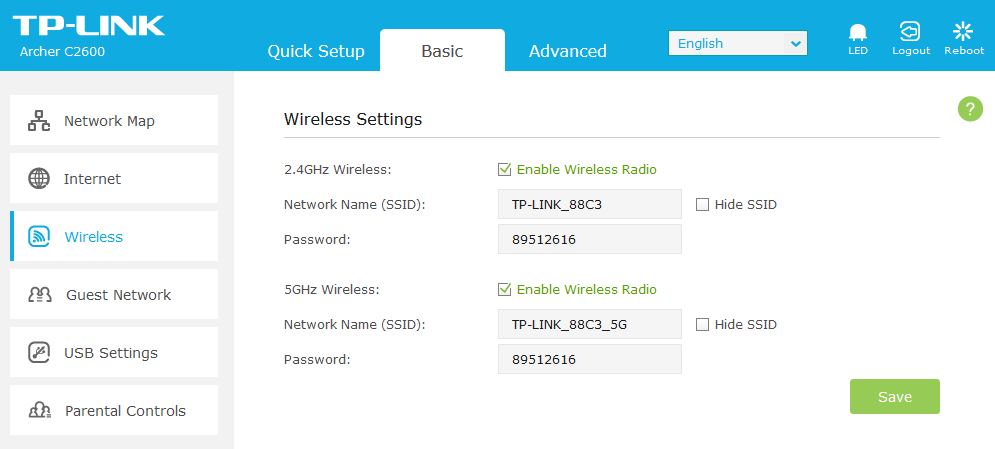 Basic Wireless
The Advanced Wireless screen below shows the 2.4 GHz radio defaults. The only changes in the 5 GHz screen are the mode changes to 802.11a/n/ac mixed and the channel is set to 149 vs. Auto. "Personal" and "Enterprise" (RADIUS) wireless security are both supported. Wi-Fi Protected Setup (WPS) is enabled by default on both bands. You can set 5 GHz channels 36, 40, 44, 48, 149, 153, 157, 161 and 165; DFS channels aren't supported.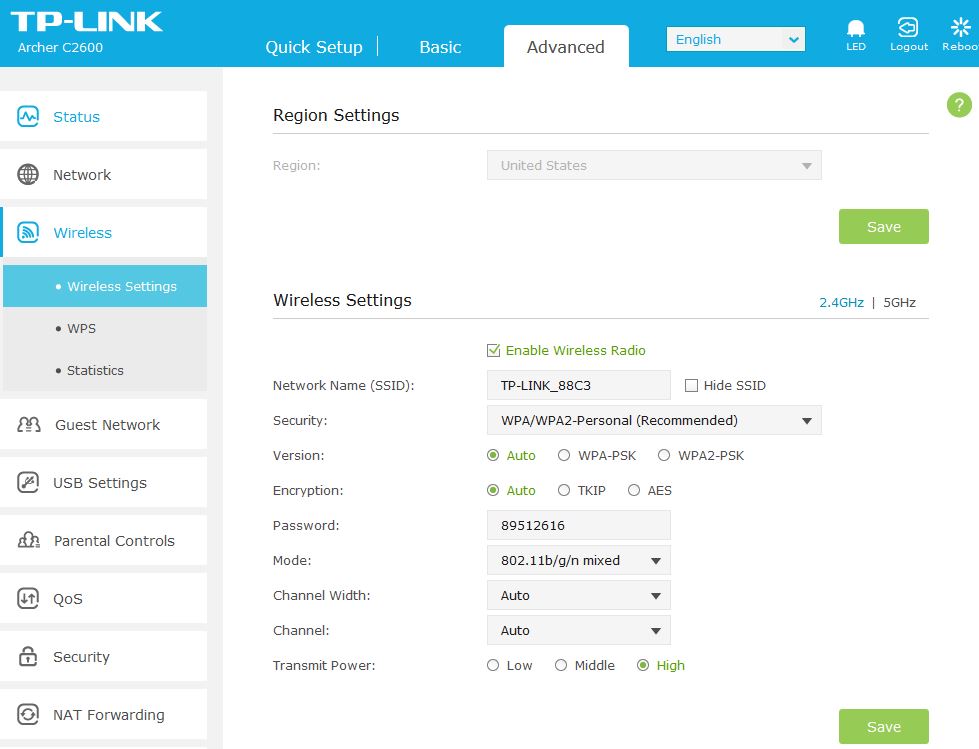 Advanced Wireless – 2.4 GHz defaults
The Advanced > System Tools > System Parameters is where the MU-MIMO enables are found, along with an assortment of other WLAN controls. Like the C3200, there are no beamforming or airtime fairness controls. I don't know why there's a MU-MIMO enable on the 2.4 GHz radio, since MU-MIMO is an 802.11ac spec that applies to 5 GHz only.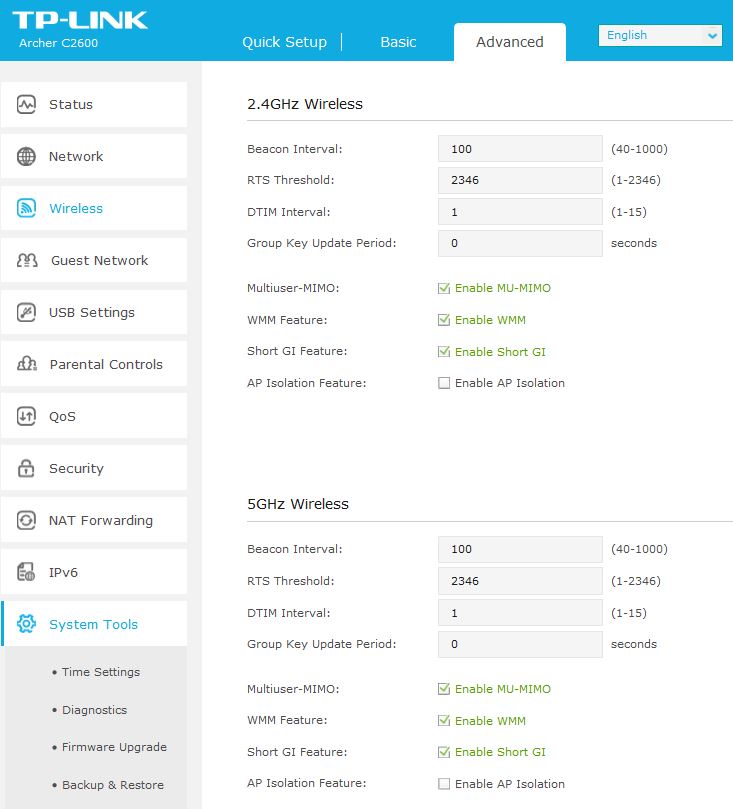 Wireless Advanced settings
You'll be happy to know the C2600 supports bridging to any AP or router, or those that support WDS. Despite what you see below, you can't bridge both bands at once. Once you bridge one band, the other's controls are greyed out. Note the simple WPS enable / disable. You can't reset WPS and it looks like only push-button method is supported since there is no PIN to be found on the router labeling or admin GUI.
The last things you'll find on this page are DoS Protection Level Settings, Ethernet Duplex control and front panel LED on / off schedules. You can also turn the LEDS on and off manually via a front panel pushbutton.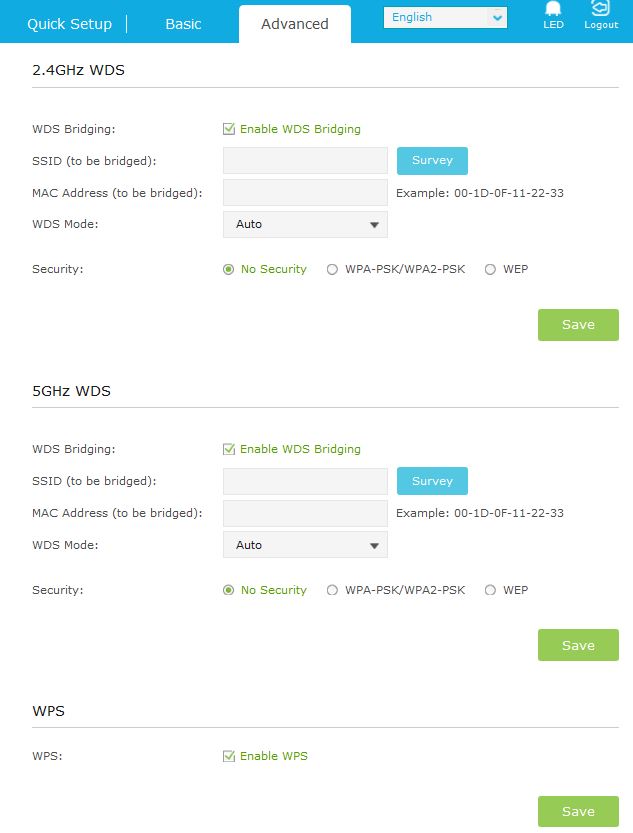 Wireless Advanced – bridging
Storage Performance
The summary graphic below from the Router Charts shows all 4×4 routers—both AC2350 / 2400 and AC2600—we've tested with our standard procedure with USB 3.0 connections and NTFS drive format. The Linksys EA8500 remains the storage performance champ among all 4×4 routers we've tested.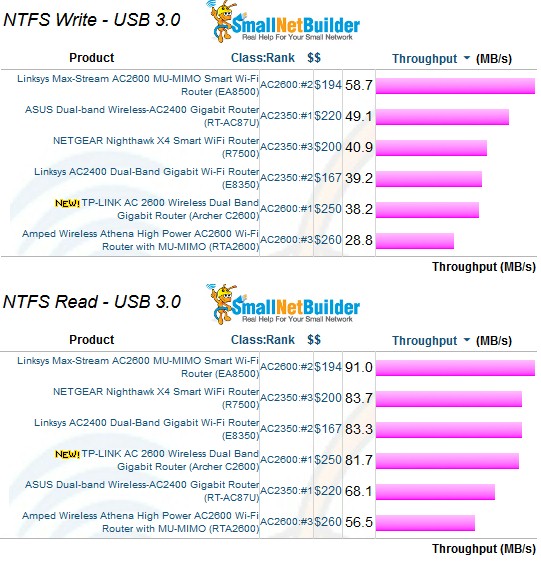 Storage Performance Comparison – USB 3.0 / NTFS
Routing Performance
Updated 12/16/15 Router performance retest due to measurement process error
Routing throughput was measured using our standard router test process with the router loaded with 1.1.2 Build 20150924 Rel. 66045 firmware. Table 2 summarizes the results and includes the Linksys EA8500 and Amped Wireless RTA2600 for comparison. Although the numbers are slightly different, you'd find all three pretty much the same in real-world use. Even the Amped's lower maximum simultaneous connections value wouldn't be noticed.
| Test Description | TP-LINK C2600 | Amped RTA2600 | Linksys EA8500 |
| --- | --- | --- | --- |
| WAN – LAN (Mbps) | 757 | 613 | 702 |
| LAN – WAN (Mbps) | 800 | 711 | 805 |
| Total Simultaneous (Mbps) | 1416 | 734 | 1493 |
| Maximum Simultaneous Connections | 31,784 | 16,340 | 35,320 |
| Firmware Version | 1.1.2 Build 20150924 Rel. 66045 | 1.43 | 1.1.3.166845 |
Table 2: Routing throughput
The IxChariot unidirectional composite plot for the C2600 shows the usual bouncing we see in most routers these days.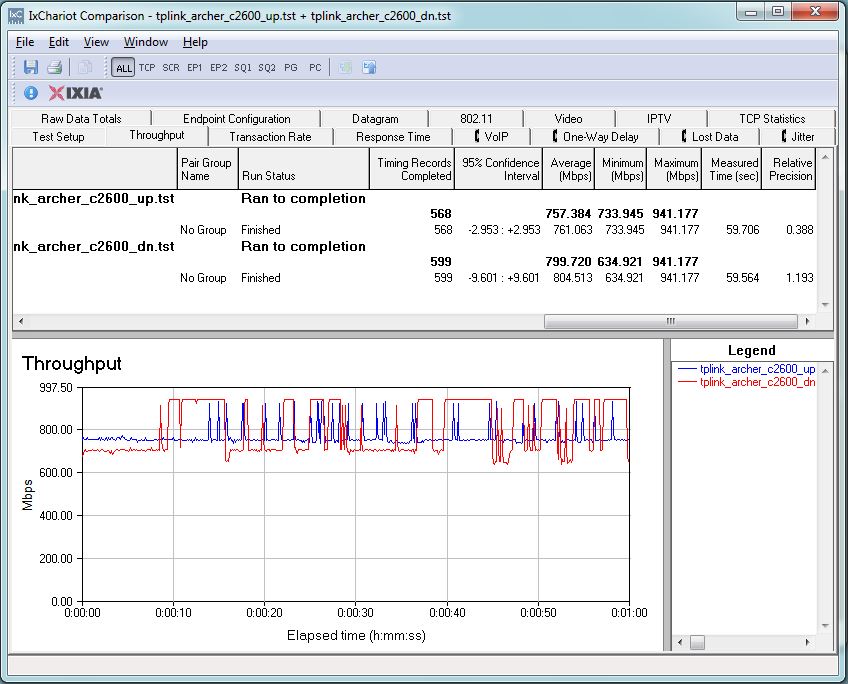 TP-LINK Archer C2600 routing throughput unidirectional summary
The simultaneous up/downlink benchmark plot shows the usual jump near the start due to IxChariot's Nagle's algorithm implementation. Once that settles down, the throughput is stable for awhile, then downlink drops after the 50 second mark. Uplink is generally higher than downlink.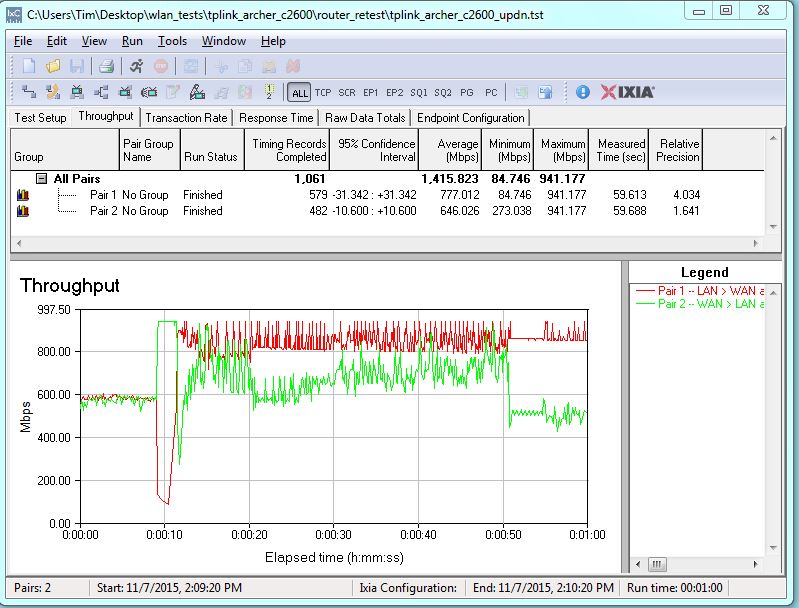 TP-LINK Archer C2600 routing throughput bidirectional summary
Wireless Performance
The C2600 is not Wi-Fi Certified. It was tested using the Revision 8 Wireless test process with 1.1.2 Build 20150924 Rel. 66045 firmware loaded. The router comes with WPS enabled. A Windows 8 notebook successfully connected to each radio via WPS pushbutton session that resulted in WPA2/AES connections. As noted earlier, the only WPS control is a disable buried in System Tools > System Parameters.
The router defaults to different, router-unique SSIDs, auto channel select for 2.4 GHz, Channel 149 for 5 GHz and Auto bandwidth mode for both radios.
For performance testing, the router was first reset to factory defaults. The 2.4 GHz radio was set to Channel 6 and 20 MHz bandwidth mode. The 5 GHz radio was set to Channel 153 and 80 MHz channel width to enable 802.11ac link rates. The AC1900 class NETGEAR R7000 bridge mode standard test client was connected using WPA2/AES encryption.
Our standard practice is to center the router under test's antennas on the turntable, both front-to-back and side-to-side in the chamber. This method is intended to keep maximum distance between the router under test and chamber antennas as the router rotates during test. The photo below shows the router in position in the Octoscope test chamber.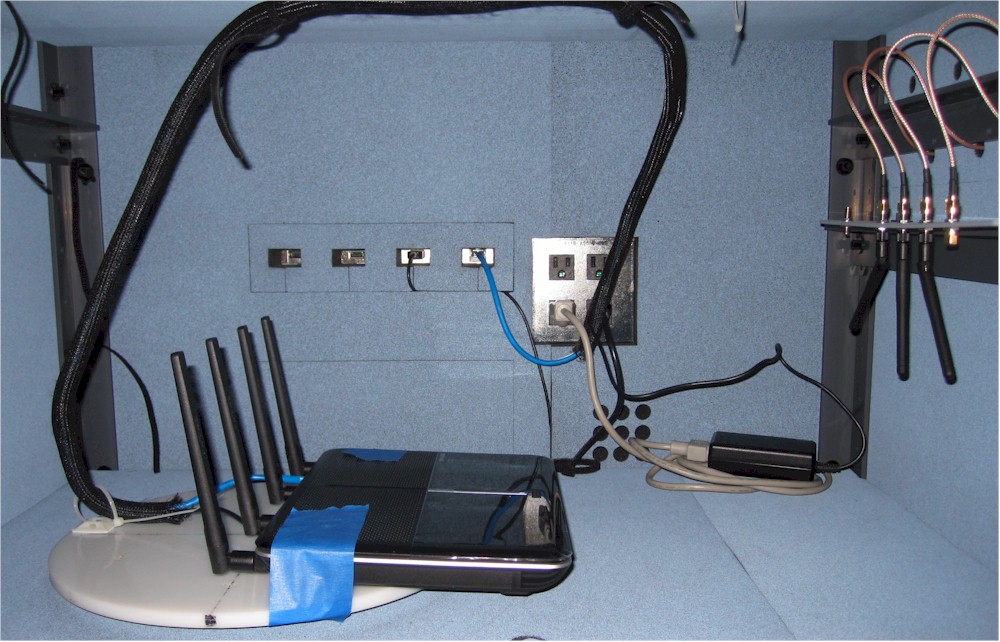 TP-LINK Archer C2600 in test chamber
The Benchmark Summary below shows the average of all wireless throughput measurements made over the tested attenuation range.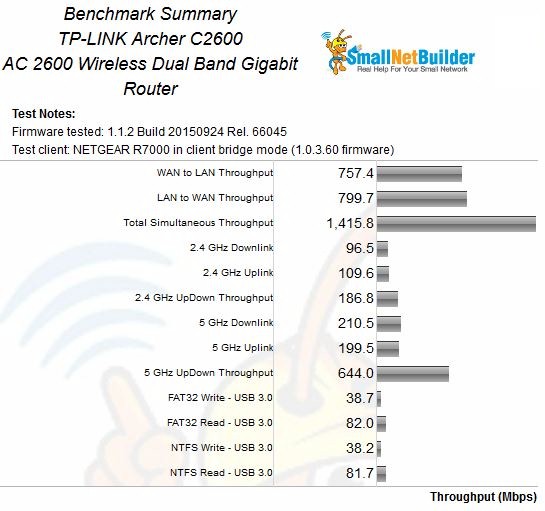 TP-LINK Archer C2600 Benchmark Summary
Now that there are three AC2600 class routers, I included the Linksys EA8500 and Amped Wireless RTA2600 in the throughput vs. attenuation plots.
2.4 GHz downlink performance shows the C2600 with a clear throughput advantage up to 42 dB of attenuation, where its curve joins the Linksys' for the rest of the ride down.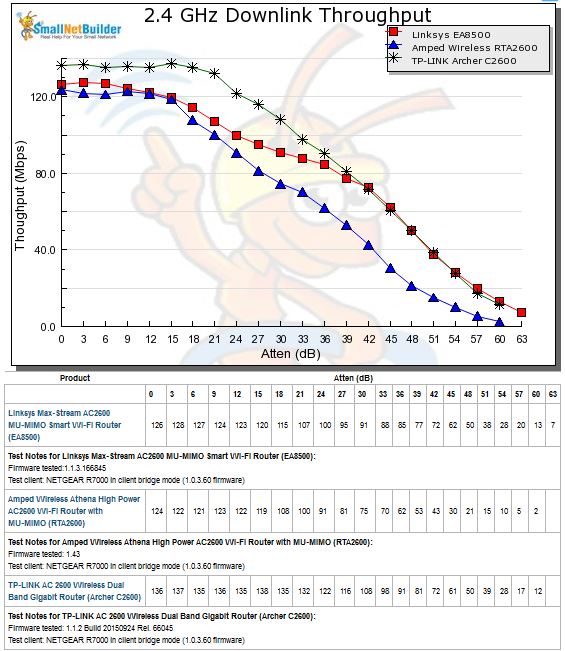 2.4 GHz Downlink Throughput vs. Attenuation
2.4 GHz uplink shows a similar pattern, with higher throughput at low attenuation (higher signal) for the TP-LINK. But this time the C2600's plotline tracks below the EA8500's after it crosses at 24 dB.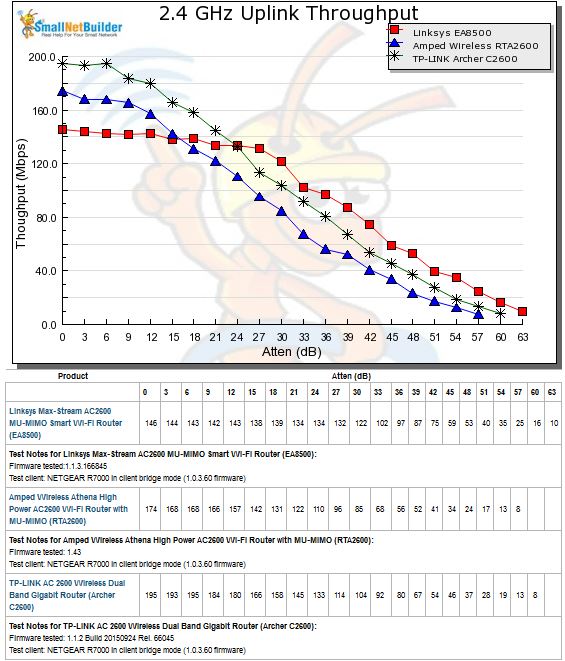 2.4 GHz Uplink Throughput vs. Attenuation
The 5 GHz downlink benchmark shows an odd pattern for the Archer C2600. Throughput closely tracks the Linksys up to 12 dB, then falls sharply but recovers to a gentler slope at 18 dB. Keep in mind the Charts data is the average of two test runs. So this behavior was consistent.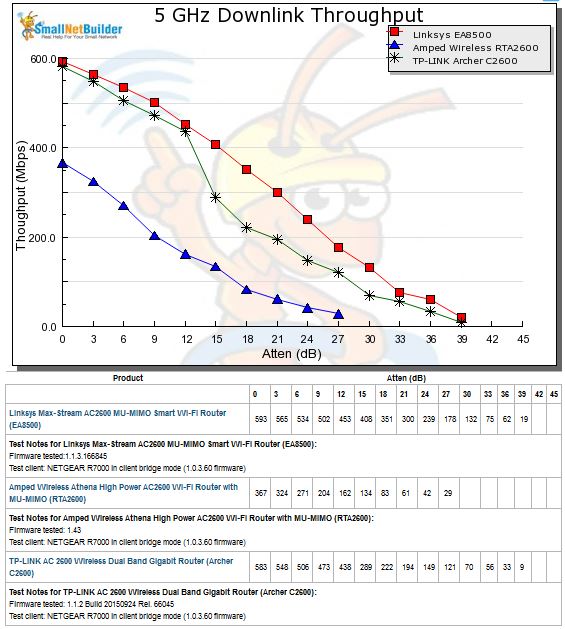 5 GHz Downlink Throughput vs. Attenuation
5 GHz uplink shows a more typical linear slope for the C2600's throughput. But it tracks lower than the Linksys until 27 dB of attenuation.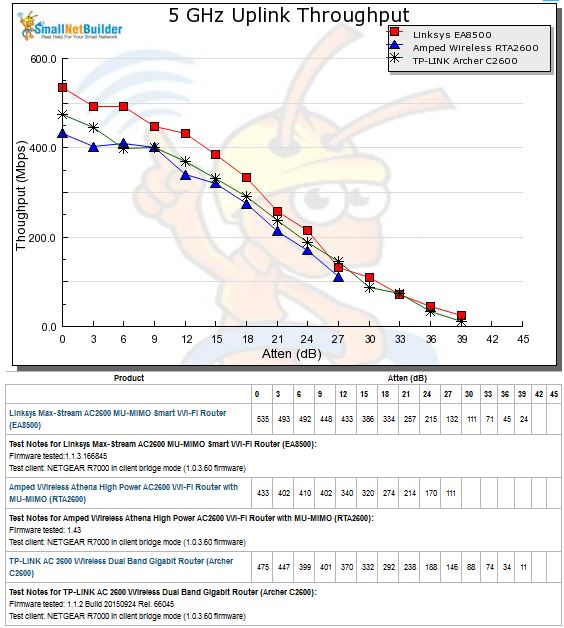 5 GHz Uplink Throughput vs. Attenuation
The take away for wireless performance is the Archer C2600 may deliver higher 2.4 GHz throughput than its competition with strong signals. 5 GHz performance is close to that of the Linksys EA8500 with strong signals, but lower once signals move to mid and lower levels. Both are much better than the Amped Athena.
Four Stream Performance
TP-LINK supplied two C2600s so 4×4 thoughput could be tested. Two RTA2600's were set up in open air, six feet apart, one as a normal router and the other in wireless bridge mode (found in Advanced > System Tools > System Parameters). The in-house 5 GHz network was idle and only beaconing (no traffic). Channel was set to 153, bandwidth mode was in its default 80 MHz mode and everything else was set to defaults, including MU-MIMO enabled. Given the 4×4-to-4×4 nature of the link, MU-MIMO doesn't come into play.
I connected only one computer via Gigabit Ethernet at each end of the bridge. Baseline tests using Ethernet between the two computers (both coincidentally equipped with TP-LINK TG-3468 NICs) show the Ethernet link capable of a bit over 940 Mbps in both directions with each direction run separately. So the hardwired part of the link shouldn't be a limiting factor. I couldn't monitor link rates for these tests, since the router's admin GUI doesn't show them.
The simultaneous up and downlink test yielded 798 Mbps total throughput, with an almost 3-to-1 difference between down and uplink throughput as the IxChariot plot shows. The Linksys EA8500 yielded 830 Mbps for this test, with more battling between up and downlink.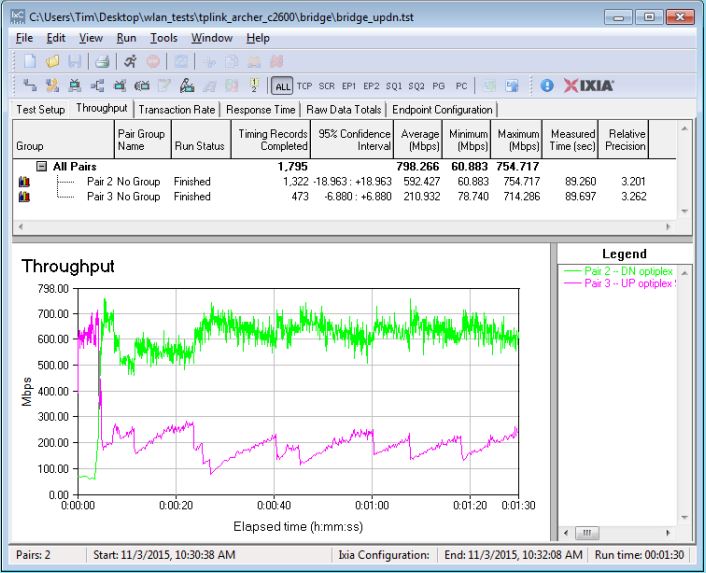 TP-LINK Archer C2600 four stream throughput – simultaneous up/downlink
Separate up and downlink tests that yielded 739 and 652 Mbps vs. 727 Mbps downlink and 667 Mbps for the EA8500. The plot shows very steady throughput in each direction.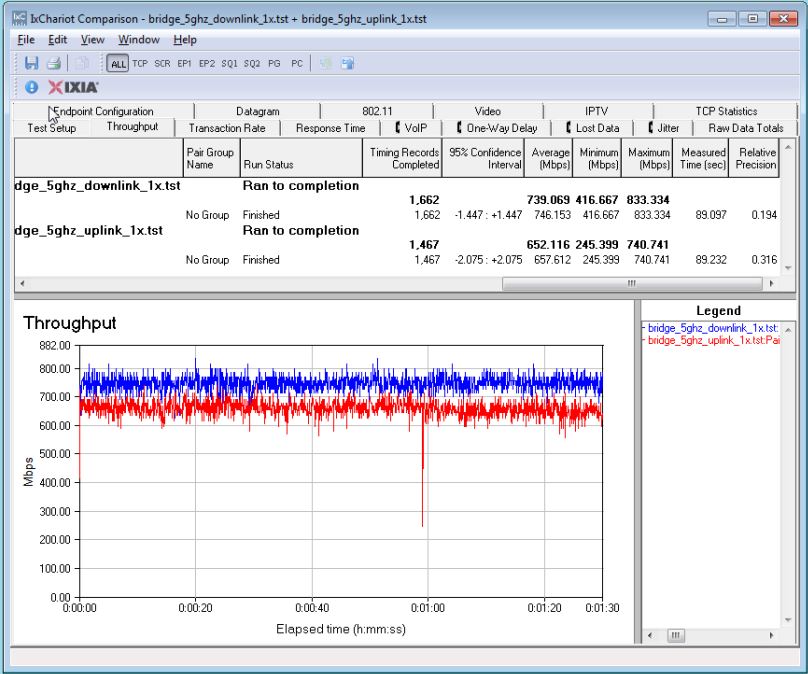 TP-LINK Archer C2600 four stream throughput – up and downlink
A second pair of clients was plugged into the router and bridge to see if a second connection pair would yield higher throughput and to ensure that the single Gigabit Ethernet connection was not limiting results. The plot shows a total 758 Mbps throughput, a bit less than the single-pair simultaneous uplink / downlink test above.
The significantly lower throughput of the second computer pair was suspicious and consistent on multiple runs. But a check with the two directly connected via Gigabit Ethernet yielded 786 Mbps downlink and 652 Mbps uplink. Both computers also reported Gigabit links when plugged into the each router. So I have no explanation for why the second pair of computers had significantly lower throughput.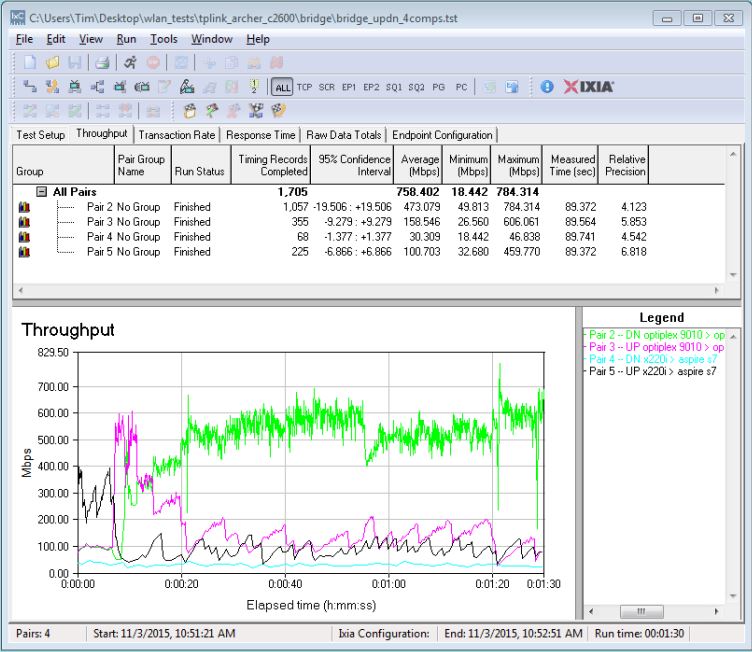 TP-LINK Archer C2600 four stream throughput – simultaneous up/downlink, four computers
As an alternative, I used the original computer pair and added more connections for a total of eight. This raised total throughput to 933 Mbps downlink…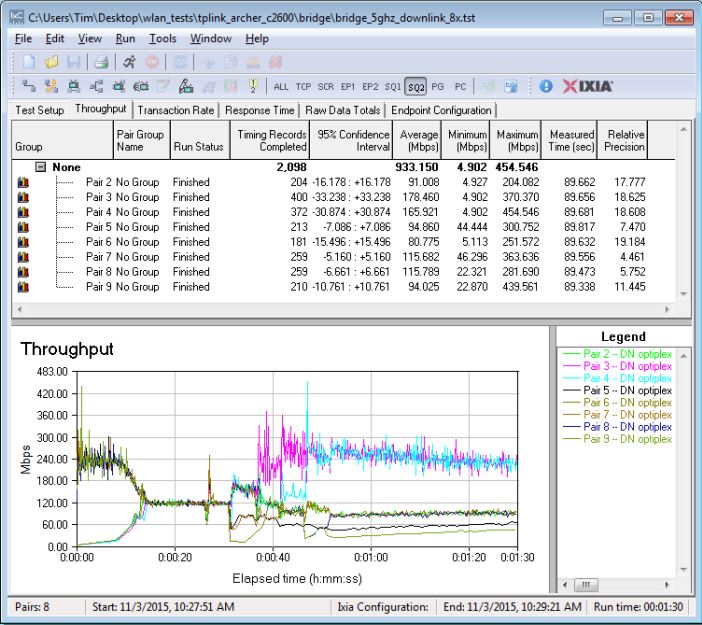 TP-LINK Archer C2600 four stream throughput – downlink 8 connections
…and 863 Mbps uplink.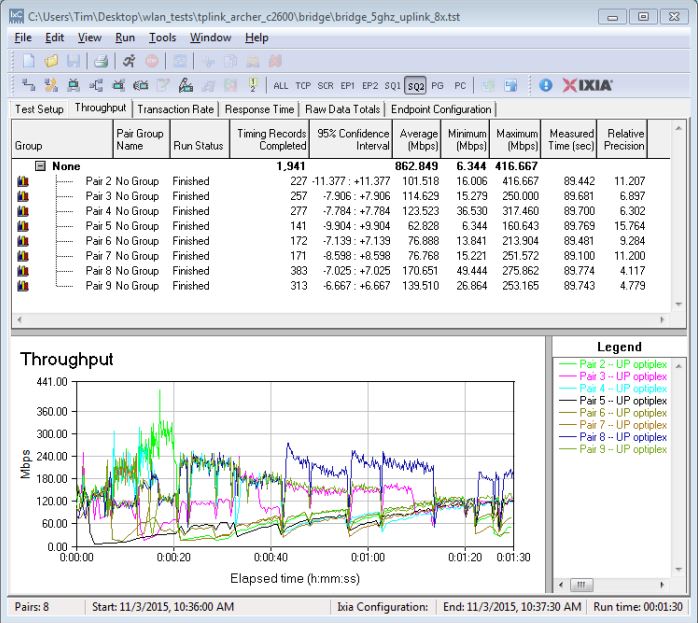 TP-LINK Archer C2600 four stream throughput – uplink 8 connections
MU-MIMO Performance
Our evolving MU-MIMO test process uses open-air testing with three vendor-supplied clients. TP-LINK sent three Xiaomi Mi Note Pro smartphones (available only in China), perhaps the same ones Amped Wireless provided to test its RTA2600.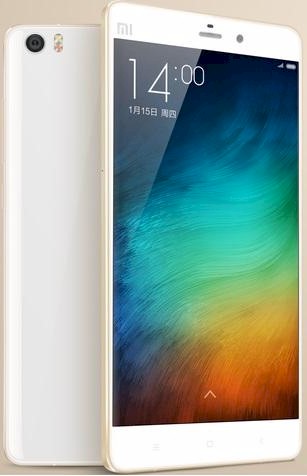 Xiomi Mi Note Pro MU-MIMO enabled smartphone
There are still precious few MU-MIMO enabled devices available right now. Qualcomm provided its latest list, shown below. Note that many of the mobile devices are China only.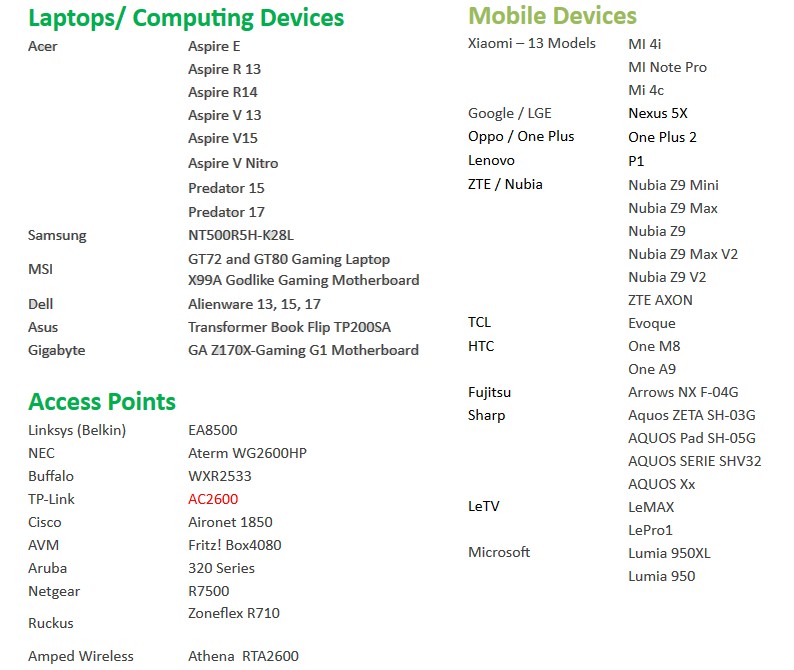 MU-MIMO's improves 5 GHz downlink-only total bandwidth utilization by letting up to three devices share the same airtime (in its current implementation in 4×4 routers). So the test is simple:
Disable MU-MIMO, connect three 1×1 clients, run a test to all three clients simultaneously, record each client throughput and calculate total throughput
Repeat the test with MU-MIMO enabled
Calculate the throughput differences
The same test conditions applied to the Linksys EA8500 were used. All tests used the IxChariot throughput.scr script with the test file size set to 5,000,000 Bytes, TCP/IP protocol, one connection per client, 90 second test length. Each test was run once. The in-house 5 GHz network was idle and beaconing (no traffic). Channel was set to 153, bandwidth mode was in its default 80 MHz mode and everything else was set to defaults.
In the sections to follow, all plots show downlink throughput only, since that is the only direction that MU-MIMO works in. Just to be sure, a few uplink tests were run and saw no significant throughput gain with MU-MIMO enabled was observed.
MU-MIMO Performance – Triangle
The first test used the triangle configuration, with about 6 feet between the router and each phone. This arrangement is intended to maximize the router's ability to get optimum beamforming for each client by maximizing client-to-client separation at short range. Simply put, the better the beamforming, the better throughput to each client can be optimized.
Due to test space limitations, I had to position one client in front, one in back and one on the right side (facing router front). All were about 6 feet from the router.
The chart below shows throughput difference between MU-MIMO disabled and enabled for each client and for all three total. Throughput siginificantly improved for each client, with a total overall throughput gain just shy of 200%.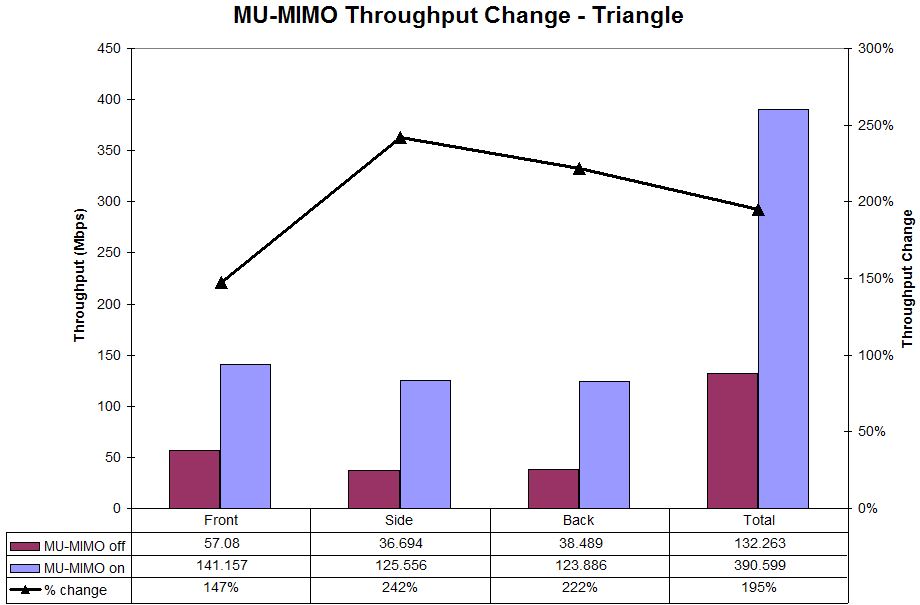 MU-MIMO Throughput change – Triangle
The IxChariot plot below shows the test run throughput plot with MU-MIMO disabled. (Note the All Pairs value in the IxChariot plots will not equal the total values shown in the throughput change charts due to the way IxChariot calculates the average throughput of a group of tests. Individual test average values are used for my throughput difference calculations.)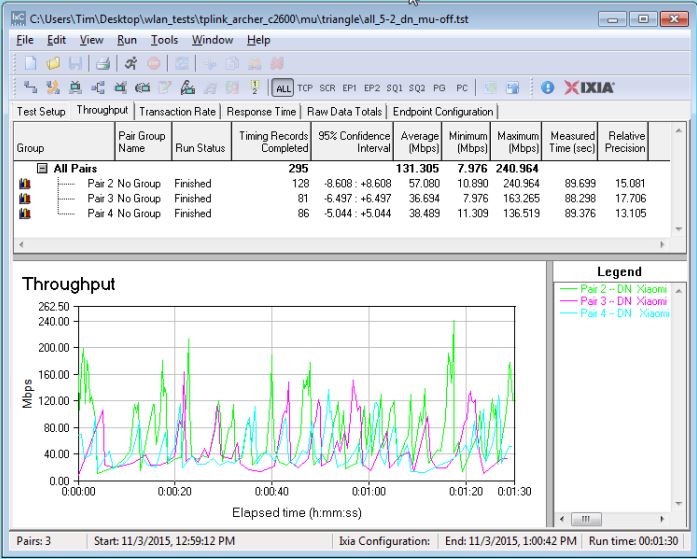 MU-MIMO Throughput – Triangle configuration – MU-MIMO disabled
The MU-MIMO enabled plot shows more consistent and relatively even throughput distribution. Just like MU-MIMO is supposed to provide.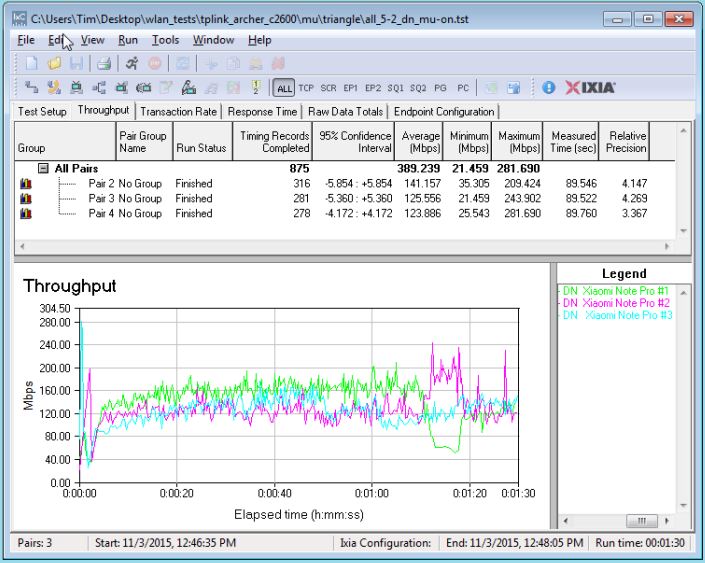 MU-MIMO Throughput – Triangle configuration – MU-MIMO enabled
The Linksys EA8500's MU-MIMO throughput distribution was better, but this could be due to the different MU-MIMO client used.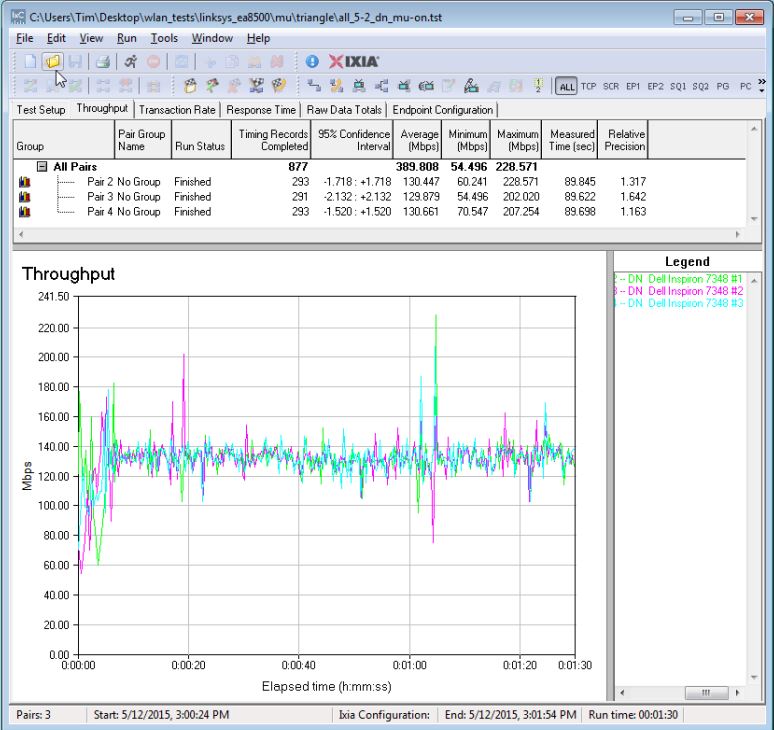 MU-MIMO Throughput – Triangle configuration – MU-MIMO enabled – Linksys EA8500
All Front
The "All Front" test is meant to be a MU-MIMO torture test because it minimizes client-to-client distance. When clients are close together, it should be more difficult to optimize beamforming for each client.
The test positions all three devices on a rack in front of the router about 6 feet away. This doesn't look like much of a torture test, with higher individual and total throughput gain than the "ideal" triangle arrangement. Total throughput gain was over 4X!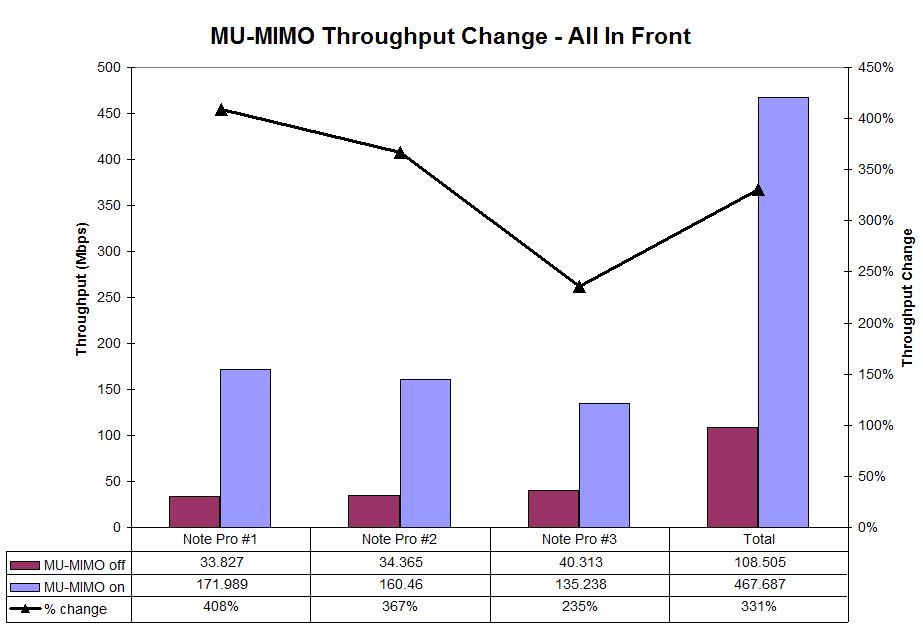 MU-MIMO Throughput change – All Front
Three Room
The last test looks at how MU-MIMO might work in a more real-world home situation with devices in different rooms. This test kept one phone on the rack in the same room as the router, the second phone moved to a nearby bedroom about 25 feet and a few sheetrock walls away and the third located on a table at the far end of an adjacent hallway.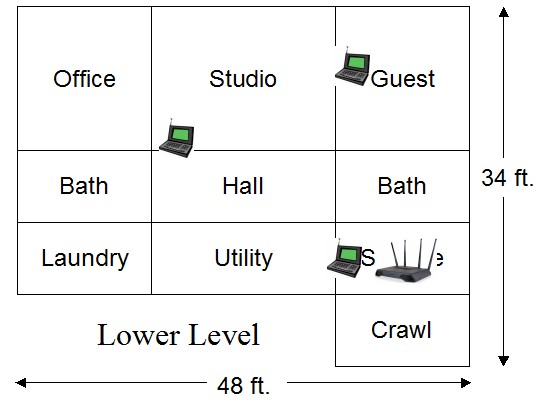 MU-MIMO 3 Room test floorplan
Once again, the Archer C2600 passed the test with flying colors, providing individual client and just over 3X overall throughput gain! Throughput gain was highest for the in-room device, which is expected since it would have the strongest signal. But the gains in the other locations indicate those clients are still operating in MU mode.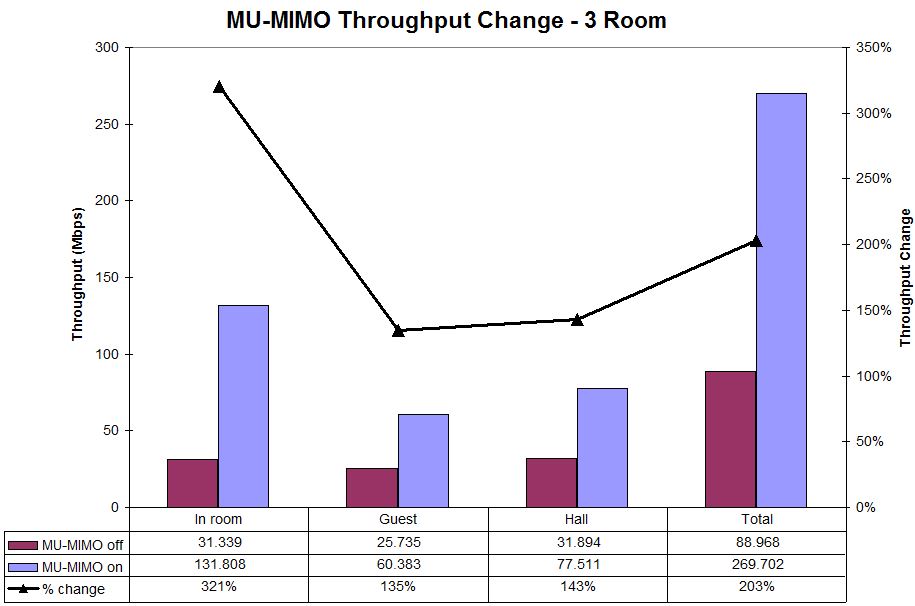 MU-MIMO Throughput change – Three Room
More Connections Per Client
Qualcomm says MU-MIMO throughput improvement is even better with multiple connections per client, as might happen when your web browser launches a lot of simultaneous connections in its effort to quickly render a page.

I reran the three test scenarios with three connections per client.
The results show more modest overall throughput gains. But all clients and all connections showed higher throughput with MU-MIMO enabled. The "ideal" triangle configuration yielded 154% total throughput gain.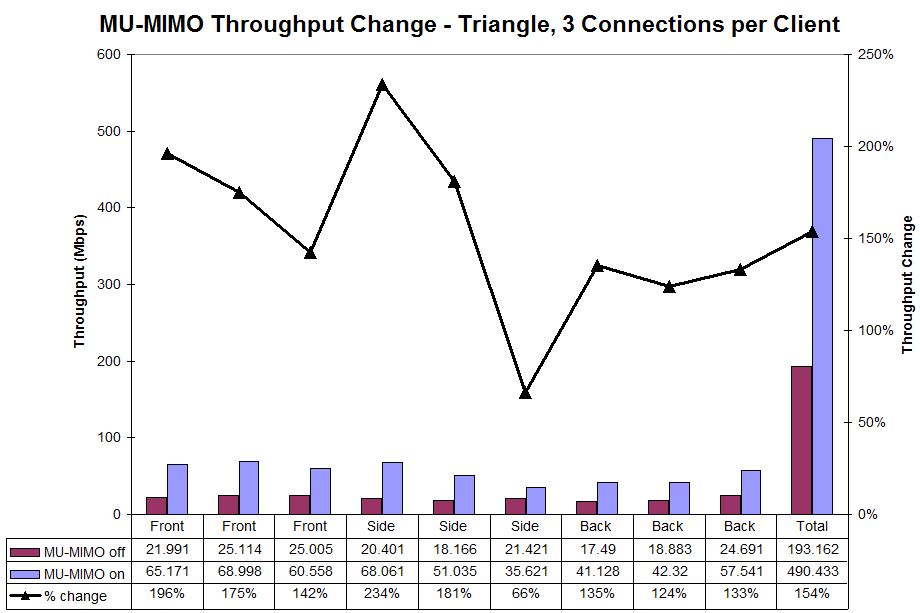 MU-MIMO Throughput change – Triangle – 3 connections / client
The "torture test" All Front configuration once again turned in the best total throughput improvement, 166%.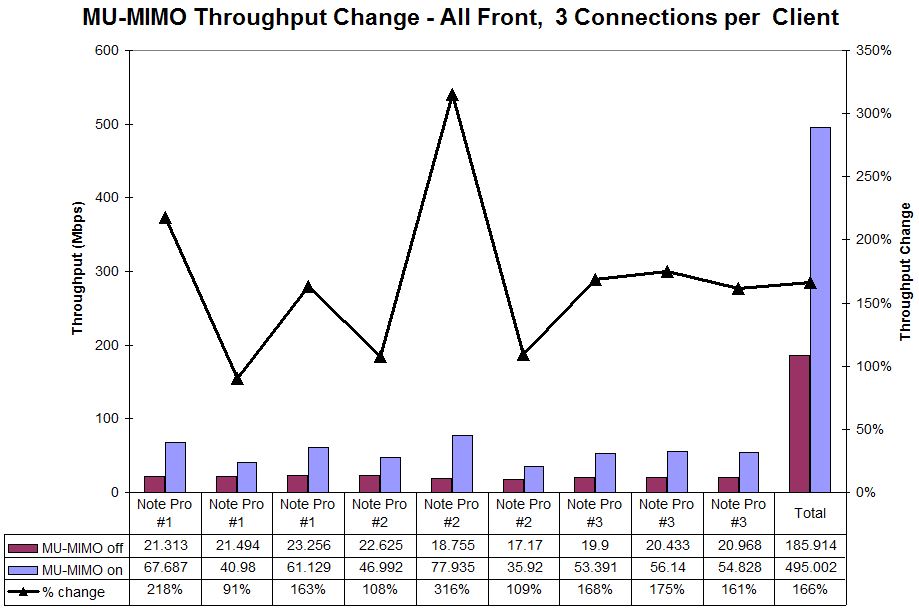 MU-MIMO Throughput change – All Front – 3 connections / client
Finally, the three room test showed gains in all cases with 147% total throughput gain.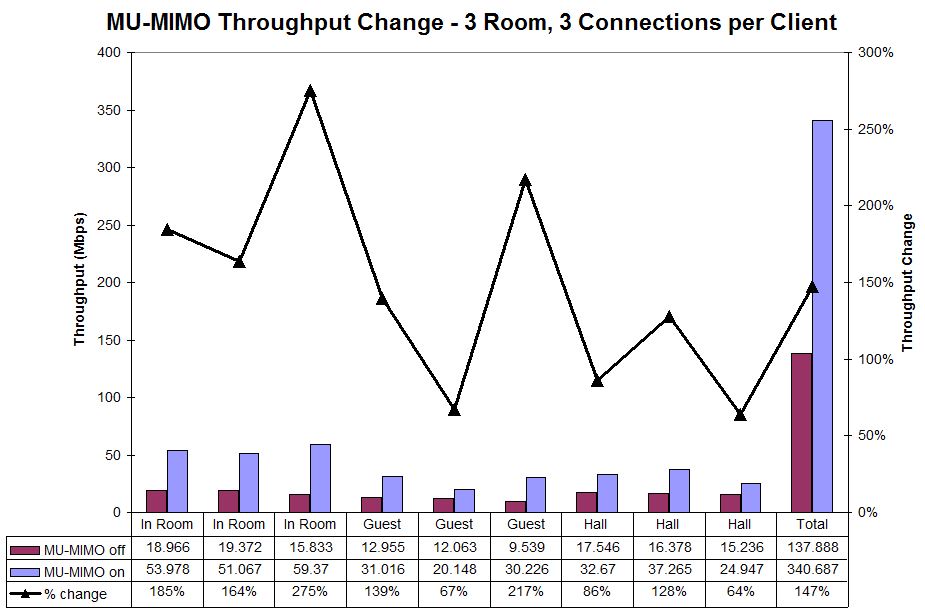 MU-MIMO Throughput change – 3 room – 3 connections / client
Closing Thoughts
With three AC2600 routers in the charts, it's time to call a SmallNetBuilder Ranked #1 award. And the ranker calculations put the Archer C2600 in the #1 position.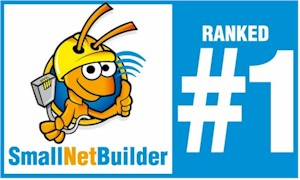 The Ranker detail shows stronger 2.4 GHz performance than 5 GHz, mainly due to its higher maximum throughput, which also contributes to its higher average throughput rank. The only #1 rank earned in 5 GHz is actually a tie with the Linksys EA8500, which has an overall #2 rank.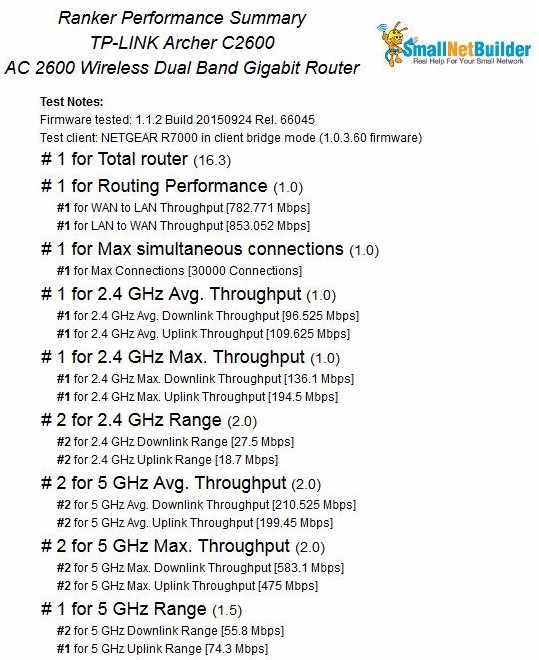 Router Ranker Performance Summary
The Archer C2600's MU-MIMO performance is the best example I've seen yet of how MU-MIMO is supposed to work. All scenarios and all connections showed improvement with MU-MIMO enabled, even in the toughest multi-room test. Neither the Amped Wireless RTA2600 nor Linksys EA8500 could consistently produce improved throughput.
Before you rush to buy, remember you need at least two MU-MIMO devices to reap the improved total wireless bandwidth yield of a MU-MIMO router and those devices are still essentially MIA here in the U.S. But if you just gotta have an AC2600 class MU-MIMO router, the TP-LINK Archer C2600 looks like your best buy for now.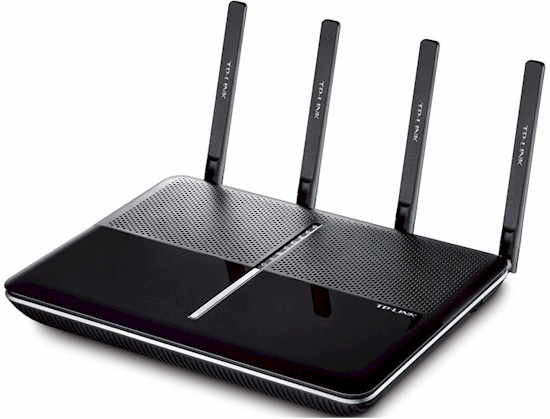 Buy AC 2600 Wireless Dual Band Gigabit Router from Amazon