At a glance
Product
Dual-Band Indoor 2×2 802.11n Access Point (Xi-2) [Website]
Summary
N600 class consumer SOHO / small-biz focused access point.
Pros
• Automatic band steering, traffic prioritization, airtime fairness and channel selection
Cons
• Managed only by Android & iOS app
• No documentation
• Auto features have no manual override
Typical Price: $199 Buy From Amazon
Overview
The latest combination of plastic, silicon and software to set Wi-Fi geeks' pants aflame seems to be a new line of access points from Xclaim Wireless. Why so much excitement about products from an unknown company? Because Xclaim belongs to Ruckus Wireless, a maker of enterprise WLAN gear that has a faithful following.
Xclaim's pitch is they've "taken the performance, reliability and robust feature sets of big business wireless, and eliminated all of the cost and complexity". The pitch is aimed squarely at small-businesses that want good wireless at low prices and can't afford to hire someone to set it all up and run it.
The starting lineup consists of three indoor and one outdoor access points. As the graphic below shows, two of the APs are AC1200 class, one is N300 and one N600. All the indoor APs assume the same 5" x 5" x 1" form factor shown in the opening photo above.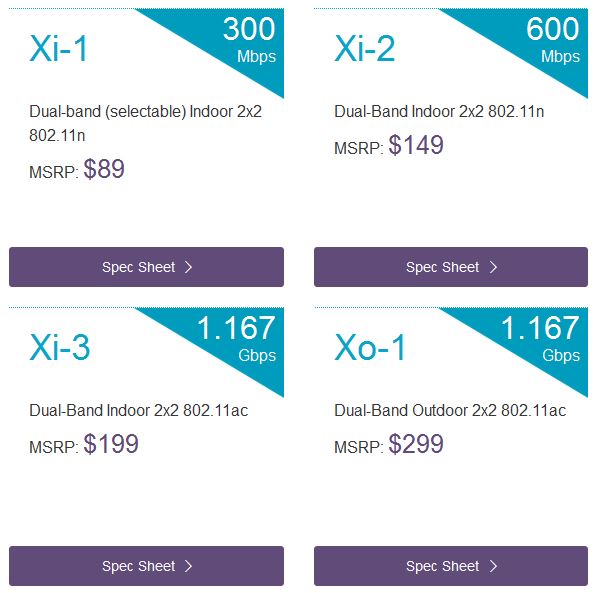 Xclaim product line
Xclaim offers no routers and nothing to help their target user integrate their APs into an existing network that probably has a wireless router. In fact, there is no support available aside from a forum that appears to be monitored by Xclaim staffers.
The Xi APs can sit on a desktop or be wall or ceiling mounted. There is no mounting plate like the one that comes with a Cisco WAP321 or WAP121. Xclaim throws in a pair of screws, drywall anchors and a tool to aid in removing the AP from a "T-rail", i.e. the metal piece used to construct many suspended ceilings.
The only mounting documentation is this forum post that I borrowed the photo below from. There is only one screw slot; I presume the notch down near the connector area is where the other mounting screw head fits.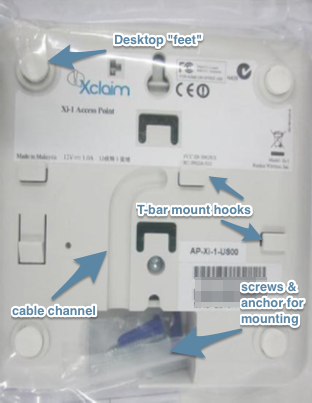 Xi series AP mounting options
The AP is powered via a 12 VDC 1.0 A power supply (not provided) or 802.3af Power over Ethernet (injector provided). The recessed connector panel is where you'll find the single Gigabit Ethernet port, reset putton and 12 VDC port shown below.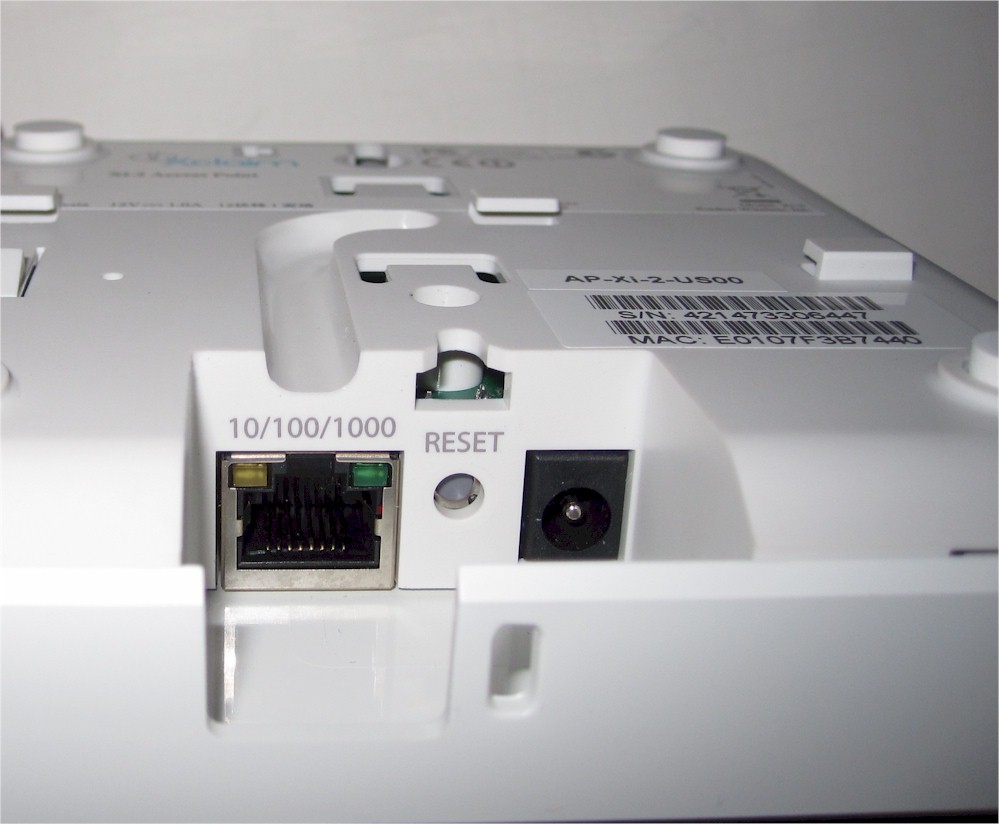 Xi series AP connector panel
The lone LED on the front panel is marked "PWR" is undocumented, but it changes color when the AP is booting.
Inside
Rummaging through the FCC ID documents for the Xi-2 reveals that the hardware is the same as a Ruckus ZoneFlex R300. Not so with firmware, however. While the R300 supports Ruckus' BeamFlex "smart" antenna technology, the Xi-2 (and the other Xclaim products) do not. The two "multi-dimensional" dual-band antennas are at the upper right and lower left of the photo.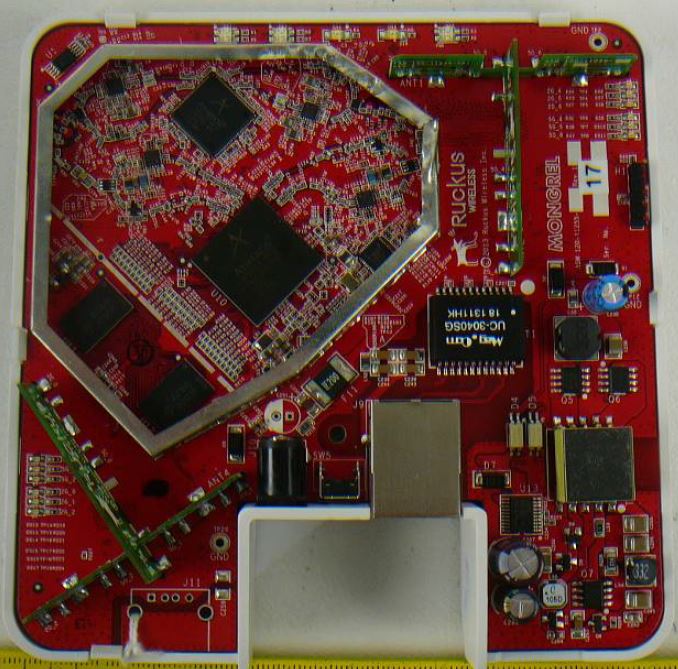 Xclaim Xi-2 board
The board shot from the FCC ID photo isn't clear enough for component identification. So after testing was done, I opened mine up and found the components listed in Table 1.
Xclaim Xi-2
CPU
Atheros AR9344 802.11n 2×3 dual-band SoC
Ethernet
Atheros AR8035 Gigabit Ethernet PHY
RAM
128 MB Winbond W9751G6KB-25 (x2)
Flash
32 MB Spansion S25FL256SAIFR0
2.4 GHz Radio
– In AR9344
– SST12LP15A 2.4 GHz power amplifier (x2)
5 GHz radio
– Atheros AR9582
– SST11LP12 5 GHz power amplifier (x2)
Table 1: Xclaim Xi-2 component summary and comparison
Features
The Xi-2 data sheet promises an "enterprise-grade feature set not found in traditional SMB APs". These features include:
Controller-free multi-AP architecture
Completely mobile-app managed
Automatic AP discovery
Simple wizard-driven configuration
Dynamic channel selection (auto)
Automatic traffic prioritization (auto)
Airtime Fairness (auto)
Band Steering (auto)
Client isolation (per AP)
Single or multi-AP environments
4 SSIDs per AP
"Cloud ready" management (my quotes)
Note that WiFi Protected Setup (WPS) is not supported, which is par for a business-grade access point. The Wi-Fi Certification database doesn't have an entry for Xclaim Wireless, but lists its Ruckus ZoneFlex R300 twin as certified.
In Use
While the feature set may be impressive, its implementation—at least in its current form—is not. Those (auto) inclusions in the list above are important to note because there are no manual controls for those features. In fact, the only thing you can do manually is establish WLANs that consist of SSID's, wireless security keys and VLAN tags and assign access points to WLANs. Even something as simple as assigning an SSID to the 2.4 or 5 GHz radio can't be done. It also appears that VLANs don't currently work, either.
Setup and management can be done only using Harmony Android or iOS phone apps. Both are designed for phones and run in portrait mode only on tablets. First launch of the app brings up a wizard so you can establish an admin login and create an SSID. The steps are shown in the gallery below.
Setup Wizard splash screen
Outside the U.S. you'll get a country selection screen. Inside you go right to this screen.
Create an SSID. You don't have to secure the network, but if you do, WEP is not supported.
SSID created
Wizard End
With initial setup done, you scan for Xclaim APs to manage. When it finds them, you configure them, then assign the APs to the previously created WLAN (SSID). This is illustrated in the next gallery.
Setup Wizard splash screen
Outside the U.S. you'll get a country selection screen. Inside you go right to this screen.
Create an SSID. You don't have to secure the network, but if you do, WEP is not supported.
SSID created
Wizard End
Once you get set up, when you relaunch Harmony, you get sent to the Statistics screen. The composite image below shows one long screen. Touching a device icon brings up more information on that client.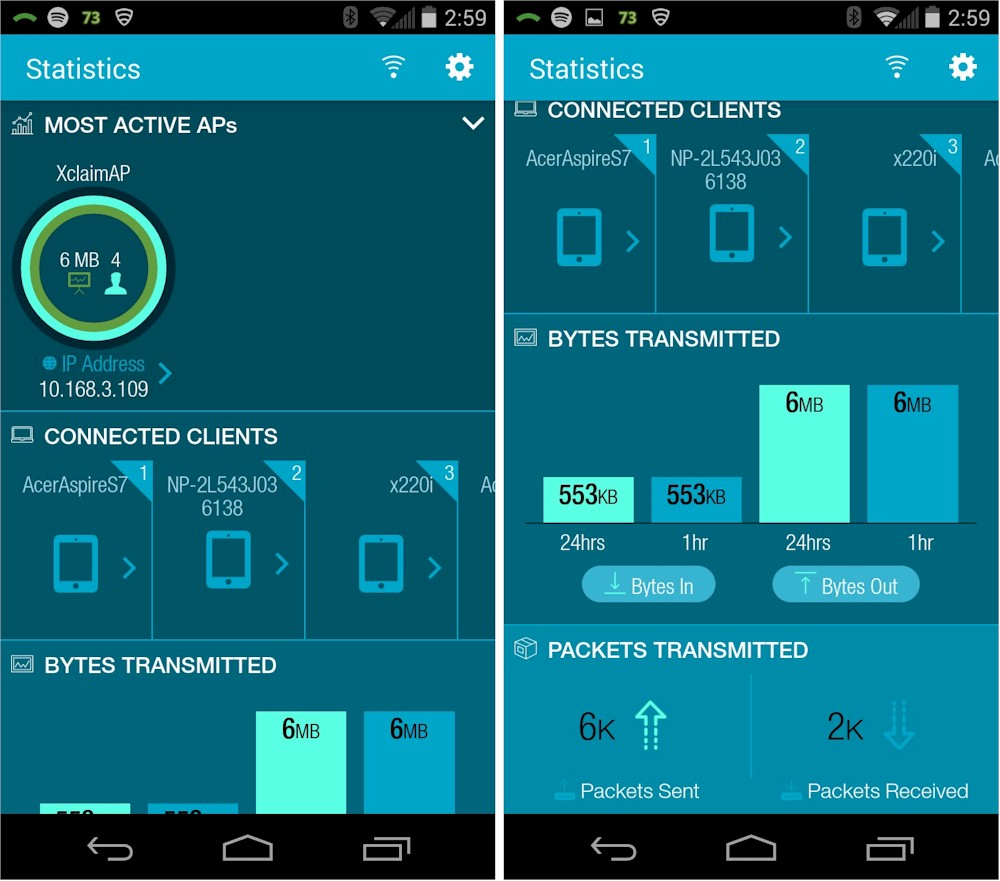 Statistics screen
The channel selection screens below show DFS channels are supported in 5 GHz. (Channels up to 165 are supported if you scroll down the screen.)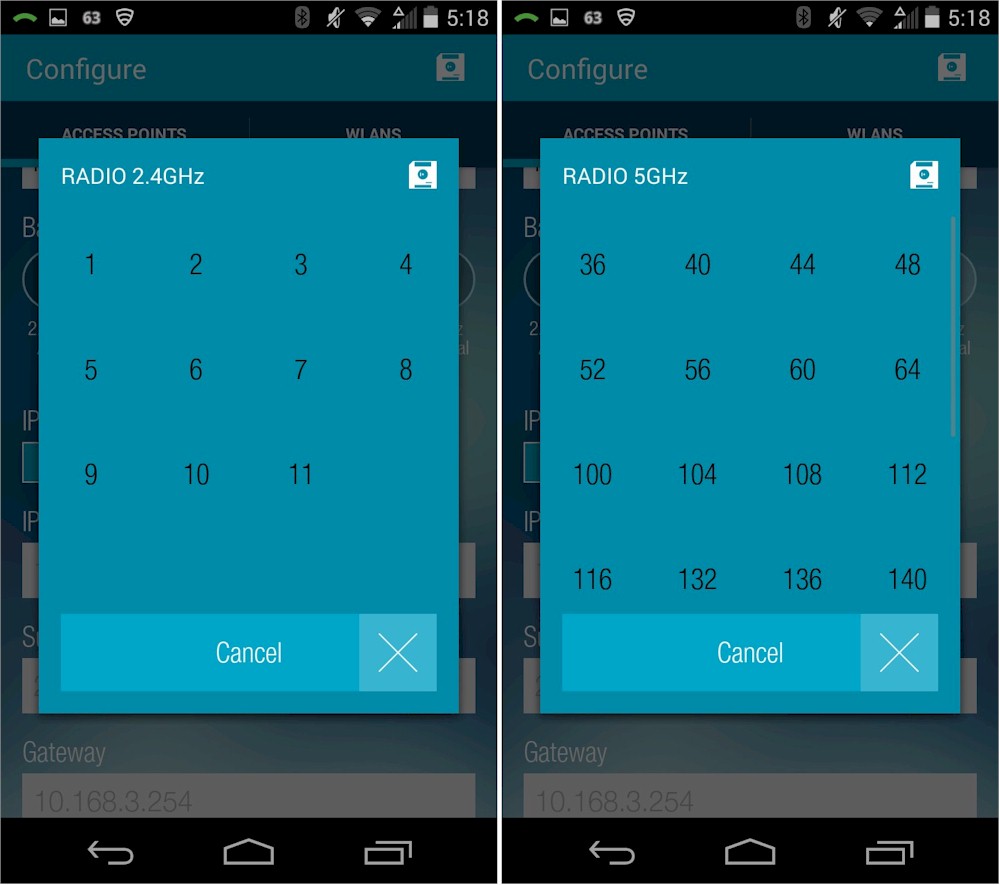 Channel selection
DFS channel support is about the most pleasant surprise you'll find because there are so, so many bugs. When I picked up my Samsung Galaxy Tab S to check something as I was writing this, I could not get past the statistics screen. And when I switched to the Moto X phone previously also used to administer the AP, it couldn't find the AP.
I tried connecting an assortment of dual-band clients to the AP and didn't see a pattern to how devices were assigned. I also found that devices didn't stay associated to the radio they initially hooked up with. This could indicate dynamic band steering, or it could indicate bugs, it's hard to tell. If you're looking for seamless roaming among multiple Xclaim APs, I'll refer you to the same forum thread that Xclaim folks do.
Even if you manage to reach the edit screens, you may forget to save your changes. That's because it's easy to miss the floppy disk (!) icon at screen top right that means save.
Don't bother looking for help, because there is no documentation, no email or phone help or even an online ticket system, just the forum. Judging from replies there from Xclaim folks, the focus on simplicity for the product means not confusing the user with instructions, specs or the ability to do anything much in the way of configuration.
I quoted "Cloud ready" management in the feature list because it is indicating a future feature. Right now, the app can handle only one Xclaim network, as this forum post explains. There is no remote or cloud management right now. The app-only management gets old real quick, especially when being redirected back to the login screen when returning to Harmony after switching to another app.
Xclaim has posted its own screenshot tutorial of the iOS app version in Evernote with a few more setup screenshots if you want to explore further. There is also a video if that floats your boat.
Wireless Performance
The Xi-2 was tested using the V8 Wireless test process. All wireless testing was done using 1.0 firmware. Channel 6 was set on the 2.4 GHz radio, but bandwidth mode could not be set. Link rate, however, indicated 20 MHz bandwidth mode was in use for testing. Channel 153 was set on the 5 GHz radio and it also had no bandwidth mode controls. Link rates during testing indicated 40 MHz bandwidth mode was in use, however.
The AP was laid flat and centered on the turntable for testing with the 0° position having the the connectors facing away from the chamber antennas. All testing was done via WPA2/AES secured connections.
The Benchmark Summary below shows the average of throughput measurements made in all test locations. Since I have no other N300 or N600 class access points or routers tested with the same process to compare, I won't spend any time putting these results in perspective.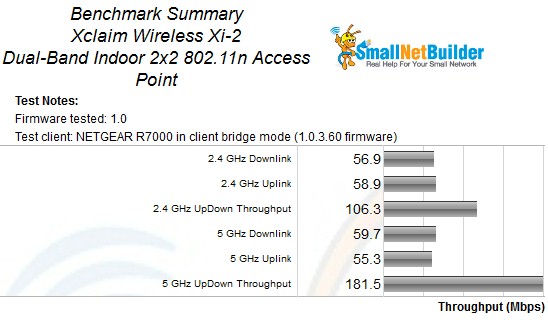 Benchmark Summary
Although we can't directly compare throughput, we can use use throughput vs. attenuation curves to compare range. I used the only other access point tested with the V8 process, Linksys' LAPC1750PRO AC1750 class AP, for comparison.
An AC1750 class AP supports a maximum 40 MHz bandwidth mode link rate of 450 Mbps in 2.4 GHz, while an N600 class AP's maximum link rate is 300 Mbps (when used with a 3×3 client). Since I use 20 MHz mode for 2.4 GHz testing, the maximums are 217 and 144 Mbps, respectively, which is what I got with both products when connected at 0 dB attenuation.
This results in higher starting throughput for the Linksys as shown in the 2.4 GHz downlink plot below. But the Linksys loses its throughput advantage at 21 dB attenuation (medium strength) and the two track together until 51 dB, where the Linksys disconnects. The Xclaim says connected all the way to 60 dB, indicating superior range.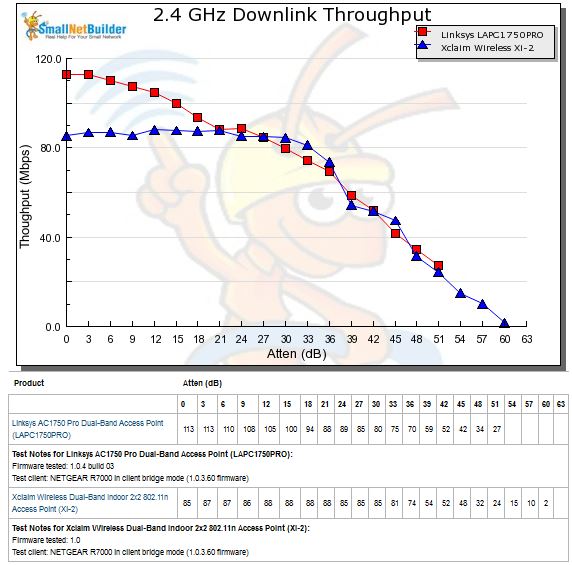 2.4 GHz Downlink Throughput vs. Attenuation
The 2.4 GHz uplink plot shows a similar story, but with less of a starting advantage for the Linksys and a steeper throughput decline that actually brings it under the Xclaim for awhile. Once again, the Linksys disconnects at 51 dB while the Xclaim goes all the way to 60 dB.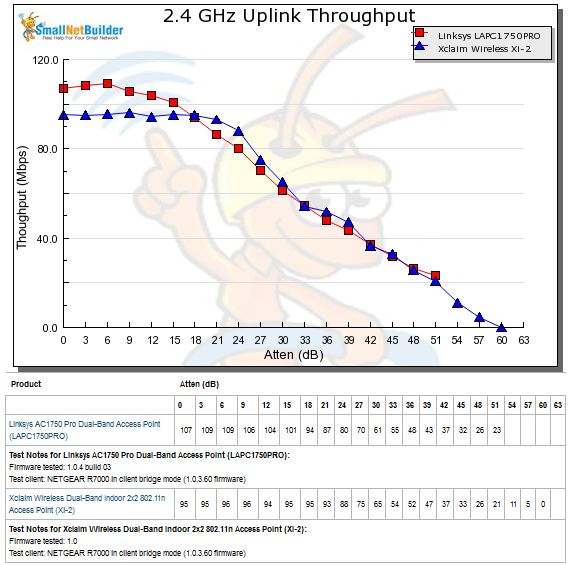 2.4 GHz Uplink Throughput vs. Attenuation
The LAPAC1750PRO starts with a much larger throughput advantage in the 5 GHz downlink benchmark, as you would expect from a 3×3 AC radio. But throughput declines steeply with disconnect after 27 dB, while the Xclaim hangs in (albeit with a marginally useful ~3 Mbps connection) out to 39 dB.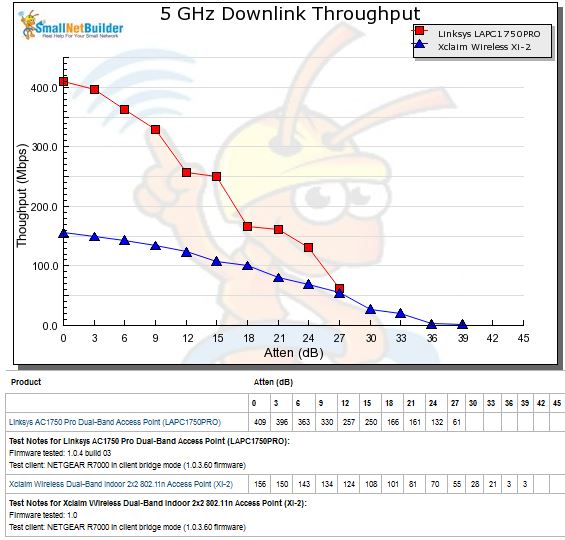 5 GHz Downlink Throughput vs. Attenuation
5 GHz uplink results are similar to downlink, with the Xclaim disconnecting much later to offer superior range.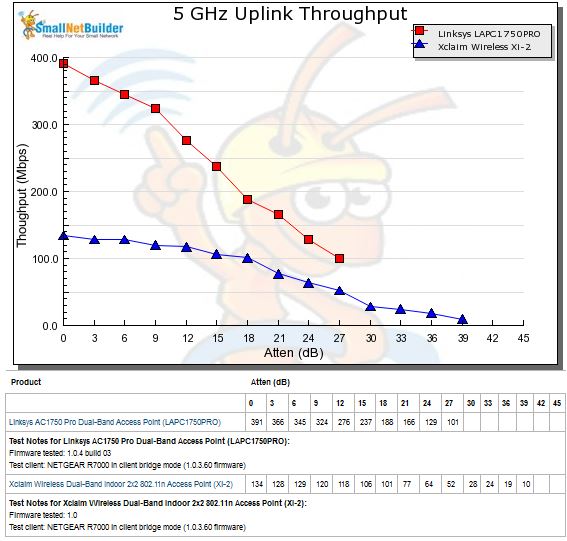 5 GHz Uplink Throughput vs. Attenuation
Closing Thoughts
Xclaim's About page says "We hope you find the solution simple, robust and incredibly elegant". That might be where they are headed, but it ain't where the product is now. My short time with the product, which I purchased since Xclaim's review program hasn't started yet, was generally frustrating when it came to setting up and interacting with the device management.
A web interface is sorely needed. Or at least, apps that take better advantage of larger tablet screens and landscape mode. And "simiple and elegant" does not mean you can skip documentation. The app is not as intuitive as you think it is, folks.
The one bright spot is the product's performance. I was especially surprised with its 5 GHz range, which easily beat the one AP that I could fairly compare it to and most of the AC routers I've tested. 2.4 GHz performance wasn't bad either, which also showed superior range and throughput equal to an AC1750 access point at medium strength signals and lower.
If you're seriously considering an Xclaim, I strongly suggest you spend some time in the forums and read most of the threads. You'll get a flavor for the company's attitude toward the product and users and also get the skinny on what works and doesn't. If you decide to buy, you'll be keeping it, since Xclaim does not accept any returns on the product.
If you like being a beta tester and paying for the privilege, by all means go for it. Because that's where the product is now.
Buy Dual-Band Indoor 2×2 802.11n Access Point from Amazon