At a glance
Product
Dual-Band Indoor 2×2 802.11ac Access Point (Xi-3) [Website]
Summary
AC1200 class consumer SOHO / small-biz focused access point.
Pros
• Automatic band steering, traffic prioritization, airtime fairness and channel selection
• Free cloud-based manager
Cons
• Lacks roaming / fast handoff features
• Can't fall back to local management if cloud goes offline
• Harmony app requires frequent reauthentication
Typical Price: $240 Buy From Amazon
Overview
Updated 7/18/2015 – Incorporate feature information from Xclaim
Ruckus Wireless has traditionally focused on carrier and enterprise wireless products. Last October, Ruckus launched the Xclaim product line with a focus on smaller networks. As professed on Xclaim's website, Ruckus has "taken the performance, reliability and robust feature sets of big business wireless, and eliminated all of the cost and complexity."
The Xclaim product suite includes four models of Access Points (APs), listed below. The Xi-1, Xi-2, and Xi-3 are indoor APs, while the Xo-1 is an outdoor AP.

Xclaim APs
Tim covered the dual-band 802.11n Xi-2 AP in this review, which found Xclaim's app-based Harmony management both underwhelming for features and frustrating to use. Since then, Ruckus has enhanced its Xclaim family by releasing CloudManager as an alternative to Harmony and tweaking the Harmony app itself. In this review, I'm going to cover the dual-band 802.11ac Xi-3 AP and explore the latest version of Harmony and provide a first look at CloudManager for configuring and managing a small multi-AP Xclaim network.
Xi-3 AP
The Xi-3 is housed in a white plastic square measuring 6.2″x6.2″x1.57″. It can be placed on a desktop or wall-mounted. Mounting options are similar to the Xi-2, with no mounting plate included.
On the backside of the Xi-3 is a 12V DC power connection. 803.3af/at Power over Ethernet (PoE) is also supported via one of the two Gigabit Ethernet ports. A PoE injector is included with the AP, but a 12V DC power supply is not.
Also on the back, the Xi-3 has two 10/100/1000 Mbps Ethernet ports vs. the single Gigabit Ethernet port on the Xi-2. One port on the Xi-3 is a PoE port, the other is not. The reset switch is also on the back. The photo below shows the Xi-3's rear ports.
Xi-3 Rear Ports
As with the Xi-2, there is a single LED on the front of the device. The LED is red when the device is first powered on, blinks green when it is waiting to be "claimed" by Harmony or CloudManager then solid green when it is connected to Harmony or CloudManager and operational.
The blinking green state is important, as it appears this is an indicator of the current firmware. I had some initial difficulties with the Xi-2 that I'll discuss shortly that turned out to be due to an older version of firmware on the device.
Inside
The Xclaim Xi-3's motherboard is interesting. As you can see in the image below of the top side of the motherboard from the FCC ID documents, Ruckus branding is quite evident. That's because the Xi-3's hardware is the same as Ruckus' ZoneFlex R500.
Mainboard Top
The Xi-3, however, doesn't have all the R500's features enabled and runs different firmware.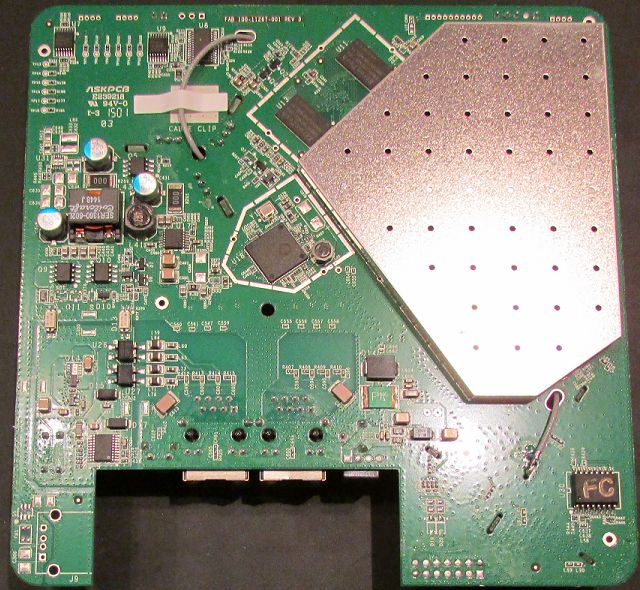 Mainboard Bottom
Many of the key components are covered by the large metal portions on the mainboard. Below is a listing of Xi-3 key components, provided by Xclaim, alongside the Xi-2's.
Xclaim Xi-3
Xclaim Xi-2
CPU
QCA9557 dual-band, 2×2 802.11n SoC
Atheros AR9344 802.11n 2×3 dual-band SoC
Ethernet
QCA8337 Gigabit Ethernet switch
Atheros AR8035 Gigabit Ethernet PHY
RAM
256 MB DDR3
128 MB Winbond W9751G6KB-25 (x2)
Flash
64 MB
32 MB Spansion S25FL256SAIFR0
2.4 GHz Radio
In QCA9557
– In AR9344
– SST12LP15A 2.4 GHz power amplifier (x2)
5 GHz radio
QCA9882 2×2 802.11ac/a/b/g/n radio
– Atheros AR9582
– SST11LP12 5 GHz power amplifier (x2)
Table 1: Xclaim Xi-3 key component summary and comparison
Features
There are many features common to the Xi-2 and Xi-3. The key difference is the Xi-3 is a 2×2 AC1200 class AP, where the Xi-2 is a 2×2 N600 class AP. Thus, the Xi-3's wireless and throughput capabilities are higher when used with an AC client. Below is a listing of features specific to the Xi-2 and Xi-3, followed by a listing of common features.
Xi-2
802.11n
802.3af
(1) 10/100/1000 RJ45
300 Mbps maximum link rate on each band
Xi-3
802.11ac
802.3af/at
(2) 10/100/1000 RJ45
300 Mbps maximum 2.4 GHz link rate; 867 Mbps maximum 5 GHz link rate
Common Features
Dual radio, dual-band
5 GHz DFS channels supported
PoE powered
Up to 100 concurrent clients
Guest access capability
802.1Q VLANs
Controller-free multi-AP architecture
100% Free Cloud Management Service (CloudManager)
Optional mobile-app management (Harmony)
Dynamic channel selection (auto)
Automatic traffic prioritization (auto)
Airtime Fairness (auto)
Band Steering (auto)
Client isolation (per AP)
Automatic load balancing (per AP)
4 SSIDs per radio, 8 total
Bandwidth throttling
Cloud management
No AP Licenses required
One year Limited Hardware Warranty
Xclaim lists these features as available through a free upgrade over the"course of 2015".
Captive Portal
802.1x
Social Login
Simple Mesh
Updated 7/18/2015
Some of the features above bear further explanation. According to Xclaim, dynamic channel selection assesses channel capacity and changes channel when, based on historical data, a different channel is likely to offer higher capacity than the current channel. Automatic band steering to 5 GHz for dual-band clients is done when the client reports a higher 5 GHz signal level. Automatic load balancing happens on an AP basis only, not at WLAN level.
In Use
As you grow the number of APs in your network, it becomes more of a challenge to manage. In many larger networks, multiple APs are deployed using an AP controller, which provides a central point to manage the wireless network. Although a controller provides centralization and efficiency, it also adds cost and complexity.
Xclaim now provides two solutions for managing their APs, both free. Harmony is a mobile app for iOS and Android devices. The recently introduced CloudManager is a web-based cloud service accessible via any browser. I'm going to cover my experience with the Xi-3 and Xi-2 using both Harmony and CloudManager.
There are three things to note about these solutions. First, Harmony and CloudManager are mutually exclusive. If your APs are managed with Harmony, they cannot be managed by CloudManager and vice versa. You can convert your network from one to the other, but you'll need to reconfigure the APs, which I'll describe shortly.
Second, you can also access Xclaim APs directly via Web GUI or SSH CLI. But changes made in the GUI of CLI will not be reflected in Harmony or CloudManager. To access the GUI or CLI, browse or SSH to the AP's IP address. As listed in the Xclaim forum, the default username is xclaim-mfg and the default password is mfg-admin12. If you already connected your AP to Harmony or CloudManager, you may need to use your Harmony or CloudManager password instead of the default.
Third, Xclaim APs have a default SSID called xclaim-setup that you can use to access your Wi-Fi network during initial setup. Note, the mobile device running Harmony doesn't have to use the xclaim-setup SSID, but it does need to be on the same LAN (subnet) as the APs.
Harmony
The Harmony app is recommended for environments with up to 10 APs. It is a free download from the Apple iTunes Store (iOS 7.x and later) and on the Google Play Store for Android mobile devices (version 4.1 and higher). I searched the App Store for "Xclaim Harmony" and had no trouble installing Harmony on my iPhone 5s running iOS 8.1.3. The first gallery shows the Harmony install.
Harmony install initial screen
Create a password
Create a Wi-Fi SSID and Key
Harmony install complete screen
I initially ran into some trouble getting my Xclaim APs to connect to Harmony. It turned out my Xi-2 was running an older firmware version causing the problem. The folks at Xclaim gave me steps to update the firmware and Xclaim reports they are updating the initial setup instructions for Xclaim Access Points. The steps to update software on a new Xclaim AP are:
Power on your AP
Wait until the LED is solid or blinking green
Wait 5 minutes
Power cycle the AP.
This will update the AP's software and should prevent the problems I experienced.
You may be able to tell if your AP is using an older software version based on its LED. I noticed that Xclaim APs running the latest firmware have a blinking green LED after initial boot, whereas Xclaim APs running older software have a solid green LED after initial boot. This is pretty subtle. Note neither Harmony nor CloudManager have controls to check for latest firmware or force firmware updates.
With the firmware updated, the process to connect the Xi-3 and Xi-2 to Harmony, configure them and assign an SSID to the AP was quite simple. Tapping the icon for an AP in Harmony brings up its configuration menu. I started by configuring the APs with my desired options and associating each AP to the SSID I created when I installed Harmony. The next gallery shows configuring the APs.
Harmony install initial screen
Create a password
Create a Wi-Fi SSID and Key
Harmony install complete screen
My third note above described the xclaim-setup SSID that is intially present on an Xclaim AP. Once you associate a new AP with your desired SSID, the xclaim-setup SSID is deleted. If your mobile device is connected to xclaim-setup, you'll be disconnected and Harmony will be unable to connect to the APs until you configure your mobile to connect to the new SSID.
Harmony also allows you to edit an existing SSID or create a new one. This gallery shows Harmony's wireless configuration options. Some of the limitations noted in the Xi-2 review, such as the inability to assign an SSID to individual radios have been fixed.
Harmony install initial screen
Create a password
Create a Wi-Fi SSID and Key
Harmony install complete screen
You might wonder about the Harmony VLAN, Client Isolation and Bandwidth Control options. I'll cover the VLAN and Bandwidth Control options shortly. The Client Isolation option is useful for a guest Wi-Fi network to control guest access, but you'll probably want to disable Client Isolation in a network where Wi-Fi devices need to access internal servers or other devices. Harmony also allows you to view basic statistics on APs and connected clients.
A big downside to Harmony that has not been fixed is that every time you switch to another app on your mobile device, you'll need to re-login to Harmony. I found it very tedious having to repeatedly enter an 8 character password while switching between the Harmony app and other apps on my iPhone. Below are screenshots displaying Harmony's statistics screen, client details screen and login screen.
Harmony install initial screen
Create a password
Create a Wi-Fi SSID and Key
Harmony install complete screen
It should be noted that Harmony is not the tool to use if you're managing multiple Xclaim networks, as a small network company might, or managing networks spread over multiple subnets. Everything Harmony manages must be on the same subnet.
CloudManager
Ruckus recently introduced CloudManager for controlling Xclaim APs. CloudManager is a cloud-hosted web-based service. Thus there is no app to install and it will work from a browser on any internet-connected PC, tablet or mobile device. Xclaim's recommendation is to use Harmony with no more than 10 APs., while CloudManager can be used to control up to 100 APs. Xclaim says CloudManager has no hard limit on the number of APs that can be managed.
Update 7/18/15
As mentioned earlier, you can't use Harmony and CloudManager at the same time and you have to reconfigure your APs if you transition from Harmony to CloudManager. CloudManager can manage single or multiple networks that can be spread over multiple locations (and subnets). Harmony manages only one network that has all APs on the same subnet.
Xclaim's forum lists the steps here to transition from Harmony to Cloud, which I partially followed. Instead of physically factory resetting both APs per the steps in the forum, and since I already had them on the latest firmware (2.0.0.0.368), I just added both APs to CloudManager. I then factory reset them both from Harmony and closed and deleted the Harmony app from my iPhone. Within a couple of minutes, both APs were "claimed" by CloudManager, as shown below.

CloudManager APs
I then created an SSID as shown below.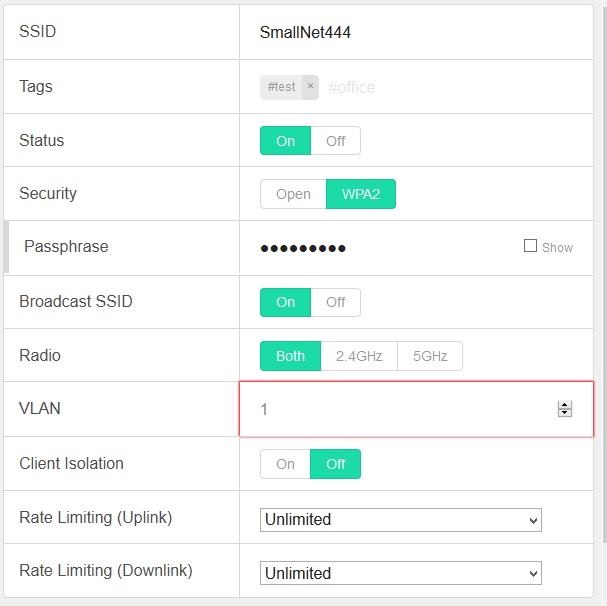 CloudManager New SSID
To add my new SSID to my APs via CloudManager, I went to the Edit AP screen and selected my new SSID in the Add Networks section, and clicked save, as shown below.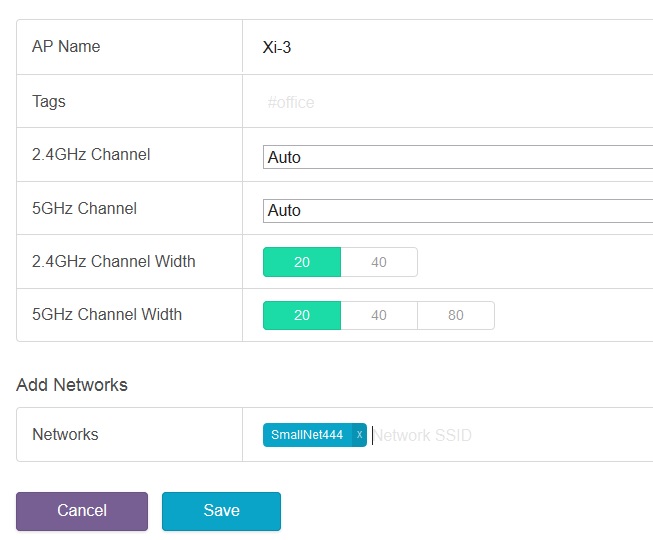 CloudManager Add SSID
It takes about a minute for the CloudManager to sync changes with an AP, but once complete, my new SSID was available and the xclaim-setup SSID was no longer available. I was then able to connect a laptop and mobile device to the newly-created SSID.
Once you're up and running in CloudManager, you can edit basic AP and wireless settings as desired. AP configuration options include setting an AP Name and Tag, selecting auto or a specific channel for the 2.4 GHz and 5 GHz radios, selecting channel width for the 2.4 GHz and 5 GHz radios and associating an AP with an existing SSID. Below is a screenshot showing the channel options available with the 5 GHz radio. Yes, DFS channels are supported!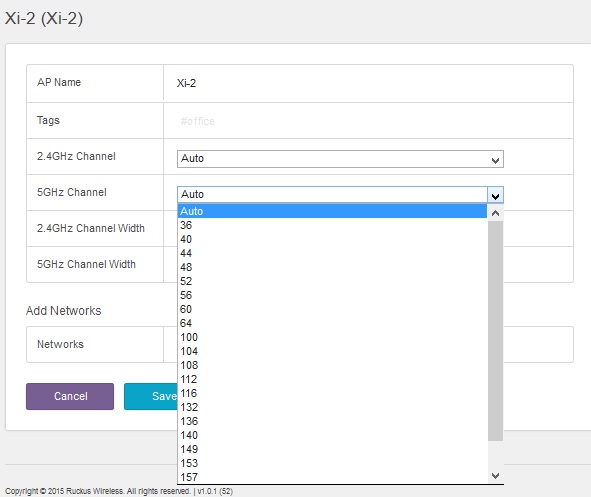 CloudManager 5 GHz Channels
CloudManager's wireless configuration options include enabling/disabling an SSID, setting security to open or WPA2, setting Broadcast SSID to on/off, allowing an SSID to run on both radios or either the 2.4 GHz or 5 GHz frequency; setting VLAN ID, setting Client Isolation to on/off; and choosing Rate Limiting options.
Update 7/18/15
Rate Limiting options allow you to limit Uplink and Downlink bandwidth usage to 100 kbps, 250 kbps, 500 kbps, 1 Mbps, 2 Mbps, 5 Mbps, 10 Mbps, or 20 Mbps. This option limits maximum bandwidth available to a WLAN, not to individual clients.
Another thing I liked about CloudManager is a dashboard that is clearer than the statistics screen in Harmony, as shown below.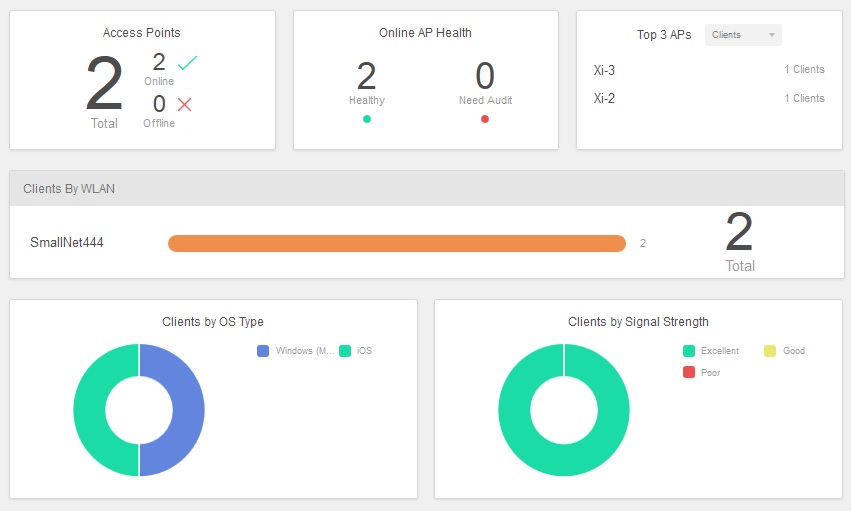 CloudManager Dashboard
The CloudManager reporting option provides options for a Summary, Access Point and Client reports. You select a report by type and date/time range. Once selected, you then download a PDF file for each report. However, I noticed that both the Summary report and Access Point report produce the same output, which needs to be fixed by Xclaim. Below is a screenshot of the Summary/Access Point report…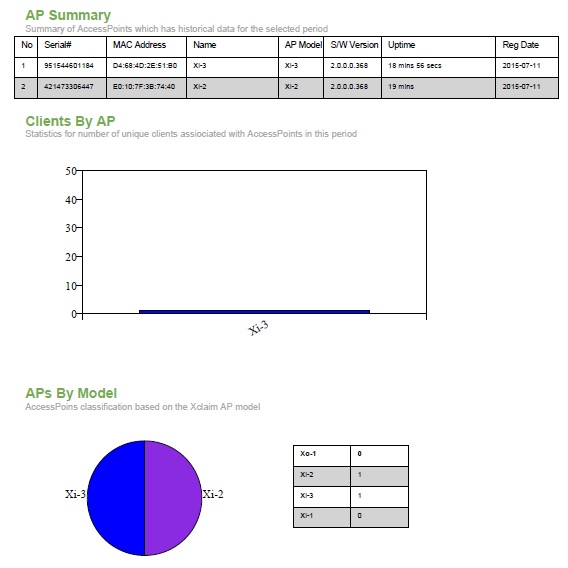 CloudManager Summary Report
…and Client Report.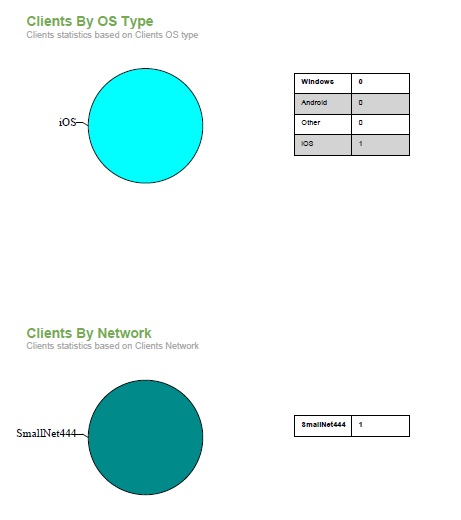 CloudManager Client Report
It's important to note CloudManager stores only one week of historical access point data. The PDF reports are the only data export mechanism and you can't schedule them to be emailed or saved to, say, Google Drive.
Update 7/18/15
The Online AP Health box in the dashboard uses a "proprietary" algorithm to determin if an AP is overloaded. Xclaim says "Health" is based on number of clients connected, overall throughput, memory usage etc. But since CloudManager doesn't provide any of these details, a network admin would really be at a loss to determine how to fix a "Need Audit" AP.
Roaming
With the ability to control multiple APs, I was curious whether Xclaim APs have any features to improve roaming. To test roaming, I used inSSIDer to measure signal strength from my laptop and determine which AP I was connected to. I wanted to see if moving between Xclaim APs would result in my laptop connecting to the AP with the strongest signal.
I started with my laptop within 6 feet of the Xi-3 and connected to its 5 GHz radio. At this location, my inSSIDer reported the Xi-3's signal strength at -31 dB and the Xi-2's at -54 dB. I then walked to within 6 feet of the Xi-2, where my laptop detected the Xi-3's signal strength at -50 dB and the Xi-2 at -36 dB. Unfortunately, my laptop remained connected to the Xi-3. While next to the Xi-2, I disabled and enabled the Wi-Fi interface on my laptop and it finally connected to the Xi-2.
To be fair, roaming is not mentioned in the Xi-2 or Xi-3 specs and there are no configuration options for roaming. But my simple test shows the Xclaim system doesn't offer handoff / roaming enhancements. (Xclaim as confirmed this.)
VLANs
I also wanted to test Xclaim APs ability to connect to multiple VLANs, which would allow for WLAN traffic to be segmented. To test VLAN capability, I left my initial SSID configured on the Xi-3 assigned to VLAN 1. I then created a new SSID and assigned it to VLAN 33, and associated it with the Xi-3, as shown below.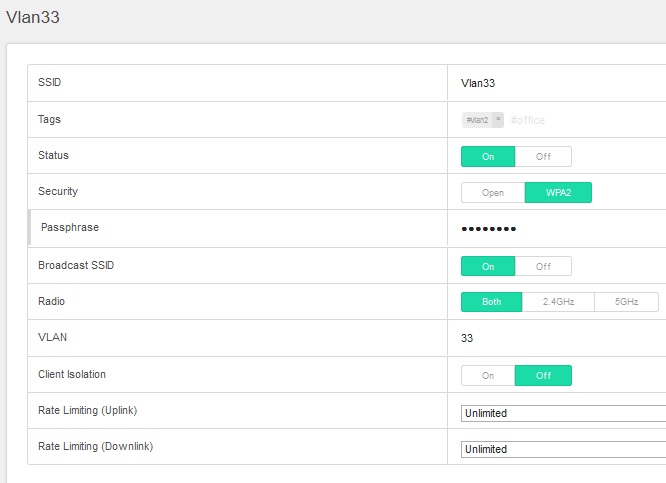 CloudManager VLAN Config
I configured a new router on my network with a subnet different than my main router and connected the new router to an access port assigned to VLAN 33 on an 802.1q capable switch (Cisco SG200-26). I then connected a trunk port configured as an untagged member of VLAN 1 and a tagged member of VLAN 33 from the switch to the Xi-3. I was pleased to see that connecting a device to my initial SSID gave me an IP address from my main router, while connecting to the SSID gave me an new IP address from the new router.
Wireless Performance
The Xi-3 was tested using the V8 Wireless test process. All wireless testing was done using 2.0.0.0 355 firmware.
The AP was laid flat and centered on the turntable for testing with the 0° position having the the connectors facing away from the chamber antennas as shown in the photo below. All testing was done via WPA2/AES secured connections. Channel 6 and 20 MHz bandwidth mode was used for 2.4 GHz tests and Channel 153 and 80 MHz bandwidth mode used for 5 GHz.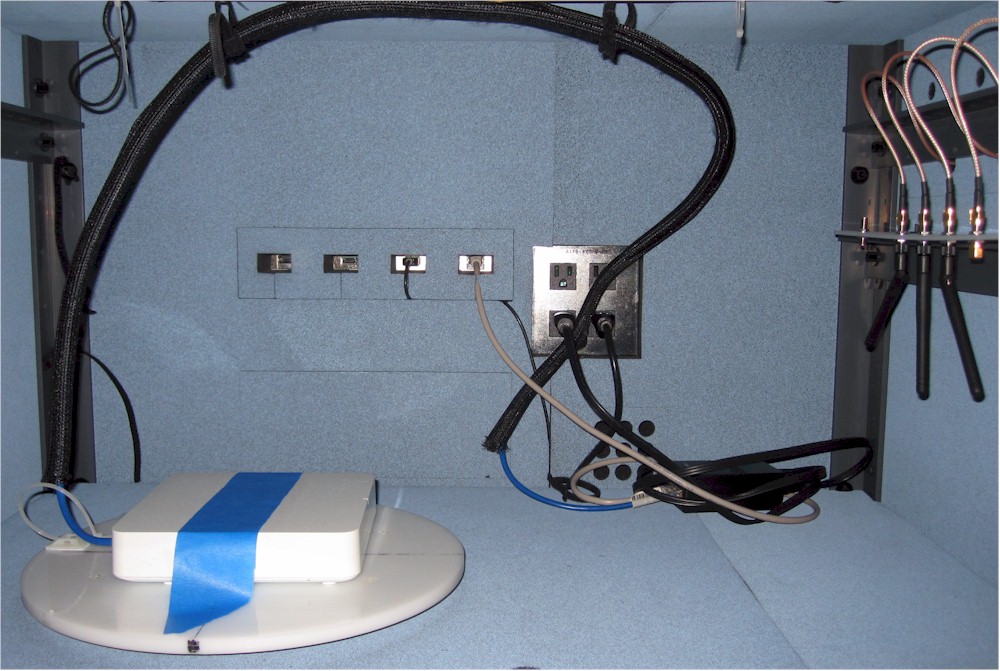 Xi-3 in test chamber
The Benchmark Summary below shows the average of throughput measurements made in all test locations.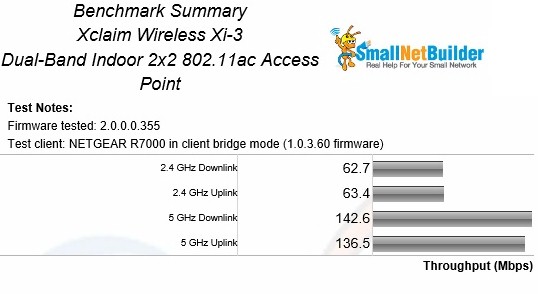 Xi-3 Benchmark Summary
To provide some perspective, I used the Wireless Charts to create the composite view below. It shows average throughput for all access points tested with the current wireless test process. The N600 and AC1200 class products have similar 2.4 GHz average results because both use 2×2 N radios. The 5 GHz results are more different among the N600, AC1200 and AC1750 products because each has different maximum link rates (300, 867 and 1300 Mbps, respectively)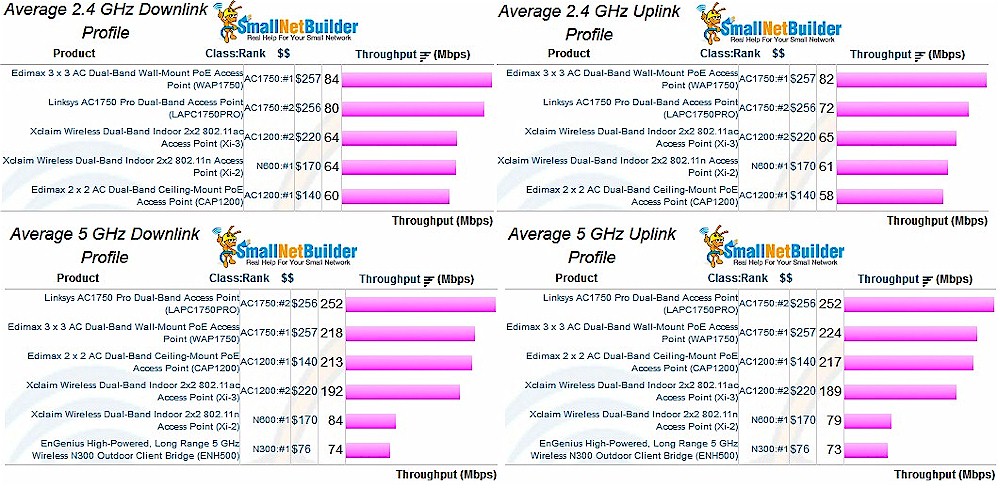 Average Throughput Comparison
Wireless Performance – more
Throughput vs. attenuation curves provide a better view of relative performance. We added the only other AC1200 access point tested with the current process, the Edimax CAP1200 for comparison. The 2.4GHz downlink plot shows the Edimax has higher throughput with lower attenuation values up to 27 dB (stronger signals), while the Xclaim has the throughput advantage as signal levels drop.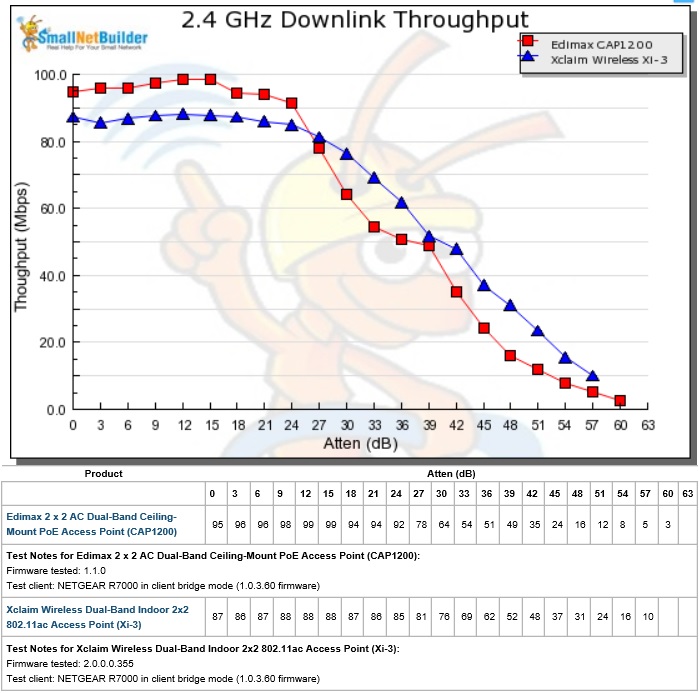 Xi-3 2.4GHz Downlink Throughput Performance
The 2.4 GHz uplink plot shows the Ediamx CAP1200 and Xclaim Xi-3 to be quite similar, with the Xi-3 holding a slight throughput advantage through all ranges.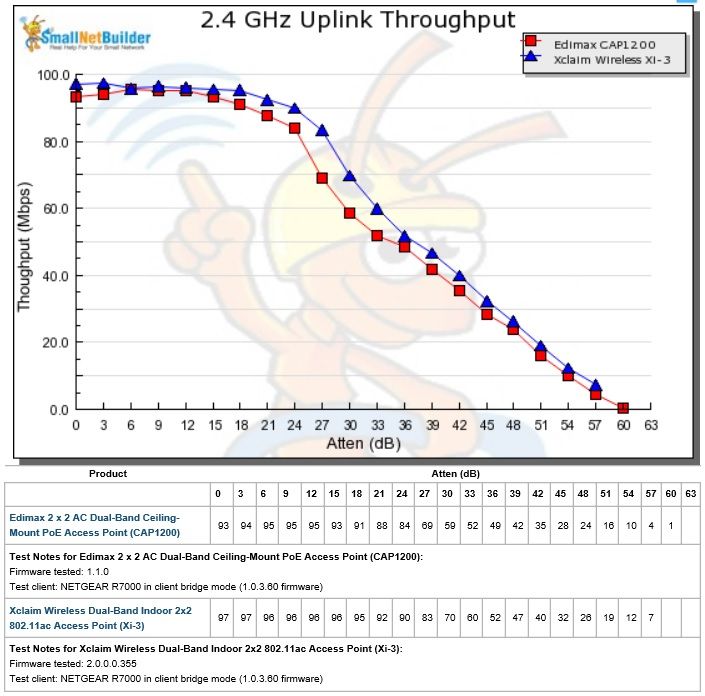 Xi-3 2.4GHz Uplink Throughput Performance
The 5 GHz downlink plot shows the Edimax CAP1200 with a slight throughput advantage through most of the tested range.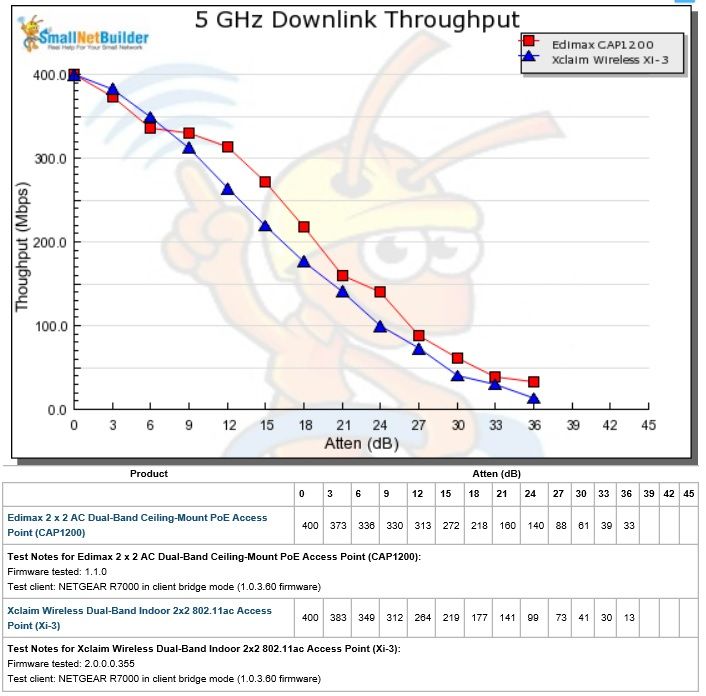 Xi-3 5 GHz Downlink Throughput Performance
5 GHz uplink results are similar to downlink, but with the Edimax providing higher throughput at higher signal levels.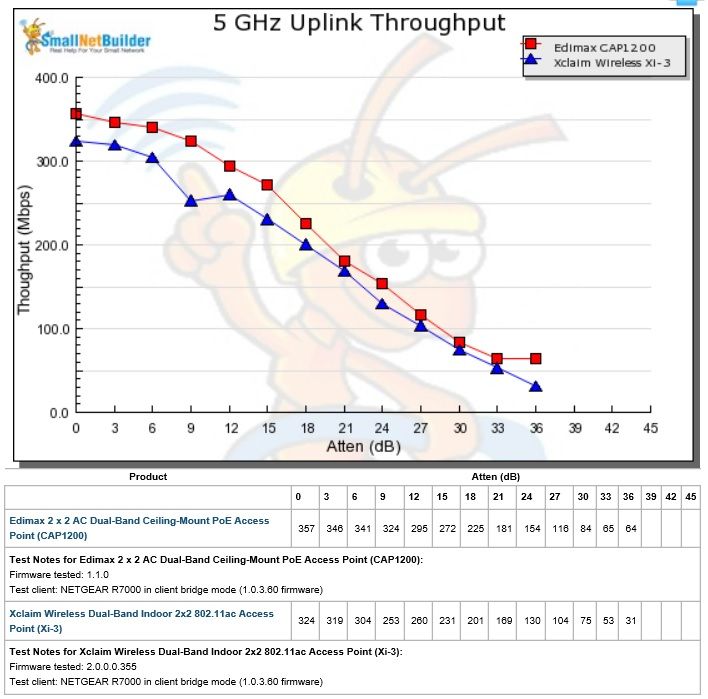 Xi-3 5 GHz Uplink Throughput Performance
Closing Thoughts
Tim said in the Xi-2 review that "a web interface is sorely needed" as an alternative to the Harmony app. Clearly, CloudManager meets that requirement. After using both Harmony and CloudManager, I doubt I'd use Harmony. I found CloudManager more intuitive and easier to use and offers the added benefit of managment access to my wireless network from anywhere.
But does CloudManager bring Xclaim any closer to its claim of "Simply Better Wireless"? Yes and no, but mostly no. CloudManager is definitely a step in the right direction for managing multi-AP WLANs. It makes it easier to access features and monitor networks and doesn't log you out every time you switch focus to another app like Harmony does.
However, CloudManager does nothing to address Xclaim's poor documentation and support approach. At least there are now Quick Setup Guides for each of the APs. But Xclaim seems to be sticking to its Forum-only support model, which makes the company look like an amateurish KickStarter-funded startup vs. the subsidiary of an established business-class Wi-Fi company that it is.
Although I found help in Xclaim's forums, forums are a useful tool for a manufacturer to get user feedback, not a replacement for good product documentation and phone / email support. When a company doesn't list its phone number, provide a company address or even an email contact address, you have to wonder. When your Xclaim network hits a snag, do you really want your only alternative to be a Forum post and cross your fingers for a timely (and helpful) response?
As 802.11ac pushes more traffic to 5 GHz, more APs are required due to 5 GHz' lower coverage vs. 2.4 GHz. This means that small wireless network admins that used to have only a few APs to worry about are finding themselves with larger networks to manage. Fortunately, more companies are coming to the rescue with lower cost alternatives to WLANs based around expensive hardware controllers and dumb APs.
Xclaim is in an increasingly crowded space that companies like Ubiquiti, Edimax and others have also set their sights on. Ubiquiti also has a free controller approach, but runs on a local computer vs. a cloud service. Edimax uses a hardware-controller approach that converts an AP into a dedicated controller. Both let admins dig deeper into settings and monitor more aspects of network performance than CloudManager, which assumes admins won't want or need to go there.
Overall, after getting through my initial issues related to an older software version, I found the Xclaim Xi-3 and Xi-2 APs functional and useful. The Harmony app is an, uh, interesting solution for AP control unsuited for managing more than a handful of APs. CloudManager is better, providing a free, very easy to use cloud-based AP controller. But Xclaim's system seems too simplified, without features like fast roaming, band steering and load balancing, or at least doesn't let admins control them.
When Ruckus announced Xclaim, it proclaimed "a new kind of Wi-Fi system exclusively developed for the small business market that redefines the model for offering enterprise-grade Wi-Fi services to organizations that have little to no IT expertise". Both Harmony and CloudManager limit wireless features to just the options Xclaim thinks these organizations need. The question is whether Xclaim has made Harmony and CloudManager functional enough for their target market.
Buy Dual-Band Indoor 2×2 802.11ac Access Point from Amazon