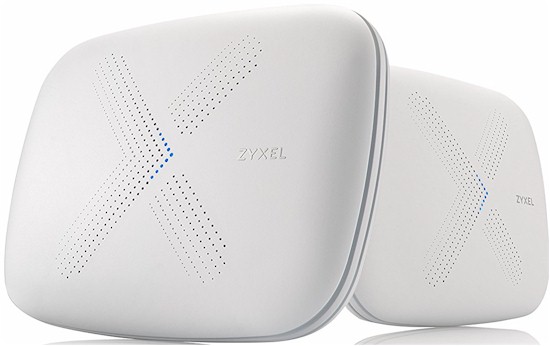 At a glance
Product
Zyxel Multy X AC3000 Tri-Band Whole Home WiFi Mesh System (WSQ50) [Website]
Summary
Tri-band Wi-Fi system with dual-stream dual-band client connect and four-stream 5 GHz backhaul radio. Similar design to original NETGEAR Orbi.
Pros
• Costs about the same as Orbi

• Has dedicated 4×4 5 GHz backhaul radio
• Doesn't use different router and satellite hardware
• Node steering and band steering supported
Cons
• Costs about the same as Orbi

• Ethernet backhaul not supported
• Doesn't support multi-hop
• No QoS
Typical Price: $0 Buy From Amazon
Introduction
While we wait for the new mesh/distributed Wi-Fi systems introduced at CES 2018 by ASUS and D-Link to ship, I'm going to look at a product Zyxel released late last year into a market that is largely dominated by NETGEAR's Orbi on the high end and Google's Wi-Fi on the low.
The Multy X AC3000 Tri-Band WiFi System is basically a copy of NETGEAR's original RBK50 AC3000 class Orbi. While other companies have come out with three radio "tri-band" Wi-Fi systems, Zyxel is the only one to copy Orbi's dedicated four-stream 5 GHz backhaul radio. Everyone else has stuck with two-stream backhaul. But Zyxel has made a key departure from the Orbi playbook in using only one hardware module vs. Orbi's dedicated router/satellite design.
With its 9.3" x 7.0" x 2.0" (236 x 178 x 51.5 mm) footprint, Multy X has a footprint more like a conventional router than a typical Wi-Fi System node. Unlike Orbi, Multy X is designed to sit flat on a table or shelf. No brackets are provided to make it stand up and there are no mounting slots on the bottom for wall/ceiling mounting.
There are four gigabit Ethernet ports (one for WAN, three for LAN), power port and USB 2.0 port on the rear. The USB port is inoperable at this point. Like most other Wi-Fi systems, there's a Bluetooth radio and iOS and Android apps for setup and management. There is no web GUI.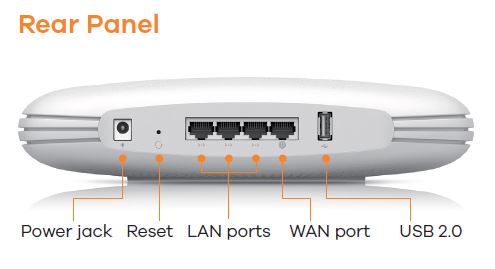 Rear panel callouts
There is one multicolor LED on the top that uses the colors and blink patterns described in the graphic below to indicate status.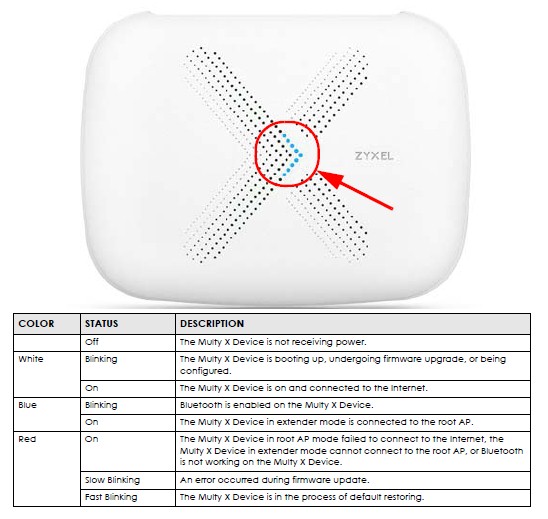 LED color decoder
Inside
Zyxel still has the FCC photos under wraps for another month or so. So I opened one up after testing for a look. Heatsink plates cover the bottom and top of the board. The photo below shows the assembly removed from the case, with a clear view of all 9 antennas that I've identified with callouts.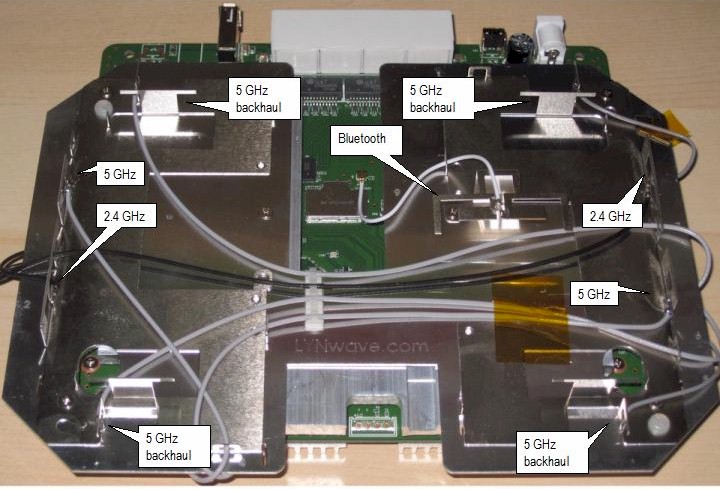 Multy X antennas
The next photo, with heatsinks and RF can tops removed, shows the two stream 2.4 and 5 GHz client facing radios provided by a Qualcomm IPQ4019 SoC. The dedicated four-stream 5 GHz backhaul radio (QCA9984) is at photo right.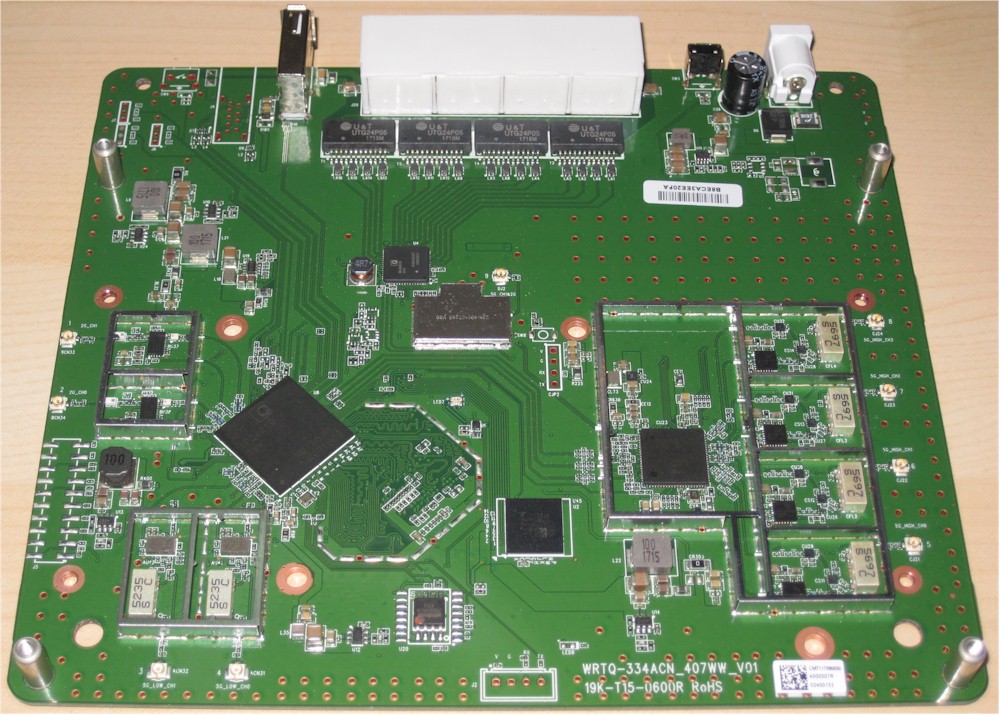 Multy X board top
The bottom view shows the 512 MB of RAM.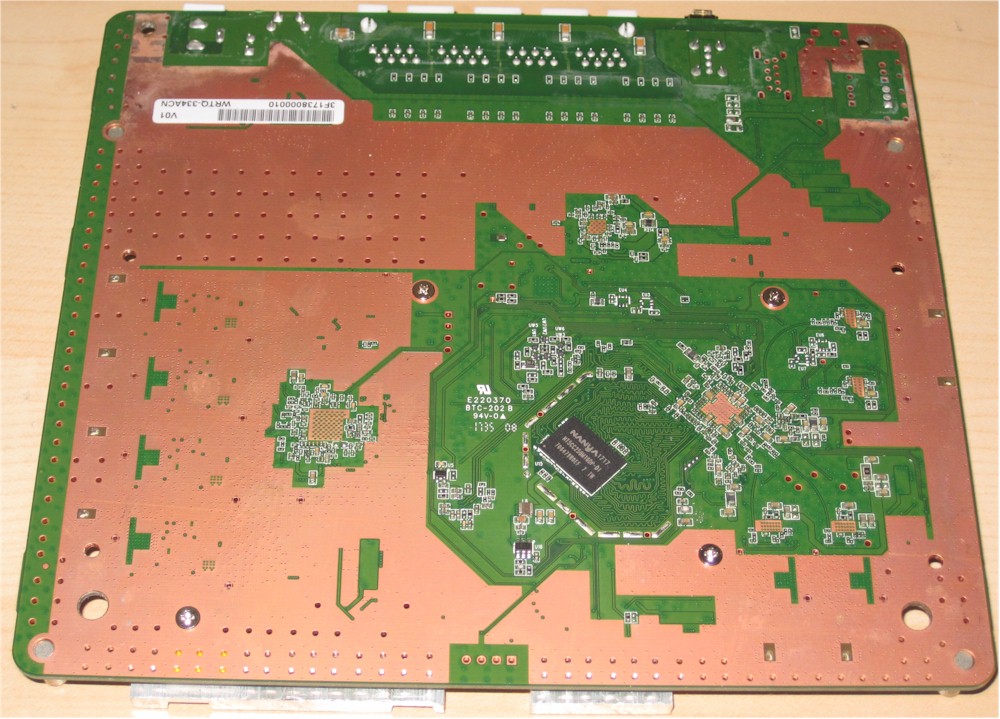 Multy X board bottom
The table compares Multy X's key components against the RBK50 NETGEAR Orbi. The designs use the same components, except for the RF power amps and front ends. I wasn't able to pry off the RF can over the Bluetooth 4.1 radio. But I'm guessing it's the commonly used CSR8111.
Zyxel Multy X
NETGEAR Orbi
CPU
Qualcomm IPQ4019
Qualcomm IPQ4019
Switch/Ethernet
QCA8075
QCA8075
RAM
512 MB
512 MB
Flash
4 GB eMMC
4 GB eMMC
2.4 GHz Radio
– In IPQ4019
– Skyworks SKY85809-11 Dual-band front end (x2)
– In IPQ4019
– Skyworks SKY2623L 2.4 GHz Power Amp (x2)
5 GHz Radio
– In IPQ4019
– Skyworks 85736-11 5 GHz Front End (x2)
– In IPQ4019
– RFMD/Qorvo RFPA5542 5 GHz power amp (x2)
Bluetooth
– QCA9984
– Skyworks 85405-11 5 GHz power amp (x4)
– QCA9984
– RFMD/Qorvo RFPA5542 5 GHz power amp (x4)
ZigBee
CSR8811 Bluetooth 4.1 SoC (guess)
CSR8811 Bluetooth 4.1 SoC
Table 1: Component summary and comparison
Features and Admin
Multy X is a self-contained system that doesn't rely on a cloud service for system operation. It does, however, rely on a Zyxel-hosted relay service to enable the app to connect to the system any time the device running the app isn't directly connected to the Multy X's Wi-Fi.
Setup and management is via Android and iOS apps; there is no web GUI. I used the Android V1.4.1.171227 app for the review. My general impression of the app is that it is slow. I had instances where I stared at the startup screen for almost two minutes before the Home screen came up. Other times, the Home screen never came up; I just quit the app and tried later.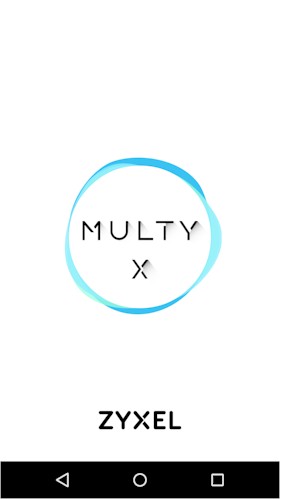 Zyxel Multy X startup screen
Once the app launches, you'll get the Home screen shown on the left below. Unlike most other Wi-Fi System apps, the speeds shown here are real-time throughput being used, instead of the results of the latest speed test from whatever Zyxel is using as a test server to the WAN side of the Multy X root node. The right screenshot shows the hamburger menu expanded.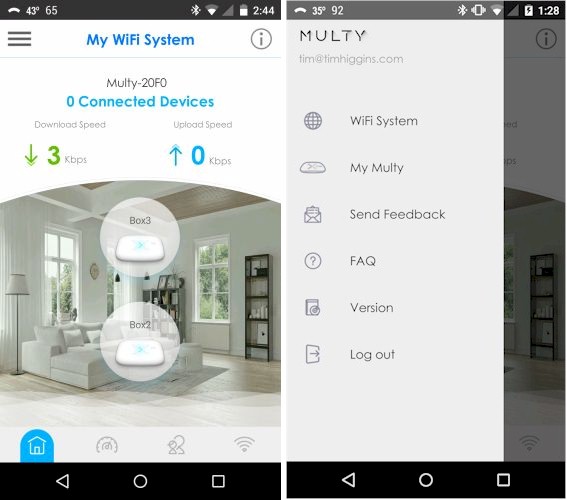 Zyxel Multy X Home screen and menu
The Diagnose, Parental Control and Setting screens available via the icons at the bottom of the screen are shown below.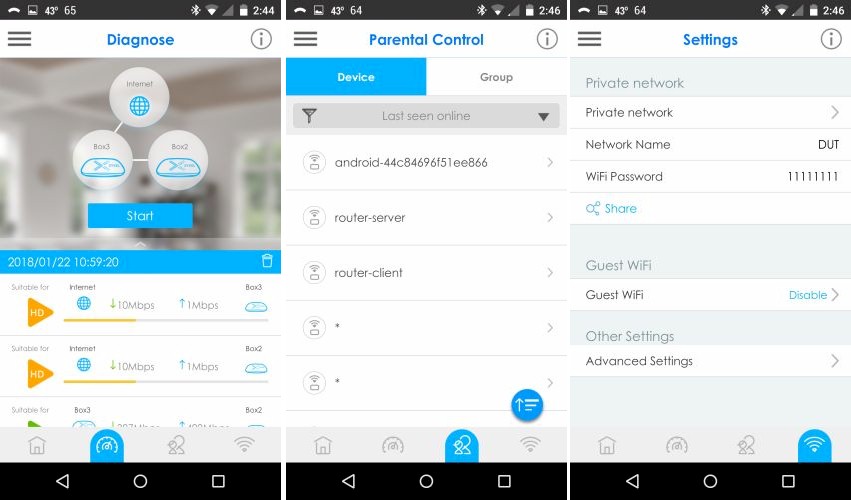 Multy X app – Diagnose, Parental Control, Setttings screens
Tapping the Diganose screen Start button runs checks of internet bandwidth to each node and node-to-node bandwidth. The screen below shows the node-to-node (backhaul) bandwidth is higher than my internet connection supports. The node-to-node bandwidth is higher than I measured in my testing, but the internet bandwidth measurements are spot on.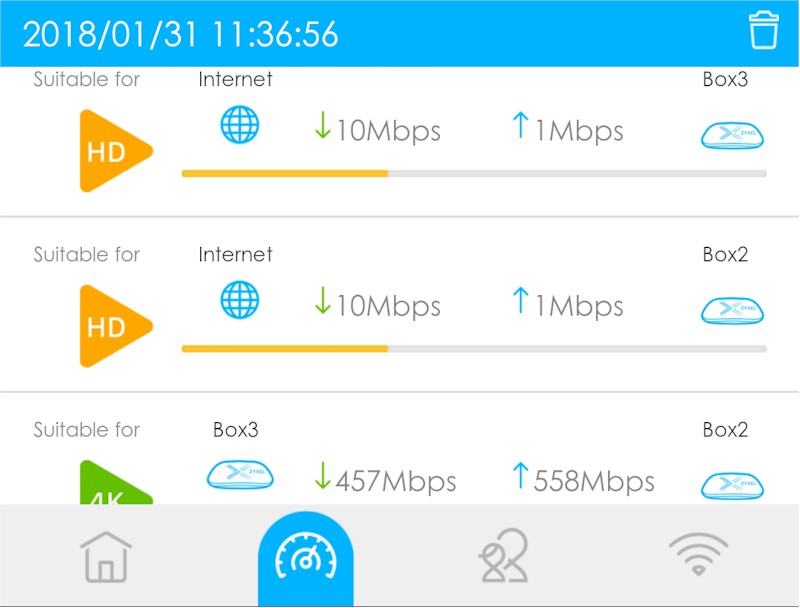 Multy X app – Diagnose results
Multy X's feature set, summarized in the table below, is pretty minimal. Key points not to be missed are:
it doesn't support Ethernet backaul
it does support disabling the router to act as access points
it has no content filtering or QoS features
Features
# of Ethernet ports
4
CPU
Qualcomm IPQ4019 quad -core
Switch
QCA8075
RAM (MB)
512
Flash (MB)
4096
Firmware
V1.00(ABKJ.3)C0
Cloud Service

N

Web Admin

N

DHCP Reserve

Y

Ethernet backhaul

N

AP Mode

Y

Wireless Bridge

Y

Wireless
System Type
Extender
# of Wi-Fi radios
3
# of streams
2
# of backhaul streams
4
Class
AC3000
Wi-Fi Radio 1
2.4 GHz: In IPQ4019 + Skyworks SKY85809-11 Dual-band front end (x2)
Wi-Fi Radio 2
5 GHz: In IPQ4019 + Skyworks 85736-11 5 GHz Front End (x2)
Wi-Fi Radio 3
5 GHz: QCA9984 4×4 + Skyworks 85405-11 5 GHz power amp (x4)
Bluetooth Radio
CSR8811
IoT Radio
n
FCC ID
I88WSQ50
Antenna
Internal
WPS

N

RADIUS

N

MU-MIMO

Y

Guest Network

Y

Band Steering

Y

AP Steering

Y

Roam Assist
11kv
Notes
– Has dedicated 5 GHz 4×4 backhaul radio
– Also has proprietary RSSI-based roam assistance

Firewall
Port Forward

Y

DMZ

Y

Content Filtering

N

Rogue Device Block

N

Threat Protection

N

Internet Pause

Y

User Accounts

Y

UPnP

Y

UPnP disable

Y

WAN
Static

Y

Dynamic

Y

PPPoE

Y

PPTP

N

L2TP

N

IPv6

N

QoS
Device Priority

N

Direction
N/A
Traffic Priority

N
At first glance, it looks like disabling internet access must be done device by device and is not schedulable. But adding a Group brings with it an internet access schedule for all devices assigned to that group.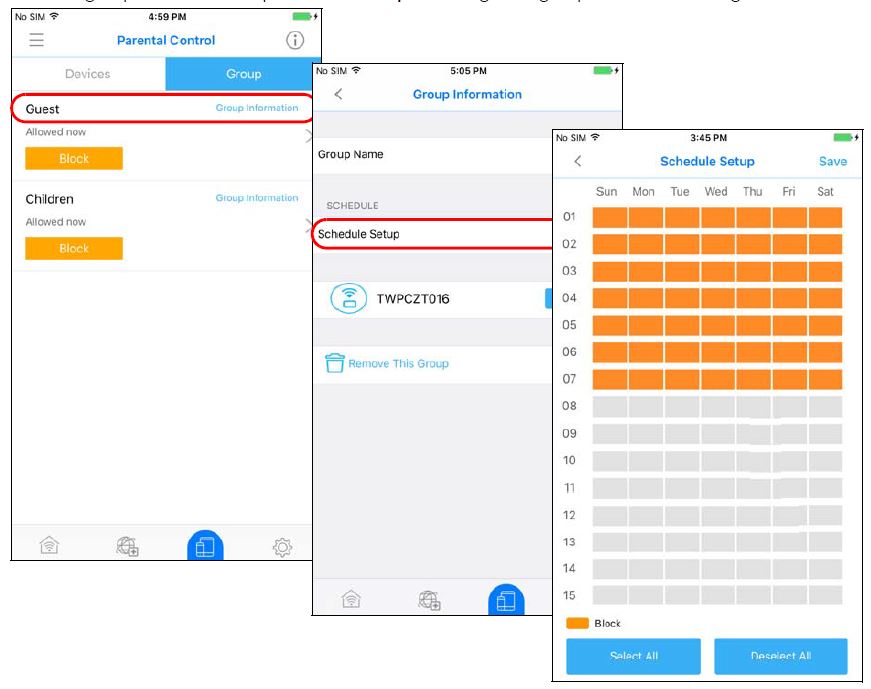 Scheduling internet access by group
Not in the table, but of note, is that a total of three nodes is currently supported (an extra Multy X node costs around $180), but both nodes must connect to the root node, i.e. multi-hop is not supported. Hidden away in the Private Network menu are the Wi-Fi settings, which include a switch to let you have different names for the 2.4 and 5 GHz networks.
The slideshow has more screenshots and commentary.

This menu shows client device information and is where you can pause internet.
Advanced settings. Not shown is the NAT mode setting that lets you switch Multy X to act as APs.
Shows nodes in the system
Clicking on a My Multy page node shows this information
This screen appears only during setup or when adding a node.
Hiding in the Private Network menu are the Wi-Fi options.
Routing Performance
All performance tests were done with V1.00(ABKJ.3)C0 firmware and V1.4.1.171227 Android app using select tests from the Version 10 Router process.
The iperf3 WAN to LAN and LAN to WAN throughput tests came in at 860 and 751 Mbps, respectively. Multy X results are highlighted in the charts below, showing it ranking in the lower third for WAN to LAN and smack in the middle for LAN to WAN.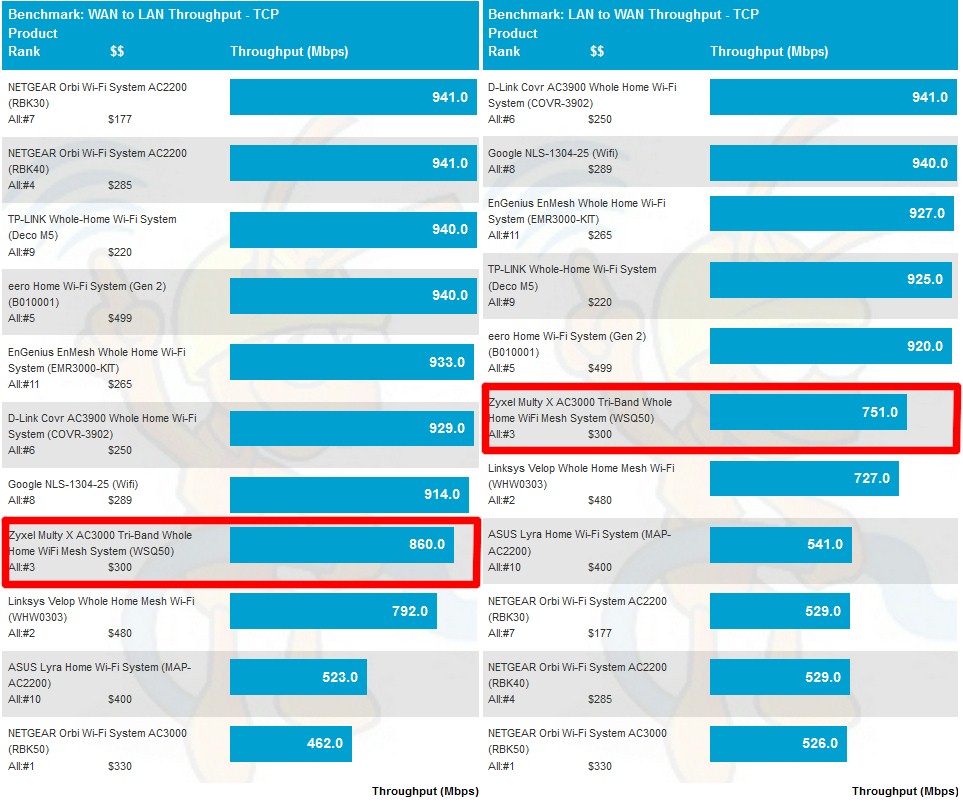 Routing throughput – iperf3 method
I'll be comparing Multy X with the original NETGEAR AC3000 Orbi from here on. WAN to LAN testing using the HTTP method benchmarks show mixed results.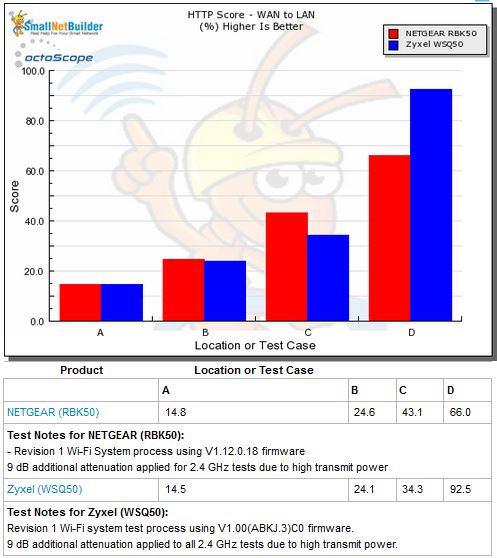 Routing throughput – HTTP Score comparison – WAN to LAN
Plot key file size: [A] 2 KB, [B] 10 KB, [C] 108 KB and [D] 759 KB file
Multy X and Orbi run about equal for the smaller filesizes, then Orbi wins with the 108 KB test and Multy X wins with the largest 759 KB file.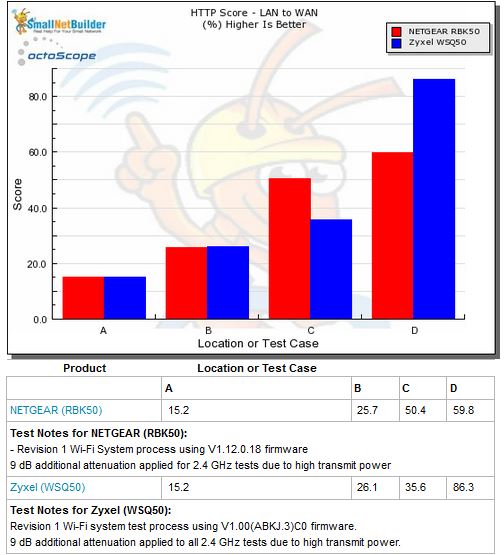 Routing throughput – HTTP Score comparison – LAN to WAN
Wi-Fi Performance
Multy X was run through our Wi-Fi System test process, letting Multy X use whichever channels and bandwidth it chose. We've been seeing many Wi-Fi Systems use 40 MHz bandwidth in 2.4 GHz, which gives them an advantage in our process, which uses a clean RF environment with no neighboring networks. Multy X used 40 MHz in 2.4 GHz, same as Orbi..
Here's what Multy X looked like in the octoBox 18" test chamber.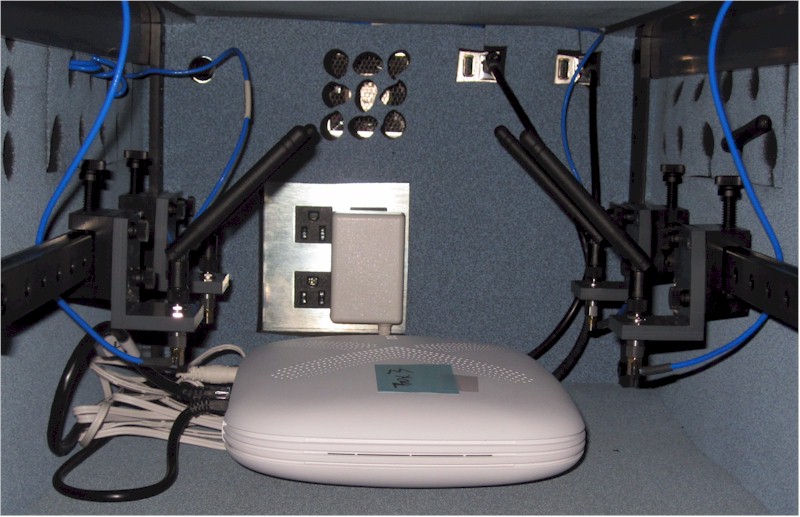 Multy X in test chamber
Throughput vs. Attenuation (RvR)
The Rate vs. Range or RvR benchmarks look at how throughput varies with decreasing signal. This test is done on the root node, so is a best-case view and does not include any effects from backhaul links.
Both Multy X and Orbi ran a bit "hot" on 2.4 GHz, exceeding the octoScope Pal reference client's -30 dBm maximum recommended input level. As I've done when previously encountering this condition, I started the 2.4 GHz RvR tests with 9 dB of attenuation. But so that the ranking algorithms don't get messed up, the results are shifted by 9 dB. In other words, add 9 dB to the attenuation values shown in the plot to get the actual attenuation applied for each test.
The 2.4 GHz downlink plot shows Multy X running slightly below Orbi. The first Multy X point shows even with 9 dB attenuation, there was still some overload effect.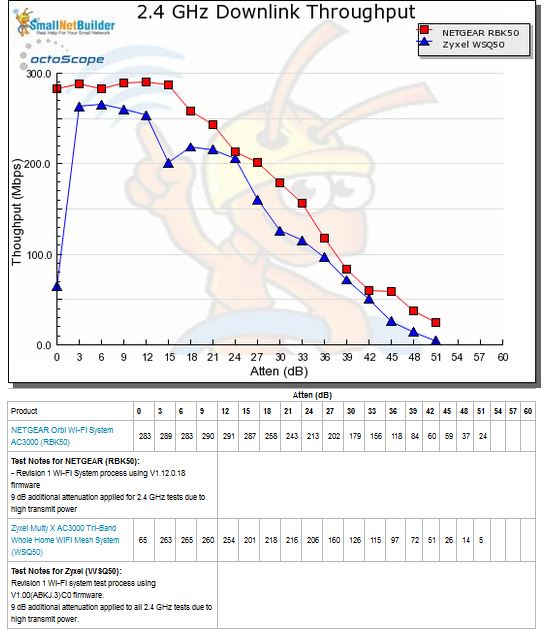 Throughput vs. Attenuation – 2.4 GHz downlink
2.4 GHz uplink again shows Multy X tracking below Orbi, but with a wider gap this time. I should note that I had a difficult time getting good 2.4 GHz downlink runs. In many cases, throughput would initially start out high, but then drop by around 50%, 20 seconds or so into the run. In other cases, throughput varied wildly throughout the run. The results shown here are the best of the runs I made.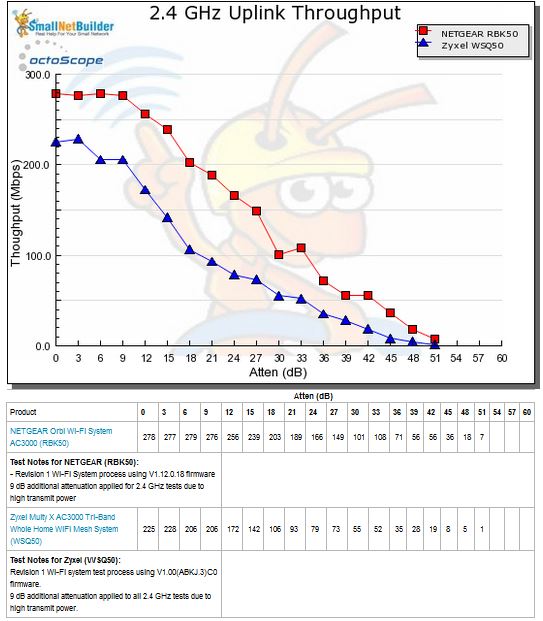 Throughput vs. Attenuation – 2.4 GHz uplink
5 GHz downlink runs didn't give me any problems. But they show Orbi once again beating Multy X, at least for strong and medium signal strengths, before joining Multy X as signal levels further drop.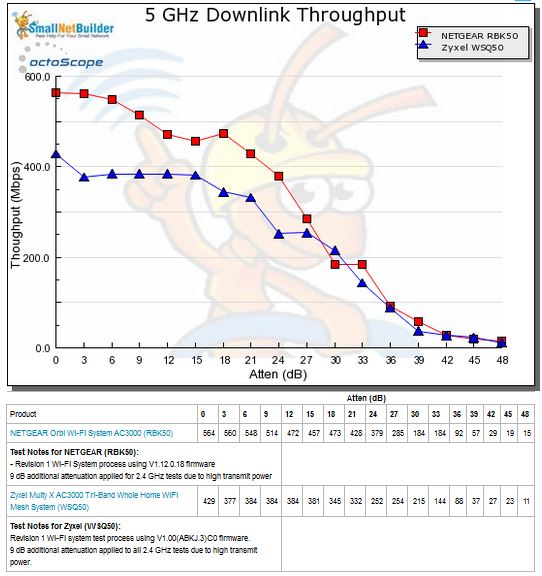 Throughput vs. Attenuation – 5 GHz downlink
Multy X seems to do better for 5 GHz uplink, but still never reaches Orbi's top throughput levels. Orbi's throughput, however, drops pretty quickly and joins Multy X for most of the test run.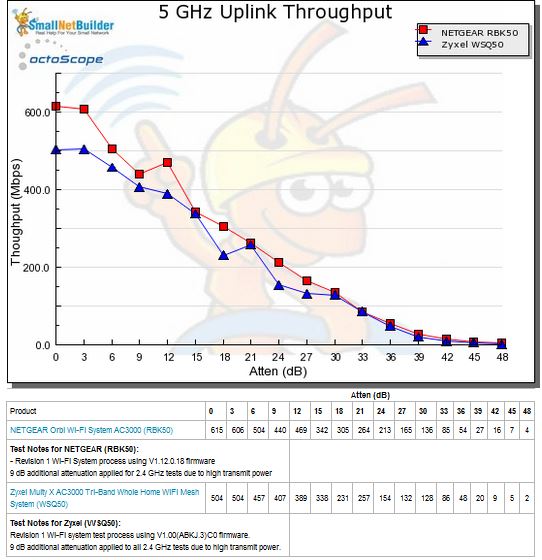 Throughput vs. Attenuation – 5 GHz uplink
Backhaul
Wi-Fi Systems live or die on the strength of their backhaul bandwidth. It's usually the first test I run, because if the backhaul ain't good, I won't waste my time trying to figure out why the other tests are bad.
Backhaul tests run traffic between the root node LAN-side Ethernet port and mesh node Ethernet port. Since Multy X has only one "leaf" node, I have only Hop 1 results to report.
Since Multy X is the only other Wi-Fi System besides the Orbi RBK50 to have a four-stream backhaul, I'd expect their results to be similar. The charts below show they are, but with Multy X's backhaul yielding lower bandwidth than Orbi's.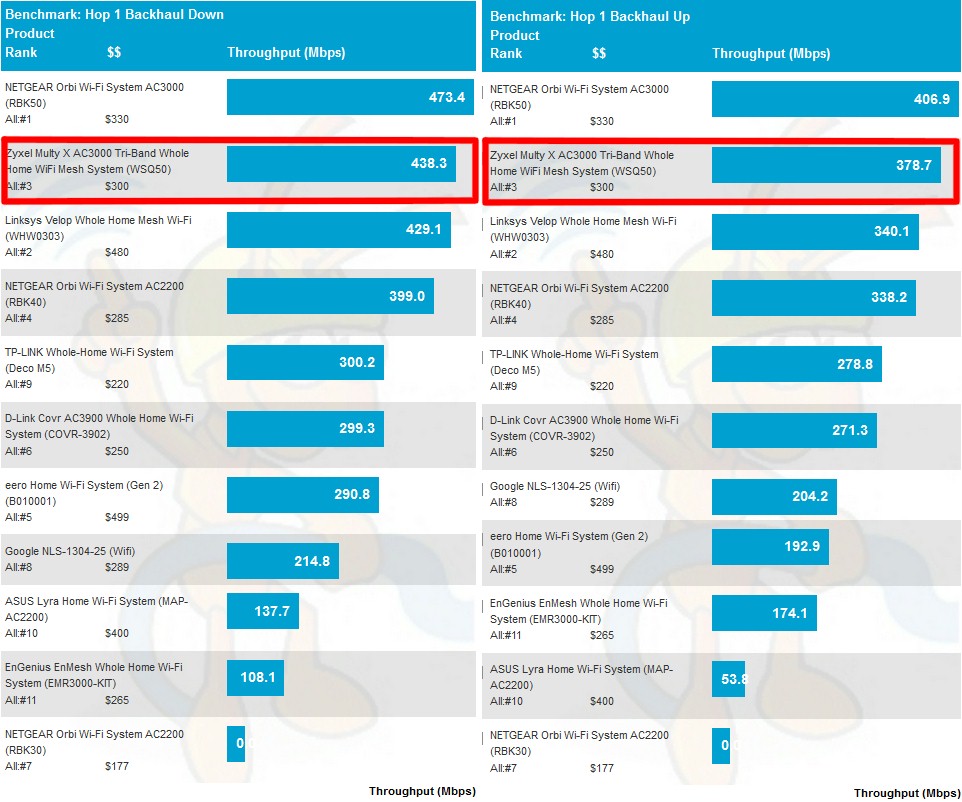 Wi-Fi System Backhaul – Hop 1
Wi-Fi System
These benchmarks measure up and downlink 2.4 and 5 GHz throughput at each system node, by "walking" the octoScope Pal dual-band test client from node to node. Since tests are made with 0 dB attenuation between the Pal test client and each system node, all measurements are best case. The only exception is that all 2.4 GHz tests were made with 9 dB of attenuation between node and Pal client, to avoid overload.
These tests are highly influenced by what's happening in the backhaul in each node. Focus on the 5 GHz results in particular, since from the RvR results, we know Multy X can deliver at least 500 Mbps on the root node with no backhaul involved.
The 2.4 GHz downlink chart shows throughput measured at each node, with the A bars being the root node, B bars the Hop 1 node and C bars the Hop 1 node with 21 dB of attenuation set between client and Satellite, which is our standard practice when testing two-node systems.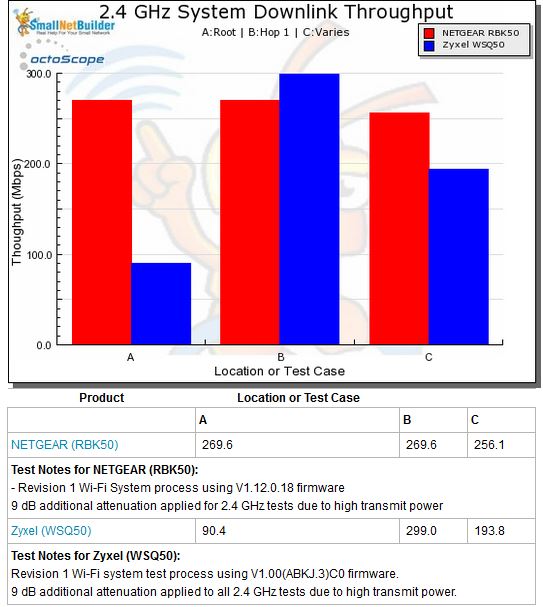 Wi-Fi System Performance – 2.4 GHz downlink
Multy X beats Orbi only on the Hop 1 tests, in both directions.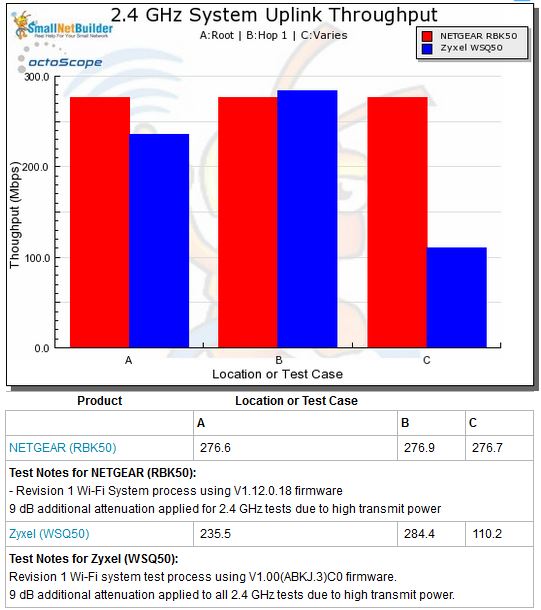 Wi-Fi System Performance – 2.4 GHz uplink
But what's up with the Multy X Root node downlink test? The plot below shows what happened during the 70 second test that produced the Location A downlink results. It shows the throughput variation I referred to earlier. I ran this 12 test benchmark sequence multiple times and saw enough variation that I let the results stand so that this behavior would be reflected in the results and rankings.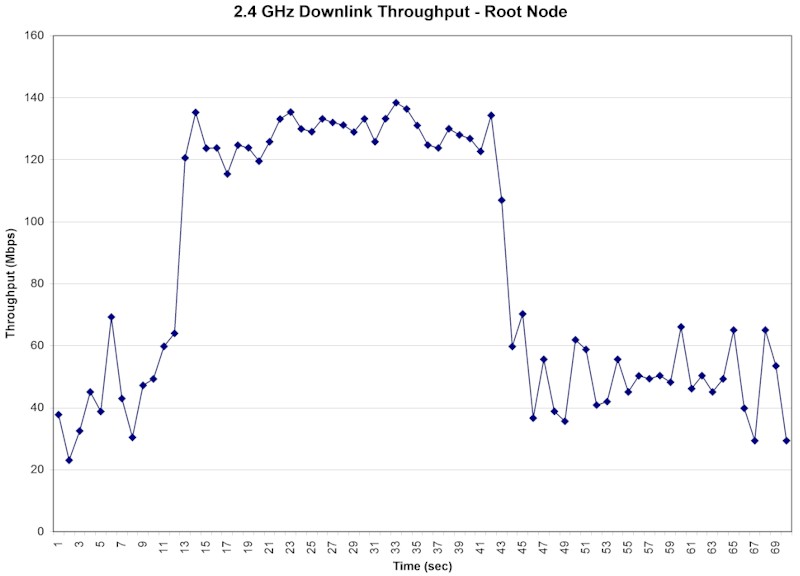 Wi-Fi System Performance – 2.4 GHz uplink
5 GHz downlink results show Orbi besting Multy X in all cases…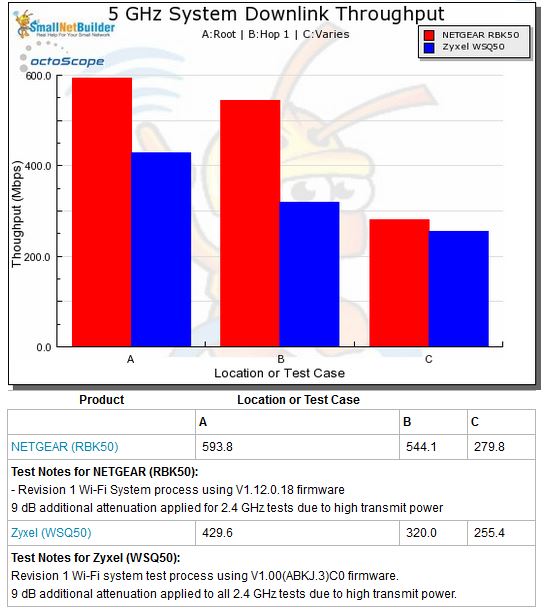 Wi-Fi System Performance – 5 GHz downlink
…sometimes by a little, sometimes by a lot.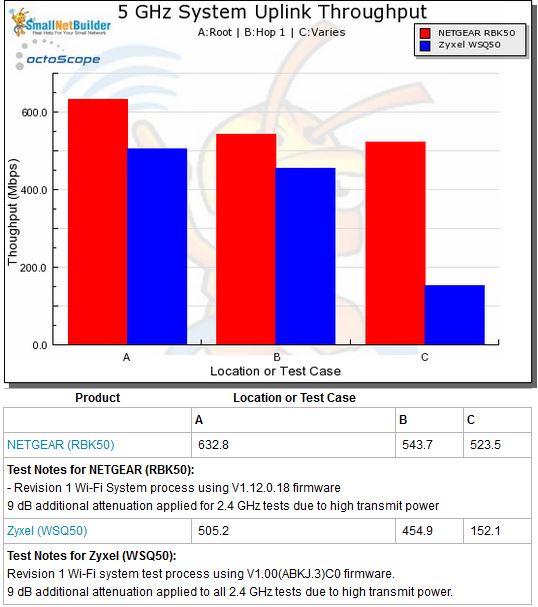 Wi-Fi System Performance – 5 GHz uplink
Capacity
Our Wi-Fi System capacity test uses three 2×2 AC clients, a 2.4 GHz client is connected to the root node and 5 GHz to the others. Since both Orbi and Multy X are two-node systems, both 5 GHz clients were connected to the second node. To avoid overload, 9 dB of attenuation was applied between the Pal and mode fot the 2.4 GHz Pal; 0 dB was used for both 5 GHz Pals.
The Capacity bar chart shows total throughput for the three test clients in each direction. As I'd expect from a system with four-stream backhaul, Multy X does pretty well, placing up near the top of both charts. But it's interesting it places behind Linksys Velop, which has only two-stream backhaul, on uplink.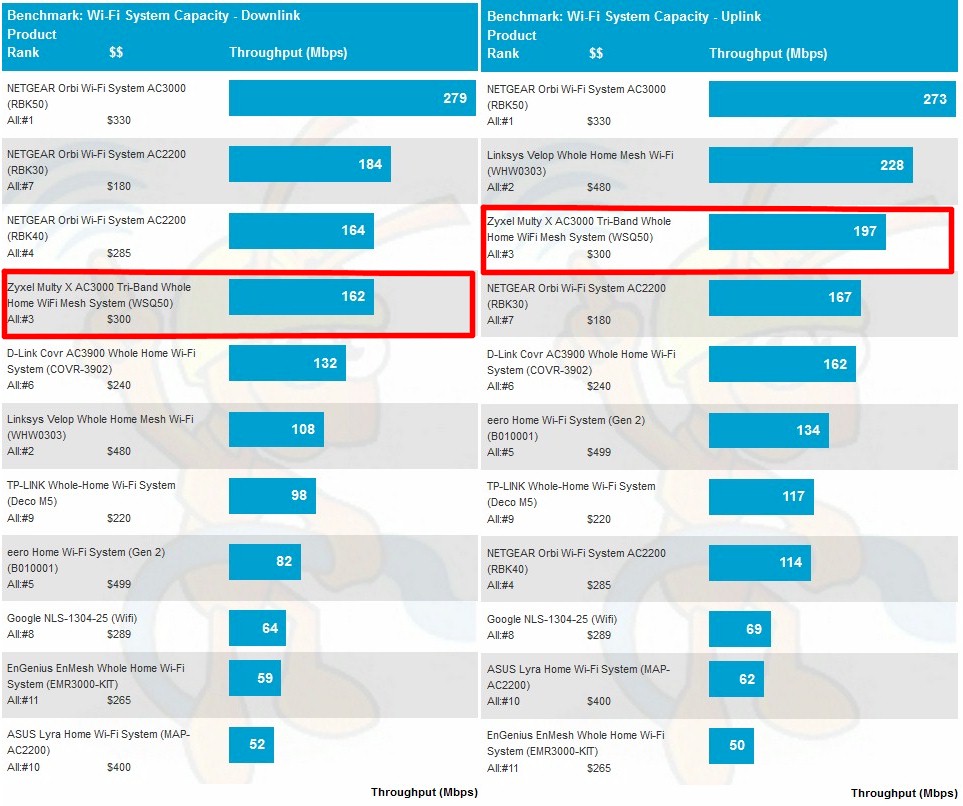 Wi-Fi System Capacity
Digging into the node level details shows Orbi with significantly higher throughput than Multy X.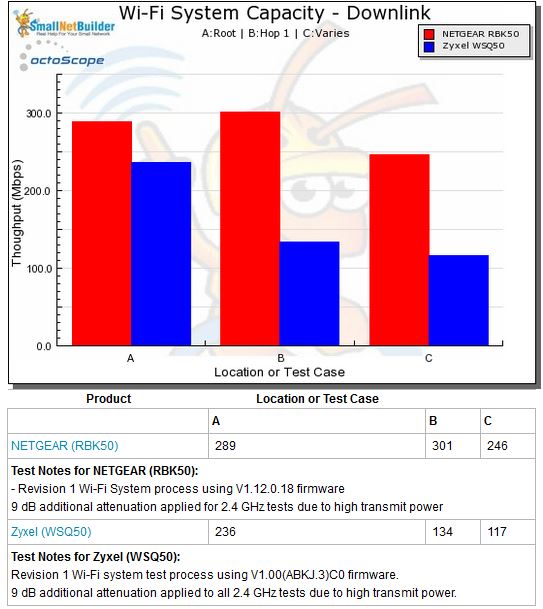 Wi-Fi System Capacity by Test Case – downlink
Uplink shows Multy X with closest results to Orbi for Case C.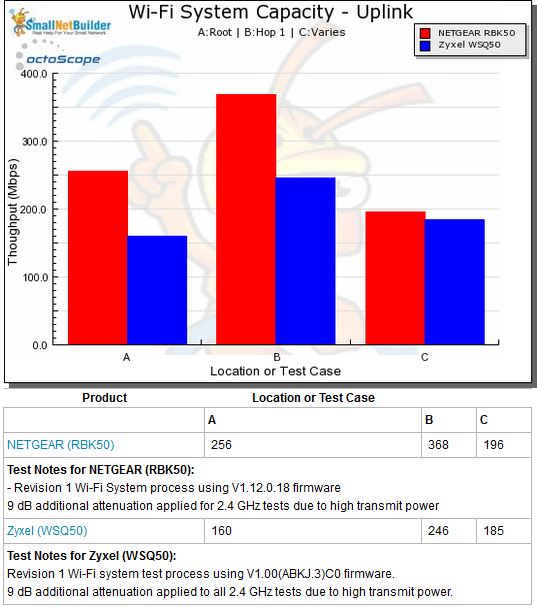 Wi-Fi System Capacity by Test Case – uplink
We can also see throughput changes over the course of the tests. The downlink plot once again shows variation in the 2.4 GHz test. It's also clear that throughput for both 5 GHz clients trends slowly down during the first 10 minutes of the test.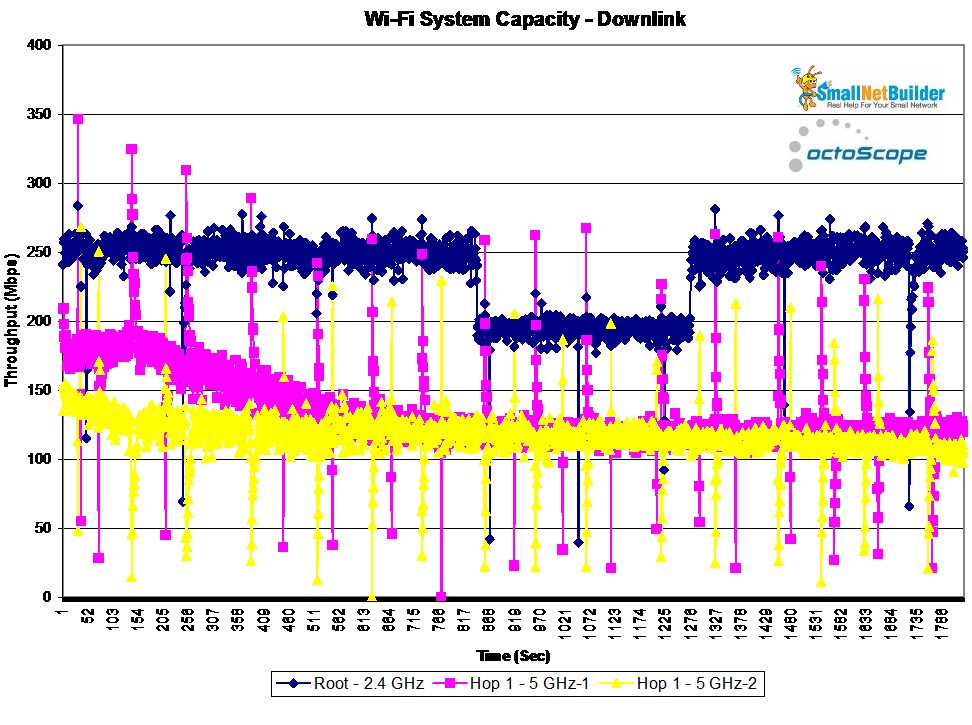 Wi-Fi System Capacity vs. time – Downlink
Uplink is more interesting in that Root node throughput is significantly lower than downlink. Both 5 GHz clients have a lot of throughput variation throughout the 30 minute test run and also show slow falling and rising average trend lines.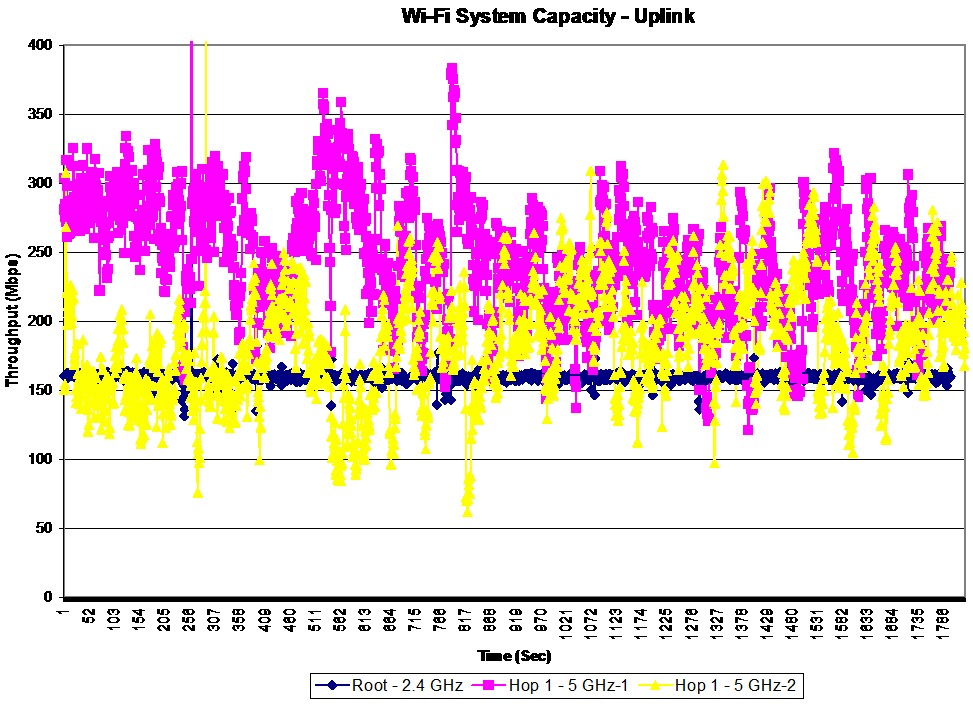 Wi-Fi System Capacity vs. time – Uplink
For comparison, here are the Orbi plots. Downlink…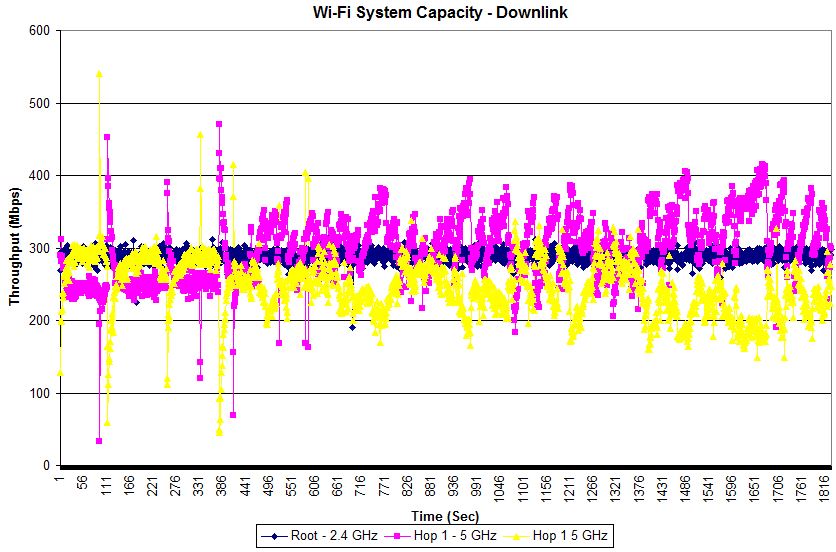 Wi-Fi System Capacity vs. time – NETGEAR Orbi – Downlink
…and uplink. The plots speak for themselves.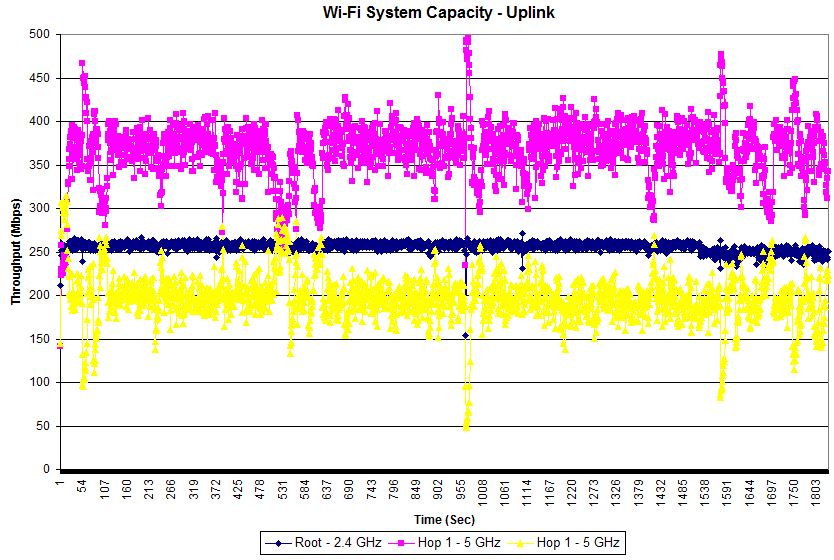 Wi-Fi System Capacity vs. time – NETGEAR Orbi – Uplink
Closing Thoughts
When coming into the game this late, even top-tier companies need to present a compelling case to draw buyers from established leaders. This means better features, lower price, better performance or combinations of the three.
Unfortunately, Zyxel, which is not a big name in retail consumer networking products, hasn't made the case on any of the three criteria. For features, it lacks support for Ethernet backhaul and, more importantly, multi-hop configurations, which Orbi now supports, albeit with some stability problems. Orbi now has significantly better parental controls with the recent addition of Circle with Disney; Multy X has only internet access scheduling.
For performance, Multy X comes within striking distance of Orbi due to decent performance in its four-stream 5 GHz dedicated backhaul. But the stability problems I saw in the 2.4 GHz radio are troubling. And Orbi was much more stable than Multy X in the three-client capacity test.
Finally, you're not going to save a lot by buying Multy X. At $300, Multy X doesn't present a strong case on price, given that you can usually pick an RBK50 Orbi up for about the same, if not slightly lower than that, as long as you're willing to wait out Amazon's dynamic pricing game.
In the end, although Zyxel's Multy X outranked eight of the 11 Wi-Fi Systems we've tested, it has nothing that would make me recommend it over NETGEAR's RBK50 Orbi.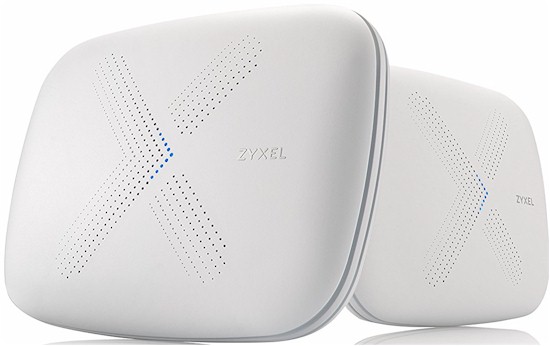 Buy Multy X AC3000 Tri-Band Whole Home WiFi Mesh System from Amazon