NETGEAR's
announcements include a lower-priced media player, new 3G and integrated DSL N routers, powerline adapters, a unique "media switch" and hints of a 600 Mbps N bridge to come.
The Digital Entertainer Express (EVA9100) is a lower-priced version of the top-of-line EVA9150, without an internal hard drive or wireless adapter. USB external drives can be added and wireless N connection can be added via a Wireless USB N Adapter (EVAW111).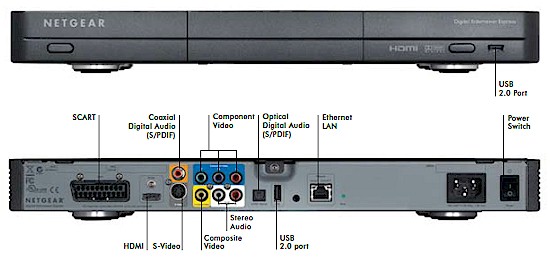 NETGEAR says the EVA9100's "unique technology" enables streaming M2TS via "pre-buffering" and playing Blu-ray quality digital video up to 1080p. It will ship shortly at an MSRP of $229.
Three N routers are being added, two of which can accept WWAN adapters. The top-of-line offering is the Wireless-N 300 Router with DSL Modem Mobile Broadband Edition (DGN2200M), which can fail over from a WWAN connection to a built-in ADSL2+ modem. It's also available in a WWAN-less version as the Wireless-N 300 Router with DSL Modem (DGN2200).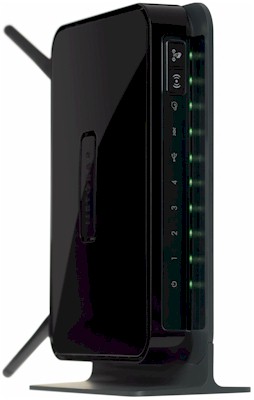 Also being added is the 3G/4G Mobile Broadband Wireless-N Router (MBRN3000), which also accepts 3G / 4G / WiMax USB modems, but has no DSL modem. All the routers have 2.4 G 802.11b/g/n radios with guest SSIDs and supporting WPS secure setup, automatic QoS, parental control and web filtering via OpenDNS and SPI+NAT firewalls.
Availability and MSRPs are April for the DGN2200M ($179), and March for the MBRN3000 ($149) and DGN2200 ($129).
The new HomePlug AV powerline products are the Powerline 200 AV Adapter Kit (XAVB2001) and Powerline 200 AV+ Adapter Kit (XAVB2501). Both are said to have 20% better speeds than previous-generation products and handy "pick-a-plug" LEDs so that you don't have to launch an application to check connection speed. The two products are essentially the same except the AV+ kit has a filtered pass-through power outlet.
The Powerline 200 AV Adapter Kit (XAVB2001) containing two adapters will be available this month for $149 and single adapters (XAV2001) for $79. The Powerline 200 AV+ Adapter Kit (XAVB2501) containing two adapters will be available in February 2010 for $169 and single adapters for $89.
NETGEAR continues to experiment with different twists on consumer switches. The latest is the 5-port Home Theater and Gaming Network Switch (GS605AV). It's a Gigabit switch with "flavored" ports that have different, set, packet handling priority. It will be available in March and price hasn't yet been set.
Finally, NETGEAR said it would be incorporating new wireless technology in the coming year to "transform standard-definition videos into near HD quality by enhancing contrasts and color, and reducing the graininess, mosquito noise and block artifacts". A second technology will recover lost video packets and expand wireless bandwidth "up to three times" to support the bit streams that are needed for HD video.
Finally it said it would release "in the spring" a "carrier grade" 5 GHz only 802.11n bridge using four-stream (600 Mbps maximum link rate) technology. The product will be aimed at trouble-free HD video streaming. Price hasn't been set and it's not clear whether the product will be available to service providers only and not at retail.