CES 2010 was a bit snoozy for networking news
I spent a day longer than usual at CES because of my duties at NetShelter's Last Gadget Standing session, where I introduced the Boxee Box by D-Link, which ended up winning the show competition. The online competition was won by Microvision's SHOWWX Laser Pico Projector. So I'm a bit late posting a CES wrapup. Still, I think you'll find some interesting info here that you haven't run across anywhere else.
CES 2010 wasn't the most exciting show for networking news. The only major networking company to have a booth on the show floor was D-Link. NETGEAR just held a press conference, hit a press event and retired into private meetings, to which I was not invited. I met with Cisco / Linksys in their private suite, but can't say anything about what I learned there, for now.
I spent more of my time in meetings looking at wireless technology for HD media streaming, which I'll get to in an upcoming story. For now, I'll play catch up to tell you about networking-related and other interesting products at the show. I'm just going to provide the essential info and then link over to the press releases.
Announcements We Missed
"World's smallest" 11n adapter from D-Link: The DWA-121 is a tiny single-stream (150 Mbps maximum link rate), 2.4 GHz USB wireless adpater. The photo below shows that is really is tiny and smaller than the Mvix Nubbin

and Buffalo WLI-UC-GN

(and PLANEX GW-USMicroN
and AirLink101 AWLL6075
, for that matter), all of which have been out for awhile and have the same specs.
D-Link, of course, didn't announce price or availability for their little wonder. But the others can be had now for as low as around $18.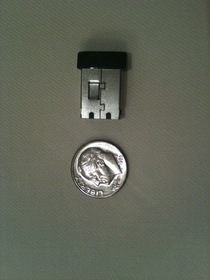 D-Link DWA-121
Synology DS110j: This was already announced for Asia and Europe in mid-December. But the single-drive NAS powered by a 800 MHz Marvell Kirkwood is now available in the U.S. for less than $150.
Iomega stuff: In addition to the iConnect Wireless Data Station, Iomega announced a bundling of Trend Micro's Internet Security software into its Protection Suite, which is itself bundled with all Iomega external hard drives and new ScreenPlay HD media players.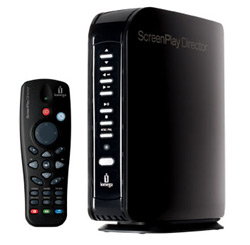 Iomega ScreenPlay HD Director
Also announced was v.Clone, which uses VMware virtualization to clone a computer's OS, applications and personal settings onto a USB drive to allow you to easily be at home on any computer that allows you to install an application.
Clickfree: This maker of drop-dead-simple backup gadgets expanded its reach with two products (C2N Network Backup, Transformer NE) that automatically back up a network of computers (Mac OS and Windows) and SD cards for moving files to an SD-equipped Blackberry (Traveler Blackberry) and single computer backup (Traveler SD).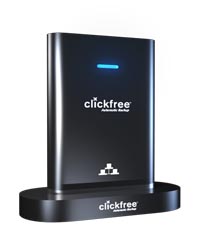 Clickfree C2N
LaCie: LaCie's announcements didn't hit until after I got busy with CES meetings. But the French storage maker had a flurry of announcements, including a version of its 5big Network NAS running on Windows Home Server instead of Linux, LaCinema Mini HD networked media player, CooKey and WhizKey flash drives bundled with its Wuala Online Storage service.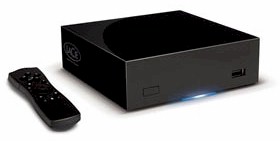 LaCie LaCinema Mini HD networked media player
CTERA: I'm not sure there was an announcement. But I ran into CTERA at one of the press events and got a run-through of its much-improved Cloud Attached Storage 2.0 software upgrade for its CloudPlug and C200 appliances. It's not out yet, but when it is, we'll be revisiting the improvement to the fastest of the cloud-based NASes.
QNAP: I already covered the announcement of QNAP's new Intel D510 Atom-based "5" series. But during my CES meeting, I learned that version 3.2 of QNAP's NAS OS includes the ability to perform scheduled backups to Amazon's S3 cloud storage service.
Seagate: The only Seagate announcement was for its BlackArmor PS110 USB 3.0 portable external hard drive performance kit, which includes an ExpressCard USB 3.0 adapter. But I spent most of my time in Seagate's demo suite looking at the new features that will be added to its FreeAgent Theater+ media player via a free firmware update next month. This CNET article does a good job of summarizing what's coming.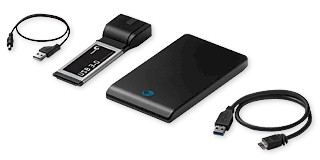 Seagate BlackArmor PS110 USB 3.0 portable external hard drive performance kit
ThinkEco Modlet: I happened across this product not in the "Sustainable Planet" zone, which was supposed to showcase "green" products, but instead consisted mostly of cheezy vendors pitching CFL and LED lighting products. It occupied a little pod in the "i-stage TechZone", reserved for little start-ups.
The modlet is a "smart outlet" whose controller is managed through a built-in web interface accessed via wireless connection. It automatically keeps track of the power consumption of the devices plugged into it and can be programmed with on/off schedules. It's not out yet, but is said to be coming in the second half of this year. I get the feeling these guys could use an interested distribution partner.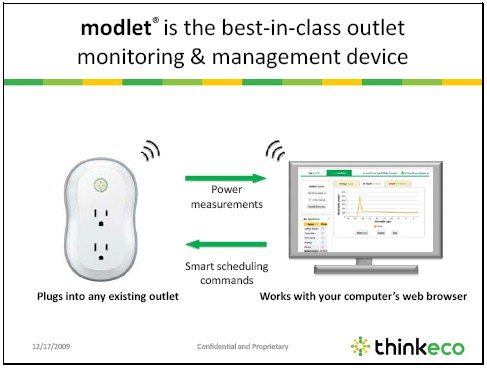 thinkeco's modlet
Intel Wireless Display / NETGEAR Push2TV: Already covered that here. 'Nuff said.
Quantenna: NETGEAR made only vague references to a "carrier grade" 5 GHz only 802.11n bridge using four-stream (600 Mbps maximum link rate) technology coming "in the spring" in its summary CES announcement. But apparently they were ok with Quantenna identifying itself as the not-so-"secret sauce" in this upcoming product. I visited Quantenna's private suite and saw its technology in action. But I'll save the details for my next, and final CES article.