Actiontec announced a "multi-room" wireless HDMI adapter kit.
Its MyWirelessTV is said to "operat[e] on the WiFi standard" and are powered by WiVu technology from Cavium Networks, using the company's PureVu video processors. It uses advanced video Quality of Service (QoS), dynamic rate adaptation, error resiliency and concealment technology, and dynamic bit-rate management to work its HD streaming magic.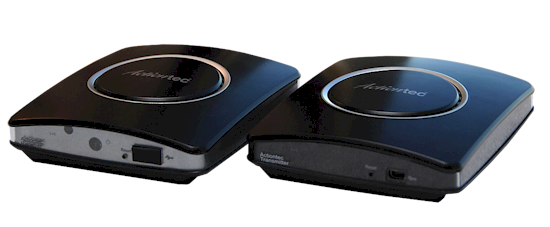 MyWirelessTV supports H.264, HDMI 1.4 with HDCP 2.0 encryption, and is 802.11 compliant. Actiontec's release doesn't say which frequency band it uses, however. You simply connect the pair to HD source and display via HDMI cables, plug them in and go.
MyWirelessTV will start shipping in Q2 and will be priced at $199. Individual MyWirelessTV receivers will be available at a later date. Unlike many other of Actiontec's products that are for service providers only, you'll be able to buy this one.