Late and Missed Announcements
D-Link: The Yahoo! Connected TV box is a different beast from D-Link's Boxee box. While both offer apps and access to subscription movie services, Boxee is more aimed at cable-cutters looking to free themselves from cable or satellite TV service. Yahoo! Connected TV, on the other hand, is more of a "value add" to conventional TV services and intended to help CE manufacturers sell new TVs by making them "Internet connected".
So think weather and shopping widgets and game show voting for YCTV vs. stickin' it to the Man by getting free (or cheaper) TV for Boxee. No matter what you think of it, D-Link plans to ship by the end of Q2 with a below $200 price point.
D-Link is joining NETGEAR in making an Intel WiDi receiver for streaming video from notebooks with Intel Core i3/i5/i7 processors with Intel HD Graphics and Intel Centrino Wireless. There's not much else to say about the D-Link MainStage other than it's supposed to be out in the "first half of 2011" with no pricing announced. So there's definite vaporware alert on that one.
TRENDnet: TRENDnet dribbled out its announcements over the week and kicked one loose today.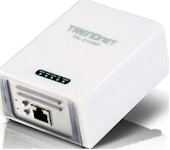 The TPL-310AP 200Mbps Powerline AV Wireless N Access Point, can function as a HomePlug AV adapter or powerline-connected 2.4 GHz 802.11n access point.
The two-stream N AP has a maximum link rate of 300Mbps in 40 MHz bandwidth mode and supports AP, client, WDS bridging / repeating and mesh modes. Other features include Wi-Fi Protected Setup, four SSID with encryption per SSID, WMM and MAC address filtering. The TPL-310AP ships next month for $109.99 MSRP.
The TPL-305E3-Port 200Mbps Powerline AV Adapter is a HomePlug AV powerline adapter with built-in three-port 10/100 switch. It ships next month for $79.99 MSRP.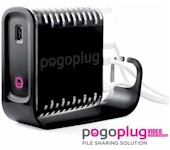 Cloud Engines: Pogoplug Video is the newest member of the Pogoplug family, aimed at enabling streaming directly to mobile devices. It has built in processing to convert Sony AVCHD camcorder files on the fly to lower bitrate formats.
Preorders begin in March for the $199 product.
Tablets
I decided to take a headcount of Android tablet manufacturers that I found while wandering through the "International Gateway" area in the Hilton and part of the North Hall. I found 31. This count does not include the tablets announced from better-known companies like ASUS, Samsung, Creative, etc. These guys are going to drive down Android table pricing so low that they'll come in cereal boxes.
Speaking of which, I found the guys in the photo below tucked in the back of the South Hall. The "$100" tablet is a 7" cheapie they import from China, wipe "all the Chinese stuff" and load with Android 1.6 and selected apps.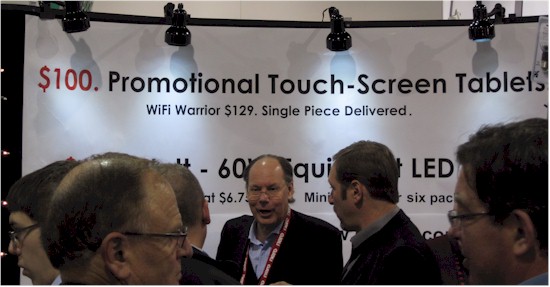 Wanna buy a really cheap Android tablet?
Be sure to read my CES tablet story over on SmallCloudBuilder.
HDBaseT
I made a quick stop at the HDBaseT Alliance's suite and got a quick update. The Alliance has recently revamped its branding and website to sharpen their story. The basics are covered in this piece that I wrote back in July last year.
The key technology contributor is Valens Semiconductor, and the key points of the pitch are summarized in the figure below.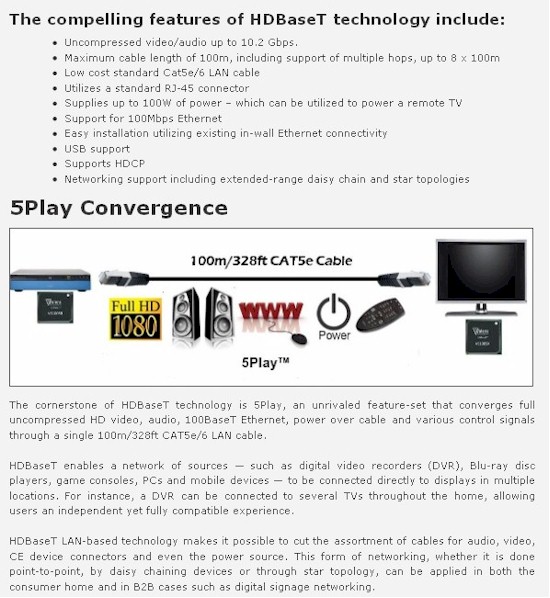 HDBaseT essentials
The technology is primarily focused on structured wiring replacement for professional whole-house home entertainment system installers. I saw a Crestron HDBaseT hub and a Gefen HDMI / Power extender module. So not something you'll be seeing in Best Buy anytime soon.
Wi-Fi Direct
Something I didn't see was any announcements for products using Wi-Fi Direct. Wi-Fi Alliance certification for this wireless AdHoc on steroids started last October. But the consumer networking guys don't seem in any hurry to get products out.
Instead, they (NETGEAR and D-Link, specifically) are happy to keep putting out adapters for Intel's WiDi proprietary pre-Wi-Fi Direct technology that's only usable with laptops using Intel i3/i5/i7 processors. And, then there's Apple's AirPlay, which uses its own proprietary point-to-point self-configuring wireless connection technology.
It seems some CE companies have announced a few products using Wi-Fi Direct. But unless everyone gets a move on, including Apple and Microsoft adding support to Mac OS and Windows, this technology could pull a Bluetooth and take years to get adopted. Or was I thinking about Wi-Fi Protected Setup?
Hybrid Networking (Hy-Fi)
This CES saw powerline networking continue to move back into the mainstream. Now that the industry has consolidated and HomePlug AV 200 Mbps has matured, vendors are coming out with more products that combine powerline, Ethernet and Wi-Fi connectivity. Atheros has even graced this approach with a catchy marketing term, i.e. "Hy-Fi".
In addition to the combination powerline routers announced by NETGEAR, TRENDnet and D-Link, we saw the introduction of powerline-enabled 802.11n access points. D-Link and TRENDnet both trotted them out, as well as lesser-known powerline product maker Aztech. Note that NETGEAR's new wall-wart N WN3000RP Universal WiFi Range Extender isn't powerline enabled.
The nice thing about all these designs is they are full dual-stream (300 Mbps maximum link rate), which is better than the single stream adapter from Innoband I reviewed in July.
Three Stream (450 Mbps) N
A surprising number of three-stream N routers were announced by NETGEAR, TRENDnet, TP-Link and D-Link. The NETGEAR WNDR4000 and D-Link DIR-857 are three-stream on the 5 GHz band only because, according to NETGEAR, 2.4 GHz band "congestion" makes sustained three-stream operation difficult in that band.

D-Link DIR-857 HD Media Router 3000
Unfortunately, the pickin's are still slim if you're looking for a three stream client in anything other than a notebook. Only TRENDnet announced a three-stream N Ethernet bridge, and it's only for 2.4 GHz.
Gallery
A few more odds and ends can be found in the gallery below. See you same time, next year!
This year saw a few powerline connected N access points introduced. This D-Link one isn't new, but was displayed in the HomePlug booth.
Aztech was displaying its line of powerline adapters in the HomePlug booth. You can get their products through Amazon.
More of Aztech's powerline wares.
Apparently, NETGEAR's 500 Mbps powerline adapter does exist. NETGEAR told me that it has started shipping in Europe, but wouldn't say why US shipments remain on hold.
Another powerline-connected N access point, this time from TP-Link.
I happened to spy the new LG dual-bay NAS on the left. It has a built-in slot-loading DVD drive.
While most TV manufacturers were trying to convince us to buy their new smart TVs, LG also created a standalone box to upgrade your dumb old one.
While most TV manufacturers were trying to convince us to buy their new smart TVs, LG also created a standalone box to upgrade your dumb old one.
Creative introduced 7 and 10 inch Android tablets.
Here's a closer view of the ZiiO 10 tablet.
P3 International, maker of the Kill A Watt power meters had some products on display that were new to me, like this wireless power meter and sensor. The remote display can read up to 8 sensors.
Grabbed this crappy shot of the prototype Yahoo Connected TV Box that D-Link was showing. That's it down below the screen.
Iomega's new Superhero iPhone backup being demonstrated.
I don't know what the fascination was with 450 Mbps N routers this year. But at least TP-Link had a companion adapter, even if it was for desktop PCI-e slot and 2.4 GHz band only.
The CES-announced MoCA adapters from Channel Master were found in MoCA chipmaker Entropic's booth.
Entropic's booth showed more MoCA products than I knew existed. Note that many are service provider only.
Synology didn't announce anything at the show. But their small booth was pretty busy.
One of the thirty-one Android tablet OEM / ODMs found at CES.
Another of the thirty-one Android tablet OEM / ODMs found at CES.