D-Link Cloud Services logo
The focus for this CES' D-Link introductions is squarely on the Cloud. The company said that it is building upon the mydlink.com portal introduced three years ago by adding cloud storage and file sharing over the coming year. The portal has been used primarily to provide web access to D-Link's IP cameras, to date. To reinforce the Cloud theme, D-Link announced two routers and a two IP cameras with cloud features.
Routers
Leading off is the DIR-605L Cloud Router. Said to "bring cloud capabilities to the masses" (who knew they were yearning for Cloud and couldn't afford it?), the "sub $50" ($39.99 MSRP, actually) single-band b/g/n router has 10/100 ports.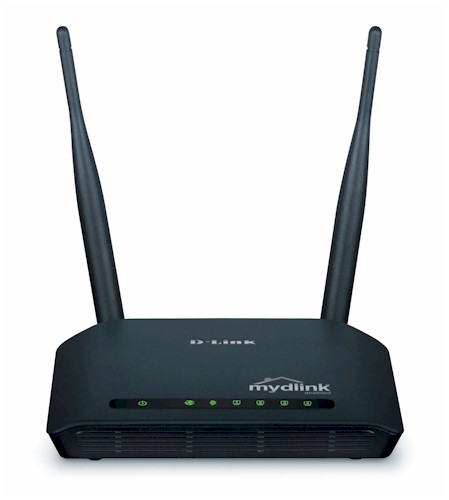 DIR-605L Cloud Router
The 605L's product page says said the router's main cloud tricks are "Push Event, User Control, View Real-time Browsing History, and Remotely Connect and Disconnect Computer Devices from the Network". There's no drive sharing because there is no USB port to share one. It's supposed to be shipping now/shortly.
The second cloud router is actually a re-introduction of the DIR-857 announced at last year's CES, now called the amplifi HD Media Router 3000 with SharePort Cloud. The hardware specs are the same as described last year; simultaneous dual-band with three stream N on both radios, i.e. "N900", Gigabit Ethernet ports and USB 3.0 port for drive sharing.
DIR-857 amplifi HD Media Router 3000 with SharePort Cloud
But that port can now share files on the attached drive via the D-Link Cloud. And you'll be able to access those files via iOS and Android apps in addition to any web browser. Looks like this one is finally going to ship by the end of this month with MSRP set at $169.99.
We'll take a slight diversion from the cloud theme to describe D-Link's third router announcement. The DHP-1565 Wireless N PowerLine Gigabit Router is like D-Link's DHP-1320 [reviewed], but with Gigabit WAN and LAN ports (you get four this time) and 500 Mbps HomePlug AV compatible powerline support.
DHP-1565 Wireless N PowerLine Gigabit Router
It's still single band 802.11b/g/n, but has a USB 2.0 port for local (not cloud) SharePort drive and printer sharing. Fans of external, upgradable antennas will be disappointed, though, that antennas moved inside on the 1565 (but D-Link says they're "Intelligent" now). It's also supposed to ship by the end of January with a slightly lower $159.99 MSRP.
IP Cams
Arrows number three and four in D-Link's cloud quiver are the DCS-5222L Cloud Camera and DCS-942L Enhanced Wireless N Day/Night Home Network Camera. The 5222L has motorized pan (340 degrees) and tilt (unspecified) and digital zoom. It puts out 720p/30fps H.264 HD video and has IR LEDs for night viewing.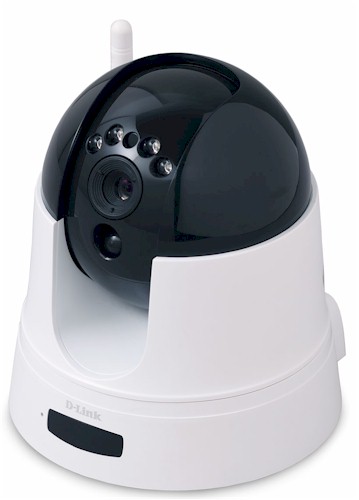 DCS-5222L Cloud Camera
It also supports two way audio with built-in mic and audio out port. Network connection is via 802.11b/g/n wireless or 10/100 Ethernet and it will also record onto a microSD card. It's supposed to ship in April and it looks like we'll learn the price then.
The DCS-942L is a fixed-position camera supporting only VGA (640×480) resolution at 30 fps and 4X digital zoom. It also has IR LEDS, local recording onto SD card, two-way audio with built in mic and 802.11b/g/n and 10/100 Ethernet network connectivity. You can walk into your local Staples and plunk down $149.99 for one right now or order online.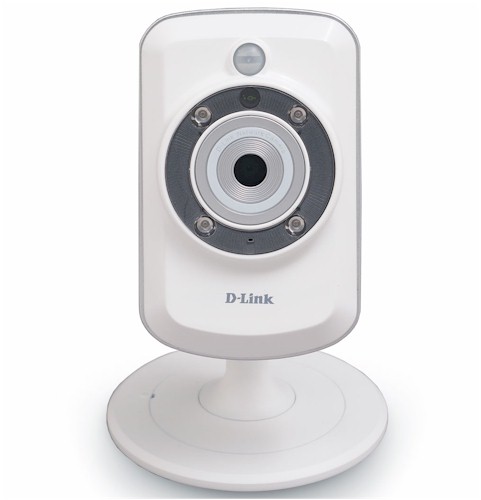 DCS-942L Enhanced Wireless N Day/Night Home Network Camera
Mighty Mite
D-Link went a little heavy on the hyperbole describing the DIR-505 All-in-One Mobile Companion. After plowing through the description and the web page, I can report that it doesn't slice and dice. But it is a single-stream 802.11b/g/n travel router with USB port for drive sharing. And you can use said port for USB device charging, when you don't have a drive connected, of course.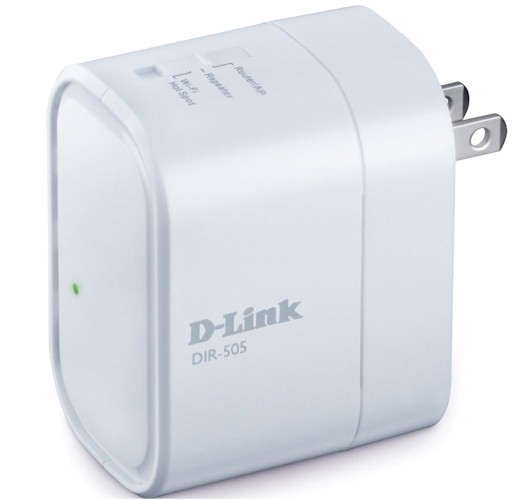 DIR-505 All-in-One Mobile Companion
D-Link throws in iOS and Android apps for viewing the shared files, which you can naturally also see via the SharePort Cloud portal. A 10/100 Ethernet port even lets you share an Ethernet connection via an Access Point mode. And the little bugger comes in wall-wart form, so there is no pesky power supply to lose. You'll have to wait until April for all the 505's compact goodness, though, which you should be able to purchase for "less than $75".
802.11ac
Finally, D-Link "today announced its support of the next-generation Wi-Fi standard 802.11ac". It took a page and a half of press release to end up saying "D-Link products supporting the new 802.11ac standard will be available in the later part of 2012". Boy, not even a fancy 802.11ac page like NETGEAR.