TRENDnet's first show announcements are for really high-speed wireless and really small powerline products.
As rumored, TRENDnet will be showing two wireless product prototypes based on 802.11ac, which is currently under development by the IEEE. 802.11ac uses many of the technologies incorporated in 802.11n and will be backward-compatible to it. However, 802.11ac operates in the 5 GHz band only, so will share 5 GHz 802.11n's weakness of shorter range.
By using more spatial streams, wider channels and new modulation techniques, link rates up to 6.8 Gbps are theoretically possible with 802.11ac. But on a more practical basis, TRENDnet says its initial products will have maximum link rates of either 866 or 1300 Mbps.
The TEW-811DR 1300 Mbps Dual Band Wireless AC Router is said to feature both concurrent dual band three-stream N radios with 450 Mbps maximum link rates plus an " ultra high performance" 1300 Mbps 802.11ac radio. The router will have Gigabit WAN and LAN ports and sport the wireless security and routing features of TRENDnet's current routers.
The TEW-811DR will be available in "late 2012" with an MSRP of "over $200".
Companion to the TEW-811DR will be the TEW-800MB 1300 Mbps Wireless AC Media Bridge. Its 802.11ac radio also supports up to 1300 Mbps link rates and it has a built-in four-port Gigabit switch. The TEW-800MB will also support three-stream N connection in the 2.4 GHz band. Availability and pricing is the same as the TEW-811DR ("late 2012"/"over $200).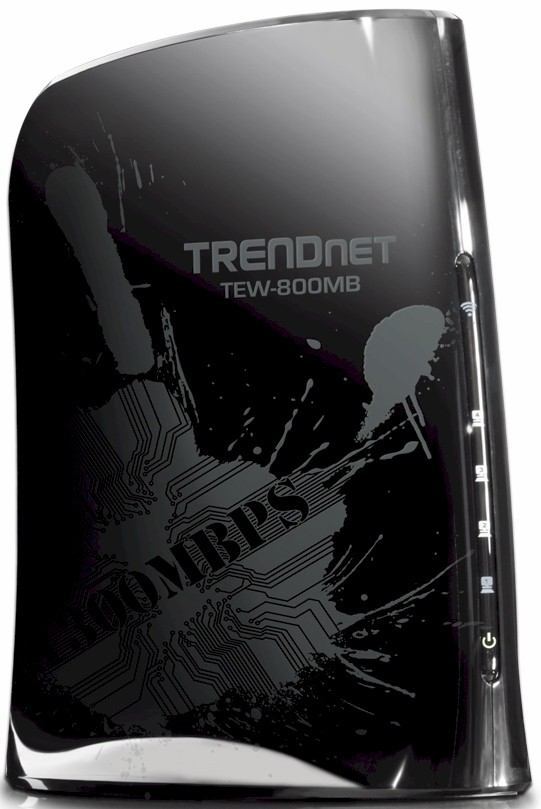 In less earth-shattering news, TRENDnet also rolled out its "smallest ever" 500 Mbps Homeplug AV powerline adapter. The TPL-406E 500 Mbps Compact Powerline AV Adapter also comes in a kit of two (TPL-406E2K). It has all the features of its larger TPL-401E sibling, which include a Gigabit Ethernet port, encryption/sync button and standby power save. The single adapter will start shipping this April at a $59.99 MSRP.