NAS
Buffalo is rolling out the LS-400 series, which replaces the current LinkStation Pro lineup. All three new models have redesigned chassis and user interface, are powered by a 1.2 GHz Marvell Aramada 370 CPU w/ FPU and have a single USB 2.0 port.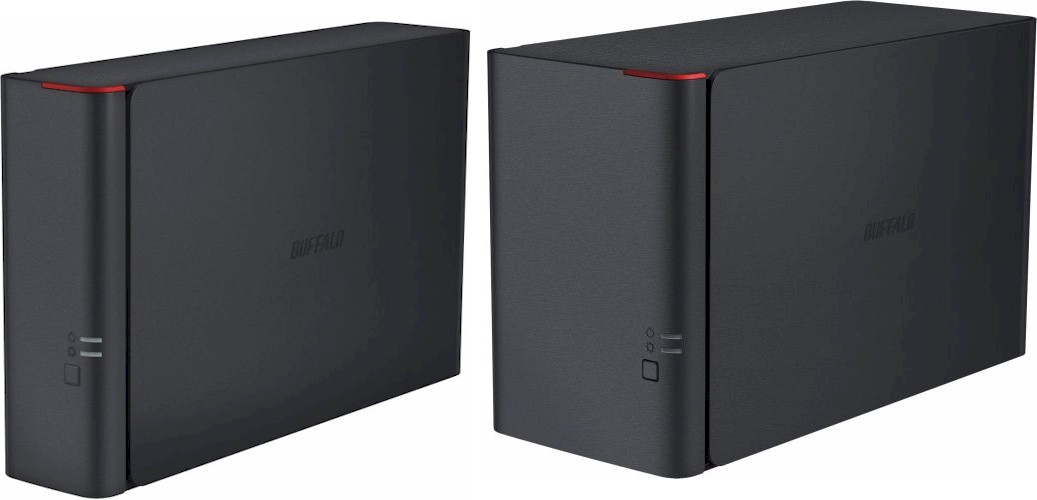 Buffalo LinkStation 410D & 420D
The company says the new LinkStations will achieve more than 80 MB/s of throughput, as measured by Intel's NASPT benchmark, making them among the fastest consumer-grade NASes available.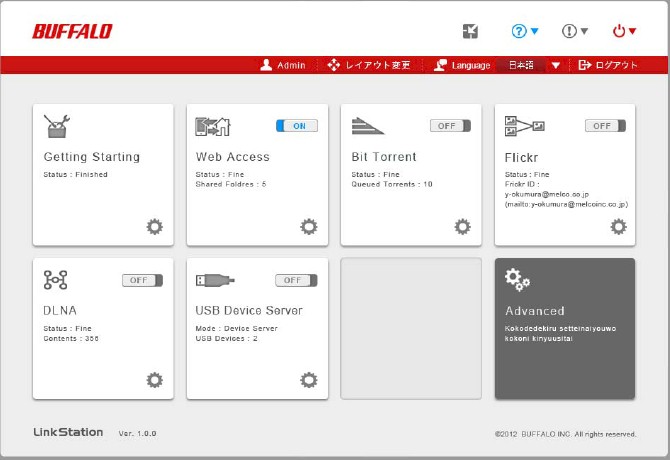 Buffalo LinkStation new user interface
Also part of the new LinkStations is the BuffaloLink.com Cloud Relay system. It is a free, full relay-based cloud service that will eventually provide cloud services to all Buffalo products. In its first release, however, it will be used to provide easy remote login and file access via web browser, Android and iOS apps. BuffaloLink will eliminate the hassle of setting up VPNs or dynamic DNS by providing a one-stop portal for remote access.
The new models are:
Single-bay LinkStation 410D with estimated street prices of $229 for 2 TB (LS410D0201), $269 for 3 TB (LS410D0301) and $399 for 4 TB (LS410D0401)
Dual-bay LinkStation 420D with estimated street prices of $289 for 2 TB (LS420D0202), $369 for 4 TB (LS420D0402), $469 for 6 TB (LS420D0602) and $719 for 8 TB (LS420D0802)
Dual-bay diskless LinkStation 421E with an estimated street price of $149 (LS421DE). This model also has a single front-panel USB 3.0 port.
All are scheduled to ship in "early 2013".
Wireless
New draft 11ac routers are a common theme at CES this year and Buffalo has joined the party. It announced two new AirStation routers based on Broadcom's new dual-core "5G" BRCM4708 SoC.
The two models scheduled to ship this quarter are the WZR-1750DHP AirStation AC1750 Gigabit Dual Band Wireless Router ($179) and WZR-1166DHP AirStation AC1166 Gigabit Dual Band Wireless Router ($149). Prices are estimated street.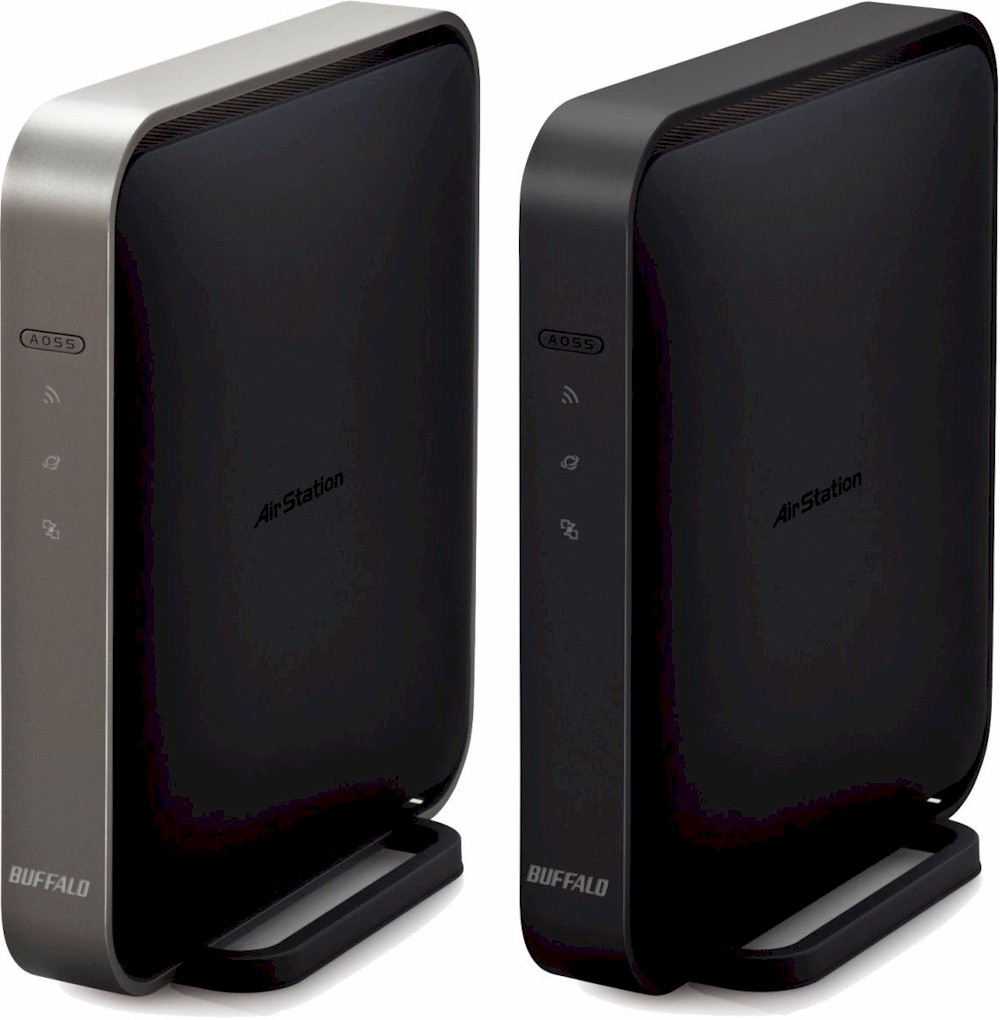 Buffalo WZR-1750DHP AirStation AC1750 & WZR-1166DHP AirStation AC1166 Gigabit Dual Band Wireless Router
Both have Gigabit Ethernet WAN (1) and LAN (4) ports and two USB ports, one 2.0 and the other 3.0, for storage and printer sharing. Other common features are a new automatic priority-based QoS system, new user interface with support for iOS and Android apps for remote access and control. The new duo runs on Buffalo's own firmware, not DD-WRT as some other Buffalo routers do.
The WZR-1750DHP has two 3X3 radios for maximum link rates of 1300 Mbps in 5 GHz and 450 Mbps in 2.4 GHz. The WZR-1166DHP is a 2X2 design, with means maximum link rates of 866 Mbps in 5 GHz and 300 Mbps in 2.4 GHz. Buffalo is being a bit more exact than other manufacturers in its naming system with the "1166" moniker. Everyone else with 2X2 draft 11ac routers has adopted the "AC1200" designation.
To help take advantage of all this draft 11ac power, Buffalo will be shipping the WI-UC-866D AirStation AC866 Dual Band USB Adapter. It also ships "early 2013" and will be estimated street priced at $69. It's a 2X2 design with maximum link rate of 866 Mbps in 5 GHz and 300 Mbps in 2.4 GHz.

Buffalo WI-UC-866D AirStation AC866 Dual Band USB Adapter
Other Stuff
Buffalo also announced the DriveStation DDR, a high performance external USB 3.0 hard drive with 1 GB cache that Buffalo says will "significantly" improve (up to 350%) throughput.
Estimated street prices and models coming "in early 2013" are $119 for 1 TB (HD-GD1.0U3), $149 for 2 TB (HD-GD2.0U3) and $189 for 3 TB (HD-GD3.0U3).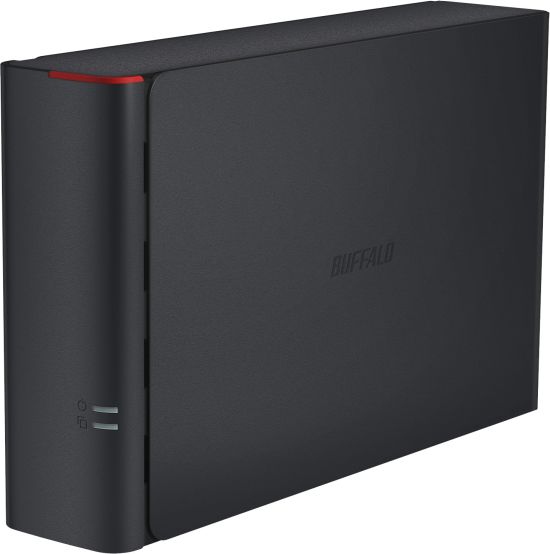 Buffalo DriveStation DDR
Finally, Buffalo said it will be demonstrating its new LinkTheater Air Miracast adapter, wirelessly mirroring Android phone and tablet screens to HDMI-enabled TVs, displays and projectors. This is a demo only, with no pricing or schedule announced.