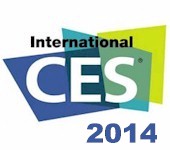 Updated – ASUS' AC2300 router has been outed at CES 2014.
A chat with advanced Wi-Fi chipmaker Quantenna at the CES Unveiled press event revealed the first company that will field a router based on its QSR1000 device that was named a CES Innovations 2014 Design and Engineering Award Honoree.
The ASUS RT-AC87U will be a full 4X4 802.11ac router supporting maximum link rates of 1.7 Gbps in 5 GHz and 600 Mbps in 2.4 GHz. Of course, you'll need matching 4×4 clients, most likely in the form of a bridge or a second RT-AC87U to get at these rates.
For devices that don't have the price points or space for four transmit / receive chains and antennas to match, the Quantenna device also supports Multi User MIMO (MU-MIMO). Again, you'll need clients that know how to speak MU-MIMO to get the benefit, which will be the ability of the router to split its 1700 Mbps bandwidth into two 867 Mbps streams for MU-MIMO devices.
The buzzword you'll be hearing more about that connotes these features is "Wave 2" AC. I'll come back to this in a few days after the initial CES frenzy dies down.
In the meantime, we might hear ASUS itself reveal the RT-AC87U at its CES keynote at noon (PT) tomorrow.
Updated 1/6/14: It's official. From the release:
Quantenna Communications, Inc., a leader in ultra-reliable Wi-Fi networking for whole-home entertainment, and ASUS today at CES announced that Quantenna's award-winning QSR1000 4×4 Multi-User Multiple Input Multiple Output (MU-MIMO) chipset will power the ASUS RT-AC87U, the world's fastest 802.11ac home router.

The RT-AC87U employs Quantenna's 4×4 MU-MIMO chipset to deliver an unparalleled data throughput speed for the 5 GHz band (1.7 Gbps). Additionally, Quantenna's superior digital beamforming will ensure whole home coverage when streaming rich multimedia, giving consumers the best Wi-Fi experience available. As the only wave 2, 802.11ac router in the market, Quantenna's QSR1000 solution makes the RT-AC87U the only home router that can handle the future connected home bandwidth requirements, future proofing the consumer's investment.