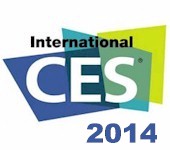 Given the lack of innovation in consumer networking at CES 2014, our wrap-up is pretty short.
Wireless
The "big" story on SNB's beat from CES 2014 is four-antenna 802.11ac routers. Although the finalization of the 802.11ac spec is likely a close second.
Taking the second item first, 802.11ac's move from draft to final spec is more a symbolic than substantive move. Although it took seven drafts to get to the released spec, 11ac's essentials were baked in around draft 3 or so. The other four drafts were mainly due to the politics and nit-picky details that go along with the spec making process.
If you wondering whether the draft 11ac gear you bought is compatible with products released to the final spec, the answer is yes. I'm not aware of the need for any driver or firmware updates to bring anything in compliance with the released spec. Plenty of bugfixing, yes. But changes for spec compliance, no.
The other effect of 11ac's release is that any companies that were waiting to release prouducts can now move forward without fear. This could have been why there so few mobile devices with 11ac baked in to date. But the flood may be about to start.
All of Samsung's new Galaxy Tab Pro and Note Pro tablets introduced at CES are 802.11 a/b/g/n/ac. I can't say whether they are 1×1 or 2×2 radios, but they are 11ac enabled. Turns out that the Galaxy Note 10.1 2014 edition released last October is 802.11 a/b/g/n/ac, too. So if the next iPad or iPhone doesn't have 11ac in it, we all should storm the gates at Cupertino and throw our outdated iThingies at Apple HQ and demand new ones!
Turning back to the lead-off item, CES certainly showed that 11ac standard compliant or not, AC1900 routers are here to stay. It seems that enough of you are ignoring our advice about future-proofing and laying out the big bucks for the most expensive AC routers you can buy. Router makers (and retailers) are just lovin' this since they are making more money by selling fewer products. This will end at some point once early-adopter lust has been satisfied. After all, not everyone can afford—or wants to spend—$200+ on a router.
The main question is whether the 4×4 AC1900 design that Linksys announced in the form of the WRT1900AC will justify its $300 asking price by delivering best-in-class performance.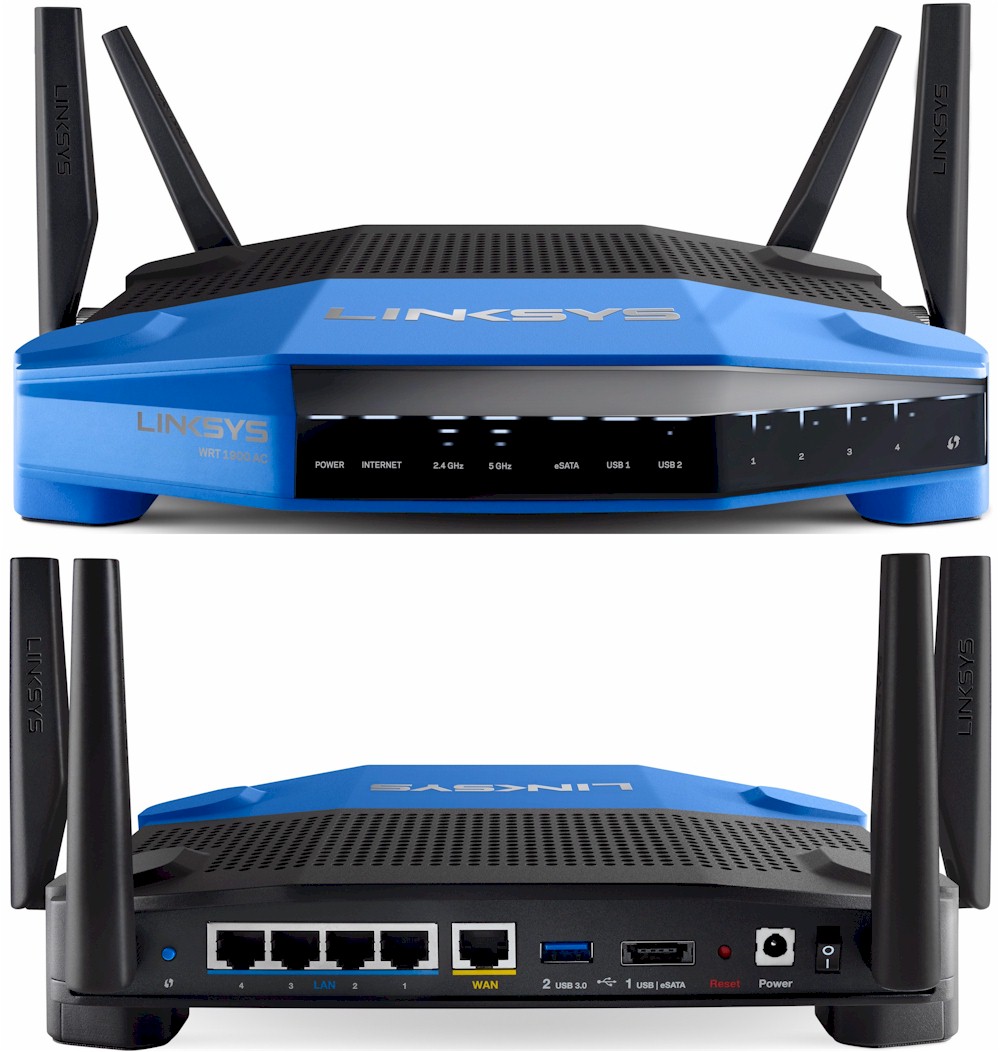 Linksys WRT1900AC Dual Band Wi-Fi Router
Linksys told me that's certainly the goal. They were originally going to start shipping it around now, but decided to hold it back for more testing, tweaking and bugfixing to get it solid before they shipped. (What a novel idea!) We'll get to see if they hit the mark in a few months.
It will take a few more months beyond that to see the announced by Quantenna but not by ASUS RT-AC87U. From what I've heard, there is a significant amount of work remaining before the Quantenna QSR1000 based router is ready to ship. MU-MIMO has never been supported in a commercially available product, let alone one targeted at consumers.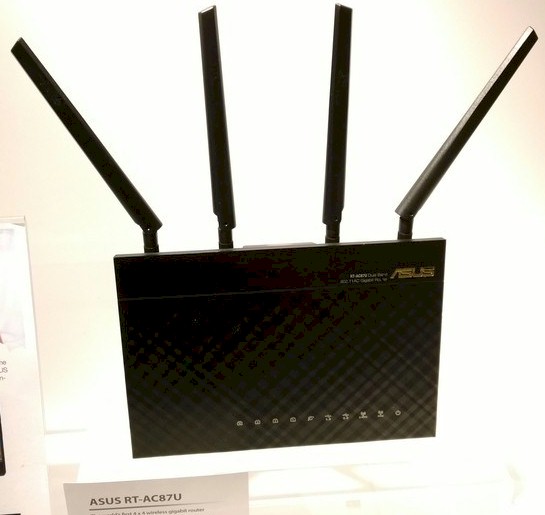 ASUS RT-AC87U Prototype
All the other usual suspects have been looking at Quantenna-based designs in their labs. But none other than ASUS feel the technology is ready enough to ship. I suspect that won't stop router geeks from snapping it up as soon as they can find a BUY button to click.
Keep in mind, however, that you'll need MU-MIMO enabled clients to take advantage of that feature. And since no one else will be shipping a MU-MIMO router in the planned mid-year shipment time frame, it'll be up to ASUS to scratch that itch.
Wi-Gig
In response to a Forum query wondering why there were no combination Wi-Fi / Wi-Gig (802.11ad) routers announced, I did some asking around. I found it's unlikely that you'll see this flavor of product anytime soon, if ever.
One reason is that routers usually aren't located in the family TV/Media room. So if your application for Wi-Gig is HDMI cable replacement, that ain't gonna work due to Wi-Gig's very limited range. The second reason is that Wi-Fi throughput has increased well beyond the 40 Mbps required for uncompressed Blu-ray streaming. So why add the cost of another set of antennas and RF chains?
To counter my impression that Wi-Gig was going the way of Wireless USB / Cable Free USB, I checked in with Wilocity. While Wilocity did some chest-thumping about streaming 4K video a few months ago, the context was for cable-free notebook docking, not living room HDMI cable replacement.
The other demos in the suite showed other enterprise applications focused on adding central management features into the Wi-Gig enabled docking stations. Wilocity's wireless notebook docking business with Dell seems to be going well, too, with their Wi-Gig solution integrated into one Dell dock and six Dell notebooks. Well enough, in fact, that Wilocity will be announcing its one millionth product shipment next week.
So 802.11ad seems to be alive and well, but unlikely to be coming to a router anywhere near you.
NAS
In oops-I-missed-it news, Lenovo, but not its LenovoEMC-formerly-Iomega group, introduced its Beacon "personal cloud" NAS. Beacon is a two-bay diskless NAS based on an Intel CE5315 Evansport/Berryville Atom processor. It's obvious from the styling that you're supposed to be proud to nestle Beacon among your AV gear vs. stashing it away next to your router in the basement.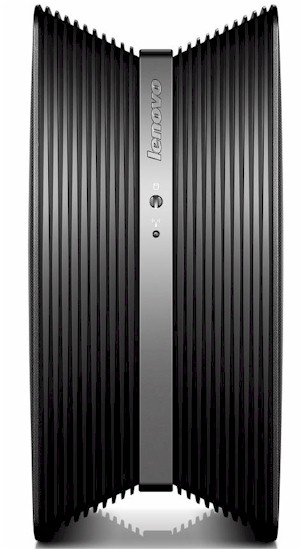 Lenovo Beacon Personal Cloud NAS
Lenovo's announcement didn't provide a lot of details and my LenovoEMC contacts weren't able to provide their usual thorough briefing since it's not their product. But I gather from other more on-the-ball reports that it has two USB 3.0 and one HDMI port. You can light up the HDMI port with media via a bundled copy of XBMC and use its built-in transcoding to stream video and audio to Android and Windows phone apps (no iOS app for now).
Beacon will be shipping in April for $199 MSRP (diskless) in your choice of stylish white or black.
And that's all from Las Vegas for CES 2014.