The design is based on a Routerboard 532A motherboard with 564 daughterboard and can accept six miniPCI wireless cards. It runs Debian and uses load-balancing to combine the bandwidth from up to six wireless connections.
Pre-orders for deliveries starting in August are being accepted at Mark's geektechnique.org site at a price of 999 Euros, which doesn't include shipping or taxes.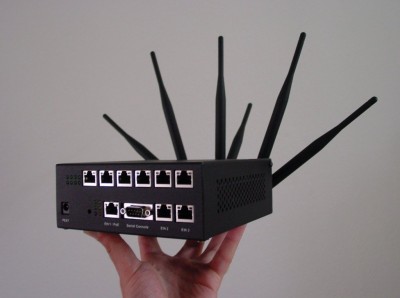 Mark is aware of the legal ramifications of providing the product and is running two surveys to see whether WEP cracking capability should be included (82% say yes) and whether buyers would be willing to sign a waiver regarding the legal ramifications of using the product (77% say yes).
Will be interesting to see if this ever makes it into production. If you're planning to attend The Next Web Conference in Amsterdam next week, you may get a chance to see the Slurpr in action.