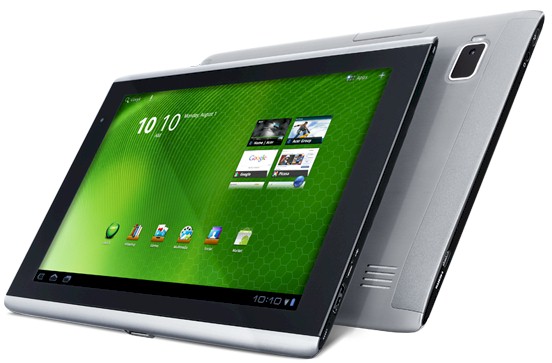 At a glance
Product
Acer Iconia Tab (A500-10S16u) [Website]
Summary
Ten inch Android Honeycomb tablet competing for attention with the ASUS Transformer
Pros
• Good sound
• Fairly quick
• Wide viewing angles
Cons
• No bundled file browser
• Bundled apps useless for video playback
• Fairly hefty in the hand
Typical Price: $80 Buy From Amazon
Features
OS
Android
OS Version
3.0.1 (Honeycomb)
Weight
1.7
Width
10.2
Height
7.0
Thickness
0.5
Battery
6520
CPU
nVidia Tegra 2
CPU Detail
Dual-core 250 @ 1 GHz
RAM
1024
Flash
16
Flash Options
32
SD

N

uSD

Y
Connectivity
Wi-Fi

Y

Dual-Band

N

3G

N

4G

N

Bluetooth

Y

uHDMI

Y

HDMI

N

USB

N
I wanted to get an ASUS Transformer to review when it was first announced because I believe that Android tablets need to be priced at least $100 less than the iPad in order to gain market share. I also wanted to see if Honeycomb had made some progress since the Motorola Xoom left a bad taste in my mouth.
But I wasn't quick enough and turned to the next best alternative, the Acer Iconia Tab A500, priced $50 below the entry-level iPad2 and $50 above the Transformer (without its keyboard dock). My colleague Matt was able to get his hands on one before me, so he got first crack at that review. So, instead, I'll be reviewing the A500 before I ship it back to Amazon.
I'll say right off that Honeycomb has come a long way since the Xoom. Like other reviewers, I've seen an occasional app crash or odd behavior. But in general, Honeycomb has matured enough to be a viable tablet OS. And that's even with version 3.0.1 that Matt found so distasteful.
Acer so far has shown no sign of when (or if) they'll have Android 3.1 ready for the A500. But, contrary to Matt's experience, I think many people (including me) will find 3.0.1 just fine.
Hardware and Features
The A500's key specs are summarized in the boxes to the right, but I'll highlight a few. Like most of the recent non-generic Android tablets, at the A5's heart beats a dual-core nVidia Tegra 2 CPU matched up with 1 GB of RAM.
I'm cheap and don't keep a lot on my tablets, so I have the A500-10S16u 16 GB model. But there is also a second version (A500-10S32u) with 32 GB of flash memory that will bring you up to the $500 level of the iPad2.
Like the Transformer, the A500 has single-band 802.11 b/g/n Wi-Fi and Bluetooth 2.1 + EDR radios. The specsheet says it also has a GPS receiver and the Settings screen checkbox seemed to confirm that, even though it couldn't find any satellites indoors.
There are no 3G or 4G versions available, or as far as I know, planned. The product has a flap glued over the SIM slot to the right of the micro SD card slot shown in the diagram below. There is probably a SIM slot under that flap. But to get connected to a WWAN, you would need a 3G / 4G radio inside and perhaps this custom ROM that's just been released.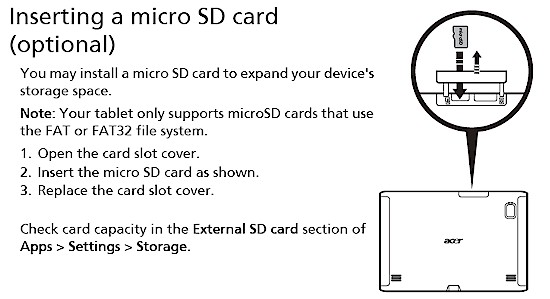 The diagram below from the user manual shows the ports and controls on the "left and right" edges. If you hold the tablet in the natural landscape orientation, that would be the top and bottom. The rest of the callout diagrams are in the gallery.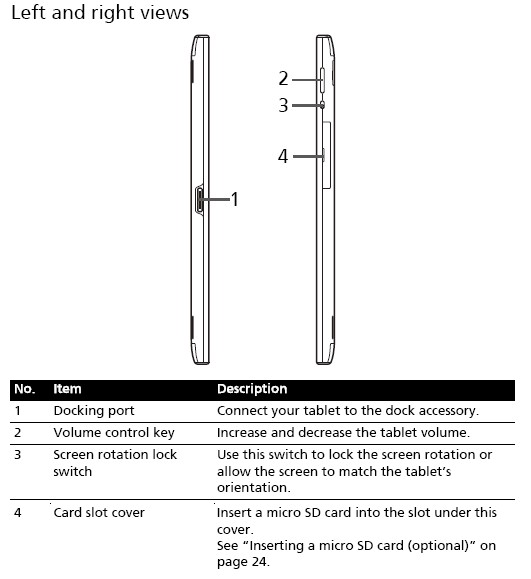 Some nice touches in the A500 include the stereo speaker placement near the curved bottom edge so that lying flat on a table doesn't completely block the sound. There is also a full-sized USB host and a micro USB slave connector, the former to connect USB flash drives and the latter to connect to the USB port on a host machine for file transfer.
Something not mentioned in the specs is the buzzer, which is enabled by default for "haptic" feedback. This was my first encounter with this technique, which surprised me when I touched the screen and felt it respond. After the novelty wore off, though, I wanted to shut it off to save battery. But even with the checkbox unchecked in the Sound control panel, the buzzing continued. This behavior hasn't been fixed in Android 3.1, since it's the same on the Samsung Galaxy Tab 10.1 I just got in the other day.
I like tablets that can charge from a USB connector. One charger and a handful of cables is a lot lighter than a handful of chargers when I pack up for a trip. Unfortunately, the A500 requires a 12 V charger that plugs into its own tiny little hole on the Tab's side.
In Use
Screen
Size
10
Resolution
1280×800
Touch
Capacitive
Cameras
Front
2
Rear
5
Flash

Y
After handling an original iPad for the past year or so, the A500 definitely feels heftier. You won't be doing much one-handed holding of this tablet unless you've been pumping up regularly at the gym.
The 10.1″ 1280×800 screen is active matrix TFT vs. the Transformer's IPS, which other reviewers seem to be swooning over. To me, they're similar enough in quality and viewing angle that I would not make a buy decision solely on this spec. The capacitive multi-touch was as sensitive and responsive as you'd expect, with no heavy pressure required.
Here's a shot of the A500 and ASUS Transformer side by side with both set to Auto brightness. I admit that the A500 on the left is a bit fuzzier than the Transformer on the right. But if you didn't see them side by side, I think you'd be perfectly happy with the A500's screen quality. The gallery has more shots of the two, including off-angle shots.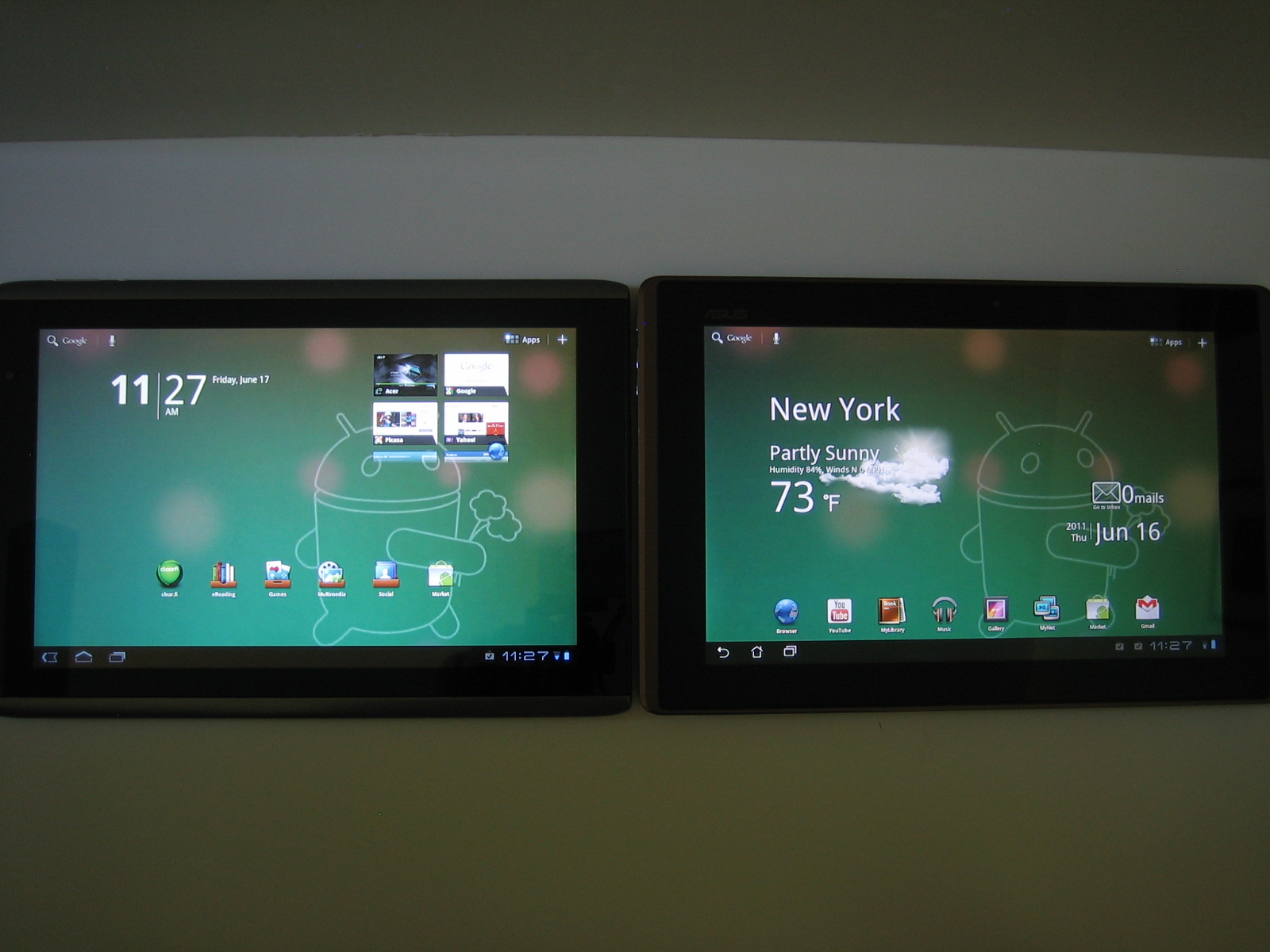 As some commenters pointed out, some of my observations about Honeycomb in the Motorola Xoom were based on ignorance, to which I plead guilty. I've had more time with Android in general since then and have had almost a month to use Honeycomb on the A500, so this time I'm better informed.
In general, the Tab has provided a better overall Android tablet experience than the Xoom. Some of this is due to Android tweaks that Acer had more time to do, some is fixes in 3.0.1. No matter what the reason, I can see Android becoming a much more viable tablet OS.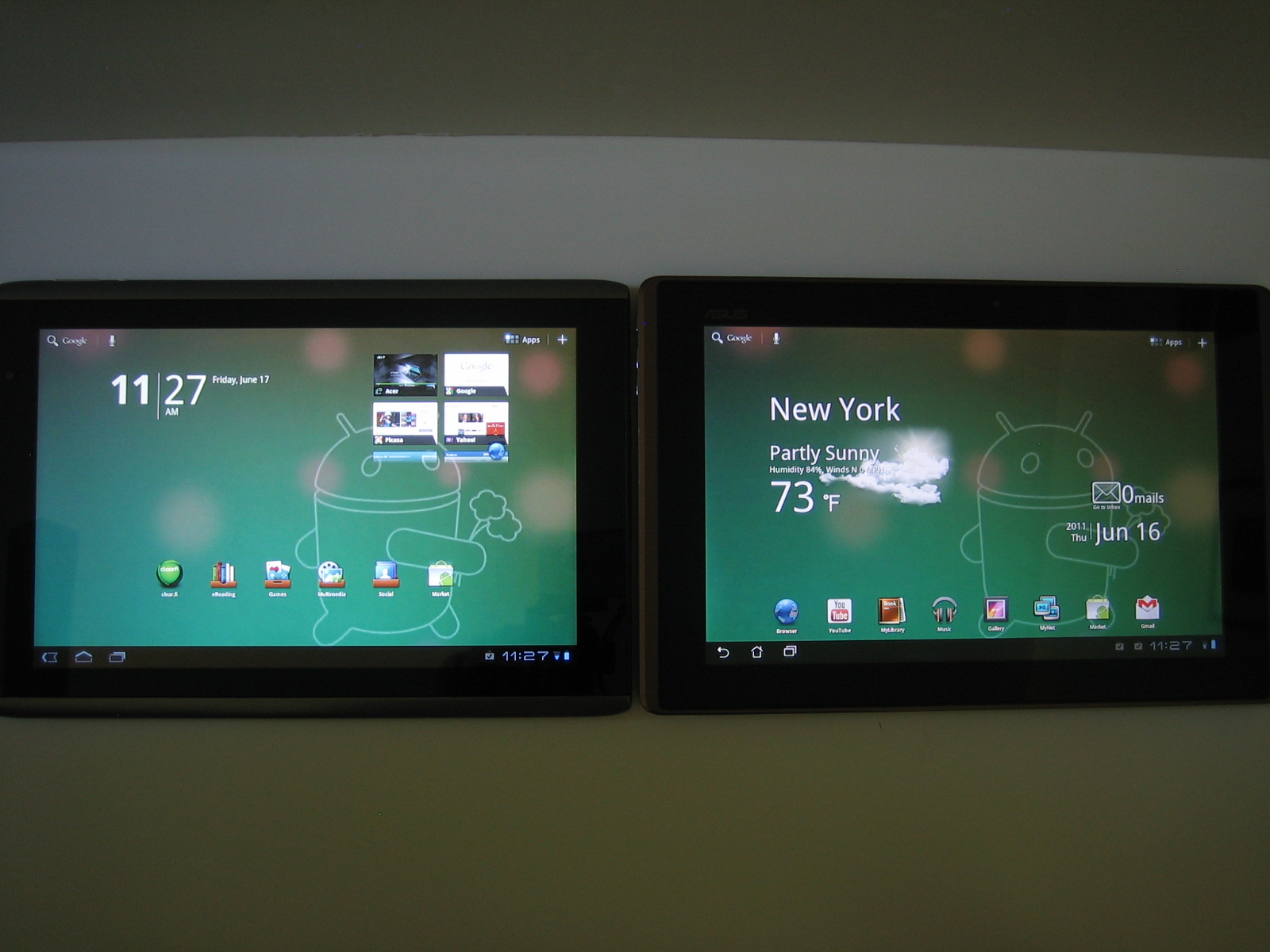 Head-on shot of the A500 and Transformer. Both set to auto-brightness.
Angle shot of the A500 and Transformer.
Head on shot of the A500 screen.
Angle shot of the A500 screen.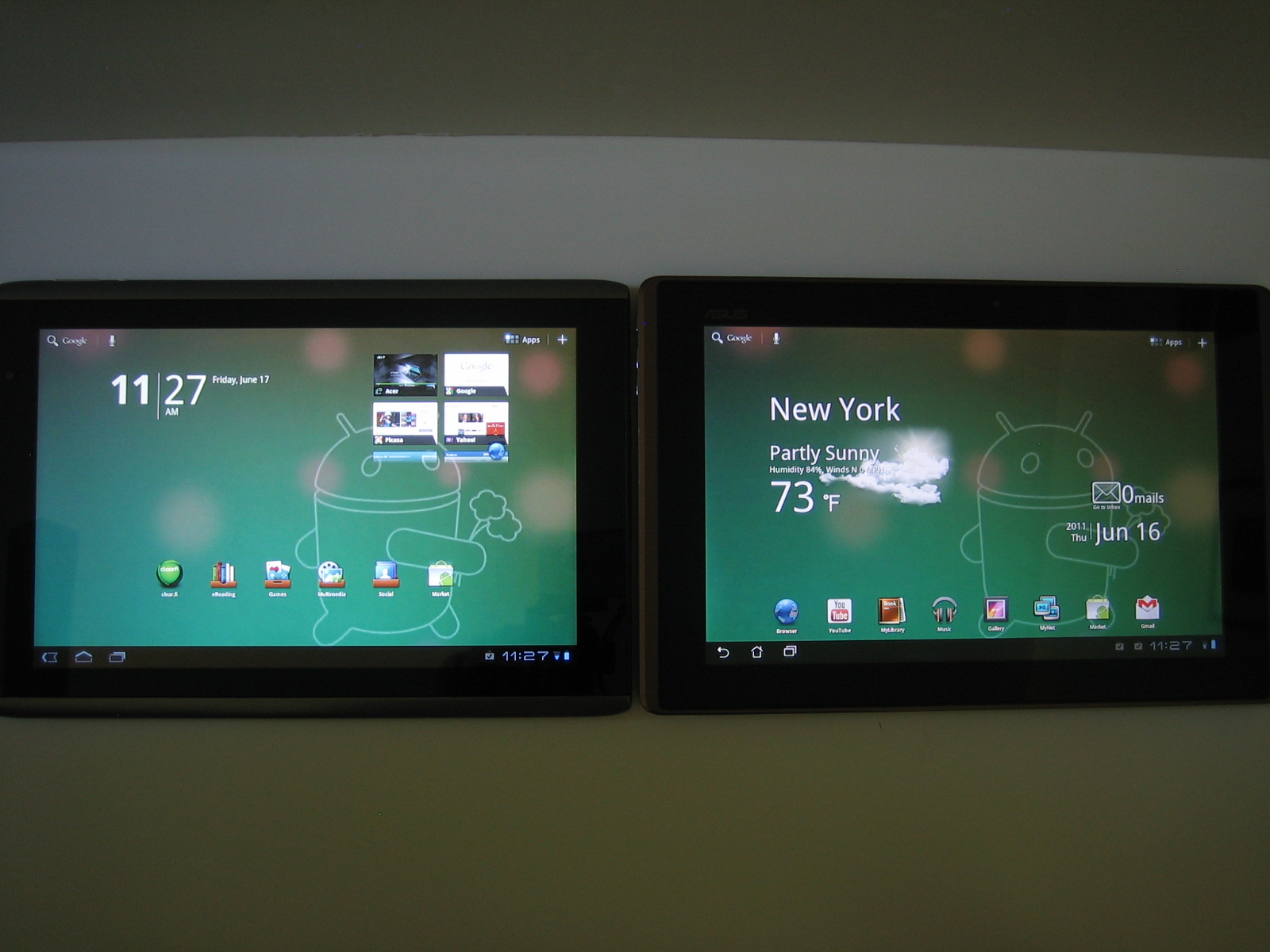 Head on shot of the ASUS Transformer screen
Angle shot of the ASUS Transformer screen
Front side callouts
Back side callouts
Top edge callouts
Bottom edge callouts
Indoor photo without flash
Indoor photo with flash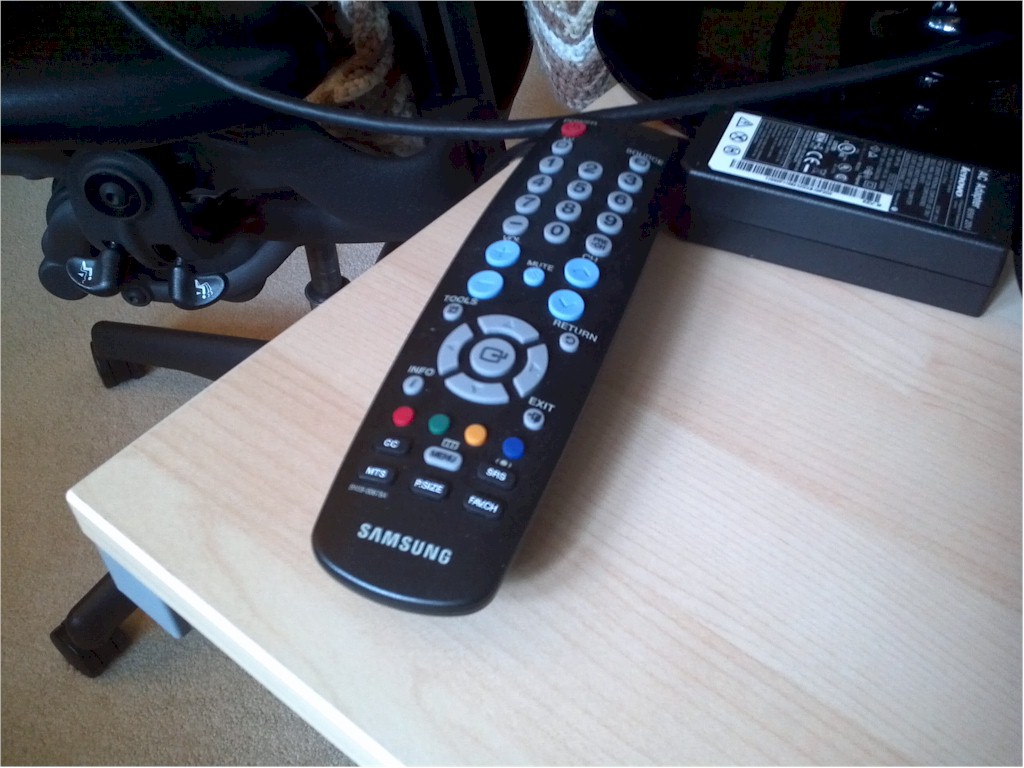 Closeup photo shows limited depth of field from 6 – 8 inches
Outdoor photo
Screenshot of loaded apps
Second screenshot of loaded apps
Battery
I didn't run formal battery rundown tests on the A500. One of the benefits from reviewing after the guys that get product sent to them is that I can just point you to their data.
Battery life
The table above says this is a 6-7 hour tablet, not a 10.
One thing I noticed is that the tablet would keep waking up from sleep, which chewed through the battery significantly overnight, with 20 – 30% power loss. I didn't have anything auto-updating and GPS was turned off, but I did add a few apps. So there could have been something in my configuration causing the problem.
Applications
I've included two screenshots in the gallery showing the apps installed on the A500. (Note that I installed arcMedia and MoboPlayer for reasons I'll explain shortly.) On the plus side is Docs To Go, which made it possible for me to view just about anything that came in attached to my email, something that the iPad fails miserably at. I didn't do any document creation with it.
Acer also threw in a few games, Hero of Sparta, Lets Golf, Need For Speed Shift, TegraZone Games, and Top HD Games, which I didn't even open. The other Acer-installed apps are:
LumiRead – simple e-book reader
SocialJogger – Twitter and Facebook status update browser
nemoPlayer – Photo, video and music player
clear.fi – appears to be a UPnP AV / DLNA media player
MusicA – music identification app trying to be Shazam
Media Server – turns the A500 into a UPnP / DLNA server
Photo Browser 3D – Photo viewer
AUPEO! – Internet radio streamer
Acer also added Books, Games, eReading and Social icons, which open hokey bookshelf-like views that seem only to serve as places where similar apps are grouped.
With all these extra apps thrown in, you'd think Acer could have included a simple file browser, but they didn't. So I installed Lysesoft's AndExplorer, which gave me access to internal files and those on the microSD card I inserted.
In the course of trying to play my test video files, I tried clear.fi and NemoPlayer, which I'll report on next.
Media
The Tegra 2 chipset provides hardware acceleration of most major video codecs, including MPEG2 and H.264. But chipset support and actual video quality are two different things.
I started out installing Flash 10.2, but upgraded to 10.3 before I ran my tests. One of the alleged advantages Android tablets have over the iPad is that they play Flash content in addition to the HTML 5 that the iPad supports. So I hit some of my usual sites to see how this worked.
NY Times [HTML5]- video played nice and clear, launched into a full screen window
ABC.com [Flash] – Castle episode was clear, but had low frame rate that made it unwatchable
Netflix – threw "not supported" message
Hulu – threw "not supported" message
CBS.com [Flash] – Late Late show monologue @ CBS.com somewhat pixelated at normal and full screen. Frame rate was a bit slow, but watchable.
Interesting note: without flash installed, m.cbs.com gave me the option of playing content with the video players I had installed, which worked!
NBC.com [?] – Attempt to watch a 30 Rock episode at NBC.com threw: "Sorry, the content you are trying to access is not currently available on this device". @#$%!. I was able to watch clips and other promotional content as I was at cbs.com via m.nbc.com.
Fox.com [Flash] – Glee episode played clearly, but with low frame rate. Watchable, though..
I assembled a group of test files onto a micro SD card for media testing to check how "HD" the A500 was. Trying to open any of these files using clear.fi, nemoPlayer or just clicking on them to see which handler would kick in didn't work. So, as noted earlier I downloaded arcMedia and MoboPlayer as Matt had tried for the Transformer review.
arcMedia barfed on all the files, but MoboPlayer was able to play them all. So the observations below are based on MoboPlayer.
AVI from Canon digicam [640×480 MJPEG 30 fps]- Played, but color was streaky and not correct
MOV "720p" Apple movie trailer [H264 MPEG4 1280×544 24 fps]- played fine. No detectable frame drops
MOV "1080p" Apple movie trailer [H264 MPEG4 1920×816 24 fps] – ok for scenes without fast motion. But when motion (and bitrate) picked up, audio and video got way out of sync
720p MOV from Canon SD780 IS digicam [H264 MPEG4 1280×720 30fps] – audio played fine, but video was in slow-mo.
The audio tests were pretty much a non-event. I tried both a 128kbps MP3 ripped CD file and non-DRM'd iTunes m4a file, both of which played fine with the stock Android Music app.
I use Pandora regularly, so that was also on my audio test checklist. Things have improved since my nasty run-in with the Xoom. When I was directed to download the app upon hitting the website, it installed and ran just fine.
I should note that audio quality was better than I've heard on most other tablets. Apparently the Dolby mobile feature actually helps!
JPG images on the card and my Picasa web account looked fine on the standard Android Gallery app.
I shot a bit of outdoor video using the Tab's rear camera. It records to 3GP format using an H264 MPEG4 codec at 1280×720 and 30 fps (29.862557 to be exact, according to VLC player's codec details window). This seems to be the only video format that the Tab can play using either the Camera app, clear.fi or nemoPlayer.
I also tried the rear camera for still photos. A closeup example taken without flash is below, where you can see the lack of depth of field. Other samples with and without flash are in the gallery.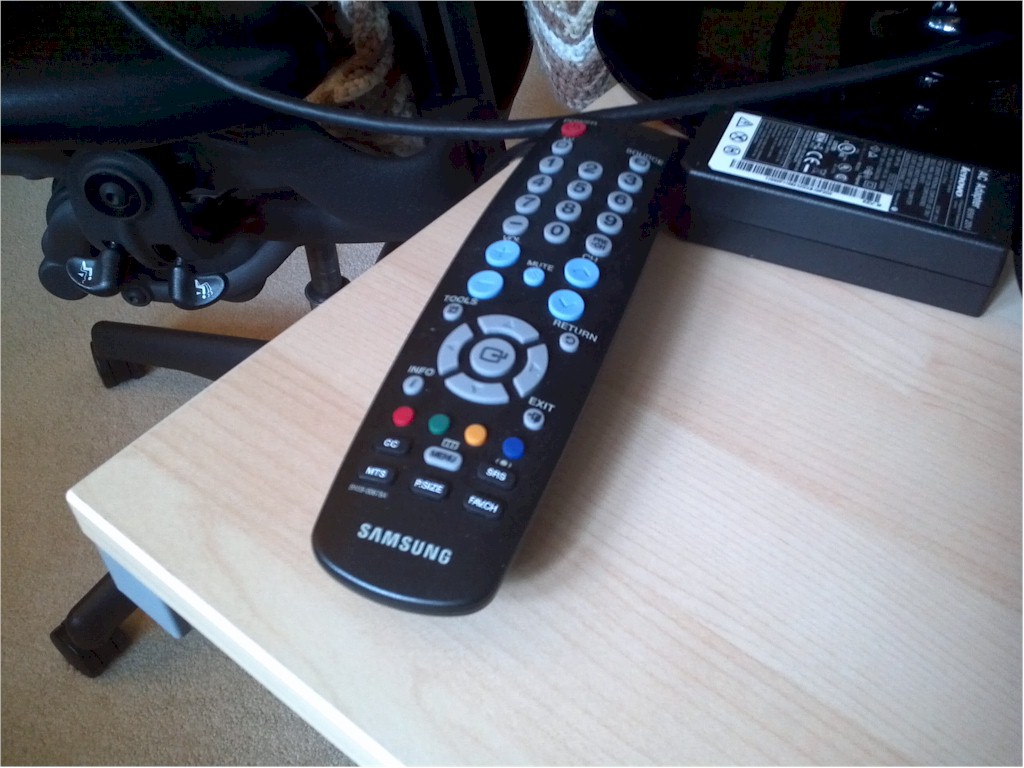 These all looked fine to me, and would do in a pinch if you didn't mind holding a 10" tablet up to your face for awhile. Who is going to use a tablet for taking photos and videos anyway? I didn't try the front camera for video conferencing or anything else. Google Talk comes installed if you want to try, though.
Closing Thoughts
Honeycomb may have doomed the Xoom, but it's turned around from a liability to an asset and should be on your Android tablet checklist. Unless you want to fool around with generic cheapies, there is no reason to settle for Android 2.X on a tablet anymore.
The main thing the A500 Iconia Tab has going for it is price—$50 less than the $500 price point that non-Apple tablet makers are still trying to cling to. But a 10" class Android Honeycomb tablet with decent screen, good sound and good selection of I/O ports shouldn't cost as much as a 16 GB Wi-Fi only iPad. Because Android tablets still can't match the iPad in ease of use
If market share is what Android tablet makers want, then they'll need to be less expensive. $450 is a good start, but the ASUS Transformer's $400 is even better. The $350 price point being kicked around for Amazon's upcoming beastie is much more like it, though.
In the battle between the A500 and ASUS Transformer, the edge goes to the Transformer. That's not because the Transformer is a better tablet. It's strictly because it's $50 cheaper.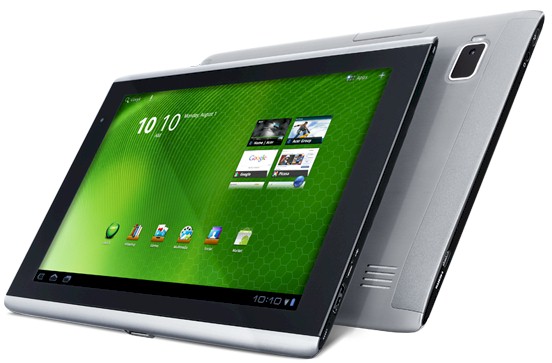 Buy Iconia Tab from Amazon