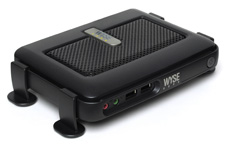 Wyse has launched a new family of cloud PCs.
Wyse Cloud PCs use cloud computing concepts to eliminate local hard drives in favor of server-based storage. The PCs also can run applications locally via the inclusion of a Windows 7 licence for each PC.
The Cloud PCs are designed to work with enterprise streaming software in a private cloud, such as Wyse Streaming Manager. Machines receive their Microsoft Windows 7 directly from the network on every boot, ensuring security and manageability of the devices and the work environment. User data is stored in the datacenter, avoiding data loss and virus propagation.
The new Cloud PC models include the Wyse R00L and R00LE, which both include bundled Microsoft licensing. These models provide a high performance environment while maintaining low power consumption of less than 15 watts. The R00L and R00LE both use 1.5GHz AMD Sempron Processors and can be configured with 1 GB RAM / 1 GB Flash or 2 GB / 4 GB. Other Cloud PCs include the C00LE, which uses a Via 1 GHz CPU and V00LE, which uses a Via C7 Eden @ 1.2GHz CPU.
All models are available now. Pricing was not provided.