At a glance
Product
ASUS Eee Pad Transformer (TF101) [Website]
Summary
Most inexpensive Android Honeycomb based 10″ tablet with optional docking keyboard.
Pros
• Android 3.1 makes this tablet speedy.
• Excellent IPS LCD Display.
• Cheap compared to competition.
Cons
• Mediocre standby battery life without keyboard dock
• Mixed results for Flash support
• Rear-facing camera takes mediocre pictures
• Chews through battery while sleeping
Typical Price: $300 Buy From Amazon
Features
OS
Android
OS Version
3.1 (Honeycomb)
Weight
1.5
Width
10.7
Height
6.7
Thickness
0.5
Battery
3300
CPU
nVidia Tegra 2
CPU Detail
Dual Core 250 @ 1 GHz
RAM
1024
Flash
16
Flash Options
32
SD

N

uSD

Y
Connectivity
Wi-Fi

Y

Dual-Band

N

3G

N

4G

N

Bluetooth

Y

uHDMI

Y

HDMI

N

USB

N
The ASUS Eee Pad Transformer was one of the first Android 3.0 (Honeycomb) tablets announced, and has been hard to find until recently.
ASUS has mentioned in interviews that availability problems have been due to the Japan Earthquake. But I'm sure part of the problem is one of the Transformer's key features: its $399 price.
The Transformer the first tablet to hit a full $100 less than the iPad and be made by a reputable hardware manufacturer (sorry Viewsonic). It has quite the specs as well, so let's take a look at what $399 gets you.
Hardware and Features
The Transformer's key specs are summarized in the boxes to the right, but I'll highlight a few. The Transformer's CPU is a dual-core 1 GHz nVidia Tegra 2, which is also used by the Acer Iconia Tab A500 and Samsung Galaxy Tab 10.1.
The 1 GB of RAM is twice as much as the iPad 2, but I found there is only 512 MB available to user processes.
The $399 model comes with 16 GB of flash storage or you can pay $100 more and get 32 GB. Both models have single-band 802.11 b/g/n Wi-Fi and Bluetooth 2.1 + EDR radios.
There are no 3G or 4G versions available, or as far as I know, planned. But, as the callout diagram below shows, there is a SIM card slot, so there must be some space inside for the companion radio.
The diagram below from the user manual shows all the ports, controls and I/O. You don't see the accelerometer, light sensor, gyroscope, compass and GPS that are squirreled away inside. You also don't see the stereo speakers called out, but they are on the side edges of the tablet (when in landscape orientation).
The tablet itself doesn't have standard or micro USB connectors, but the supplied docking connector cable will connect it to a host machine via USB 2.0.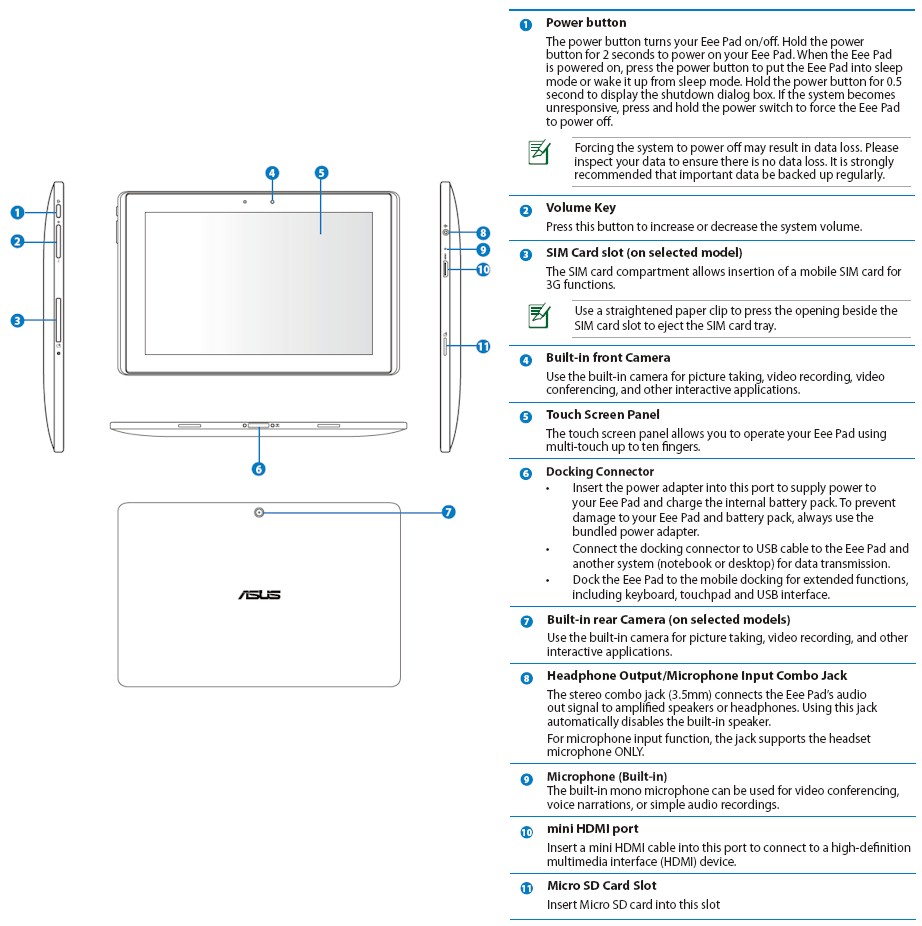 The keyboard / dock that allows this tablet to live up to its name, tries to provide the best of both (tablet / netbook) worlds. It also will charge the tablet's battery from its own so that you can undock with a full charge.
Speaking of battery charging, it's done via USB. So if you already have a USB wall-wart in your road-warrior kit, you'll just need to bring the Transformer's special cable. It will even charge from a standard USB port as long as it is sleeping.
Dock Hardware Specs
Ports
– 2 x USB 2.0
– SD/SDHC Card Reader (non-Micro)
Input Devices
– Standard 101-key Chiclet Keyboard
– Touch Pad
Power Supply
– 24.4 Wh Li-Polymer Battery
– Additional 6.5 Hours of Run Time
The dock has been in the same state of "availability" as the tablet until recently. So it was unavailable at retailers when I started the review. Now that it has come back into stock, I'm going to get one and will update the review when I do.
In the meantime, I should note that its basic design is much better than the Acer Iconia Tab W500's, which doesn't allow the screen to be moved at all, much less closed.
In Use
Overall, the Transformer is a decent piece of hardware. It's about as heavy as an iPad 1, so your arm will get tired holding it for extended periods of time. But I can find little fault in the design, otherwise.
The 10.1″ 1280×800 LED Backlit IPS Panel supports "ten finger multi-touch" and is spec'd at having a 178° viewing angle. I didn't measure the viewing angle, but I'd say it's the best panel I've seen on an Android tablet. This includes the Galaxy Tab 10.1, which I've had the opportunity to spend some time with in my day job.
I received the ASUS Transformer with version 3.0 of Honeycomb loaded. Out of the box, there was a software update to 3.0.1, which was meant to patch some security holes in the OS. Overall Honeycomb 3.0 provided a terrible experience on the Transformer, and I nearly returned the device.
Thankfully, ASUS soon announced (via Twitter) that 3.1 would be available in "early June", so I held out and waited on reviewing the Transformer. ASUS' "early June" meant 12:01 on June 1st, as I had an update pending when I woke up that morning. Honeycomb 3.1 is a significant improvement over 3.0, bringing with it several key features and performance improvements.
Out of the box, the Wi-Fi connection was set to never disconnect from the network, meaning it just sat there draining battery during the night. Digging through the settings in the Wi-Fi panel yielded a rather oddly-worded control panel, with the options to "Never" turn off, "Never when plugged in" and "When screen turns off".
I chose the middle option, which sets some arbitrary amount of time between the screen sleeping and disconnecting. I found that even after 15 minutes, the tablet was still connected, but finally disconnected after letting it sit for over an hour.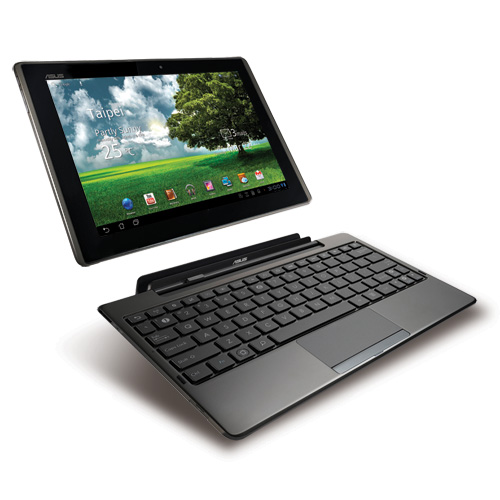 The Asus Transformer, with dock.
A sideshow of the docked Transformer. You can see the 1 USB Port and SD Card Reader.
Different Angle on the Transformer.
The back of the Transformer. The textured surface is a "love it or hate it" affair.
The bottom of the Transformer. You can see the dock connector, plus the two holes which are for additional support when docked.
The left side of the Transformer. The Power button and Volume toggle are visible.
The right side of the Transformer. The combo mic/headphone, HDMI, and microSD slot are visible.
Another view of the dock all by itself.
As you might imagine, battery life from the internal 24 Wh (3300 mAH 7.4 volt) Li-Ion battery pack was pretty abysmal until I made that change. After the tweak the Transformer lost about 1% of battery life per hour in standby. That equates to about 5 days of standby, given no use.
That's significantly worse that the iPad (which I haven't charged in two weeks and is at 20% battery), and is also worse than initial reports on the Galaxy Tab 10.1. This is probably the largest fault of the Tranformer, although somewhat forgiveable, seeing as it's priced $100 less than both the iPad and the Galaxy Tab 10.1.
Part of the poor battery life could also be attributed to the amount of "crapware" that ASUS has running in the background that can't be removed. I installed Advanced Task Killer (a third party task manager app) that showed nine applications running in the background at any given time on a factory-reset installation, of which at least three are installed by ASUS. This is part of the reason I build my own PCs, and am looking forward to being able to root my Transformer, so maybe I can recover some battery life.
The Honeycomb experience itself is nice, although getting used to the how the "back button" works in Android is a bit strange coming from iOS. Since the back button is global, it will switch applications for you, meaning if you open a PDF from the web in Adobe PDF Reader, and hit the back button, you'll go back to the browser. I wouldn't call this a "bad" experience, just different.
ASUS has made a number of minor changes to Honeycomb's UI, in addition to the three pre-loaded apps. Nearly every place where Google thought it was a good idea to use a glowing blue color, ASUS has changed that to white. In showing this to other Android 3.0 users, they all felt this was a great modification, although I didn't really mind it on the Xoom and Galaxy Tab. Honeycomb's stock task manager is still in effect though, and is reminiscent of Windows-esque task bar, which I think could have been done better.
Widgets are a big part of the Android experience, and Honeycomb 3.1 added resizing of those widgets. This makes many of them signifcantly more useful, and I now have a home screen with my work and personal Gmails, along with my calendar.
I wish iOS 5 was introducing something like this. But widgets do use battery life, so Apple continues to resist putting them in. I'm sure if Honeycomb gains enough traction, though, Apple will put them in. Just like they took Android 2.x's notification system for iOS 5.
Another spot that saw significant improvement in 3.1 was the web browser. Honeycomb 3.0's browser was "faster" than the iPad 2 in loading pages. But that was if you could deal with all its other deficiencies and slowness. Trying to re-arrange tabs was an exercise in frustration and navigation on a page was jerky and difficult. All this has been resolved, and 3.1's browser is silky smooth.
Media Playback
Cameras
Front
1.2
Rear
5
Flash

N
One of the primary uses of larger 10″ tablets is media consumption, and the Transformer is no different. The Tegra 2 chipset provides excellent hardware acceleration of most major video codecs, including MPEG2 and H.264.
ASUS doesn't bundle any video players with the Transformer, so I used MoboPlayer and arcMedia, which I used in my Dell Streak review, and they worked well. I also could have used VPlayer. But it's a paid app (~$5) and who does that on Android?
Playback of a 720p H.264 movie showed no stuttering and further underscored the excellent IPS panel. I would go so far as to say it's better than the iPad 1, and equivalent to the iPad 2 in clarity, color reproduction, and viewing angle.
Photos and Music were equally handled well. The stereo speakers (lacking on both iPad 1 & 2) reproduced the sound about as well as any PC laptop. Although they are admittedly nowhere near as good as my Macbook Pro, which has a built-in subwoofer. I'm a Picasa user, so all of my photos synced onto the tablet when I entered my Google Account information and were viewable using the standard Gallery app.
Taking pictures was a bit of a disappointment. The 5 MP rear-facing camera does a mediocre job of focusing, and most pictures came out looking soft. Additionally, it had trouble handling extreme lighting cases, which might be understandable for low light, since these kinds of cameras usually want more light than you can normally give them. However, most pictures looked washed out when taken in the afternoon sun (see the gallery for some examples).
On the other hand, the 1.3 MP forward-facing camera was quite nice, and worked well for video chatting using Google Talk (which comes pre-installed with Honeycomb). The built-in microphone worked equally well here, and should suffice for any adhoc video chat sessions.
I took the opportunity to try out the combo Headphone / Mic In port and plugged in a microphone. It worked well, and the other party said that I sounded noticeably better using my Sennheiser headset. Unfortunately this means you can't use a pair of headphones. So I would recommend just using the internal microphone, or a Bluetooth mic.
I tried out some Flash and HTML5 websites, and both were handled surprisingly well. Adobe recently released Flash 10.3 for Honeycomb, which makes a number of significant performance improvements, and it's noticeable. Flash-only websites are now at least usable, although I would say still run at about 10-15 FPS.
Sadly, flash video sadly does not play "in browser", but is shelled out, iPhone-style, to a full-screen window. This usually makes whatever content you are playing look really pixelated and just plain bad. HTML5 video is played in-browser, however, and overall is handled much better.
I also tried both Hulu and Netflix. Neither of these big video sites have dedicated apps available for Honeycomb yet, so I tried to load them in the browser. I had a fairly good idea Netflix wouldn't work. So when it failed complaining about not having Silverlight access, I was unsurprised. I held out more hope for Hulu, but was equally disappointed. So Honeycomb is still behind the iPad with regards to video support.
Pandora rounded out the Internet streaming tests, and worked well enough. Pandora also seems to have updated their app to be resolution independent, so it took advantage of the screen real estate (although I think the iPad implementation is still nicer). Background audio worked fine, and co-existed nicely with the built in music player ,as it does on iOS.
Comparisons and Conclusions
ASUS has a couple of new tablets on the horizon to add to the Eee Pad family, although supply chain issues continue to plague the current Transformer series. This may spell trouble for ASUS as Samsung launches its Galaxy Tab 10.1, which I've also had the opportunity to use. All I can say is that the iPad 2 is going to have some competition, and ASUS will be forgotten if it can't solve its production problems.
That said, the Transformer's $400 price tag is probably the biggest advantage ASUS has. For $400, you get a device that could easily have bested the iPad 1, had it been out a year ago. Versus the iPad 2, however, the Transformer's battery life is worse, and it's about 3/4 of a pound too heavy. The keyboard dock is an interesting peripheral, although for an extra $150, it launches the Transformer into "more expensive than iPad" land, and thus easily forgotten about.
I will probably keep my Transformer, because I enjoy using it, and the display is nicer than the Galaxy Tab 10.1's, which is important to me. With the Galaxy Tab launching this week for $499, I would recommend users to try to play with both units and see if you feel the $100 extra is worth it. For an Android tablet, I would say not, and instead pick up the Transformer and also a keyboard dock, if you're really set on spending the extra $100.
Buy Eee Pad Transformer from Amazon