Updated 4/8/2011
Today ends my two week time with Motorola's Wi-Fi only Xoom, which I picked up two Thursdays ago at my local Best Buy.
Yes, $600 was too much to pay, even if the Xoom has a 10 inch screen, front and rear facing cameras and can record and playback reasonably nice HD videos. But after futzing around with rooting the Nook Color, I figured it was time to get a real Android tablet. So why not get the first tablet with Google's first designed-for-tablets OS?
I now realize the answer to that question is "Because Honeycomb is actually a beta", which pretty much sums up my impression of the Xoom Wi-Fi. Before I get into some comparisons to the iPad, I'd first like to throw my two cents into all the Xoom bashing of late.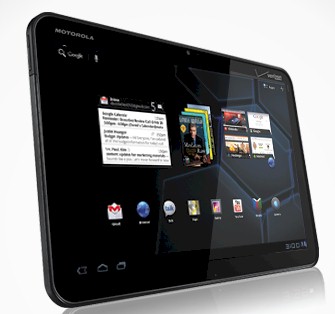 Motorola is taking a lot of heat for the Xoom, but some of it should be aimed at Google. After all, it is the OS that turns the slabs of plastic, metal, silicon and glass we've come to know as tablets into gadgets that actually do something.
Google allegedly works closely with the lead dogs in the Android world, making sure they get what they need to ensure that the phones and now tablets put their best foot forward when they hit the shelves. A good example of where this has gone well is the Samsung Galaxy Tab, which will be making its Wi-Fi only debut in a few days and will be the next Android tablet I buy.
But with the Xoom, and more to the point, Honeycomb, it was simply too soon. After the mid-year / second-half buzz about Honeycomb tablets at January's CES, I was very surprised to see the Xoom appear so early. I suspect it was an attempt to steal the iPad2's thunder, which is hasn't even come close to doing.
My technology litmus test is always Ms. SmallNetBuilder. My spouse has no patience for gadgets that require a big learning curve, aren't intuitive to use, are unreliable or all the above. The iPad had her the first time she launched the ABC app that sat there, beckoning, nice and pretty on the home screen. She carrried it into the bedroom to catch up on Desparate Housewives in beautiful, flawless HD via a wireless connection (!) and a lasting marriage was made.
Updated 4/8/2011
My colleague Matt tells me that the ABC app is not installed by default on the iPad. Regardless, it was one of the first apps installed and sealed the deal for Ms. SmallNetBuilder.
In contrast, after a few frustrating sessions with Honeycomb, I decided I wouldn't even let her go near the Xoom. I didn't want any dents in it when I packed it up for return.
I don't really expect that much from a tablet and have not really installed that many apps on the iPad. All a tablet has to do for me is have a good web browser, decent email and let me access a bit of media on the Interwebs.
I quickly learned on the iPad that most websites were perfectly usable for my morning news catch up, vs. using the apps that I found necessary on the iPod Touch. I haven't read or purchased one book on the iPad (or on the Nook Color either) and probably won't until a Netflix-for-books is born. For games a free crossword and solitaire app do just fine, which I end up hardly ever using.
The ABC, Hulu Plus and Netflix apps all get good use, especially now that we've put DirecTV on hold and are depending on the Internet for TV. I've dabbled with Flipboard and Zite, but always come back to the web browser for reading news.
So I didn't think that the Xoom would have a difficult time matching the iPad in these tasks and hoped that its Flash support would propel the Xoom to our go-to household tablet. Since it's going back, it obviously didn't best the iPad. Here are a few details of why it didn't.
First Impressions
iPad: There wasn't much to figure out besides getting used to having that one button on the front to switch back from apps to the home screen. Including the ABC app was a genius move, since it left an initial impression of the iPad being a media-friendly device, despite its lack of Flash support. Battery life was great and there was this handly little charger that had a USB port on it that could be used to charge any USB device.
Xoom: I first had to find the On / Off button on the back, a location I don't care for since it makes you lift the tablet off the table to turn it on. Also, a quick press just flashes a light on the front panel, which makes you think it's turning on, but it's not. You have to do a long press and hold to get the Motorola logo that indicates you're really booting.
Why the heck Honeycomb spreads the default icons / shortcuts across three screens is a puzzle. I suppose it gives you good practice on rearranging icons. And why there is no Help app / welcome wizard is another head-scratcher. I ended up consulting the printed Getting Started pamphlet in the box a few times and found my way to the Motorola help site.
As I was writing this I noticed a Download Help Center App link on the Xoom Support page, but got the response below when I tried to hit it. A second try a few minutes later yielded a bit more helpful "Connection Refused" page, but still no Help Center app.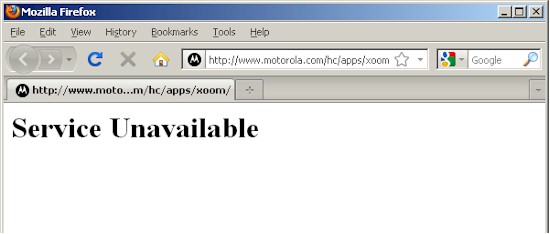 An attempt to download the Xoom Help Center App
One last general disappointment is that the Xoom can't charge off USB and requires its own charger. Yet one more thing to lug if I decide to hit the road with it.
Mail
iPad: I'm not that big a fan of the iPad's Mail app. It doesn't handle attachments well and doesn't let me download images that I've set to block by default. I also have to swipe / delete or trash messages one by one, which makes for a lot of movement (sorry, but I'm just waking up when I read mail). But I like how it automatically follows my lead as I move up or down my unread messages, continuing in the same direction.
Updated 4/8/2011
Another correction from Matt, who tells me that the Edit button at the top of the Mail app lets you multi-select mail. Guess I was too dumb to figure that out.
Xoom: Honeycomb assumes you want to use Gmail and makes you go to the Apps page to find the general eMail app and drag it to the home screen. Once there, setup is pretty easy, though, actually a bit more intuitive than setting up the iPad Mail app.
Likes for Honeycomb mail are the checkboxes that make multiple deletes quick and easy. And downloading blocked images works well. The real strength over Apple is attachment handling. Basically I didn't find one that didn't automatically open when I tapped on it. Honeycomb mail pulled in whatever app or converter it needed without my having to install or configure a thing.
Unlikes for Honeycomb mail are the glitches I got a few times when trying to open an email link and ended up with a screen combining the email and browser apps that required a restart to clear. I also miss the iOS mail auto-follow feature when I'm doing my morning sort.
Browser
iPad: I don't like the iPad's Safari browser, and grudgingly settled on Atomic Web Browser because it has tabs and does a decent job of maintaining screen position when moving among screens. Since Apple smartly hides the blue ? boxes indicating dead Flash content, I've come to not even notice what's not there, especially since I don't watch video when looking for news.
Xoom: The Honeycomb browser is sorta ok. But I really miss a jump-to-top shortcut or the ability to tab a browser tab to reveal the URL box when I'm down into the page. If the feature is there, it doesn't work reliably enough. I've also found it a bit too twitchy to open links while I'm trying to scroll through a page, but this seems to be a general tablet "feature".
The bigger problem is that websites seem to insist on recognizing the Browser as an Android mobile browser, even after I do the about:debug change-user-agent trick. More on this in a bit.
Media
iPad: In spite of its refusal to support Flash, the iPad has developed into a decent media consumption device. Apple has stroked / paid/ cajoled / threatened with the right people behind the scenes to get support for good video and audio either via app or browser. Netflix, HuluPlus, Pandora and more are supported, which along with the ABC app is good enough for casual use.
Xoom: I knew I'd have to install Flash 10.2 and found it via the link on the Xoom support page. But after installing and hitting some sites to try it out on video, I either ended up with unwatchable video or the all-too-familiar "this browser is not authorized…" messages. Talk about a huge buzz-kill! Long story short, I wasn't able to watch any decent video. I ended up trying the YouTube app, which worked pretty well, but holds no interest for me.
The real pisser was when I tried Pandora. The app just crashed when I launched it, so I figured I'd hit the website instead. But there, I got a "go download the app" screen, which was very frustrating. I managed to get past that screen by editing the URL to get to my Pandora profile page. But there was no joy, or music, to be had by clicking on any of the Station buttons there.
Conclusion
I suppose someone had to go first and I'm kind of sorry it was Motorola, who has been having a tough time keeping on top of its Android phone business. But, again, I place the responsibility for my Xoom's return to the store squarely on Google.
We all know Google is not a consumer product company and wouldn't know customer service if it bit 'em you-know-where. But they also don't know how to be a good partner, especially to the very paranoid media content owners and distributors. I hope Google realizes they need these guys if Google TV is ever going to fly and for Android tablets to become serious competition to the iOS juggernaut.