I have to confess that my main reason for buying Barnes & Noble's second-generation eReader was the Nook Color's potential for being turned into an Android tablet.
Everything I read said it would be a much better alternative to the cheapie $200 Chinese tablets that have been hawked everywhere from KMart to Walgreen's. The 800 MHz Ti OMAP 3621 processor should make it pretty speedy and the capacitive screen would make for a pleasant touchscreen experience.
The bundled web browser, Pandora and other apps meant that I wasn't going to be stuck with simply buying stuff from B&N to get any use from the NC. Although its Android 2.1 OS meant that it wouldn't run Flash, it sounded like an upgrade to 2.2 was in the wind.
So I took the plunge a few weeks ago, fired it up and was generally impressed with my first experience with a "dedicated" eReader. The NC feels and looks solidly built with a color screen that is beautiful, extremely readable and has a wide viewing angle. Wi-Fi connection was quick and easy and links up every time when I bring the NC out of sleep. The built-in speaker is ok for short newscasts or clips. But trying to listen to Christmas music on it with Pandora made me get up and fetch my Squeezebox Boom from another room after about five minutes.
I even purchased a few magazines from the B&N store to see how readable they were on a 7 inch screen. I was able to get through the issues of Bloomberg Business Week, Information Week and PC Magazine without too much hassle (or squinting), thanks to easy zooming and the "Article View" feature. The latter extracts article text and displays it in a single scrollable column overlaid on a dimmed full-page article background.
I don't know if I could rely on the NC or any 7 inch eReader for regular magazine reading. It just seems like too much work compared to paging through a dead-tree version or eMag on a larger screen, like my iPad, for instance.
The built-in web browser is fast and actually pretty nice, now that I've had the ability to compare it to other Android browsers. Although it doesn't support tabs or pinch-to-zoom (it does support tap-to-zoom), I like having all the key navigation controls (Back, address box, Bookmarks and Other options) right up on the address bar, instead of hunting them down on hidden menus and navigation screens.
The Root
After my initial explorations, I found that I wasn't really using the NC. We've been using an iPad since it first came out and it has become a morning necessity for both Ms. SmallNetBuilder and myself. (Avoiding morning tablet tie-ups another motivation for getting another tablet into Chez SNB.) So I figured I'd better get hopping on making the NC more useful.
It turned out my timing was good. Initial reports of the Nook Color root described having to use a multi-step process using Android developer tools. Although I'm capable of doing things the hard way, I prefer an easier path if possible.
Following a trail of links in those early rooting articles brought me to the xda-developers Nook Color Forum, where I found the Auto-Nooter thread. At the time I ran the root, Auto-Nooter was at 2.12.18. It's at 2.12.25 as I write this, which has tweaked things a bit. But it's still a very easy process.
I won't repeat the instructions here, since they are pretty simple. But be sure your NC is running 1.0.1 of B&N's firmware (go here if it's not) and be sure to turn the NC off (not just sleep) before you insert the SD card and plug the USB cable in.
You also might fumble around a bit trying to follow the instructions to register with your Gmail account, which is key to getting Android Market access (Figure 1). But if you have problems, dig in and read through the Auto-Nooter thread because most problems you may run into have been answered there.
(My apologies in advance for the quality of my screen photos. One of my newbie ignorances is how to take a screenshot.)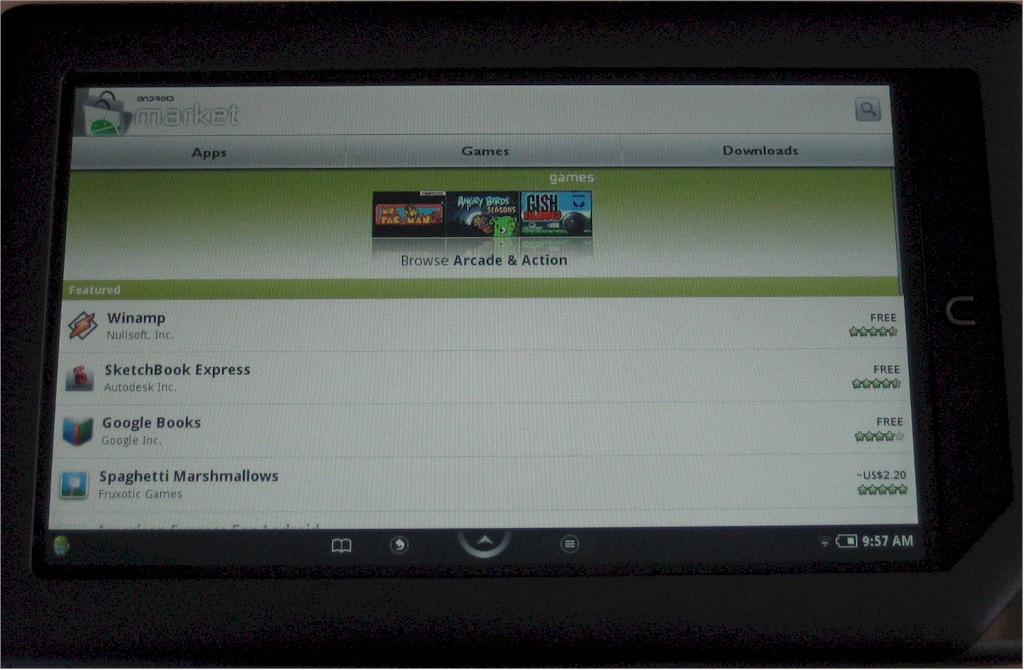 Figure 1: Full Android Market
The Results
The rooted NC is my first experience with both Android and Android running on a tablet. So please cut me some slack on my newb mistakes. Also keep in mind that I'm coming from the very controlled iPad universe where apps (for non-rooted devices at least) must all be vetted by Apple and the operating system (and "HD" apps) is designed for a larger screen non-phone device.
A key piece of info not obvious from reading the Auto-Nooter thread is that the rooted NC retains all of the features of the stock Nook Color. Figure 2 shows a live wallpaper desktop with the stock Quick Nav bar popped up. All the stock reader features work, as you'd expect since they are, after all, Android apps.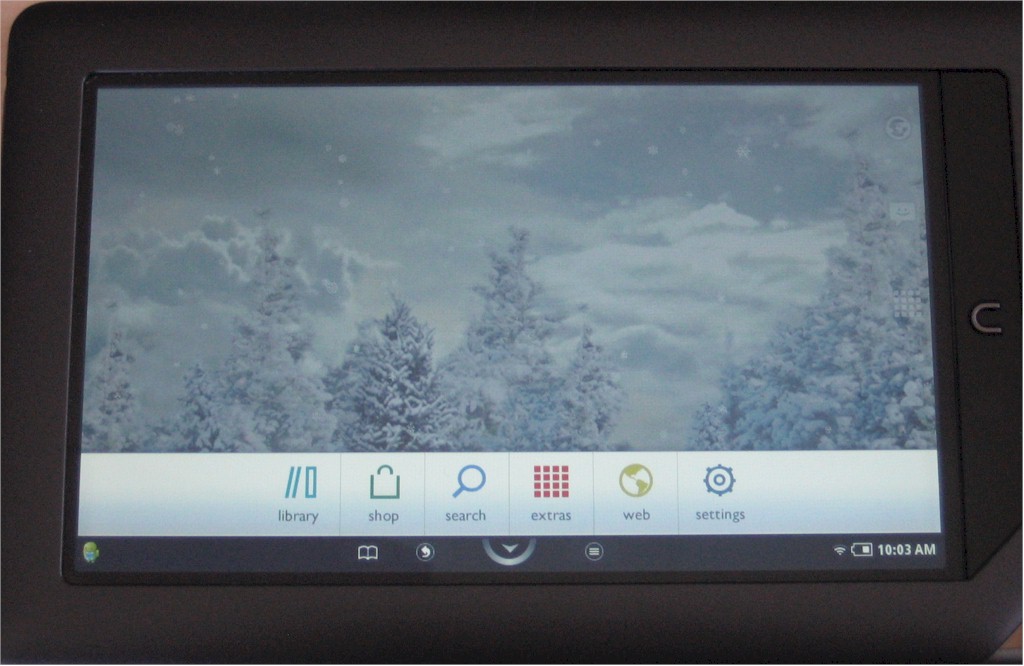 Figure 2: Nook Quick Nav bar still available
That said, my overall impression of the rooted NC is…meh. I definitely feel that it's not as responsive as a stock NC, although it is pretty stable. It's only spontaneously rebooted on me once, as I was writing this piece, actually. And it hasn't tried to revert to factory firmware at all.
I'm still struggling with trying to get a nice-looking home screen (Figure 3). I think the main problem is that the widgets and application shortcut icons are sized for cellphone-sized screens, but it could be my Android ignorance too.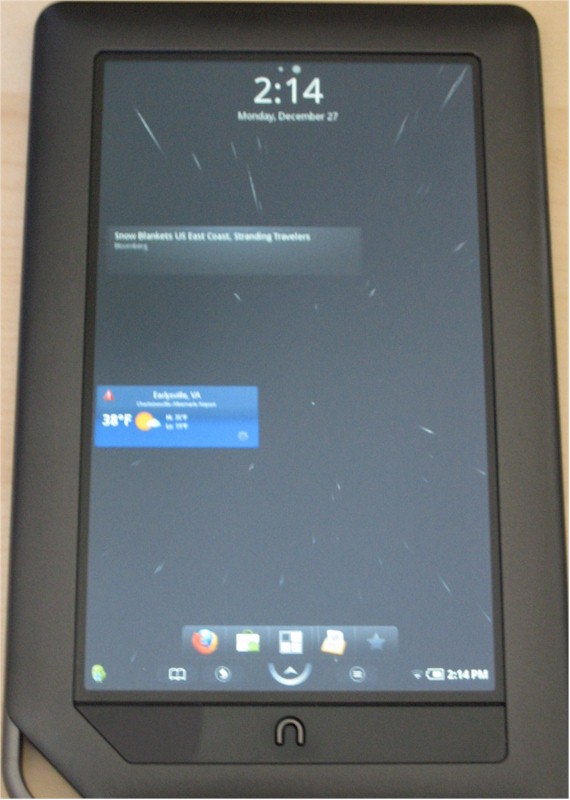 Figure 3: ADW.Launcher Home Screen
My biggest frustration has been finding a better alternative to the NC's built-in browser. I've tried Dolphin Browser (but not the HD version, yet), Opera Mobile and most recently the FireFox Mobile Beta. All seem sluggish, FireFox in particular, and make me hunt for simple things like adding and deleting bookmarks.
The Email client that came with the Android 2.1 install is ok, but I'll be trying out others to see if there is something a bit better. Google Earth launches but doesn't run but Google Maps works just fine. As noted, I'm currently using ADW.Launcher, but also tried LauncherPro.
The app I use the most is Advanced Task Killer, since Android doesn't provide a way to kill an app when you leave it and memory can get eaten up pretty quickly.
And, as was described in the Auto-Nooter 2.12.18 install notes, YouTube just quits back to the home screen when I try to launch it. There is a fix, but it requires deleting a file in the NC memory, which I haven't gotten around to doing yet because I haven't found a file manager that lets me access NC (not SD card) files.
I've put some other screenshots into the Gallery for your viewing pleasure.
Rooted NC with some Android apps installed
New York Times opened with FF Mobile Beta with tab panel exposed. You swipe to reveal this panel.
Google Maps screen on the rooted NC.
Live wallpaper running on LauncherPro.
Android Market Apps screen.
My Yahoo page opened with FF Mobile Beta
Android 2.1 News and Weather app
WeatherBug running on the rooted NC.
The Verdict
As I said, the rooted NC hasn't blown my socks off. It's not as easy to use as an iPad and going from the iPad's 10 inch screen to the NC's 7 incher is definitely an adjustment. But there is enough value in having Android 2.1 vs. stock B&N firmware on the NC that I'm going to continue to play with it, with my next step to run the latest 2.12.25 Auto-Rooter.
If you've done the deed, please drop a comment in the SNB Forum or via Disqus below. You don't have to be registered to post in the thread or in Disqus.